Jaeger LeCoultre 14k gold deco rectangular hooded lugs 1942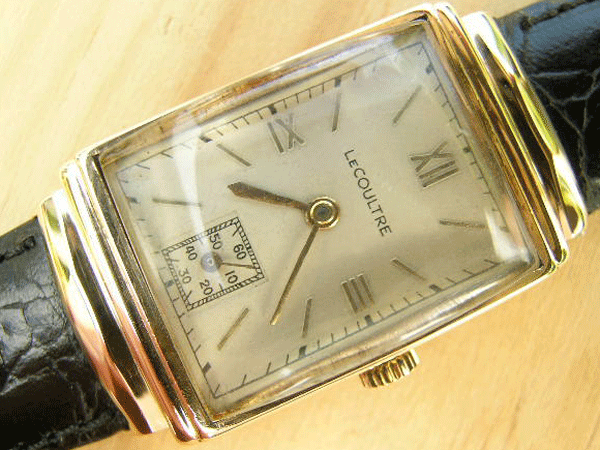 With its elongated art deco case and partially hooded lugs, this 1942 gentleman's vintage Jaeger LeCoultre in solid 14 karat gold, sold originally in the American market, is one of the most visually appealing pieces by this famous house on our website at the present time. Watches by this Le Sentier based house have always been of the very highest quality standard and are extremely sought after, but finding genuinely worthwhile examples today is not easy. After over half a century, rather like classic motorcars of the same age, the majority of surviving timepieces from the World War II era will now have at least some changed components or, in the worst instances, have been re-cased in inappropriate housings. This watch is guaranteed to be original in every detail, and, while it is relatively expensive as a consequence, it will always appreciate in value steadily in the future.
The condition of this item is nothing short of exceptional throughout, and its eye catching stretched case is crisp and free from wear. When in soft high karat gold, as here, there is a tendency for the sharp detail on stepped cases of this kind to be lost as a result of constant polishing by a wearer's shirt cuffs. The edges here are extremely well defined and it is quite clear from even the most casual examination that the watch has only had the very lightest past use. If we look closely enough with a jeweller's eyeglass, we can just make out the usual few faint imperfections here and there, but these must be expected on even the most carefully worn watch of this age.
Internally, the snap on case back is signed "Cased and Timed in the USA by LeCoultre, 14 Karat Gold", and carries the serial number 448201. This wording is worth further comment, particularly as it may be somewhat confusing to the novice collector. It will have been noticed that at the start of this description, we referred to this watch as being a Jaeger LeCoultre, yet its dial, movement and case are all signed simply as Le Coultre. To clarify this point, which always prompts a number of questions from potential buyers, Jaeger LeCoultre sold its watches in the USA with this shortened signature on account of a legal dispute over the ownership of the Jaeger trade name there. In Europe, this watch would have been signed as Jaeger LeCoultre, but this abbreviated signature, and the fact that its case is in 14 karat gold as opposed to the 9 or 18 karat grades normally used in Europe and the UK, tells us that originally, it was intended for the American market. The movements used in LeCoultre signed watches are in every respect identical to those sold under the Jaeger LeCoultre name in Europe. They were made to the same superb standard, by the same workforce, in the same factory and the only difference between the two is the form that their signature takes. Indeed, on page 245 of Gisbert Brunner's excellent book "Wristwatches, History of a Century's Development" ( ISBN 0-7643-0861-0), an identical calibre 11L movement to this one is shown in close up, the only difference being its European market full "Jaeger LeCoultre" signature. Just as it did with its British distributor De Trevars, Jaeger LeCoultre shipped only uncased movements to its American distributor, these then being housed in domestically manufactured cases. The American government imposed punitive rates of import duty on Swiss watches entering the USA in an attempt to create an advantageous trading environment to domestic watch manufacturers, but this tax was only applied to complete timepieces. By importing movements only, this heavy burden could be ingeniously skirted, and the eventual retail price of the company's watches still kept at a competitive level.
The dial on this watch is one of the most attractive wartime LeCoultre variants that we have encountered, having a mixture of Roman numerals at the compass points and applied batons for the other hour positions. On rectangular cased vintage watches, dials tend to be worse preserved that those on their circular equivalents due to the inherent difficulties in sealing these effectively against dust and moisture. Typically, we would expect to see some deterioration of a dial on a piece like this around its outer edges, but in this case, the dial is almost perfect. There is no spotting to the dial surface whatsoever, our only very minor criticism being that its overall colour has just slightly mellowed uniformly from a once bright white to a now marginally creamier shade. The signature "LeCoultre" remains crisp and legible in black, and both the original hands and applied dial decoration free from corrosion.
This is a completely original dial and has never been refinished or retouched in the past. To the serious collector, this is an important point that will enormously raise the commercial worth of any vintage timepiece but online, it is often conveniently glossed over. At least 40% of the value of any elderly wristwatch will be directly derived from its dial, the state of this component being the deciding factor, in the eyes of experienced enthusiasts, as to whether an item is to be acquired or rejected. Bright sunlight, exposure to moisture and a host of other external factors can play havoc with a dial over a long period of time, and the vast majority of vintage wristwatches from the 1930s and '40s that survive today have either badly discoloured dials or, perhaps worse still, so-called "restored" dials that have actually been completely refinished. To find a totally original dial from this period in this superb condition is rare, and this is reflected in the price of this piece.
Incidentally, in the photos, particularly the shot of the watch face on from above, the dial looks just very slightly cloudy and less crisp that that of most of our other watches. This effect is caused by the slight ageing of the celluloid glass which, remarkably, is still the original that has been in place since World War II. In the flesh, this is not visible and only appears here because of the intensity of the flash used when taking the photographs. In reality, the dial is nothing short of superb and the glass is perfectly clear when viewed under normal conditions.
Jaeger LeCoultre's vintage movements are unquestionably among the highest quality produced by any of the elite Swiss houses, and have enormous credibility among collectors on account of their "manufacture" status. In Swiss watch making parlance, a manufacture movement is one that was created entirely in-house by its maker, with no importing of components from other external suppliers. The opposite of this is an ebauche movement, in which a mechanism in its most basic form is purchased from a third party source, and then refinished by its purchaser to suit its own requirements. Jaeger LeCoultre has always been a true manufacturer of its own movements from initial design stages to final finishing, and this status gives its classic units a sense of integrity that is lacking in the movements by several of its competitors. When one buys a vintage Jaeger LeCoultre, a completely uncompromised, genuinely unique, undiluted product of this venerable house is acquired, and many collectors find this factor a very appealing one.
This particular movement, calibre 11L, is historically important on account of it being the mechanism that was fitted to the company's Reverso model from 1942 until 1945. It is an unusual calibre, with only 3100 units having been manufactured in total. This is a manually wound unit, rectangular in shape with cut corners, and featured every possible refinement of its era. The standard of finishing on this movement is breath taking, with its entire upper surface decorated with wide Geneva stripes that were polished into the plates by hand with a rotating boxwood disk. The plate edges are all angled rather than left unfinished, and even the individual screw head slots have been mirror polished to perfection. It is easy to forget that vintage wristwatches were "discovered" in the early 1980s as a result of growing dissatisfaction with current Swiss timepiece production. This item is a classic textbook reminder of the remarkable standards to which the leading players in the industry rose in the inter-war years. There is so much more internally to watches like this one that the majority of their owners will ever appreciate, and we would advise any buyer of a piece of this grade to spend a few minutes studying the movement in his watch with an eyeglass to really understand why mechanisms from this era are so highly regarded. Today, luxury watches are sold on the basis of glamorous advertising and celebrity endorsement, but the movements inside them do not even begin to stand comparison with those in these high level vintage pieces, which were marketed when new on the basis that they genuinely were a hand crafted product, built to the finest standards and designed to last a lifetime. In the same way that the quality of luxury cars has steadily deteriorated since the 1940s in an increasingly vicious spiral of cost cutting, it can be said with some certainty that the standard of watch movements manufactured in the years immediately before and after World War II is unlikely to be repeated in the future.
This movement has been serviced regularly throughout its life and remains in almost perfect condition. It is completely original throughout and has no changed or non-standard components whatsoever. Looking at it in detail, it is almost impossible to differentiate between the movement here and that in a brand new watch, which is quite remarkable when we stop to consider that it first left Le Sentier over seventy years ago. Today, this movement works perfectly, and its standard of engineering and construction is so high that, with little more than routine cleaning and lubrication every three or four years, it will continue to do so almost infinitely in the future. It is no exaggeration to think that a watch of this standard from the 1930s or '40s will be more than capable of out lasting anyone who purchases it now, and this potential for longevity is one that makes fine vintage wristwatches attractive to many modern day buyers.
This is a fully signed movement, with "LeCoultre Co, Seventeen Jewels, Swiss" being stated on its bridge, together with the individual serial number 236272. Falling between the two extremes of vintage Jaeger LeCoultre movement production for that year of 185000 and 255000, this clearly identifies this unit as having been manufactured in 1942. Alongside the regulator are the three initials "VXN", the presence of which allows us to explode an often quoted myth regarding Jaeger LeCoultre movements from this era. Over the years, it has been written on many occasions that these letters represented Vacheron & Constantin, an important Swiss house that is highly regarded by collectors. Jaeger LeCoultre manufactured movements for Vacheron & Constantin, and the two companies shared the same American distributor in the 1930s and '40s. Under strict American legislation at the time, all movements imported into the USA from Switzerland were required to be identifiable by a three letter stamped code that related to their importing agent. VXN was the code assigned to the American importer of Jaeger LeCoultre and Vacheron & Constantin. This link may have contributed to the incorrect interpretation of this lettering, but at no time did the latter concern create mechanisms for the former, and any suggestion that the presence of these letters indicates to the contrary is complete nonsense. The movement in this watch, as indeed are all others from this house from the same period, was manufactured entirely by Jaeger LeCoultre, with no aspect of it sourced from any other concern.
We have fitted this watch with a high quality crocodile skin type strap. This is not a genuine Jaeger Le Coultre strap, but is almost identical in appearance and apparent quality to those shown in the company's American market advertising of the immediate pre-war years. This strap is in mint condition, having never been worn.
In summary, this is a particularly appealing Jaeger LeCoultre from the World War II period, in a very evocative art deco rectangular case. In solid 14 karat gold for the American market, this is a rare watch that is absolutely original in every respect, and almost perfectly preserved. Even thirty years ago when we first started dealing seriously in vintage wristwatches, this would have been an unusual find, but today, after three decades of items like this being actively hunted, one just doesn't see unmolested crisp vintage Jaeger LeCoultre watches for sale from the 1940s.
We have priced this watch at £1745 GB pounds, which, given its condition and total originality, still represents perfectly acceptable value for money. At this level, despite being by one of the most highly respected horological houses in the world, we would suggest that this piece is still significantly undervalued when compared to its equivalents from the same period by competitors Rolex and IWC, and consequently, that it would make a strong choice for the buyer looking for a vintage watch for investment.
Price £1745 GB Pounds
Vintage Watch Brands
Vintage Watch Decades
Vintage Ladies Watches
Vintage Watch Bracelets
Swipwreek Straps
Travel Clock/ Pocket Watches
Home
About
Brand Overviews
By Decade
Reference
Contact Details
Telephone from the UK:
07453 734666
or 07428 051005
Telephone from overseas:
+44 7453 734666
or +44 7428 051005