Girard-Perregaux steel with Dennison case 1957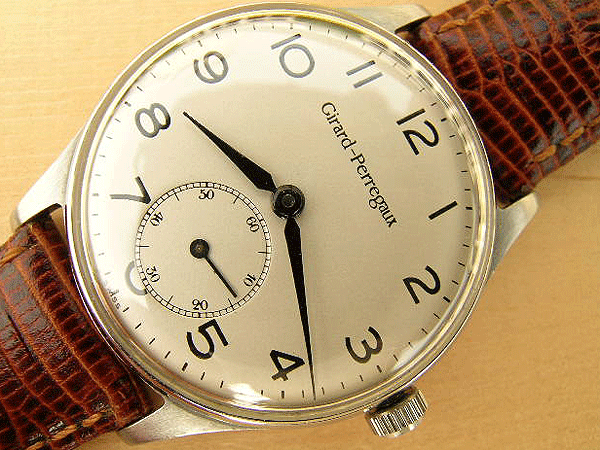 We have always enjoyed dealing in classic models by the famous Girard-Perregaux concern and over the years, have managed to successfully bring the superb work of this small company to the attention of many new collectors who previously hadn't been aware of it. For most newcomers to the field, the objective will be to build up a representative selection of vintage Omega and Rolex pieces, but if horizons are broadened slightly, it would be found that models from the same period by less prolific makers, like IWC, Jaeger LeCoultre and Girard-Perregaux, are just as satisfying to own. Rolex and Omega were the design power houses of the 1950s and '60s, creating some very attractive and extremely well made watches, but they have the disadvantage that they are a little too obvious for some tastes, in the same way that driving a Rolls-Royce or Ferrari might be considered a little ostentatious in some circles. Wearing a vintage Girard-Perregaux is a more subtle choice, perhaps more akin to taking to the highway in a Bristol or a period Facel Vega. The quality of these watches was, and still is, nothing short of outstanding, yet they retain a very low profile with members of the general public.
It isn't easy to find vintage Girard-Perregaux items in investment grade condition, not least because these watches were only sold on a relatively small scale in the first instance. None of the top tier Swiss brands has ever released official production figures, but we can approach this matter in a rather lateral way and get an idea of relative volumes by looking at the numbers of watches by each house that were submitted to the independent Swiss testing stations for chronometer certification in a given year. For example, we know that in 1957, the year in which the watch for sale here was manufactured, Rolex submitted 24134 movements for certification, with Omega sending even more, with a total of 38710. Contrast that with Girard-Perregaux and Zenith, which submitted 119 and 139 respectively and we start to get an idea of how exclusive some of these elite smaller brands actually were.
This particular watch is a gem. We had owned it on two previous occasions, once in the early 1980s and again in the mid-1990s, before we managed to buy it back from its collector owner in late 2011. It may sound rather odd to the casual browser, but having now been in the vintage watch business for almost three decades, we recognise quite a number of pieces that have passed through our hands repeatedly. Similarly, we often spot items in the Sotheby's, Christie's and Bonhams fine wristwatch sales that we have owned, usually from distinctive dial patina, a rare retailer's name on their dial or a case back engraving.
The heavy steel case is almost indistinguishable from new. If this watch has been worn, it has only been on a few occasions by an extremely careful past owner. If we bring out a jeweller's eyeglass and study the case in detail, there are a few very tiny imperfections here and there but these are so small as to be almost invisible to the naked eye.
Remarkably, the original two tone finish remains. The bezel has been polished to a mirror shine, while the case sides and lug tops have a satin finish. This case has never been anywhere near a buffing wheel and is crisp and virgin throughout.
Internally, the snap on case back is covered with an ornate engine turned pattern and signed "Dennison, Made in England, Denisteel", together with the case reference 12321 and the serial number 4413. Dennison was the most important British case manufacturer of the vintage period and its products were of the finest quality. Based at Villa Road, Birmingham, this famous concern supplied custom made cases to Rolex, Omega, Longines, IWC and Jaeger LeCoultre for their British market watches. Interestingly, the union between these brands and Dennison began back in the World War I period, when the import of precious metal for non-essential purposes was prohibited by law. In order to keep servicing the lucrative British market, the major Swiss brands shipped uncased movements to their agents in the UK who then cased them in housings made domestically, thus nearly avoiding the import ban. Dennison was established as the highest grade of watch case manufacturer in the UK and was large enough to service the substantial needs of these businesses. By the time the watch here had been produced, the import ban had been lifted for more than three decades, but the relationship worked so well that it continued until 1969 when Dennison finally ceased trading. The Denisteel cases, which were made from Dennison's own patented version of high chromium Staybrite steel, are some of the most attractive ever offered and have a distinctive "glow" that gives them a characteristic, and very vintage looking, appearance. We have included an article about the different blends of early stainless steel alloy used in classic wristwatches as part of our reference section and we would suggest that this might well be enjoyed by those with an interest in the more technical side of vintage watch collecting. It can be seen by clicking on the "Reference" link at the top of this page.
None of us will ever find a better untouched Girard-Perregaux dial from the 1950s than the one here. In a very attractive silver white, it is literally unblemished and free from even the slightest signs of ageing. We tend to find that when studied close up, there is usually some degree of spotting to the dial surface, caused by moisture creeping around the edge of the crystal, but this dial is free of this malady, which suggests that it has been stored in a very dry environment for most of its life.
Unlike many of the dials offered online, especially in the world of the mass market interest auction websites, this one is guaranteed to be original. It has not been refinished or restored and is exactly as it was when it left Girard-Perregaux in 1957. To the collector, dials like this one represent the ultimate finds and watches that have survived with first rate dials always command a high price premium over those with scruffy or freshly reprinted dials. An awful lot of the value in any vintage watch relates directly to its dial, with many enthusiasts holding the view that a piece with a poor dial will typically be worth 50% less than the same model with a dial in mint original condition. When we buy for our stock, we look for consistency across a watch as a good indication of authenticity. Notice here, exactly as it should be, the near mint state of preservation is uniform across case, dial and movement.
The movement in this watch is extremely interesting. In common with Heuer and Breitling, Girard-Perregaux created its vintage movements not from scratch, but by re-processing ebauches ( this is the correct term for movements in their most basic form, with any components or finishing) that it bought from other suppliers. This made economic sense, as it enabled what was a very small concern to devote its limited resources to elaborate finishing and fine regulation, rather than the procurement of enormously expensive machine tooling.
In keeping with its standing as one of the most prestigious watch brands in the world, Girard-Perregaux worked with some of the most exclusive and exotic ebauche makers in the business. This movement is based around a calibre 320 ebauche that was sourced from Peseux SA, a tiny offshoot concern that specialised in highly tuned movements that could achieve success when entered into the chronometer accuracy competitions that were held regularly by the Swiss observatories as a way of attracting publicity for this important national export.
Founded in 1932 and originally run under the name of Charles Bernese, this elite business was absorbed into the ETA group of companies ten years later. Almost uniquely though, because of its remarkable achievements in the field of chronometry, it was allowed to retain its autonomy and basically continued in the same vein until 1985 when its door finally closed. Blancpain has used Peseux ebauches, as has Ulysse Nardin, and a whole host of other brands relied on the expertise of the company when they wished to achieve victory in accuracy trials, in much the same way as the major car companies today will turn to independent tuners like Cosworth and Williams to build specialised engines for use in Formula 1 motor racing.
When we first bought this watch, what amazed us was the extent to which Girard-Perregaux had reworked the calibre 320 as it was supplied by Peseux, to the extent that its origin was no longer immediately obvious at first glance. Not content to give the plates the most beautiful satin finish, Girard-Perregaux even changed the basic architecture of the mechanism, reworking the shape of the bridges dramatically. Technically, this is not an in-house movement, but in the real world, it has been modified so extensively that in our eyes, it represents the perfect grey area between ebauche based and in-house units. It's a lovely thing, very much built on a money no object basis and it will give a great deal of pleasure to its next owner.
Movement condition is almost perfect. Again, there is no visible deterioration here with the plates and wheel all sparkling brightly. We don't buy watches for our stock with matt, tarnished movements and this is a very nice example of a unit that has clearly been serviced regularly, with the result that it is fully functional and running just as smoothly today as it did half a century ago. Even better perhaps, it contains no changed parts and is guaranteed to be original throughout, right down to the tiniest screw and pinion.
As it should be "Girard-Perregaux" is signed on the movement bridge, together with the calibre number 05 BH 617 and the wording "Swiss, 17 Jewels, Adjusted". It is worth noting that the maker's mark of Peseux has been removed altogether, presumably because Girard-Perregaux was keen to claim all the credit for these units itself. Not always, but usually, the ebauche makers left some kind of coded mark, but here, none is visible.
We have fitted this watch with a high quality reptile skin type strap. This is in mint condition and has not been worn. Period Girard-Perregaux advertising material shows straps of this kind and while this is not a genuine Girard-Perregaux item, it suits the period and style of the piece perfectly.
If we pause for a moment and carefully consider its merits, this watch is something of a bargain. Its case was manufactured by one of the most respected of all the vintage case makers and its movement is based around an ebauche by a concern that was famed for its competence, and was then refined to the point of perfection by Girard-Perregaux in its own facility. We have priced this piece at £725 GB pounds, which really isn't an enormous sum of money to pay for a rare model in immaculate condition with this kind of first class pedigree. Certainly, in the window of one of the vintage shops in central London, we would find this item for perhaps triple this amount, which again reflects our very low trading overheads in rural Yorkshire. It is an exceptionally charming watch by one of the most respected Swiss houses and would make an ideal choice for the buyer who wants to acquire something more unusual than its equivalents by the more mainstream luxury brands. We find it very satisfying to offer the best of the market's vintage Girard-Perregaux watches for sale and can be sure that the buyer of this item will be delighted when it arrives with him.
Price £725 GB Pounds
Related Articles
Vintage Watch Brands
Vintage Watch Decades
Vintage Ladies Watches
Vintage Watch Bracelets
Swipwreek Straps
Travel Clock/ Pocket Watches
Home
About
Brand Overviews
By Decade
Reference
Contact Details
Telephone from the UK:
07453 734666
or 07428 051005
Telephone from overseas:
+44 7453 734666
or +44 7428 051005