Girard-Perregaux steel rectangular 1956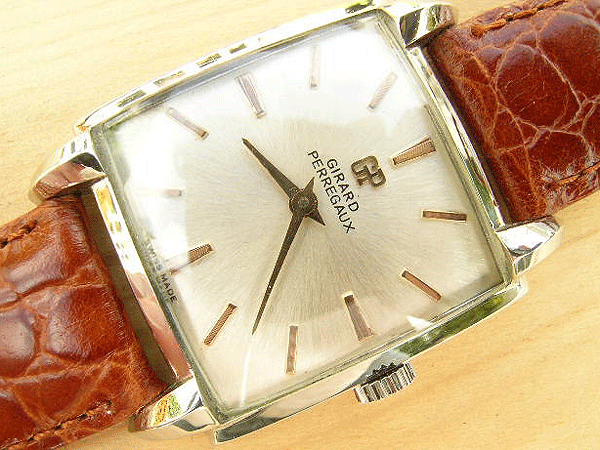 This 1956 gentleman's Girard-Perregaux is a lovely example of a piece by one of the most respected horological houses in the world that can only ever appreciate in value. Even twenty years ago it was difficult to find pieces like this in the immaculate condition of the one here. We were delighted to find this watch and it can be said without any hint of exaggeration that this is as near as anyone could ever come to an unused new old stock piece from only a decade after World War II.
With a width of 29mm and a length of 38mm, this is still a large watch today and must have seemed enormous fifty years ago. Its stainless steel case has the most gorgeous stylised lugs imaginable and is extremely attractive. Looking at it closely under high magnification, only the very faintest imperfections can be seen, suggesting that this is a piece that has hardly ever been worn but has probably spent most of its life languishing wrapped up in a drawer or safe. The case back clips tightly into the case front with no wear play whatsoever, which again supports the view that this unit has seen very little use.
Girard-Perregaux produces a model today that is very similar to the piece here. Known as the "Vintage 1945", it isn't an exact reproduction of this watch, but it's close enough for us to safely assume that the design of one was clearly influenced by the other. Of particular note is that the cases of both are distinctively curved along their length. As the name tells us, this famous format was introduced by Girard-Perregaux in the last year of World War II, though it continued in its first incarnation until the mid-1960s.
Internally, the case back has been covered with a decorative engine turned pattern and signed "Girard-Perregaux, Switzerland" in a roundel that features the company's eagle emblem. Also here is the wording "Acier Inoxydable ( the French term for stainless steel), Swiss", the case reference 45 and the individual serial number for this housing, 405177.
Rectangular cases are far more susceptible to the ingress of dust and damp than their circular cousins, and it is exceedingly unusual to find a watch of this type with an original dial in even remotely acceptable condition. The vast majority now have either original dials that are grubby and unattractive, or, probably even more common these days, dials that have been freshly restored. In order to have their maximum value to the collector, dials must be both totally original and in almost mint condition, but finding such a dial on a vintage rectangular model can often be very difficult. This one is spotless and yet totally untouched. It would be easy to quickly glance at this dial and assume that it was a freshly restored example, but close inspection reveals that it is totally original. Its silver white finish still has its unsoiled clear lacquer coating and its signature "Girard-Perregaux, Swiss Made" remains sharp and instantly legible.
The hour batons, "GP" emblem and original pitched hands are in pink gold and match each other perfectly. There is a sharp contrast between these and the stainless steel case which is particularly eye catching. The condition of the hands and batons is effectively mint and there is no dulling to their bright finish whatsoever.
Girard-Perregaux timepieces were always right at the very top of the price spectrum for Swiss watches when they were new, just as they still are today, but in terms of the quality present in their movements, this high cost was justified. Certainly, models like this one were not built with any level of compromise in mind and it can be said with confidence that any Girard-Perregaux from this era will contain a movement that is as well finished as anything offered by Rolex, Omega or any of the other top tier houses at the same time.
This movement, a hand wound 10.5 ligne ( the ligne is the unit of movement diameter used as standard in the Swiss watch industry) item, is in very fine condition. Most importantly, it contains no changed parts whatsoever and is completely original. In common with close competitor Rolex's movements from the same period, this one is finished in rhodium. The whole item gleams brightly.
"Girard-Perregaux" is stated on the bridge plate, together with "Swiss, 17 Jewels". Also here is the serial number 263512. Having been serviced on a regular basis since new, this movement works perfectly today. Provided it is treated with care and cleaned every three or four years without fail, there is no reason whatsoever why this watch, or in fact any luxury timepiece from the same period, shouldn't outlast its owner with ease. One of the most appealing aspects of vintage watches at this level is that they are perfectly suited to being possessions for life. The key to trouble free ownership of vintage wristwatches, but as with classic motor cars, is to buy the very best preserved examples from the start and then keep up with their maintenance come hell or high water. This example is in lovely, almost mint, condition and it will stay in this state permanently if cared for sensibly.
We have fitted a high quality crocodile skin strap to this piece and having never been worn, this remains in mint condition. This is not a genuine Girard-Perregaux strap, but it is very similar in both appearance and construction to the opulent straps shown in the company's catalogues of the period.
The price for this watch is £685 GB pounds. There is no doubt that at present, while vintage Girard-Perregaux models are understood and much respected by seasoned collectors, they are woefully undervalued in the marketplace. If this same watch was by almost any of the better known top tier Swiss brands it would carry a price tag of at least three times this sum, yet certainly wouldn't be of any better quality. For the moment at least, Girard-Perregaux continues to be something of a connoisseur's brand, but when it does become noticed by a wider audience, as it surely will be, prices will rise dramatically. This watch represents an awful lot of very high quality precision machinery for an amount of money that would buy almost nothing on the high street today. At this level, there is no possibility of this piece ever decreasing in value and if the watch is kept for a significant number of years and then sold, we can guarantee that it will produce a very healthy profit.
Price £685 GB Pounds
Vintage Watch Brands
Vintage Watch Decades
Vintage Ladies Watches
Vintage Watch Bracelets
Swipwreek Straps
Travel Clock/ Pocket Watches
Home
About
Brand Overviews
By Decade
Reference
Contact Details
Telephone from the UK:
07453 734666
or 07428 051005
Telephone from overseas:
+44 7453 734666
or +44 7428 051005