For sale – Rolex Tudor Oyster Royal with honeycomb dial 1954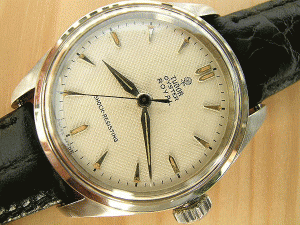 Looking for vintage Rolex watches for sale? This original, in it's fantastic condition for a Rolex Tudor Oyster Royal in stainless steel Rolex Oyster, introduced on reference 2280 in 1932 and in production ever since investment grade state.
Very few original honeycomb Rolex dials appear in this superb state and we were extremely pleased to add this piece to our stock.
Vintage Watch Brands
Vintage Watch Decades
Vintage Ladies Watches
Vintage Watch Bracelets
Swipwreek Straps
Travel Clock/ Pocket Watches
Home
About
Brand Overviews
By Decade
Reference
Contact Details
Telephone from the UK:
07453 734666
or 07428 051005
Telephone from overseas:
+44 7453 734666
or +44 7428 051005