Zenith steel hand wound 1968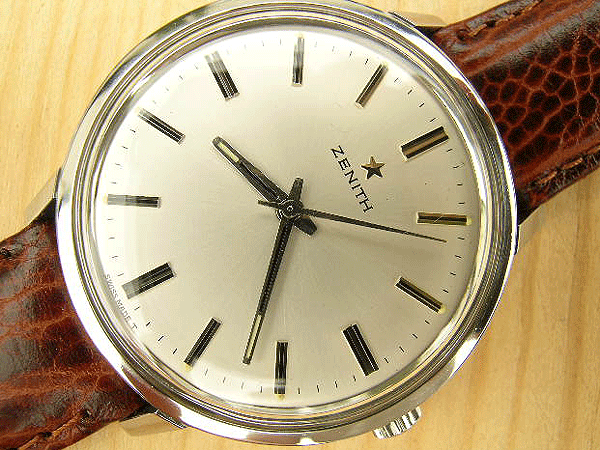 After a decade of creating the most flamboyant, enormous brightly coloured models under the aegis of Theirry Nataf, its theatrical president at the time, the venerable Zenith company has returned to the orthodox path of classicism. In many ways, this sobering reflects changes that have taken place in society in general since the financial crisis of 2009. What seemed groundbreaking and avant garde in the mid-2000s now has a slightly embarrassing, vulgar look and we wonder why we found it appealing in the first instance. At the time of writing, the pure, timeless style of the 1950s and '60s, with circular cases combined with ultra-high quality movements, is very much in the ascendancy, with Zenith, IWC and Jaeger LeCoultre all having released models along these lines over the past twelve months.
Zenith's latest model, the Elite Captain is literally almost identical in appearance to this vintage piece from 1968. It has a case that is virtually the double of the one here, the same slightly tapered hands and a dial decorated with the same applied batons at the hour points. This is proving to be an immediate hit for the company, with the specialist press commenting that, at £2900 GB pounds in stainless steel, the watch is "a snip at the price" ( QP magazine, issue 47, 2011, page 44).
The piece for sale here is in every way the equal of the Elite Captain in terms of quality, but it has the advantage that unlike its modern equivalent, it is already firmly established as a collector's item and will suffer none of the horrendous depreciation that blights new models. It is also a lot less expensive, which clearly cannot be a bad thing. Watches like this one are thinking man's choices, offering the highest grade of build and finish, but at a much better price than today's current models.
The condition of this watch is so near to being perfect that the question has to be asked whether it has been worn on more than a few special occasions in the past. The large stainless steel case is almost unmarked and one could buy a brand new watch, wear it for a week and it would be indistinguishable from the one here.
Internally, the threaded case back is signed "Zenith, Swiss Made, Acier Inoxydable ( the French term for stainless steel)" together with the model reference number SP 1209 4. The original rubber gasket seal is in place and in excellent order.
Externally, the case back has the individual serial number 745D475. This distinctive style of serial numbering, with a letter sandwiched between two three digit strings, was introduced by Zenith in 1964. Before this, the company used a more conventional numerical format.
The original winding crown is in place and in perfect condition. This has the appropriate Zenith star version for a 1968 watch and this is an important point. While the Le Locle star has been the emblem of the company since its foundation in 1865, the rendition of this logo has changed several times over even the last century. Almost all Zenith winding crowns are interchangeable with each other without modification and it is not uncommon for us to see watches from the 1950s and '60s with incorrect later crowns. While obsessing over such details may seem excessive to the casual visitor to our site, it is very relevant to the purist collector who wishes to gain the maximum return from his portfolio of vintage timepieces.
As a company policy, we very rarely describe anything as mint on the basis that common sense should tell us that something that has been in existence for several decades can never be literally as-new, however pristine it may appear to the naked eye. After examining this dial under high magnification prior to writing this description, it is very tempting to make an exception to our usual rule. However hard we look, we cannot find any imperfection that distinguishes this dial from that of a brand new watch.
The silvered dial surface is free from even the slightest spotting and there is no discolouration whatsoever. "Zenith, Swiss Made T" is signed above and below the dial centre, with the "T" letter here in this context telling us that the active ingredient in the luminous paint present on the hands is tritium, rather than the radium we would expect to find on earlier models.
It should be made clear that this is an original dial that has never been restored. It is exactly today as it was when leaving Zenith for the first time in 1968. For investment purposes, dials like this one are the perfect choices but unfortunately, they are not easy to find, hence the high prices they change hands for when they do appear. A lot of the commercial value of a watch of this kind is directly related to its dial. With a scruffy original dial or a freshly restored non-original dial, this would be worth perhaps only 60% of its immaculately preserved equivalent.
All three hands are original. These are in chromium plate to match the hour batons around the dial. The finish of these hands is perfect and not at all dulled. Again, as with winding crowns, it is very important that hands are correct. So many of the vintage watches for sale online have inappropriate hands and it can be very difficult for the novice collector to establish what the correct hands are for a particular model. From our own experiences in the vintage watch business since the early 1980s, we would always advise that it is worth paying a little more to buy a watch, like the one here, that is guaranteed to be completely original, rather than taking a cheaper route and then beginning the frustrating challenge of trying to source spare parts to return it back to factory standard condition.
The best thing about any Zenith watch, either past or present, will be its movement. Robin Swithinbank, writing for the English wristwatch magazine QP ( issue 47, 2011, page 44) comments that "Zenith movements are-and not just according to the PR team, legendary" and goes on to say that these mechanisms are among those that define high end mechanical watch making. If you buy a Zenith watch in superb condition, you can be absolutely sure that the quality of its internal mechanism is, quite literally, as good as it is possible to get. Zenith movements are easily the equals of anything by Rolex, Omega, Jaeger LeCoultre or IWC and indeed, until very recently, Zenith was a major supplier of unfinished movements to Rolex.
The movement here is Zenith's hand wound calibre 2542. Introduced in 1966 and only built for three years, it is a text book specimen of the company's remarkable output. In common with all vintage Zenith movements, it was manufactured entirely in-house at the Zenith factory in Le Locle, with no out-sourced component parts being used. Its standard of finish is breathtaking and when compared side by side with a Rolex Hunter of the same age, the Rolex flagship looks decidedly crude. Everything in these Zenith units was built up to an expected level of excellence with no attempt made to reduce costs. If we look carefully, each of the screw head slots has been individually polished by hand to a mirror finish. Similarly, rather than being left as right angles, the edges of the plates are all bevelled to perfection. The cost of creating a movement of this quality today would be extremely high and we can see very quickly how the several thousand pounds asked for the most basic steel Zenith models today is not actually at all unreasonable.
"Zenith, Swiss Made, 17 Jewels" is stated on the bridge, with the calibre number 2542 stamped next to the balance wheel. The condition of this movement can only be described as perfect. From visual examination, it is impossible to tell that this movement was not manufactured an hour ago, which, given that it will soon be forty-five years old, is quite extraordinary. It is also entirely original. It is surprising how many vintage watches, even by the top tier Swiss makers like Zenith, are now with movements that have been adulterated with non-original parts simply because owners failed to have them maintained as their makers intended and were then unwilling to pay for the use of genuine components when inevitably, repairs were needed.
Given its condition, it is hardly surprising that this movement works perfectly. It rather sounds like a cliché, but in fact, it is a truism to say that a mechanism of this initial build quality, if cleaned and lubricated every three or four years, will last almost forever. There is no reason at all why this watch should not be proudly sitting on the wrist of the great-grandson of anyone reading this description. The key to unlocking the potential for extreme longevity that movements of this grade have is to buy only immaculate, pristine examples in the first place and then keep on top of their maintenance, either returning them back to their makers or taking advantage of the services of a good local independent watch maker.
We have fitted this watch with a high quality crocodile skin type strap. This is not a Zenith strap, but it couldn't look more suitable and having never been worn, is in mint condition. It is rather ironic that this strap, once again, appears almost identical to the one used for the newly released Zenith Elite Captain model.
The price of this watch is £875 GB pounds, at which level, it is nothing short of a bargain. It is every bit as well made as the Elite Captain, but costs less than a third of its new equivalent. Vintage Zenith models represent the Rolls-Royce end of the classic wristwatch market in terms of their quality, but are still to be found at price levels that are less than those required to buy Rolex and Omega items from the same era. As Yorkshiremen, we always have an eye on value for money, and the sheer amount of highly refined precision machinery present in this watch for less than one thousand pounds is remarkable.
Price £875 GB Pounds
Vintage Watch Brands
Vintage Watch Decades
Vintage Ladies Watches
Vintage Watch Bracelets
Swipwreek Straps
Travel Clock/ Pocket Watches
Home
About
Brand Overviews
By Decade
Reference
Contact Details
Telephone from the UK:
07453 734666
or 07428 051005
Telephone from overseas:
+44 7453 734666
or +44 7428 051005