Rolex Tudor pink gold cushion 1946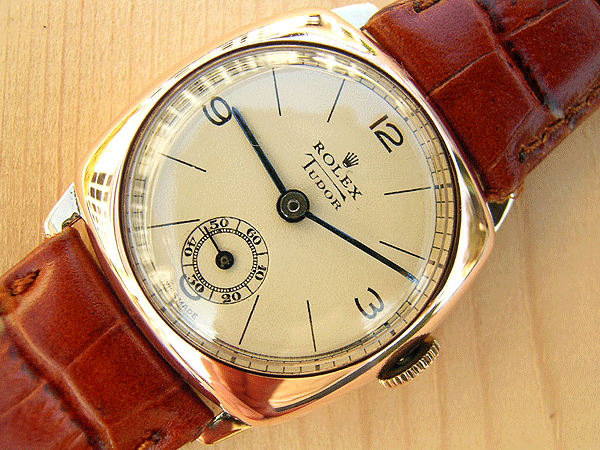 This beautiful cushion shaped gentleman's Rolex Tudor in solid 9ct pink gold is a superbly preserved item and will prove to be an excellent investment if retained over the long term.
It is unquestionably the case that good Rolex Tudors have been among the fastest appreciating of all the myriad forms of vintage wristwatch over the last ten years. These watches are highly thought of, and whenever the global economy takes a downturn, they seem to weather the storm to a far better extent than their less glamorous counterparts. For those with a mind towards purchasing as an investment, it could be realistically estimated that, over the past decade years, Rolex Tudors have increased in value, on average, by around twenty percent per year, a figure that certainly outperforms tracking type stock market investment.
This particular example is one of the most attractive gold cushion shaped Tudor models that we have owned in the last few years. The watch was manufactured in 1946, only a year after Rolex launched the Tudor range, and has obviously led a sheltered life. The original, fully signed, French white dial is in superb condition, with only the very lightest of patina and certainly no damage. This is in a heavily art deco influenced style, with a very attractive combination of printed double minute track and mixed Arabic numerals and batons for the hours. Dial format is an important factor in deciding the commercial value of any vintage watch, with scarcely seen layouts, or those, like this one, that are especially eye-catching, adding considerably to the worth of any model that is so equipped. Very unusually, the full signature "Rolex Tudor" is present. Rolex normally signed its Tudor range just with this wording only, and to find both Rolex and Tudor on the same dial is desirable. On page 139 of James Dowling's excellent book "Rolex Wristwatches, The Best of Time" a gold Rolex Tudor from the 1950s is shown in a colour plate with this same signature, but one could go for a considerable length of time before encountering a similarly signed example.
The blued steel hands are totally correct and the winding crown is an original Rolex Tudor item.
The completely original watchcase is in superb condition, with only the slightest imperfections that must be expected on any watch of this age present on the case back. Its deep pink colour is nothing short of gorgeous, and quite different in appearance from the brassy yellow gold used as standard in the jewellery industry today. This evocative cushion shape case style is very much seen as being one of the all time Rolex greats and is firmly established as a collector's classic, having been in production from the mid 1920s through even to the current day. One of the obvious things to strike any examiner of this particular case is its thickness. Many cheaper watches were produced from a thinner gauge of gold in order to cut manufacturing costs, but Rolex specified that a very substantial weight be used for the production of these beautiful cases intended for use in the Tudor models. Another manifestation of this same point are very heavy solid cast lugs, rather than the much thinner, wire lugs used on the majority of watches with this case style.
The case back interior is correctly signed as "Stolkace, British Made, GAS" and carries full British hallmarks, these informing us that this case was assayed as domestic solid 9 karat gold in Chester 1946. The case maker Elite Bracelet Manufacturing Co Ltd, of 37 Portland Road, Edgbaston supplied Rolex with a number of its finest cases during this era of production and worked closely with Rolex throughout the late 1940s. Stolkase was a registered trademark of Elite, this word being a corruption of its managing director's surname, Stoll. The GAS maker's mark used on these cases is a reference to his full name, this being George Arnold Stoll. This situation arose due to the very heavy import taxes levied on precious metal in the post war era by the British government. By shipping uncased movements to their UK distributors, rather than complete watches, and having these then housed in UK made cases, this high duty rate would be avoided by the Swiss manufacturers and what was already a very expensive product would not have its retail price pushed up even further. Elite were very much among the top tier case manufacturers of the time, but interestingly, never worked exclusively for one importer, and today we see their cases on vintage pieces by all the famous Swiss houses. The internal finish of this case is exceptional, and it never ceases to amaze and delight us that Rolex went to such time consuming trouble to so decorate parts of their watches that the ordinary customer would never set eyes upon.
As one would expect from any watch associated with Rolex, the, all mechanical, fully jewelled, hand wound movement is of exceptional quality and is fully signed. The amount of attention to detail present in the finishing of this movement is extraordinary, and certainly would have been reflected in a substantial initial price tag. For those with access to a selection of related reference books, it should be mentioned that a large colour photograph of this movement type, Calibre 59, is included on page 10 of Shigeharu Aritake's excellent book "Rolex Scene 1913-1997".
The watch has been fully serviced throughout its life in accordance with Rolex servicing schedules and, of course, works perfectly. The condition of its movement is almost perfect, with every internal surface gleaming brightly like those in a brand new watch. No component here has been changed, and in every respect, this mechanism is completely original, right down to its tiniest detail.
The watch is currently fitted with a high quality brown crocodile skin type strap that is not original, but is perfectly in keeping with the high quality theme of the piece. A strap of the finest grade adds the finishing touch to any classic timepiece and we have always maintained a policy of never begrudging the price of an attractive high-end band.
We have priced this watch at £745 GB pounds. On the physical auction circuit, this sum would buy almost nothing in a vintage Rolex watch of this age and certainly not a gold cased model in this superb condition. This is an extremely attractive piece that would look just as impressive on its owner's wrist as it would in a display case with a selection of other period Rolex collector's items.
Price £745 GB Pounds
Price £745 GB Pounds
Vintage Watch Brands
Vintage Watch Decades
Vintage Ladies Watches
Vintage Watch Bracelets
Swipwreek Straps
Travel Clock/ Pocket Watches
Home
About
Brand Overviews
By Decade
Reference
Contact Details
Telephone from the UK:
07453 734666
or 07428 051005
Telephone from overseas:
+44 7453 734666
or +44 7428 051005