Rolex Tudor Oyster-Prince steel automatic 1966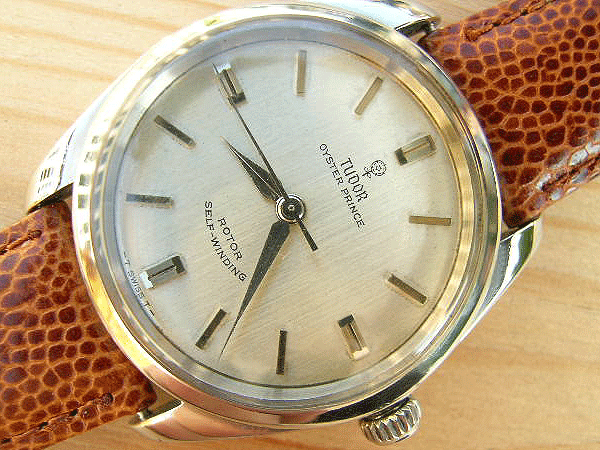 In lovely, all original condition, this 1966 gentleman's steel Rolex Tudor Oyster is a very collectible piece in a state that is no longer easy to find. We used to buy these watches on a regular basis even as recently as the late 1990s but today, we turn down far more examples than we purchase on the basis that they fall short of the exceptional standard we require for our customers.
Over the last ten years, the value of vintage Rolex watches across the board has risen sharply, to a greater extent than anyone could have predicted. Even in the jewellery trade, early Oysters from the 1920s and 1930s shot up in worth from the low thousands to the mid and upper-thousands of pounds in the space of five years and the increase in sale results for many of the sports models from the 1960s and '70s was even more dramatic. In view of this explosion, it is perhaps not surprising that the Tudor range has become a focal point for many collectors.
Rolex launched Tudor in 1946, with the idea that these would be a less expensive range of watches that still offered the quality for which the parent company had become world famous. Economies were made by using Rolex cases, which were direct equivalents to those used for the mainstream Rolex range, combined with movements that were Rolex refined versions of ebauches ( this is the Swiss term for a movement in its raw, basic state, without components or any finishing) purchased from third party suppliers.
Back in the 1980s when we first started in the vintage watch business, Tudor was regarded as slightly second rate, for no other reason than it clearly cost less in the first instance than the full blooded Rolex range. Today, this doesn't apply, largely because of the internet and several excellent vintage Rolex reference books that have been published in the intervening years, all of which have done a great deal to explain to a wide audience just how superb vintage Tudor models were. When viewed impartially, the truth is that these classic Tudors are in every way almost the equals of mainstream Rolex Oysters from the same period. Possibly, and this is a subject that could be debated until the cows come home, the finish on their movements is at times marginally more utilitarian, but in all other aspects, they are on a level footing. We can see that even Rolex itself has become rather embarrassed about the closeness in quality standard between its main range and the Tudor offshoot. In the 1950s and '60s, Rolex and Tudor watches were marketed as almost one and the same, appearing alongside each other in adverts and having Rolex signed cases and the Rolex coronet emblem on their winding crowns. Today, Rolex still manufactures and markets Tudor, even from the same physical location, but is keen to keep a perceived distance between the two brands and no longer do Tudors have the Rolex signature anywhere on them.
This watch comes from the golden period when Tudor was a parallel product to the main Rolex range. It is no lesser watch than a Rolex branded Oyster Perpetual from the same era and consequently, even though prices now are a lot higher than they were a few years back, it still represents something of a bargain.
Condition is almost mint throughout. We specialise in immaculate watches for the investment buyer and this piece falls squarely into that bracket. If we really do look closely at the steel case with a jeweller's eyeglass, there are a few tiny blemishes to the surface here and there, but these are always to be found on even the most carefully worn watches that are not literally unused new-old-stock.
Between the upper two case lugs is the stamped model reference 7995. Looking this up in Charles Jarman's excellent book "The Rolex Reference Guide, 4th Edition", we see on page 109 that it relates to an "Oyster Prince in stainless steel, rotor self winding, non-date, with a smooth bezel". This is clearly the perfect summary of the watch here. Checking that the actual specification of a watch ties in with that indicated by its model reference is nothing short of vital when buying a vintage Rolex of any kind. The swapping of cases and building up of watches from unrelated scrap parts is epidemic and is so common to find model references that are entirely at odds with the rest of the watch. Going further into this 7995 reference and again using the Jarman book, we can see that on page 74, it is stated that the 7995 should have a calibre 2483 movement, which, of course, in this instance it does.
On the other side of the case body, again between the lugs, is stamped the individual serial number 545925. Until recently, Tudor serial numbers remained a mystery, largely because they were not consistent with those of the mainstream Rolex Oyster range and Rolex has continually refused to release any details that could be used to create a chronological list. Recent concerted efforts have clarified this tangle enormously and we can now date vintage Tudor watches accurately by serial number in most instances. The range of production for 1966 ran from approximately 507500 to round about 600000, so we can be almost certain that this piece dates from the middle of that year.
In common with all Rolex Oysters, this watch has a threaded case back that screws down into the one piece case body to create an impenetrable seal against the ingress of water. The case back outer is signed "Original Oyster Case By Rolex Geneva", together with the Rolex coronet device. It is interesting that with the exception of its Sea Dweller, Rolex did not sign any of the cases in its mainstream range on the outside, leaving this style of decoration for the models in the Tudor collection. Here, we have always found Tudor Oyster case backs very attractive, more so than their rather bland "full" Rolex equivalents.
The milled edge around the case back, a classic feature of all Rolex Oysters, is in very good condition, without the signs of chewing that are all too often present on vintage examples of this age. Today, when older Rolex watches are fanatically collected worldwide, it is easy to forget that not much more than thirty years ago, they had little or no value and were viewed as obsolete due to the arrival of the new battery powered models from the Far East. Owners were understandably wary about spending large sums on official servicing and were inclined to take the unofficial, back street route. Unfortunately, in many instances, such repairers lacked the correct equipment to open Rolex case backs without damage. Once chewed, case back milling cannot be restored and we would advise that for investment, only watches with undamaged case backs are acquired. This watch has only ever been opened with the appropriate Rolex factory tool and its milling is almost unmarked.
Inside the case back is the signature "Montres Tudor SA, Geneva Switzerland, Patented, Stainless Steel". Also here is the case maker's mark "C.R.S", which tells us that this housing was manufactured for Rolex. It comes as something of a surprise to many new collectors that Rolex was never a maker of its own cases, either for its mainstream range or for Tudor, and that these were always purchased from third party specialists who machined cases to Rolex blueprints as required. This was one of the most significant case makers used by Rolex and was responsible for some of the highest grade of vintage Oyster cases, including many of those found on the early GMT Master and Submariner sports models.
The winding crown is original and, as it should be, is of the threaded type. A major part of the original 1926 Rolex Oyster patent design was the idea of a winding crown that could be screwed down onto the case body to create the perfect waterproof seal and with the exception of a brief period from 1950 to 1952 when an alternative, and ill fated, arrangement was used, every Rolex Oyster should have a crown of this type. This crown is of the appropriate post-1952 pattern, with a large Rolex coronet on its outer surface, and is still the style fitted to brand new Rolex Oysters today.
When buying a vintage Rolex Oyster, always check that its crown locks down tightly on the case side. While the design concept is inherently a good one, it has the Achilles heel that with rough handling by idiotic owners, the threads inside the crown and on the case tube can be damaged. It is possible for crowns to be replaced in this situation and post-1952 crowns are still available via official Rolex agents, but they are extremely costly. A crown with mangled threads is symptomatic of a watch that has been treated carelessly and we would always advise paying a little bit more to buy something that has been looked after and represents the best of its type. The crown here and the case tube onto which it winds are both in superb condition.
When we assess watches prior to potentially buying them for our stock, we carefully scrutinise every aspect, but we pay particular attention to dials. More than any other factor, a good original dial will boost the value of a vintage watch enormously vis a vis the exact same model with either a deteriorated original dial or, perhaps most common of all online, a so-called "restored" dial that has been completely re-finished. In order to understand why there is this difference, it must be appreciated that scruffy original dials are not difficult to find and a refinished dial can be created at any time. A watch can only be original once and when its dial has become dirty or faded, this degradation cannot be reversed. Hence those watches with the elusive magical blend of dial authenticity and near mint condition are so sought after.
This dial is guaranteed to be original and is in almost as-new condition. Better could not be found, either in any of central London's vintage watch shops or in the sales by Sotheby's, Christie's or Antiquorum. Its silver surface has just the faintest, almost invisible, dust staining around the batons but there is no spotting or fading whatsoever. Authentic, virgin vintage dials are exactly what the serious collector hopes to find, but in practice, they are few and far between and even as established dealers buying old Rolex watches literally every day, we don't see many pre-1970 dials in the superb state of the one here.
"Tudor Oyster Prince" is signed above the dial centre point, together with the correct Tudor rose emblem. "Rotor Self Winding" is printed below this, with the "Self-Winding" wording in a very distinctive concave arc. This layout is very attractive and was also used on the early Explorer models in the mainstream Rolex Oyster range. If Osvaldo Patrizzi's book "Collecting Rolex Wristwatches 2001" is consulted, there are two full page colour photographs ( p. 338 and 339 ) of a 1953 Explorer with exactly the same "Rotor Self Winding" logo as that on the dial here. It is very interesting to note that by 1966, when this watch was manufactured, this phrase had been retired from the dials on the main Rolex Oyster range, continuing to be found only on the Tudor variants.
All three hands are original and in superb condition. Dauphine shaped hands are some of the most eye catching that have ever been used by Rolex and make the current model parallel sided hands used by the company look painfully dull. These hands are slightly pitched ( raised in along their length in the centre) and in chrome to match the hour batons. For the newcomer, it is very difficult to assess a potential purchase and be sure that its hands are correct. We have a vast amount of old advertising material and past catalogues by all the famous Swiss brands and can almost always find the relevant pictures of any model that is offered to us. This is important, as finding replacement period parts for vintage Rolex models can be a horrendous task and ironically, it is almost always cheaper in the long run to buy a watch like this one that is original throughout, even though this will obviously be more costly in the first place, than scrape into a piece that is incorrect in some aspect and then try to put it back to standard specification at some later stage.
Rolex bought the movements for the Tudor watches from third party suppliers and then proceeded to completely re-work them in its Bienne factory. This unit was based around a calibre 2483 ebauche by ETA, one of the largest and most celebrated movement makers in Switzerland. Founded in 1793, more than a century before Rolex began to trade, ETA has, at one time or another, sold its movements to almost every one of the concerns that we know today as household names. Omega, Longines, IWC and Rolex still routinely use ETA movements in many of their watches today and nobody could argue that quality at ETA has been absolutely consistent throughout its existence. There have been no weak eras of ETA movement production, which makes things very easy for the modern day collector considering a vintage watch with an ETA based calibre inside it.
The standard to which this movement has been finished is outstanding and again, we come back to the fact that when viewed impartially, there is nothing about this unit that is in any way inferior to its equivalent in a Rolex Oyster Perpetual from the company's mainstream range of the same year. The stepped finish on the rotor is more exotic than its Rolex branded alternative and this whole mechanism exudes quality when studied under high magnification.
"Tudor, Auto-Prince" is signed on the rotor with "25 Rubies, Swiss Made" on the automatic bridge. The calibre number 2483, still remains next to the oscillating balance wheel but there is no ETA signature, which suggests Rolex specified that these units should be unsigned when delivered. While Rolex has purchased movements from external suppliers since its very beginning, it has never advertised this fact and seems quite happy that the general public innocently believes that each of its movements is made in-house inside Rolex premises.
Condition of this movement is almost as-new. The finish, in distinctive rhodium, consistent with mainstream Rolex movements of the time, shines brightly and there is not even the slightest hint of dulling or tarnishing anywhere. A lot of the vintage watches we see for sale now, especially online in the pressured no-comebacks world of the mass market auction sites, have movements that contain some degree of changed components, usually fitted in the 1970s or early '80s before mechanical wristwatches had been recognised as collectible. In the case of ETA based movements, these can be quite tricky to spot, primarily because the non-Rolex versions of ETA calibres, which were often supplied to numerous other concerns, contain components that, though finished to a lower standard, will fit and work in Rolex calibres without modification. We can guarantee that this movement is original and authentic in every detail and is today just as it was when it left Rolex for the first time in 1966.
If looked after properly, movements like this one will last several lifetimes with ease. In today's age of throwaway consumption, we tend to overlook the fact that firms like Rolex and Omega created products in their heyday that were intended to survive permanently, or at least for the duration of their buyer's mortality. The key to taking advantage of this potential for extreme longevity is to only buy a first rate, mechanically unworn watch in the first instance and then keep on top of its servicing without fail. A good local watch maker can clean and re-oil a vintage Rolex movement like this one for less than £50 GB pounds and this work should be performed every three or four years. This watch works perfectly because past owners have treated it with care. It runs and sets very smoothly and there is no discernable wear to the auto winding mechanism at all.
Period Rolex adverts from the mid-1960s show the Tudor Oyster-Prince with a variety of straps, ranging from calf skin types through to more exotic crocodile versions. We have fitted this watch with an ostrich skin type strap that sets off its steel case and silver dial to perfection. Having never been worn, this strap is in mint condition.
The price of this watch is £890 GB pounds. For a completely original, totally unmolested Tudor Oyster automatic from the 1960s, with no alternations or cosmetic enhancement at all, this is very reasonable. We see ostensibly similar models, but with the most horrendous incorrect aspects including wrong winding crowns, hands and even complete dials, sell for similar sums in the online auction world. These have no place in a serious collection, but the example here is a worthwhile investment piece and could be included in any of the specialist fine wristwatch sales held by any of the prestigious London auction houses. As with every field of antiques, the buyer gets what he pays for. This certainly requires a little more outlay than most merely average Tudor Oysters to be found online, but in terms of its condition it is in an entirely different league. It is far more satisfying to own a watch like this one, knowing that it represents the best of its type and can always withstand highly critical inspection by the most experienced vintage Rolex collector. These watches always sell very quickly and our only wish is that we could find them more frequently for our stock.
Price £890 GB Pounds
Vintage Watch Brands
Vintage Watch Decades
Vintage Ladies Watches
Vintage Watch Bracelets
Swipwreek Straps
Travel Clock/ Pocket Watches
Home
About
Brand Overviews
By Decade
Reference
Contact Details
Telephone from the UK:
07453 734666
or 07428 051005
Telephone from overseas:
+44 7453 734666
or +44 7428 051005