Rolex Tudor gold with guarantee papers 1965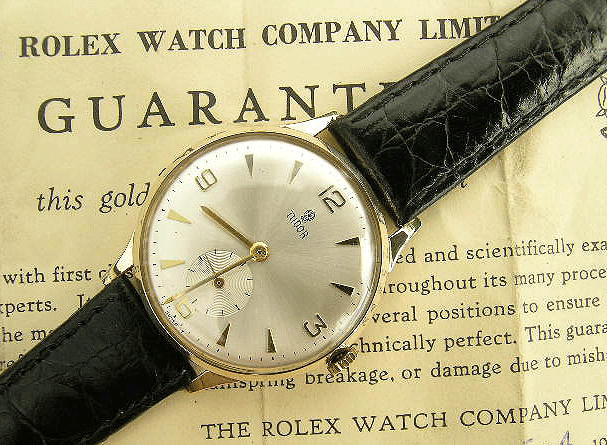 Anyone looking to add a gentleman's vintage Rolex Tudor to their collection will not find a better, more untouched example than the one here. In a heavy solid gold case and in a condition verging on unused old stock, this is an exceptional watch that stands head and shoulders above the Rolex Tudors that typically appear online, especially on the mass market auction websites. As with any form of antiques, in the field of vintage wristwatches the buyer gets what he pays for or, perhaps better said, he definitely doesn't get what he doesn't pay for. This is not the cheapest gold Tudor that can be located, but it is the very best and is worth every penny of the asking price. Watches of this standard account for only a tiny percentage of the surviving examples of any given model and in the long term prove to be far better investments than their merely average or good counterparts.
The case is classically styled and not at all dating. In fact, given the return to classicism that we have seen on many new models introduced by most of the major Swiss brands in 2011, it looks almost contemporary. After the excesses of the previous decade, there is a much welcomed renaissance of sobriety in luxury wristwatch design at present and the awful oversized cases and ludicrous brightly multi-coloured dials are giving way to a look that apes the legendary models of the 1950s and '60s when the quality of Swiss luxury watches was at an all time high. One of the very appealing aspects of watches like this one is that their traditional styling renders them immune from the any potential fall from grace caused by a change in public taste. This item will look just as attractive and relevant twenty years from now as it does today, or did twenty years ago.
The case is almost unmarked and not in the slightest bit worn. It is immediately obvious that this piece has seen only the most occasional use and has almost certainly languished in a safe or drawer somewhere, well away from harm. If a buyer had purchased a new gold Rolex Tudor forty-five years ago, placed it in safe storage and forgotten about it, the result would be the item here.
Case construction is interesting, following a duopartite format that does away with the standard arrangement of case back, case body and bezel. Instead the case back and body are integrated into a single deep unit, into which the movement is placed from the front. When installed, it is held secure by means of a press fit bezel. We like this system, not least because it gets rid of the joint between case back and body, which is always a vulnerable point for the ingress of dirt and damp. There is no evidence that this case was specifically intended to be water-resistant and the winding crown is not of the sealed type, but common sense tells us that this type of housing stands a much better chance of keeping moisture at bay than its three piece counterpart.
Internally, the case back is beautifully decorated with an engine turned pearled pattern. It is so typical of the attention to detail found on vintage Rolex production from this era that the company saw fit to elaborately embellish a part of its watches that neither its retail agents or eventual buyers would ever see under normal circumstances. In our business, we have often commented over the years that there is so much more craftsmanship in these period models than most people are ever aware of.
"Rolex" is signed in large upper case letters inside the case back beneath the Rolex coronet emblem. "R.W.C" is stamped, these letters standard for "Rolex Watch Company". Also here is the serial number 25098 and a full set of clear British hallmarks, these informing us that this case was assayed as solid 9 karat gold in Edinburgh 1965.
Externally, there is very attractive engraving on the case back. This reads "Presented to P.W Thompson, By the Directors of, By M.Harland & Son Ltd, As a, Token of Their High Esteem, For, 25 Years Loyal Service, 1946-1971". One cannot help wondering whether the person commissioning the engraving ever spotted the error here, with the extraneous use of the second "By" after "Directors of". On a more serious note, dedications of this kind are common on gold Rolex watches from this period. M.Harland & Son, based at 3, 4 and 5 Manor Street, Hull was a very successful printing company, supplying a whole manner of brochures and catalogues to businesses nationwide. Among its claims to fame was the production of exhibition publicity material for the Festival of Britain in 1951. Remarkably, it continues to trade today and is located at Springfield Way, still in Hull. It would be very interesting to write a polite letter to the Managing Director there and see if company archives hold any details about P.W Thompson. Any background information of this kind always adds worth to any vintage watch and this task would be well worth undertaking, perhaps including a close up photograph of the case back.
Dial condition is indistinguishable from brand new. If one was looking for an illustrative example of a near mint, untouched original dial to show collectors what they should be attempting to accumulate, then this would be the perfect choice. No dealer or auction house, however prestigious or well connected, encounters 1960s dials in this immaculate state on a regular basis. It is well known in vintage watch collecting circles that the condition of a dial has enormous ramifications in terms of commercial value, with the generally held view being that approximately 40% of the value of a desirable classic Rolex lies directly in its dial. A shabby, dirtied original dial or equally, a refinished, so-called "restored" dial will render any watch second rate in the eyes of the purist. Watches like this one are so sought after because their dials are dually almost mint and completely original. Finding a 1960s original Rolex dial in this pristine state is the vintage wristwatch equivalent of opening barn doors and revealing an E-Type Jaguar or Mercedes SL that is complete with its original, undeteriorated paintwork. Collectors pay very high prices for watches with original perfect dials for the simple reason that very few exist. This dial is as fine as could be bought anywhere, at any price level.
"Tudor" is signed above the dial centre point, with "Swiss" printed along the very bottom edge. The dial format is very attractive, taking the "3, 6, 9" layout that Rolex enthusiasts will often refer to as an Explorer dial. Rolex had used this distinctive style of Arabic numerals at the compass points since the 1930s, but the look was popularised with the Oyster Explorer model of 1953. Though less significant than condition and originality, dial format does play a part in establishing commercial desirability and certainly, the Explorer layout here is among the most highly regarded.
It is appealing that the watch has a subsidiary seconds register rather than a central sweep second hand. By the mid-1960s, most Swiss luxury wristwatches had changed over to sweep seconds and the presence of subsidiary seconds here gives the piece an older appearance that suggests a production date of perhaps a decade before the reality. We very much like this look, though whether a Rolex model of this age has centre or subsidiary seconds does not affect its value. Unfortunately, Rolex has a policy, for reasons only known to itself, of not revealing details about its past production. It would be very interesting to know when the company last offered subsidiary seconds in Tudor form and we would guess that this item must have been among the final examples to leave Rolex with this feature.
All three hands are original, as is the winding crown. The hands are in gilt to match the mixture of applied numerals and spearhead batons around the dial. Notice the unusual factory error to the dial printing. A "T" letter to either side of the Swiss wording tells us that this dial has luminous material based around the tritium element. In fact, there has never been any luminous paint used, either on the dial or on the hands. Rolex did not manufacture its own dials and instead purchased them from several Swiss specialists, most notably Singer SA, who, in this instance, printed this dial technically incorrectly. We have occasionally encountered instances of this before, almost always on pieces produced in the 1960s, presumably because at this time, Rolex offered many of the same models both with and without luminous dial paint.
Rolex movements are renowned the word over and it hardly needs to be said that the quality present in this hand wound unit is of the highest standard. When asked to discuss the character of the products of the various major Swiss houses, we have often likened Rolex movements to Mercedes motorcars. While beautifully finished, they are incredibly sturdy and are capable of seemingly endless use without any drop in performance. They have a reputation for being rather tractor-like and we would not argue with this assessment. In our business, we regularly encounter early Rolex watches from the World War I period and there is no reason at all why an immaculate, all original vintage Rolex movement like the one here should not be in perfect working order well into the next century, almost a hundred years from now. Rolex built its movements to last a lifetime and today's concept of the new luxury watch as a temporary fashion item to perhaps last a decade simple didn't exist.
"Tudor, Swiss Made, 17 Rubies" is signed on the bridge, with the calibre number 290 stamped alongside the regulator. Nothing whatsoever about this movement has been altered or replaced and every last detail, down to the individually polished screw heads, is correct and unaltered. So many of the older Rolex watches on the market today have been modified at some stage in the past, usually by cut price repairers who had no access to correct Rolex components. This one is perfect and, again, because of this is ideal for the buyer building up a portfolio of the best watches as a serious investment.
Previous owners have had the good sense to have this watch serviced on a regular basis regardless of expense. While very high quality, the movement in this watch is not actually particularly complicated and servicing every three or four years at a good local watchmaker need not be prohibitively costly. The watch runs very smoothly and if the prudent policy of its past guardians is continued, it will still be keeping excellent time in the hands of its next purchaser's grand or great grandson.
We have fitted this watch with a high quality crocodile skin type strap. This is not an original Rolex strap, but it is as close as possible to the straps pictured in Rolex advertising material of the day and certainly need not be changed. This is a brand new strap that has not been worn.
The icing on the cake is the presence of the original guarantee paperwork that was supplied with this watch when it was purchased brand new in 1966. It was bought from The Alexander Clark Co Ltd, of 125-126 Fenchurch Street, London, EC3, who were major Rolex agents at the time. The case number is stated on this document and is the same one found inside the case back. Papers of this kind are rare and highly desirable.
The price of this watch and its paperwork is £875 GB pounds. Its condition is such that it can be said with absolute authority that no better example of this model exists anywhere. This would make a delightful addition to any collection of vintage Rolex wristwatches and would be a spectacular gift for anyone to whom 1965 was an important year. We spend a vast amount of time unearthing classic Rolex timepieces, both here in the UK and overseas, and it is unusual for us to locate any item that is as virgin as the one here. If treated carefully, this watch will always appreciate steadily in value and even a decade from now, with be worth substantially more than it is today.
Price £875 GB Pounds
Vintage Watch Brands
Vintage Watch Decades
Vintage Ladies Watches
Vintage Watch Bracelets
Swipwreek Straps
Travel Clock/ Pocket Watches
Home
About
Brand Overviews
By Decade
Reference
Contact Details
Telephone from the UK:
07453 734666
or 07428 051005
Telephone from overseas:
+44 7453 734666
or +44 7428 051005