Rolex Oyster steel with art deco quartered dial 1939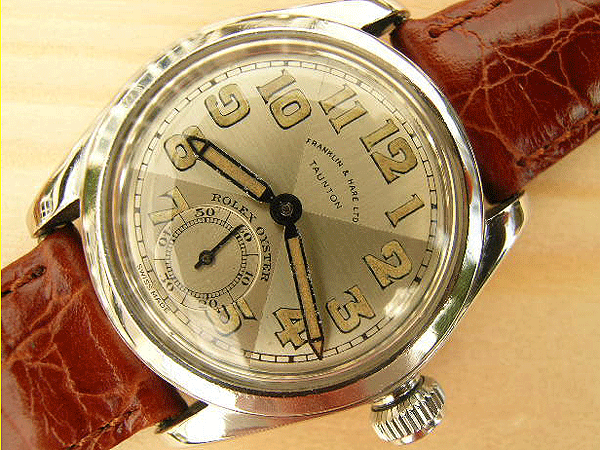 We always have a selection of immaculate presented rare early vintage Rolex watches for sale on this site, and this remarkably well preserved stainless steel gentleman's Rolex Oyster with a beautiful double-signed quartered dial from 1939 is one of the most appealing. These distinctive dials are among the most attractive to have ever been offered by Rolex and on the occasions when they do surface on the market today, command high prices from serious collectors. Vintage Rolex watches like these are simply not available in any quantity now. The majority of owners that are lucky enough to have examples of this grade realise what superb investments they have been over the last decade or more and have no plans to part with them in the foreseeable future.
The vintage Rolex Oyster for sale here is especially historically significant, as it was among the first Rolex Oysters to feature the classic Oyster case shape that has remained as a hallmark of this model range to the present day. This example was produced in 1939, only seven years after the introduction of this case style in 1932, and is almost mint condition, its only defects being a number of minor, very light imperfections to the case that must be expected on any carefully looked after watch of this age. None of these imperfections are anything other than very trivial, and certainly, they could be polished out in literally a few minutes at any competent jewellers. We have always preferred to offer our watches in their original state so that the potential purchaser can accurately judge the piece for what it is, rather than seeing only the heavily cosmetically enhanced versions that many sellers offer. Actually, this particular watch is one of the best preserved 1930s Rolex Oyster examples that we have purchased in the last two or three years. These manually wound steel Oysters were a favourite with RAF pilots who actually bought them privately, so much so that Rolex would later repay this widespread patronage by offering to supply a replacement ( to be paid for after the cessation of hostilities) watch to any allied aircrew officer that had been unfortunate enough to have his Rolex watch confiscated by his captors while incarcerated in a German POW camp. The original owners of these items tended to use their watches in the field, with the result that, while they still work perfectly, a lot of those in circulation today tend to look fairly distressed.
Probably the most appealing aspect of this particular Oyster is its remarkably attractive quartered dial. This flamboyant variant is one of the most eye catching and rarest vintage Rolex Oyster dials to have been produced in the 30s, and, though very, very slightly patinated with age on its luminous numerals, this example is in almost mint condition and visually dramatic in the extreme. We have included a very close up photograph of the dial on which this almost imperceptibly slight fuzzy nature of the luminous paint can be seen. Notice also the very distinctive luminous hands, with their broad art deco pencil shape, again, designed for ease of consultation under extreme conditions of use. Again, their luminous radium based paint finish has lost most of its glow and become slightly discoloured with age. These hands are exactly as they originally left the Rolex factory in 1939, and are guaranteed to be entirely correct and unmolested.
Notice that as well as having the "Rolex Oyster, Swiss Made" signature, this dial is also signed with the name of the retailer that supplied the watch when new, "Franklin & Hare Ltd, Taunton". Double signed dials of this type are sought after, both because of their highly evocative appearance, and also on account of their rarity. Contrary to what many novice collectors initially assume, these retailers' names were not added by the jewellers themselves, but were already printed on the dials of the watches supplied to them by Rolex in the UK. As a percentage of the total number of Rolex watches sold in Britain during the firm's golden years, only a relatively small number were double signed in this way. While dials like this one have been desirable even since the dawn of vintage wristwatch collecting in the 1980s, they seem to have shot up in value in the last four or five years, with several high profile collectors now specialising in this area. It is not an exaggeration to suggest that a double signed dial adds at least 25% to the value of a vintage Oyster, and in this instance the visual effect is particularly appealing, combined with the art deco, obviously 1930s, quartered tone-tone format.
The watch retains its rare Oyster Patent, fully signed, screw down winding crown in the drum style. This pattern of winder was used from 1929 until 1942 and, with its distinctive top hat shape, is particularly pleasing to the eye. So many vintage Rolex watches from this period have now unfortunately had their Oyster Patent winders replaced with the later, post-1952, Rolex coronet logo type, simply due to their threaded interiors becoming so worn through use that they no longer lock firmly down onto the threaded tube that protrudes from the case body of the watch. The original pattern winders are no longer readily available, hence the unfortunate enforced use of the later crown type winders to restore these pieces. However, this example has been correctly treated throughout its life and the threads inside both the winder and the case collar are in superb condition.
Externally, the case back here is stamped with the individual serial number for this watch, 143380. Falling between the two extremes for that year of 136000 and 165000, this clearly dates the piece as having been manufactured in early 1939. Its features ( winding crown, movement, case signature etc) are all entirely correct for this year. This watch is authentic and original in every respect, but many offered today are not, and we would always recommend that a few moments are taken to confirm that any vintage Rolex watch being considered as a potential acquisition has a basic specification that is appropriate for its purported era of origin.
Internally, the case back is signed "Brevetee, Suisse, France, Angleterre, USA, Allemagne etc" together with the "S.A.R" emblem and coronet logo, this latter device being the symbol of the company since its introduction in 1925.
When the case back is carefully unscrewed using the correct factory tool, the beautiful 10.5 ligne ( the ligne is the unit of movement width measurement traditionally used in the Swiss watch industry) Hunter movement can be inspected. Rolex continued to re-enforce its reputation as one of the world's finest movement makers with the Hunter, and certainly, this status was well deserved. This hand wound mechanism was introduced in 1923, taking over from the venerable Rebberg unit that had powered the company's first generation officers' watches of the World War I era. While not the movement that launched Rolex, the Hunter is universally regarded as its definitive vintage mechanism and in any aficionado's list of favourite early Rolex movement calibres, an inter-war Hunter should always be their first choice. This movement type was used in almost all the firm's landmark Oyster models until its eventual retirement in 1969.
We have included a photograph of the movement on which its remarkable finish quality can be seen very clearly. Again, it should be pointed out that this movement has no changed parts and, aside from a regular servicing having been performed, no other work has been required whatsoever, and the watch works perfectly, running very strongly. This mention of originality is extremely important, particularly when buying a vintage Rolex watch for long-term investment. At this level, any potential purchaser in the future is likely to be an experienced, knowledgeable vintage Rolex collector, who will almost certainly be very critical of any departures from standard specification or modifications that have been carried out in the past. A movement like the one in this watch, that is in every way correct and authentic will always cost more to purchase initially than a badly worn example containing dubious after-market parts. Despite this, we would advise any aspiring collector to acquire items like this one, mainly because such pieces will always appreciate in value at a faster rate than their lesser siblings but also, because they invariably prove to be inherently more reliable. They are far less likely to require expensive specialist repair work than a mechanically tired, uncared for example of the same model.
Overall, this is a supremely attractive, almost perfectly preserved, example of a desirable and historically significant vintage Rolex model. The watch is usual, and despite being delightfully antiquated in appearance and oozing vintage charm, is robust enough to be worn and enjoyed carefully on a regular basis, though the wisdom of wearing any rare vintage watch as an everyday tool should be questioned.
It is very difficult to put a value on this piece. Pre-war vintage Rolex Oysters are becoming expensive now, and the supply of authentic fresh to the market 1930s examples, particularly those with rare dial variants, like this one has all but dried up. In a specialist central London vintage watch shop, we would expect the watch to be on offer for perhaps £3500 to £4200 GB pounds, but the prices in such establishments are of necessity often fairly dramatically inflated in order to cover the huge expenses incurred by operating retail premises in the capital.
Shigeharu Aritake's book Rolex Scene 1913-1997 gives this same model reference 2280 Oyster in steel the honour of a large colour plate on page 12, including a smaller inset photograph of its movement, this being an identical 10.5 ligne Hunter to the one in the watch here. The white dial on Aritake's example, one year earlier than this watch, dating from 1938, is not quartered, and the relatively simple hands are less eye catching than the pencil versions on this piece. While the pictured item is still beautiful, it is unquestionably less desirable than the variant offered for sale here. Unfortunately, being a work dedicated to the fabulous private collection of one individual, no price guide is included with this book for the watches shown.
The famed Italian collector, Osvaldo Patrizzi, in his superb reference book "Collecting Rolex Wristwatches 2001" lists this exact model, reference 2280 in steel, but without the rare quartered dial. In the accompanying price guide, this is stated as having a value of 5000 Euro ( approximately 4800 GB pounds or $6400 US dollars) in exceptional condition and as being worth 3250 Euro in excellent condition. Patrizzi is known to be a stickler for detail and we would suggest that this particular watch would fall short of his definition of exceptional, having a number of minor imperfections that would drag it down instead into the excellent category. However, we have to add a considerable price premium for this glorious dial variant and allow for the rapid explosion in prices within the vintage Rolex market in the last decade since this guide was compiled, generally agreed as roughly 25% per annum.
After some discussion, we have set a price on this piece of £1875 GB pounds. It is a delightful example of the Rolex company's exceptional output during the every late inter-war period and oozes upmarket character and individuality. We simply don't see 1930s Oysters in this superb condition with any regularity any more and when this item has sold, finding a replacement for our stock in comparable condition will be quite a challenge.
Price £1875 GB Pounds
Price £1875 GB Pounds
Vintage Watch Brands
Vintage Watch Decades
Vintage Ladies Watches
Vintage Watch Bracelets
Swipwreek Straps
Travel Clock/ Pocket Watches
Home
About
Brand Overviews
By Decade
Reference
Contact Details
Telephone from the UK:
07453 734666
or 07428 051005
Telephone from overseas:
+44 7453 734666
or +44 7428 051005