Rolex gold manual 1949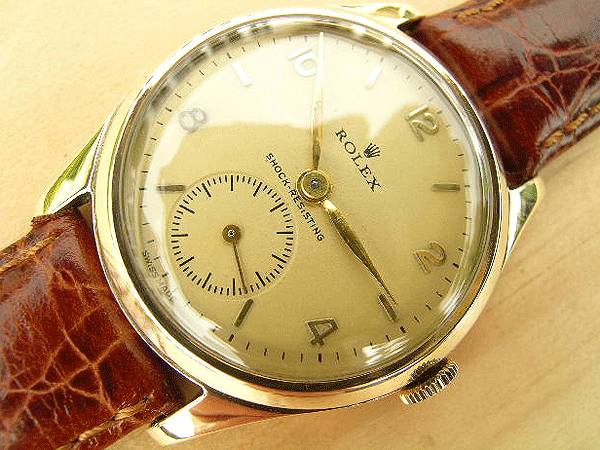 This 9 karat gold gentleman's Rolex from 1949 is one of the finest condition vintage watches by this famous house for sale on our site, making it the perfect example for investment. Over the last thirty years, classic wristwatches have soared in value to their current dizzy heights, prompting the original owners of top quality classic watches to sell their items for a premium price. This frantic buying, particularly over the last ten or twelve years since the internet arrived, has led to a considerable depletion of Europe's vintage watch pool with both end consumers and dealers sadly often tempted to buy watches that are in considerably poorer condition than they would have considered even five years ago, simply out of necessity. All too often, we overhear collectors lamenting the fact that excellent examples by the top tier marques are effectively unavailable now and dealers incessantly complaining that there is not enough high quality stock available for them to replenish their shop windows. We have a long established network of suppliers who keep an eye out for the best pieces for us, but even so, it is noticeable how with every year that passes, we work hardly to try and locate the high grade of watches that are our stock in trade.
This beautiful example is therefore all the more desirable at present. We bought the watch directly from the wife of its original owner, who received the piece as a twenty first birthday present in November 1949. When new, its value was very considerable and, as a result, the watch was worn on not more than a few dozen special occasions, hence its condition today. We would certainly suggest that this piece is as near to a new old stock example from the late 1940s as one could ever hope to find.
The period running from the early 1950s to the early 1960s ( and we have assigned this 1949 piece to this category despite it technically being slightly too early for inclusion. To do so is fitting on account of this model, reference 12325, being introduced in 1949 and running until 1959) was a particularly productive era for Rolex, and its watches built within this time frame are now highly sought after. The company was now firmly established as a household name and the manufacturer of unquestionably the finest and most prestigious watches in the world. In the 1950s, Winston Churchill and US president Dwight Eisenhower had proudly worn Rolex timepieces in gold and Rolex went to great lengths to ensure that its watches were publicly worn on the wrists of those men, to quote their advertisements of the time, who "shaped the destiny of the world". Rolex moved its manufacturing base to a new, purpose built, building in 1966 and watches from the early 1950s to mid-'60s like this one, manufactured in a more traditional manner, with a greater degree of hand finishing, in the older facility, are regarded now as some of the finest that the company has ever produced.
The very heavy ( the watch has a width of 32mm) 9 karat solid gold case is in the imperial style, first introduced in the mid-1930s and very much a purist's choice. These cases have a simply elemental elegance that never falls out of fashion and are still used as the mainstay of the Rolex range today. Even now, it is possible to purchase, brand new, a solid gold Rolex with a very similar case, though this is, of course, an item with a price tag of many thousands of pounds and has none of the superb residual value present in this antique piece, new watches suffering from depreciation on a frightening scale.
The beautifully decorated case back interior is fully signed "Dennison, Made in England, ALD", the ALD being the initials of the case making company's founder Aaron Lufkin Dennison, together with the case reference number 12325 and the serial number 267903. Additionally, there are the correct hallmarks for Birmingham 1949. The Handsworth, Birmingham based Dennison company produced cases for some of the most famous Rolex models of all time, including many of its sought after officers' watches of the World War I era. A particular feature of Dennison made Rolex cases is their heavy gauge, and, in the case of this watch, even the case back alone has considerable weight. Gold prices were astronomically high in the late 1950s and early '60s, and many lesser makers were forced to reduce the thickness of their gold cases for financial reasons, but Rolex, whose clientele were largely oblivious to the eventual retail price of these watches, felt no such compulsion and continued to case its watches in the very heaviest units. An interesting point regarding this case is its continued thickness between the lugs, a feature not often seen on vintage gold watches and a point that adds considerably to the volume of gold used in the piece.
We have included a very close up photograph of the rear of one of the lugs and part of the movement with this listing. It should be possible to make out the stamped numbers 903 on both the lug back and the brass ring surrounding the movement. Notice how these are a repeat of the last three digits inside the case back. This duplication of numbers acts as a confirmation that all case components are original to each other. This watch is correct throughout, but many are not and checking details of this kind is a useful method of weeding out those pieces that are not as they should be.
Time and time again we labour the significance of dial condition and originality on vintage watches and, because of their high value, on antique Rolex models in particular. A heavily stained dial, or one that has significant corrosion, greatly devalues any older Rolex. The situation is further complicated by the proliferation of restored dials that abound in today's marketplace. Even a superb looking classic Rolex, with a non-original restored dial is typically worth 40% less than a superficially identical example which is all original. Over the years, we have gone to enormous lengths to acquire some wonderful early Rolex pieces with original dials in superb condition, but sadly, these are getting more difficult to locate now with every year that passes. The dial on this watch is entirely original and in remarkably fine condition. It has just the very slightest, extremely attractive, creamy patina and not even the faintest corrosion or damage. This is a French white item, fully signed "Rolex, Shock Resisting, Swiss Made", together with the world famous coronet emblem. The dial layout is very attractive, featuring a distinctive combination of Arabic numerals and rectangular hour batons that were a classic feature of Rolex production from the 1930s and 40s. The watch is original and correct down even to the tiniest detail, including the distinctively shaped winding crown, which is signed with a large Rolex coronet emblem on its outer surface.
The handwound, all mechanical movement in this watch is a supreme example of the master watchmaker's art. Rolex is widely acknowledged as being the finest wristwatch movement manufacturer of the 20th century and this particular unit is among the most impressive of its work that we currently have for sale. Fully signed "Rolex, 15 Rubis, Swiss Made", on the winding wheel and "Rolex" on the bridge, even without this, the movement would be instantly recognisable as a high level Rolex item. This is a 10.5 ligne Hunter, certainly regarded as the finest hand wound movement type to have been offered by Rolex in the post-war years.
Most importantly, it has no changed parts whatsoever and is completely authentic. Having been regularly serviced throughout its life with no regard whatsoever to expense, this movement is in almost perfect, gleaming condition and has not even the slightest amount of discolouration or oxidation to its surfaces. It therefore hardly needs to be said that the watch works perfectly and keeps excellent time. The engineering excellence present in this unit is quite astonishing when viewed through a jeweller's eye glass, with every individual screw and tiny component having been individually hand polished to a mirror finish and each jewelled bearing being contained within its own phosphor bronze housing. The skill with which the bridge plate edges have been bevelled has long been an indication of the quality present in any top tier movement and the edges present here are wonderfully dressed, almost certainly having been finally hand finished with a boxwood block in the best tradition of 19th century Geneva watchmakers. It has to be remembered that the gold Rolex watch has never changed its relative position at the very top of the wristwatch world since being introduced in 1915. These watches have always been expensive, in relative terms representing a huge expense for the average citizen, hence relatively few have been produced and their high collectibility now.
We have fitted the watch with a very high-grade crocodile skin type strap that is perfectly in keeping with the up-market flavour of the piece. This is not a Rolex produced strap, but is in mint condition and as near as we could possibly find to the one that was supplied with the watch when new.
This is a very beautiful piece that is almost the perfect vintage Rolex investment for the serious collector. It is a very attractive model, in a case design that is entirely immune to the fickle nature of fashion, and is in solid gold rather than the more common steel. We were not in the least bit surprised to see that Osvaldo Patrizzi, in his superb reference work on the most exotic of vintage Rolex pieces, "Collecting Rolex Wristwatches 2001", has given an almost identical watch to this one from 1954 the honour of a full page colour photograph on page 72.
The condition of this watch is almost untouched, a state in which hardly any classic Rolex models are to be found at present in the marketplace. We have priced it at £1675 GB pounds, at which level, we would find it difficult to buy another for our stock. A telephone call to any of the well known vintage watch shops in central London will confirm one would be lucky to find any model of vintage gold Rolex for under £2500 at present, let alone an original 1940s example, a figure that makes this almost mint example seem like extremely good value for money.
Price £1675 GB Pounds
Vintage Watch Brands
Vintage Watch Decades
Vintage Ladies Watches
Vintage Watch Bracelets
Swipwreek Straps
Travel Clock/ Pocket Watches
Home
About
Brand Overviews
By Decade
Reference
Contact Details
Telephone from the UK:
07453 734666
or 07428 051005
Telephone from overseas:
+44 7453 734666
or +44 7428 051005