Omega Seamaster bumper gold capped 1955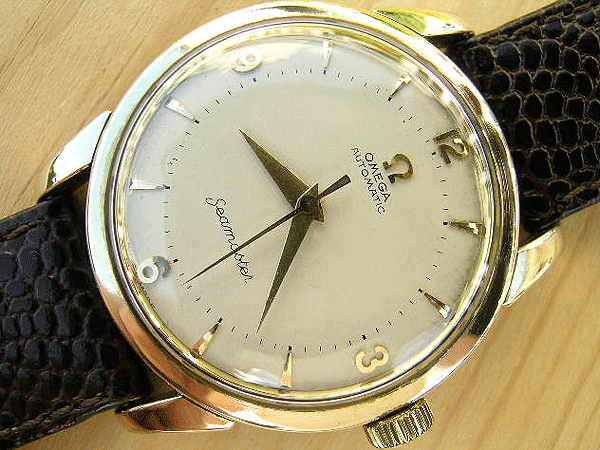 This Omega Seamaster from 1955 is a superb early example of this famous model in its original bumper automatic form. Well preserved vintage Seamasters have jumped up in price dramatically over the last five years since the much publicized April 2007 Antiquorum "Omegamania" sale, but are still relatively affordable and are likely to continue to keep appreciating sharply in worth until a more realistic market position has been reached.
To give the newcomer a little bit of background, it should be mentioned that Omega introduced the Seamaster range in 1948. In essence, it was a civilian continuation of the Mark X pilots' watches that Omega had supplied to the RAF from 1945. Even today, the Seamaster is still a mainstay of Omega's catalogue, but while the external cosmetics and movements used have continually evolved over the last sixty years, the basic concept of the Seamaster being a rugged watch designed to withstand the elements has remained unchanged.
In our business, buying and selling classic wristwatches literally every day, we distinctly remember that even a decade ago there were far more worthwhile vintage Omega Seamasters in circulation than there are now. These watches do turn up in both the physical and online auction environments but most are basically life expired shadows of what they once were, with discoloured dials and tarnished movements on which the brass is now showing through the pink gold plating. Good early Seamasters, and by this we mean well cared for, near mint watches without restoration or alterations, are surprisingly tough to locate and when they do appear are a lot pricier than they were a few years back.
This watch is a real gem and exactly the grade of piece that every collector would buy in an ideal world. Its condition isn't absolutely new old stock mint and if we look hard enough with an eyeglass, there are a few tiny imperfections here and there, but it's as close to perfection as could ever be expected on even the most carefully used watch of this age.
The case style here, with these very distinctive wide lugs, is the ultimate purist's Seamaster variation, ironically not because it looks so attractive but because it was in this form that the Seamaster first made its debut in 1948. There are many collectors who would argue that this original case style was the most appealing ever used for the Seamaster and though successive variants had an undeniable charm of their own, they never quite had the evocative look of this first generation type.
This is a gold capped case, this meaning that a thick layer of gold sheet has been cut to size and mechanically bonded around the front of a stainless steel case body. This construction is also sometimes known as gold shell, but must not be confused with gold plating, which is a much cheaper, inferior process. Gold plating is achieved by means of an electroplating bath in which the object to be coated is submerged. This results in a very thin layer of gold, typically only a few microns thick, over all the dipped item. Gold capping uses much heavier gold sheet and is only found on the front of a watch case. Gold plating will wear through to the base metal beneath after only a few years of regular use, whereas gold shell cases will keep their appearance almost indefinitely. We are often asked about how desirable gold capped cases are and, while they're clearly less valuable than those in solid gold, they are far preferable to plated examples and typically worth slightly more than their equivalents in stainless steel.
Exactly as it should be, the case back exterior here is signed "Seamaster, Waterproof" but does not feature the Seahorse emblem that would be used on Omega Seamasters from the early 1960s onwards.
Inside the case back we find the stamping "Acier Inoxydable, Omega Watch Co, Fab Suisse, Swiss Made, Patent + Applied" together with the model reference 2767-11 SC. In the context of Omega model references at this time, the SC letters stand for seconde central and inform us that the watch should have a centrally pivoted sweep second hand, as it does here, instead of a subsidiary second hand at the bottom of the dial. If you can, it is always worthwhile remembering these small fragments of information as over the years, cases and movement have been swapped on so many of these watches and being aware of at least roughly what specification is identified by a model reference should help to weed out the most obvious lash ups fairly quickly.
Also here are watchmaker's instructions in German, French, English and Spanish "Dichtung Im Boden Einsetzen, Loger Joint Dans Fond, Fit Washer in Back, Ponga Junta En El Fondo". These refer to the patented case design of these early Omega Seamasters on which waterproofing was achieved by means of a heavy rubber gasket that fitted inside the case back inner. It was vital to remind anyone servicing these watches to replace this washer once maintenance had been performed, because otherwise, water was free to creep between the case back and body and into the movement, potentially causing irreversible damage.
Unusually, this watch even retains its original winding crown, signed with a large Omega emblem on its outer surface. Consistent with the immaculate state of the rest of the piece, this crown is in superb condition, with not the slightest loss of definition to its serrated edges.
Regular visitors to this website have heard us say it a thousand times before, but we are going to repeat the old mantra that on collectible older watches, dials are everything in establishing market values. This is such a fundamental dogma of the vintage wristwatch world, yet all too often, especially online, it is overlooked and not mentioned by sellers or taken into consideration by buyers. Buy the best preserved, most original dial that your budget allows and if the cost of the model you are seeking is prohibitive to your acquiring it with a dial in a superb, virgin state, then it is better to opt for an excellent example of a less expensive model than compromise in this respect. Vintage watches with brand new looking "restored" dials, which is actually a term that means complete refinishing and the total loss of what was there in the first instance, are not unusual. Similarly, it isn't too difficult to track down an example with an original dial in a scruffy state. The genuine rarity factor comes with that small percentage of dials that are both near mint and untouched, hence when these do appear, they sell for high prices.
This dial is virtually perfect and is guaranteed to be completely original. Its French white surface is arguably just a fraction of a shade creamier than it was when new, but any slight yellowing is completely uniform and hardly perceptible with the naked eye. There is none of the spotting to the dial surface that is commonly seen on watches of this age.
"Omega, Automatic, Seamaster" is stated above and below the dial centre point, with "Swiss Made" curved along the outer edge of the dial. The layout of this dial is one of the most attractive to have ever been used for the Seamaster, with large Arabic numerals at the compass points and art deco inspired spearhead batons for the other positions. All three hands are totally original, their bright gilt colour perfectly matching that of the dial furniture.
It may have caught the reader's eye that in the first paragraph of this description we referred to this watch as being a bumper automatic. Experienced collectors will already be very well acquainted with this term, but for those who aren't, we should explain that there are two principle different types of self-winding movement. The second and more recent of these, the rotor automatic, utilises a centrally pivoted weight that is allowed to swing freely in both directions through a full 360 degrees of travel. This is the system that is used today and the one that, with a few minor exceptions, became universally adopted by all the major Swiss houses in the early 1960s. The other, earlier system is the hammer or bumper automatic. A pivoted weight is again employed, but this is very limited in its range of travel and it bounces backwards and forwards through a small arc, winding in a single direction. If one gentle shakes a watch of this type, the weight can actually be felt hitting the buffer springs that arrest its travel and bounce it back in the direction from whence it came, hence the "bumper" nickname.
Though it is generally agreed that rotor powered movements are technically better, more efficient units, the fact remains that for sheer old world charm and historical significance, the bumper takes a lot of beating. Introduced in 1948, Omega's first automatic movements were built along the bumper principle and it wasn't until eight years later, in 1956, that the company made the changeover to rotor self-winding. Bumper Omega movements are lovely pieces of antiquated precision machinery are regarded very fondly by collectors. It would be no exaggeration to say that anyone intending to build up a collection that charts the evolution of the Omega Seamaster over the six decades of its existence must include at least one bumper example in it.
This movement, calibre 354, was introduced in 1952 and is a direct descendent of calibre 330, the first ever Omega automatic mechanism that made its debut in 1944. What makes it so fascinating to the purist aficionado is that it is almost always seen in the earliest, first generation Constellation models, these being the top of the Omega range, and hardly ever in Seamasters. In the tables published as part of Marco Richon's excellent book Omega Saga, the note against calibre 354 tells us that this was used in the first Constellations, but no mention is made of it ever having been used in any other model.
We always advise a policy of extreme caution when assessing vintage watches and if we couldn't prove otherwise, we would have been inclined to the view that the calibre 354 movement in this watch wasn't the original with which it started life and, in fact, this had once been fitted to a Constellation and only later found its way into a Seamaster case. However, further research confirms that in fact, this is the original movement for this case, making the watch both exceedingly interesting and something of a bargain. When found in early bumper Constellations, calibre 354 movements are always, without exception, clearly signed on their pivoted weights as having been "Tested to Five Positions and Temperature". This ties in, as the Constellation was the flagship of the Omega range and was always sold as an officially certified chronometer. In contrast, the movement in this watch is simply signed as "Omega Watch Co, Swiss", with no mention of any positional or temperature testing. This omission is the clue that despite being of the same calibre, this movement could never have been fitted to a Constellation and is actually quite correct for this obscure Seamaster variant.
In the previous paragraph, we suggested that this watch is very undervalued. If we compare this Seamaster model with an early bumper Constellation from the same year, also in a gold capped case, we'd see that the price asked here for the former is realistically only about half, at most, of that which would be needed to buy the Constellation. Yet if we really think about it carefully, there is no real difference between the two. Both models have almost identical cases, with the same Omega patented gasket sealing system. There is very little to choose between dials and, to add the icing on the cake, the Seamaster is actually the rarer watch. Over the last twenty years, we have owned perhaps twenty five bumper Constellations, but only three or four of this 354 equipped Seamaster model.
Before moving on, it is also worth noting that despite their different signatures, both the chronometer tested and untested 354 movements are exactly the same in every respect. It is a matter of recorded fact, and something that says an awful lot about the superb standard of Omega quality control at the time, that the movements chosen to be sent to the observatories for independent testing at the observatories prior to use in the Constellation were picked from the line entirely at random and not additionally tuned or regulated in any way. The only difference between the movement in this watch and its near identical twin in a bumper Constellation is, literally, the lack of the "Tested to Five Positions and Temperature" wording.
As well as the signature previously discussed, the movement is also stamped "Seventeen 17 Jewels" and has the calibre number 354 stated in the balance well. The bridge bears the individual serial number 14765436 which, falling between the two extremes of Omega production for 14500000 and 15000000, clearly dates this watch to 1955.
Having been serviced regularly, this movement works perfectly and is in superb mechanical order. These bumper movements are inherently very reliable and provided they are cleaned and lubricated every three or four years, they have the potential to last almost forever. In an age when the majority of luxury watches in the high street are virtually throwaway items with a planned design life of a decade at most, there is something immensely satisfying about buying a watch like this one, knowing that it should have no difficulty in outlasting both its next owner and his grandson. Omega and its competitors intended these watches to be possessions for life and, if treated with respect, they will meet this expectation without difficulty.
We have fitted this watch with a high quality crocodile skin type strap. This is not an original Omega strap, but it is virtually identical in both appearance and construction to that which would have been supplied with the piece when new. Having never been worn, this strap remains in mint condition.
The price of this watch is £935 GB pounds. For a tidy, all original 1955 Omega Constellation, with exactly the same calibre 354 bumper movement, the price would be in excess of £1900 and potentially over £2200 if in exceptional condition. There is no doubt at all that the early bumper Constellation is an iconic model in Omega's history, but no more so that the Seamaster and the price disparity between the two is not justified. This is such an appealing watch on a variety of levels and if judged on its merits, it shouldn't be anything like as affordable as it currently is. For a Rolex Oyster in self-winding form from the same period, we'd expect to pay, again, over £2000, yet the Rolex is not superior to the Omega in any way. Anyone buying this piece will be highly delighted with it. The watch is a superb early example of this famous Omega model that if looked after, will always rise steadily in value in the future while at the same time being a very wearable vintage timepiece.
Price £935 GB Pounds
Vintage Watch Brands
Vintage Watch Decades
Vintage Ladies Watches
Vintage Watch Bracelets
Swipwreek Straps
Travel Clock/ Pocket Watches
Home
About
Brand Overviews
By Decade
Reference
Contact Details
Telephone from the UK:
07453 734666
or 07428 051005
Telephone from overseas:
+44 7453 734666
or +44 7428 051005