Omega Seamaster automatic calendar 1977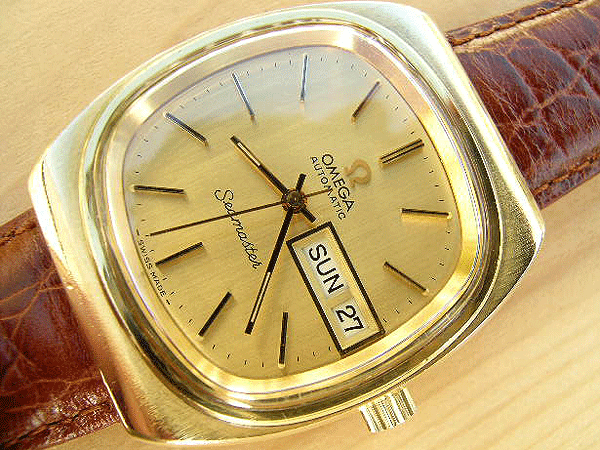 From 1977, this gentleman's Omega Seamaster is very appealing to the aficionado on account of it still containing a movement that was entirely manufactured in-house by Omega itself. The following decade, in the early 1980s, Omega would cease to produce its own movements and instead purchase these from third party sources, most notably the corporate giant ETA. To the purist collector, vintage Omega watches like the one here are "real" Omegas in the strictest sense of the term, with less credibility being given to those that have been built following the decision to stop in-house movement manufacture.
It is interesting how the wheel of fashion has turned to favour these 1970s models. In the late 1980s and early '90s, watches from this period were regarded as being almost undesirable because of their distinctive bulky looks, which were the polar opposite of the wafer thin dress watches that everybody wanted at the time. Collectors were well aware of how well built they were and the general view was that if you could live with overtly 1970s styling, they were a bargain in terms of the quality of the mechanisms inside them. More than twenty years later, the chunky cases that typified these watches are now very much in vogue and models like the Omega Seamaster from this era are chic and commercially desirable. A number of the major Swiss houses have based models in their current collections on their 1970s classics, which again has had the effect of pushing up the value of original vintage pieces in good condition. Even fifteen years ago, nobody would have considered 1970s luxury watches as being vehicles for capital appreciation but today, they are undoubtedly one of the areas that should be taken very seriously by investors.
When buying a watch of this age, condition is of utmost importance. On a pre-war model, there might be some tendency to compromise standards simply because of the length of time a piece has been in circulation, but on a piece that is less than forty years old, there cannot be any excuses. When you're buying a relatively modern vintage watch for investment, it has to be first rate in every respect.
This watch is almost mint throughout. It isn't absolutely perfect, but it's very close and has clearly only been worn on a very occasional basis. The heavily gold plated case has only the very smallest imperfections to its surface and nowhere has the gold covering worn through to the base metal below.
As it should be, the case back is in stainless steel and covered internally with an engine turned pearled pattern. "Omega Watch Co, Fab Suisse, Swiss Made" is stated here, together with "Carrure Lunette ( this is the French term for the body and bezel), Plaque Or G 20 Microns ( this is the thickness of gold plating used), Fond Acier Inoxydable". Also present is the individual serial number 5491 and the model reference 166.0211. Omega model references, or at least the part before the decimal point, from this period can be decoded. Here, the first digit "1" tells us that this watch was supplied on a leather strap rather than a metal bracelet. The second digit, the "6" tells us that this was a non-chronograph model while the third, also a "6", denotes the presence of a date feature. It is always worth checking that the model reference inside the case of a vintage Omega watch offered for sale does tally with the specification of the rest of the piece. Case backs do get swapped and it is not at all uncommon to find a case back reference number that has nothing whatsoever to do with the watch to which it is fitted.
Externally, the case back outer is signed with a large Omega seahorse emblem and the Seamaster name. This method of Omega Seamaster case back decoration appeared around 1960 and still continues to be used on the company's current models today. The definition of all the detail present on this logo is perfect and is not worn in the slightest.
The gold coloured dial is both original and virtually perfect. There is a policy on this website of hardly ever describing anything as being mint on the basis that nothing that has been around for a few years can be genuinely as-new, but in this instance, I think that the word could be legitimately used. There is no deterioration to this dial whatsoever and it looks today exactly as it did when brand new in 1977. Most significantly of all to the collector, this is a completely original, untouched dial that has never been restored. Finding a dial with its near mint, original finish is very similar to finding a classic motor car with its immaculate original paintwork. In an ideal world, dials in this condition are exactly what the collector hopes to find but in reality, buyers often settle for less simply because these are not available.
"Omega Automatic, Seamaster, Swiss Made" is stated above and below the dial centre point. All three hands are original and in gilt, these matching the hour batons perfectly.
For the vintage Omega collector, the movement in this watch is an important item. Omega introduced its calibre 1022 in 1973 and manufactured it entirely in-house in Bienne. This was the eighth revision of the calibre 1000 that made its debut in 1968 and was important as the first Omega movement to run at the rapid rate of 28800 half beats per hour. In the second half of the 1960s, the Swiss luxury watch industry was preoccupied with the designing of ever faster running movements. All else being equal, the faster the oscillation rate of a balance wheel, the more accurate a movement would be and the creation of super fast mechanisms became almost an obsession for many of the high end makers. Kurt Vogt, the architect of the 1000 series actually experimented with beat rates of up to 36000, but settled on a slower 28800 after finding that it represented the optimum intersection point between accuracy and real world reliability. Certainly, the 1000 series of calibres, of which the 1022 is one, are rightly regarded as classics today by vintage watch enthusiasts.
The 1022 was an intrinsically very stable unit, but as with any piece of finely tuned, high performance machinery, it had the potential to be troublesome if abused and allowed to deteriorate. Rather like buying a supercar from the same era, the key to successful and pain free ownership of vintage fast beat movements is to be very critical when buying and only consider the acquisition of the very best preserved, most cosseted examples in the first instance. If a near mint movement is bought that is free from mechanical wear, it will be very dependable and a delight to own. Worn out, corroded fast beat movements are a nightmare that will spend more time on the watchmaker's bench than they will on their owners' wrists.
This particular movement is almost perfect. Even studied under high magnification, it is almost impossible to differentiate between it and its brand new equivalent. Its distinctive pink gold finish is unbroken and the steel wheels gleam as if they had been made two weeks, and not thirty three years, ago. It would certainly be possible to spend in excess of the amount needed to buy this watch, but a better preserved calibre 1022 movement could not be found at any price level. As a result of regular servicing, this movement works perfectly. It sets, auto winds and runs very smoothly. Provided it is treated with care and sent every three or four years for cleaning and lubrication without fail, it will last almost forever.
"Omega, Swiss" is stated on the bridge, together with "Twenty three jewels". There is a large rendition of the Omega emblem on the self-winding rotor. Also stamped is the calibre number, 1022, and the individual serial number for this particular unit, 40888993. Falling between the two extremes of Omega production for that year of 40000000 and 41000000, this clearly identifies this movement as being of late 1977 origin.
A high quality crocodile skin type strap has been fitted to this watch. This isn't a genuine vintage Omega strap, but it is very similar in both appearance and construction to those which are shown with the Seamaster models in Omega's publicity material of the time. Having never been worn, this strap is in mint condition.
The price of this watch is £525 GB pounds. Finding really exceptional vintage Omega Seamasters for sale from this period isn't easy, we suspect because relatively few were sold in the first instance. In the late 1970s, traditional mechanical watches were regarded as anachronistic in the face of the newly introduced battery powered quartz models and the vast majority of people wanting to buy a new, high value luxury watch wouldn't have been keen to acquire one with what was perceived as an outdated and soon to be obsolete mechanical movement. This piece is a near mint example containing an in-house Omega mechanical movement and as such, it seems an almost certain bet that it will increase steadily in value for the foreseeable future. As those who were aware of these watches but couldn't afford them in the first instance when they were new become nostalgic about the items they lusted after in their youth and now have the middle-aged disposable income to satisfy their passions, we'll see further rises in this area of the market. If we were choosing vintage watches today on the basis of their potential as investments, we would give the best preserved Omega, Rolex and Breitling examples from the pre-quartz 1970s some serious consideration.
Price £525 GB Pounds
Vintage Watch Brands
Vintage Watch Decades
Vintage Ladies Watches
Vintage Watch Bracelets
Swipwreek Straps
Travel Clock/ Pocket Watches
Home
About
Brand Overviews
By Decade
Reference
Contact Details
Telephone from the UK:
07453 734666
or 07428 051005
Telephone from overseas:
+44 7453 734666
or +44 7428 051005