Jaeger LeCoultre gold with London dial 1955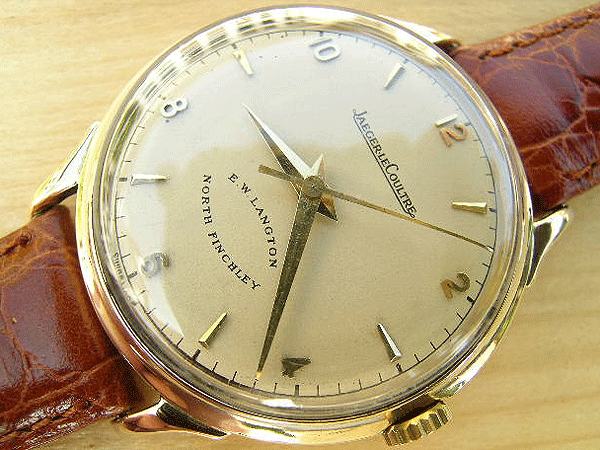 From 1955, this solid gold gentleman's vintage Jaeger LeCoultre is a lovely example of the work of one of Switzerland's most highly respected houses from an era that is universally regarded by connoisseurs as having been a golden age for the luxury watch industry as a whole. Created in a decade when all the technical advancements that had been developed in World War II could be applied to civilian production, but before the advent of imported quartz movements that inevitably led to cost cutting in mechanical watches, this item, and others like it, are, in retrospect, as exceptional as one could ever hope to find. For the buyer purchasing simply of the basis of quality, he need look no further. Similarly, because these watches were, and are, so out of the ordinary and are unlikely to ever be equalled in the future, their value as investments in assured. In ten years time, this watch will be an awful lot more expensive than it is here today, just as, a decade ago, it could have been acquired for considerably less than its present market worth.
The condition of this watch is superb throughout. On our website, we always hesitate to employ the word "mint" on the basis that no item that is over a half a century old can ever truly be the same as it was when it first left the factory gates, but in realistic terms, this piece is as well preserved as anyone could ever wish to find. Looking closely at its case under high magnification, it has probably only ever been worn on a few dozen careful occasions in the past.
This is a large watch that is noticeably more substantial than the majority of others of the same age. When handled, it has a very pleasing weighty feel that is suggestive of quality, even to a casual observer unfamiliar with vintage timepieces. From the top and sides, this case is extremely attractive, with stylised sculpted lugs that are somewhat on the way to having a teardrop shape.
Internally, the snap on case back is highly decorated with an engine turned pearled pattern and signed "DTE". These letters represent De Trevars, Jaeger LeCoultre's British importer in the 1950s and 60s. Wholly owned by the company, this concern was based at 144 Cromwell Road, London, SW7 and was responsible for arranging for Jaeger LeCoultre movements shipped to the UK to be housed in domestically manufactured cases. This approach was exactly the same as the one taken by Rolex, which used British made Dennison cases for those gold watches it offered to the British market, and stemmed from the need to circumvent the high import taxes levied on imported gold watches in the years following World War II. By sending only uncased movements to their British distributors, and then having these cased locally, the end product would not be liable to import tariffs and could be therefore sold at a far more attractive price to consumers.
Also inside the case back is a full set of British domestic hallmarks, these informing us that this case was assayed as 9 karat gold in London, 1955. Exactly as we like to see, these hallmarks are crisp and have not lost any definition.
It is no exaggeration to say that in vintage watch collecting at a serious level, dials, and by this we mean their condition and originality, are everything. A watch with an original, untouched dial in almost perfect condition will have a market value of almost double that of the same model with a deteriorated or, worse still, restored dial. Examples with near perfect, virgin dials are very hard to find, and as a result, when they do appear, they are always initially expensive.
This dial is totally original and in almost perfect condition. It has never been restored and is virtually indistinguishable from how it would have been in 1955 on the day it left the jeweller's shop for the first time. The French white background has just mellowed slightly into a marginally creamier hue, but this effect is subtle and very attractive, rather like the gently yellowing of the pages on an old collectible book. There is no spotting or dust staining at all, and it is clear upon close examination that the watch has only ever been stored in a dry, clean environment.
The signature "Jaeger LeCoultre" is stated above the dial centre point, below which is the name of E.W Langton of North Finchley, the London Jaeger LeCoultre agent that supplied the watch when new. Double signed dials of this kind are both rare and valuable, and represent a whole area of vintage watch collecting in their own right. As a percentage of their total output, all of the major Swiss houses produced very few double-signed dials, but some were more inclined to oblige retailers in this way than others. Rolex, for instance, was a relatively prolific double signer, as was Omega, but IWC and Jaeger LeCoultre dials with a retailer's name are hardly ever seen, making the near perfect item here very attractive to the experienced enthusiast.
The very elegant wide pitched dauphine shaped hands are original and correct for this model, their gleaming gold surfaces matching those of the applied Arabic numerals and art deco spearhead batons. Similarly, the winding crown is also unchanged and exactly as it should be.
Jaeger LeCoultre is, quite justifiably, famous for its sumptuous in-house built movements and it is absolutely true to say that in terms of quality of both design and finish, it doesn't get any better than the vintage mechanisms created by this concern in the 1950s and '60s. One of the most satisfying aspects of these watches is the fact that they represent the absolute quality pinnacle of Swiss watch making. Today's luxury watches sold in the High Street are built to infinitely lower standards and the only comparable products offered now, quite literally, cost many thousands of pounds even in the most basic forms.
This movement is the company's calibre P800/C, a hand wound mechanism that was introduced in 1950. Very much to the brand's credit, there has never been a poor Jaeger LeCoultre movement, this resulting in a simple situation where, as long as he can be sure the mechanism offered is not a fake or in poor condition, the buyer can be confident that if it carries the company's signature, it will be an exception piece of micro mechanical engineering.
Inlaid in 18 karat gold in order that it stands out against the rhodium plated bridge plates is the signature "Jaeger LeCoultre, Fab Suisse, Swiss". The calibre number is stated alongside the regulator, as is the individual serial number 1055776. Falling between the two extremes of vintage Jaeger LeCoultre production for that year of 1050000 and 1130000, this informs us that this unit was manufactured in very early 1955. Notice how the movement serial number and the hallmark date letter inside the case back tie in perfectly with each other. The condition of this movement is literally almost perfect. It contains no non-original parts whatsoever and in a superbly preserved state through. There is no hint of corrosion or even surface dulling, and if the uninformed novice was told that this was a movement in a three week old watch, he would find no reason to believe otherwise. The extent to which this mechanism is finished is, as we'd expect to see on a vintage Jaeger LeCoultre movement, something of a tour de force. All the plates have bevelled edges as opposed to being left plain, the gear teeth have been individually dressed and the entire upper surface of the movement is covered with the most wonderful set of Geneva stripes which have been hand polished into the plates with a rotating boxwood or ivory disk.
Incidentally, notice how, to create a large watch with a standard sized movement, Jaeger LeCoultre used a wide circular packing spacer between the mechanism and case wall. We have discussed it here on many occasions over the years and have never liked this approach, simply because it seems rather like a way of misleading the innocent retail buyer into believing that he is acquiring a timepiece with a suitably large movement when in reality, he's purchasing a large case with a movement of conventional diameter. Having said this, Rolex, IWC, Omega and almost every other one of the top tier Swiss houses used exactly the same construction technique and we have never read anyone else criticising it, so it seems that we must be out of step.
Having been serviced regularly since new, this movement works perfectly and runs very smoothly. A carefully looked after classic Jaeger LeCoultre movement will out last its owner, and its owner's grandson, with effortless ease. If return to the company's headquarters in Le Sentier, the company still offers servicing for its vintage mechanisms, but while very thorough, this is expensive. An experienced local watchmaker will be able to clean and lubricate this movement perfectly well for a fraction of the cost in exactly the same way that a good independent garage can perform oil changes and routine service tasks on a luxury car to the same standard as the official agent.
The price for this watch is £1675 GB pounds, which is significantly less than the same piece would sell for if entered in one of the major physical auction houses' specialist horological sales. To find this large gold cased model, with an original double signed dial, in any condition would be difficult, but to locate it in the untouched, near mint state here would be virtually impossible. At any point in time, simply because the price is influenced by so many people chasing a relatively limited number of watches, good, and by this we mean entirely all original, vintage Jaeger Le Coultre items are always going to seem costly, but their credibility with enthusiasts and the growing interest in antique watch collecting as a whole will always ensure that as investments, they are very effective.
Price £1675 GB Pounds
Vintage Watch Brands
Vintage Watch Decades
Vintage Ladies Watches
Vintage Watch Bracelets
Swipwreek Straps
Travel Clock/ Pocket Watches
Home
About
Brand Overviews
By Decade
Reference
Contact Details
Telephone from the UK:
07453 734666
or 07428 051005
Telephone from overseas:
+44 7453 734666
or +44 7428 051005