Vintage Wristwatches For Sale From The 1940s.
It is inevitable that an event of such all encompassing magnitude as World War II would have shaped wristwatch production at the time and a very significant percentage of the watches produced by the major Swiss houses in the 1940s was intended for use by the armed forces on both the Allied and German sides. Being officially neutral, Switzerland was able to pursue lucrative trade in this way, though Germany also developed a strong domestic watch manufacturing industry that turned out some very high quality models for the Luftwaffe, army and navy, a selection of which are always offered for sale on this site.
There had been military wristwatches before the War, but today, those produced during and after World War II are the most avidly collected. In comparison to their civilian equivalents, they tend to be minimalist in their styling, combining very high quality movements with rugged steel cases and black dials with highly visible luminous markings. Particularly appealing and very illustrative of this dark time in Britain's history are the Mark VII pilots' watches ( designation 6B/159) produced by Omega and Longines for the RAF in the early 1940s. Shortages of steel meant that these were supplied with aluminium cases. Most that survived in service were re-housed in steel after the War, but now and again, untouched examples surface. There is something rather humbling about wearing a vintage watch that quite realistically might well have seen active service in the cockpit of a Spitfire or on the wrist of a rear gunner in a Lancaster bomber on a night time raid over wartime Berlin.
While military models clearly made up a large chunk of production for the great Swiss houses in the early 1940s, it would be quite wrong to think that manufacture and development of civilian models stopped during this time. While Europe was deep in conflict, there was still an awful lot of the world that remained largely unaffected by the War, including India, which was still under British colonial rule. All the major brands, Omega, Jaeger LeCoultre, IWC, Longines, Breitling etc continued to produce a wide range of civilian models and Rolex in particular was responsible for some of the most attractive and flamboyant dial formats ever created during the early 1940s.
While transitions in public taste were fairly gradual and typically took place over three or four years, it is true to say that by even 1942 or 1943, the fashion had swung back towards circular dials and cases. The rectangular art deco cases of the 1930s were seen less and less, and the cubist numerals and lapidated bezels of the same era had all but gone. Instead, cases had a far more smoothed, less angular and more curved appearance. Many collectors would argue that the models in this typically 1940s style are among the most attractive and elegant ever made.
By this stage, lugs were now completely integrated into the overall design concept. The 1940s was the age of extreme lugs, with oversize turtle, horned, teardrop, oriental and hooded lugs all being associated with this period, so much so that if we find a watch with one of these case styles, we automatically tend to assume that it is of 1940s origin. Hands were fairly straightforward, baton or alpha shaped, often with a pitched or convex top surface. Dials now routinely had a mixture of Arabic and Roman numerals, combined with batons at the hour positions, though dial surfaces tended to be of a single colour rather than the two-tone types that had been popular in the 1930s.
Movements remained unchanged in terms of quality. Even during the war years, the output of the major Swiss houses was beautifully finished and not in the slightest bit compromised. Omega dropped its trademark pink gold movement finish during the conflict due to difficulties in obtain supplies of gold for plating and instead temporarily finished in Rolex-style rhodium, but otherwise, production ran largely as normal. In the years following the war, very effective shock protection systems, these having been refined during the war years for use in military timepieces, became widespread in civilian production.
Self-winding also came of age and became commonplace. Longines, Omega, Jaeger LeCoultre and of course Rolex all offered reliable automatic watches by the second half of the 1940s and these had achieved acceptance by the public, who had initially been rather suspicious of this new technology. Perhaps even more importantly, the resistance from watchmakers to self-winding, caused by lack of familiarity and a fear of the unknown, had been overcome and most good independent repairers were now confident when servicing movements of this type.
Another significant event came with the launch of Rolex's Tudor range in 1945. Originally intended to satisfy a demand for lower priced wristwatches still carrying the Rolex name, ironically the quality of these was so high that in fact, the disparity between Tudor models and their mainstream Rolex equivalents was often embarrassingly small. Today, there is an enormous demand for good early Rolex Tudors and these have proved themselves as one of the best horological investments of the last fifteen years.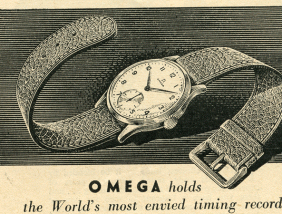 Movado Tempomatic steel. First Movado automatic 1945
Rolex Tudor Oyster steel. Very early. 1946
Omega bumper steel early automatic Newark dial 1946
Rolex Tudor Oyster Devon form lugs steel 1946
Omega bumper automatic pre-Constellation 1946
Rolex steel snap back 1946
Rolex Tudor Oyster ladies steel with form lugs 1946
Omega oversized steel with double signed dial 1946
Rolex Tudor pink gold cushion 1946
Jaeger LeCoultre 18 karat gold with calibre 478. 1946
Vintage Watch Brands
Vintage Watch Decades
Vintage Ladies Watches
Vintage Watch Bracelets
Swipwreek Straps
Travel Clock/ Pocket Watches
Home
About
Brand Overviews
By Decade
Reference
Contact Details
Telephone from the UK:
07453 734666
or 07428 051005
Telephone from overseas:
+44 7453 734666
or +44 7428 051005