Vintage Wristwatches For Sale From The 1930s.
The 1930s should be regarded as a decade in which the ideas pioneered in the 1920s were refined and perfected. There was something of a mania for horological innovation in the 1920s, but a lot of the quirkier movement types, many of which are fascinating things to study and extremely collectible today, were actually fairly flawed in practical terms. The 1930s took the embryonic designs of the 1920s and built on them to produce commercially viable models that were realistic propositions as everyday timekeepers.
There probably isn't a better example of this than automatic winding. Harwood, Autorist, Rolls and a small number of other concerns had patented their own systems for self-winding wristwatches but in truth, these are to be viewed in retrospect as inspired but courageous failures. They were valiant attempts to create a model that was powered by the motion of the wearer's wrist but any collector who has ever worn one for a day will be well aware that if your life depended on knowing the accurate time, a pioneering early automatic from the 1920s wouldn't be your first choice of watch.
It was six years after the Harwood company ceased trading that Rolex launched its first automatic watch, the Oyster Perpetual. Known by modern day collectors as the "bubble back", this title being derived from the very thick domed back that was needed to accommodate the additional thickness of the self-winding mechanism screwed on top of a conventional hand wound movement. Winding in one direction only, it was crude by modern standards but it worked and, at a push, if it was serviced regularly, could be relied upon to give reasonably accurate time keeping in a practical sense.
Rolex has been so significant in the luxury wristwatch market that milestones in its history are to be regarded as landmarks in the development of the wristwatch in general. While the Rolex Oyster, the world's first reliably waterproof wristwatch, had been launched during the previous decade, this was offered in cushion and octagonal shapes. In 1932 Rolex introduced its Oyster reference 2324, this being the first Rolex Oyster to have the instantly recognisable shape that we still see on the brand new watches sitting in Rolex agents' windows worldwide today. A good, all original reference 2323 Rolex Oyster from the 1930s is quite rightly to be regarded as one of the all time greats and is an important inclusion in any serious vintage watch collection.
Art deco was still the guiding force in case design, with rectangular and cubist inspired cases being very much in vogue. Dials would no longer just have numerals, but would also have their hour positions indicated by batons, and combinations of alternating numerals and batons from this period are often extremely attractive. We have seen enamel dials from this period, interestingly nearly always on Longines watches, but for the most part enamel had ceased to be used and painted metal dials were now virtually universal.
Though theoretically in use for watch cases since the late World War I era, stainless steel housings were seen far more commonly in the 1930s. Advancements in the ability to machine such hard metal meant that it became viable to produce steel cases on a commercial scale, with steel gradually taking over from silver in the ranges of the major Swiss houses. Another design concept that made its debut during this decade was the use of mixed metal in cases for dramatic two-tone aesthetic effect, with gold being coupled with steel and platinum with gold.
Certainly by the second half of the 1930s, lugs had become an important integral part of the overall styling of watch cases, but even so, they weren't yet as prominent as they would become in the 1940s. Hands were used in such a variety of shapes that to list these would be nigh on impossible. However, diamond and square Breguet patterns stand out as being especially evocative of this era. Radium paint was commonly seen on both hands and dials, the taste for which, sadly, led to the early demise from cancer of many of the ladies working in the Swiss factories who would lick the bristles of their paint brushes in order to create a finely pointed tip that was ideal for filling in this luminous detail.
From a buyer's point of view, pre-war vintage watches from the 1930s by the famous Swiss houses are very difficult to resist. As with all the best models from earlier decades, genuinely top notch examples are not easy to source and fakes abound. The cream of totally authentic survivors from this period are represented on this site and while certainly not cheap by any means, they will prove to be sound investments while at the same time being very enjoyable things to wear and collect.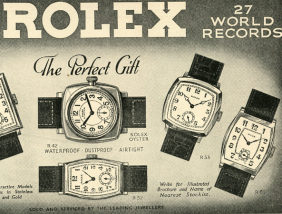 Omega gold cushion Redhill dial 1935
Jaeger LeCoultre travelling clock, pigskin 1935
Jaeger LeCoultre travelling clock and barometer 1935
Jaeger LeCoultre ladies steel art deco Harrods 1936
Longines art deco steel, Leeds dial, 1936
Jaeger LeCoultre alarm/desk clock red leather 1936
Jaeger LeCoultre ladies art deco steel, boxed 1936
Longines gold ladies cushion boxed 1937
Zenith steel "Viceroy shape" 1937
Rolex tonneau with starburst dial 1937
Vintage Watch Brands
Vintage Watch Decades
Vintage Ladies Watches
Vintage Watch Bracelets
Swipwreek Straps
Travel Clock/ Pocket Watches
Home
About
Brand Overviews
By Decade
Reference
Contact Details
Telephone from the UK:
07453 734666
or 07428 051005
Telephone from overseas:
+44 7453 734666
or +44 7428 051005