Ulysse Nardin date deco dial 1963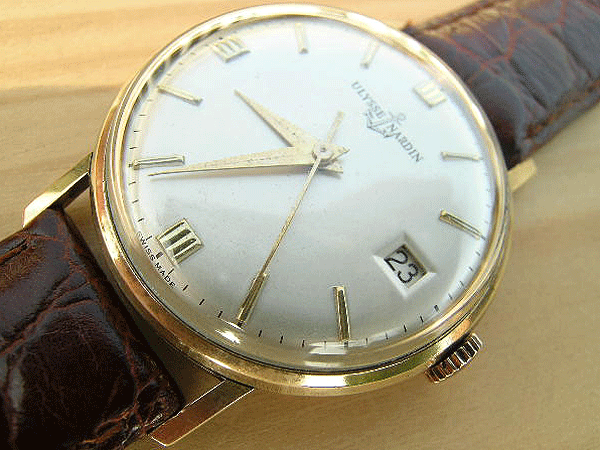 Vintage Ulysse Nardin watches are quite a speciality of ours and we always try to have a selection of immaculate examples for sale from the glory days of this famous LeLocle house. While responsible for some of the most beautiful vintage timepieces ever made in Switzerland, the company has always remained a niche brand, with a volume of production that was, and still is, much lower than that of the major houses like Rolex, Omega and Jaeger LeCoultre. When new, Ulysee Nardin watches were always prohibitively expensive for most of the population and the number of retailers that stocked these items was very limited. Accordingly, they are difficult to source today and for every twenty Rolex Oysters we buy in our business, we might, if we're lucky, manage to locate a single vintage Ulysse Nardin. Not surprisingly, they always sell quickly and make very good choices for buyers who want to purchase something that is superbly made, but is a little less obvious and rather more understated than the output of the household name brands.
This example is gentleman's manually wound model from 1963. Its condition is literally almost perfect and it seems reasonable to assume that it was only ever worn for special occasions and has never been in use on a daily basis. Again, the high cost of Ulysse Nardin watches when they were new meant that many owners viewed them as status symbols that were to be wheeled out when there was the need to impress, rather than as working timekeepers that primarily had a functional purpose.
The large circular case is in the imperial style, with wide straight lugs. This type of case is classical in the extreme and has the great bonus of never appearing in the slightest bit dated. A watch like this looks just as relevant in 2012 as it did on the day it was new in 1963, which makes it a very safe investment vehicle. Just as with the stock market, there are watches that can be regarded as very safe or rather more risky investments. Pieces like this one are stable, established classics that will always appreciate in the long term. A well preserved model by any of the famous Swiss luxury brands in an imperial case will always be above changes in fashion and it is difficult to imagine any scenario that would cause this item to ever lose a penny in commercial worth.
This is a gold plated case with, quite correctly, a stainless steel back. It is interesting that all the top tier brands, including Rolex, IWC, Omega and Breitling, offered gold plate versions in their ranges in the 1960s and '70s, whereas today, they tend to supply only steel and solid gold watches, without the intermediate stage of gold capped or plated. Further back still, in the pre-World War II era, silver cased wristwatches were on sale, but by 1945, these had disappeared very noticeably from the market. It is fascinating how both taste and economics played a part in the watch industry and in some instances, even dictated the choice of metal used in particular countries or regions to which products were exported.
Looking at this case now as this description is written, it could be regarded as virtually pristine. As with that of any vintage watch, if we look closely enough with an eyeglass there are a few tiny imperfections to its surface here and there, but in realistic terms, even the most pedantic collector could never hope to find better. The gold plating on these vintage Ulysse Nardin cases was so thick that it hardly ever seems to wear through to the base metal beneath. Anyone examining this piece from the front would automatically assume that it was housed in solid gold.
The case back is a snap on item and is stamped on its outside with the wording "stainless steel back", together with the model reference 10463 and the unique serial number 10507. This stamping is of full depth and has not been at all smoothed with prolonged wear or over-enthusiastic polishing. We often see watches on which case back details are so faint as to be almost illegible and we do not recommend such examples as serious investments. A vintage watch that is genuinely virgin and untouched since new will always be infinitely preferable to the same model in a cosmetically enhanced state, polished from a poor state to give the artificial appearance of an item that has been looked after properly.
A hand applied engine turned pearled pattern covers the whole width of the case back inner. It always strikes us as so impressive that the major brands took it upon themselves to spend considerable amounts of money having highly skilled craftsmen decorate parts of their watches that under normal circumstances, neither the retailers or the eventual end users would ever see. There is so much more quality to items like this one than most buyers realise and even serious collectors often notice new aspects of their watches that they somehow hadn't spotted on previous examinations.
Internally, the case back is stamped "Ulysse Nardin. Locle, Swiss Made", together with the company's shield emblem. This form of signature is exactly what we would expect to find on a vintage Ulysse Nardin watch case from this era.
On its mirror polished outer surface, the case back has the stamp "Stainless Steel Back", the serial number 10463 and the model reference 10507. When worn vintage watch cases are renovated to make them more attractive for sale, they are typically heavily polished, with the consequence that any stamped detail on their outsides loses depth and definition. To the serious collector, this is clearly a negative that renders a piece more desirable than it otherwise would be. The stamp here is very clear and is just as deep today as it was when the watch was new.
Dial condition and originality are the two major factors that will have more bearing on the commercial value of any vintage wristwatch than any others, with the general consensus of opinion among purists being that approximately half the worth of any high level classic wristwatch lies in its dial. In our business, we spend a lot of time examining potential purchases with a stereo microscope, trying to spot any signs of restoration or deterioration that might mar an otherwise first rate dial. We are very critical in this area and take great pride in the standard of the dials that we offer.
The dial on this watch is as near to perfect condition as could ever be found, yet it is completely virgin and has not been restored in the past. It is very noticeable now that we see fewer and fewer vintage watches for sale with immaculate untouched dials with every year that passes, and we work much harder now to source these pieces than we did even a decade ago. The majority of classic wristwatches in circulation either have original dials that are scruffy, or freshly refinished, so-called "restored" dials, both types being undesirable in their own way. Nobody wants to wear a watch on which the dial is dirty and discoloured, while the refinished dial can be created at will at the request of anyone with a cheque book and consequently has no rarity value. The difficult lies in finding that elusive combination of a virgin state and superb condition, hence the premium that collectors are willing to pay for vintage watches with first rate dials like the one here.
Even when studied under high magnification, it would be very difficult to spot and deterioration to this dial. Its French white surface is free of dust staining and there are no signs of spotting. In order to have come through the last half century so unscarred, it is obvious that this watch has spent most of its life in a dry environment, away from the bleaching effects of intense sunlight.
"Ulysse Nardin" is stated above the dial centre, together with the firm's famous anchor emblem. "Swiss Made" is printed around its very bottom edge. All this wording is clear and not at all worn or faded.
All three hands are original, with the hour and minute hand in the dauphine shape. The hands are pitched, with a raised central ridge that matches the very attractive corrugated art deco rectangular hour markers at the 12, 6 and 9 dial positions. The gilt finish of the hands is almost perfect, which again is suggestive of a hardly used timepiece. Finding the correct hands for vintage watches by the small elite houses, like Ulysse Nardin and Girard-Perregaux, can be immensely frustrating and very pricey. Based on our own experiences over three decades, we would always advise customers that it is far wiser to pay a little more in the first instance to acquire a specimen, like this one, that is complete and authentic throughout, rather than cut corners and accept something with aspects that are incorrect, hoping to eventually return these back to factory standard specification at some later date.
Similarly, the winding crown is original and has not been changed. The milled edges of the crown are sharp and not at all smoothed. On an older manually wound watch, this is always a tell tale sign of a piece that has not been used on a regular basis. It is surprising how daily abrasion with fingertips will wear the serrations of a crown smooth over several decades. As dealers, we look for consistency of condition across several different aspects. Here, for instance, we find a near mint case, almost perfect unrestored dial, gleaming movement and a winding crown that is free from wear. All these features combine as evidence that this is an item that, for whatever reason, was hardly ever used and has clearly led a very easy past life.
When a vintage Ulysse Nardin watch is acquired, its purchaser can be sure that its mechanism is of the highest possible quality. The firm is quite rightly regarded as being responsible for some of the finest wristwatch mechanisms to come out ofSwitzerlandand a well preserved classic Ulysse Nardin movement from the 1950s or '60s is an essential inclusion in any serious collection that attempts to chart the high points of the Swiss luxury watch industry over the last century.
The initial quality of a movement becomes irrelevant if it is allowed to deteriorate, and this point should always remain in the forefront of one's mind when buying a vintage wristwatch. In the final analysis, the highest standard of finishing and build quality will not protect against the premature wear that will be inevitable if a movement is starved of lubrication and incorrectly adjusted. There are many vintage watches for sale, typically in the fast paced world of the mass market online auction websites, that are by the most celebrated makers but are not worth buying, for no other reason than they have been so woefully neglected that they have deteriorated beyond the point of no return. Rather like the classic motor car that has been run for a million miles without an oil change, even the rarest vintage watch models in a poor state should be avoided.
The movement here is spotless and guaranteed to be entirely original. It has been serviced regularly and contains so non-standard or replaced components at all. The rhodium finish to the plates is not rubbed or tarnished and the entire unit shines brightly, exactly as it did when new in 1963.
As called for, "Ulysse Nardin, Twenty One Jewels, Swiss" is signed on the plates. Everything about this movement suggests high quality and it is a lovely sample of vintage Ulysse Nardin production from this glory period. The vast majority of classic models from this era now have movements that are pretty shabby, with immaculate survivors like the one here being very much the exception to the rule.
Incidentally, there might be a natural tendency for us to assume that this was an American market model for two reasons, these being that gold plated luxury watches were very popular in the USA in the 1950s and 60s, and because Ulysse Nardin had a very effective distribution network there during the same period. In fact, careful inspection of the movement reveals that this was a European model, making it especially unusual with this specification today. In the immediate post-war years, legislation introduced by the US government to keep track on the import taxes paid on Swiss watches required every movement shipped from Switzerland to the USA to be marked with a three letter code that was assigned to its importing agent. If we look at vintage Ulysse Nardin movements from the 1950s and '60s that were sold new in the American market, these are stamped with the letters "NOA". There is no such code present here and, combined with the fact that the case is Swiss, not American, made, we can be sure that this was a European model. In fact, we know from the individual that sold the piece to us that it was purchased originally as a new watch here in the UK.
As a result of regular servicing, this movement works perfectly and runs with excellent amplitude. The watch winds very smoothly and the date feature clicks over exactly as it should. The quality of vintage Ulysse Nardin movements was so exceptional in the first instance that, provided they are maintained correctly, they should continue to perform without problems almost indefinitely. It is entirely realistic to think of buying a piece like this one and handing it down through successive family generations in the future. Unlike their modern equivalents, the luxury watches of the 1950s and '60s were designed from the outset to be possessions for life and even today, half a century after they were first manufactured, they are more than capable of fulfilling this promise.
We have fitted this watch with a high quality crocodile skin type strap. This is not a genuine vintage Ulysse Nardin strap, but it is very similar in both appearance and construction to those pictured in the company's advertising. This strap has never been worn and is in mint condition.
The price of this watch is £865 GB pounds. Over the last decade, there has been an enormous increase in the profile of Ulysse Nardin and a dramatic rise in the values of its vintage watches, but even so, examples like this one still represent remarkably good value for money, for no other reason than they fly under the radar of the general public at large, who are not familiar with the Ulysse Nardin brand name. Without a doubt, Ulysse Nardin occupies a more exotic position in the minds of experienced collectors than that of Omega or Longines, yet we would struggle to find an equivalent early 1960s model by either of these brands at this price level. This is a very attractive, extremely high quality vintage watch that will greatly appeal to the sophisticated buyer who wants a rare item in immaculate condition that will not be immediately recognised by the man in the street. While it is something of a cliché, there is truth in the statement that Bentley has become the must-have motor car brand for many newly wealthy premiership footballers, just as Rolex is the ubiquitous watch for the self-made man. Ulysse Nardin has far more subtle, older money connotations and occupies a place in the horological world that is similar to that ofBristolin the motoring sphere. We have a great deal of enthusiasm for these watches and cannot recommend them strongly enough to buyers looking for a very upmarket, refined product that has never been offered to the public in large quantities and still remains a small scale boutique atelier even today.
Price £865 GB Pounds
Vintage Watch Brands
Vintage Watch Decades
Vintage Ladies Watches
Vintage Watch Bracelets
Swipwreek Straps
Travel Clock/ Pocket Watches
Home
About
Brand Overviews
By Decade
Reference
Contact Details
Telephone from the UK:
07453 734666
or 07428 051005
Telephone from overseas:
+44 7453 734666
or +44 7428 051005