Rolex Wellington with box and guarantee 1943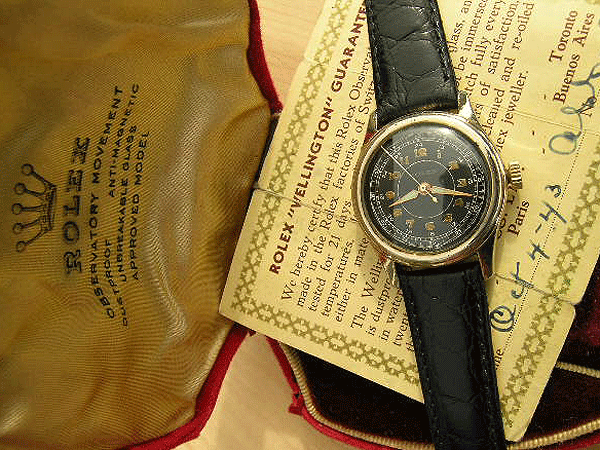 Dating from 1943, this untouched gentleman's Rolex Wellington, complete with its original box and paperwork, is one of the most interesting watches to be offered on this site, not least because it challenges a number of accepted theories about those models that Rolex created specifically for sale in Canada. It's a beautiful collector's piece and certainly, it would be exceedingly difficult to find this same package again in a comparable condition.
To understand this watch fully, we need to give some background information regarding the significance of the Canadian market to Rolex in the 1940s. The majority of Rolex movements during what we now regard as the company's vintage period were produced in Switzerland by the Jean Aegler concern, in which Rolex held a large financial stake. Rolex had worked out a deal with Aegler that meant that it was the exclusive user of Aegler movements in Britain, Europe and the British Empire countries, but was not able to supply these to the American market. Instead, the USA would be covered by the Gruen company. Hence it is that many of the best Gruen watches sold during this era in the United States contain the identical Aegler movements that are to be found in their Rolex equivalents which were sold elsewhere.
While Rolex couldn't offer its products in the USA, it could feed the Canadian market and in conjunction with its agent there, a range of watches was created entirely for Canadian sale. These have a distinctive look and as one becomes more experienced as a collector, are quite easy to recognise.
A major factor for this individuality of the Canadian models is that they were not cased in Switzerland. Rolex was no stranger to the concept of casing watches in their country of intended sale and in fact, the vast majority of its models offered in the UK had been fitted with British made cases since the World War I era. This arrangement came about initially because the British government had banned the import of precious metal into the UK in December 1916 in an attempt to reduce public spending at a time of national crisis. In order to avoid losing its lucrative British market, Rolex imported only uncased movements to the UK, these being not subject to any restriction, and then had them housed in domestically manufactured gold and silver cases. When normality was resumed and the import ban lifted, the same casing of Rolex movements in the UK continued simply because it had proved to be so convenient for all concerned. The situation that led to these Canadian models wasn't quite the same but was certainly similar. The Canadian government had imposed high import taxes on watches brought into the country from Switzerland. By importing movements and housing them in cases made in the USA, this high duty rate was avoided and Rolex could still keep the eventual retail prices of its watches sold in Canada at a reasonable level.
Canadian Rolex models were typically given names that were never used for their European counterparts, often with an upmarket traditional British theme. This one, the Wellington, would be the classic example with which to illustrate this point.
The case on this watch is exceedingly interesting. In common with most of those used on Canadian market Rolex models, it's a gold capped item with a stainless steel back. It is not an Oyster case, meaning that the winding crown doesn't screw down against the case side, and was never intended to be waterproof. However, like the Oyster, it does have a screw threaded, rather than snap on, back. Very unusually, the threads on the case body stand proud from the back of the watch and are on the outside, not the inside, of the case. Correspondingly, the case back is threaded internally, not, as we'd find on the Oyster models, on its outer surface. We have seen a handful of Canadian market Rolex cases over the years that were the same as the one here, and each time this curious inversion of the Oyster format threading has caught our eye.
The case back interior is simply signed "Rolex". This is absolutely correct for this model. No case maker's marks are present and we don't know for sure, but looking at this case in detail with an eyeglass as this is written, we can be pretty confident that it was the product of the Keystone Watch Case Co, of Keystone . We have encountered other Canadian market Rolex cases on which the Keystone name was signed and this looks to be a good example of the company's output.
Case condition is very good. It's not mint and there are a few tiny imperfections here and there, but we would suspect that this watch has only been worn on a very limited number of occasions in the past. There is no pitting or damage anywhere and it is true to say that a better-preserved example realistically could not be found at any price.
The dials used on these Canadian market models were some of the most attractive ever used by Rolex. Presumably catering for the racier tastes of a less conservative customer base, they tended to be more complex than their European equivalents and more heavily influenced by art deco. This particular dial is an absolute gem, with a single minute track around its outer edge, a double minute track inside this, a twenty four hour scale and a set of radium filled hour numerals. To cap it all, while the dial colour is black, there is a two tone effect, with the area behind the luminous numbers in a matt finish, which contrasts sharply with the gloss of the rest of the dial. "Rolex" is stated in white above the centre point, with "Swiss Made" running along the bottom edge. We hardly ever see a vintage Rolex dial that is more complicated than this one and this unquestionably adds a lot to both the visual appeal and the commercial value of this particular watch.
Best of all is that fact that this dial is completely original. It has never been restored and is guaranteed to be totally untouched. The dial accounts for almost half the value of a vintage Rolex watch and if this is either restored or original but in poor condition, then the worth of the piece to which it is fitted will be greatly reduced from what it would have been with a superb original dial. This particular dial is literally almost perfect and it represents exactly what the collector or investor should be looking for in an ideal world.
All three hands are correct and unchanged. Though certainly not unknown by any means, it is still relatively unusual for a Rolex watch from the war years to have a centre sweep second hand rather than a subsidiary seconds register at the 6 o'clock position. Later, in the 1950s, sweep second hands would take over as the standard but in 1943, when this watch was new, subsidiary seconds models were very much the norm.
This watch disproves one of the standard beliefs about Canadian market Rolex models. When its case back is unscrewed, a gleaming example of a 10.5 ligne Hunter movement is revealed. It is the perceived wisdom that Canadian market Rolex watches didn't use the Hunter, but instead came with calibre 59 movements, these being purchased by Rolex from FHF. The Hunter is regarded today as the all time classic Rolex manually wound movement and was the company's flagship from its introduction in 1923 until its eventual retirement in 1969. There is no movement that is held in such high regard by Rolex aficionados as the Hunter and if one had to chose the archetypal Rolex mechanism from the 1930s and '40s, then this would be it.
We often say that successful vintage watch collecting involves a certain degree of detective work and this is the case here. This movement in not the one that typically is found in a Canadian market Rolex, so if we didn't know otherwise from experience, we might reasonably assume that it wasn't the original for this model and that the FHF unit that we'd expect to find had been replaced with a Hunter at some stage. However, when we study the original paperwork that is still with the watch, we know that this combination of case and Hunter movement is completely correct. The paperwork is specifically for the Wellington and relates to no other model. It states clearly that the movement inside the piece has been "adjusted to six positions and temperatures" to a standard approved by an independent Swiss observatory. FHF's calibre 59 was never adjusted to six positions and the only manually wound Rolex movement from this era that was is the Hunter. In reality, we were already aware that the Wellington, being the top of the Canadian market Rolex range at the time, was fitted with a Hunter and knew from the outset that this watch was totally original, but it is worth including the deductive chain that would have led us to this conclusion, even if we'd have had no prior knowledge as to the specification of this model.
In keeping with the rest of the watch, this movement is literally almost perfect throughout. "Rolex, 15 Rubis, Swiss Made" is stated on the winding wheel. Finished in rhodium plate, the bridges are free from corrosion and not in the least bit tarnished or even dulled. Nothing in this mechanism has been changed or altered and every component part is exactly as it was in 1943 when the watch was new. It is not common to find early Rolex movements that are as crisp and untouched as the one here, and when they do appear, it is well worth paying a premium to secure them.
Having been serviced on a regular basis, this movement works perfectly and is in superb mechanical condition. The Hunter is very over engineered and provided it is cleaned and re-lubricated every three or four years, it will last, literally, almost forever. This watch is approaching seventy years old already, but if it is looked after and treated with care, it will still be giving excellent service long after anyone reading this has departed from the mortal stage. Rolex watches from this era were designed as possessions to last a lifetime, but in practice, they are capable of virtually infinite life if maintained in accordance with the company's planned servicing schedule.
We have fitted this watch with a high quality crocodile skin type strap that is perfectly suited to its vintage appearance. This is not a genuine Rolex strap, but it is very similar to that which would have been supplied with this model in the first instance.
Having never been worn, this strap is in mint condition.
Remarkably, the guarantee paperwork that accompanied the watch when new is still with it today. This is in very good condition and informs us that the watch was sold new on the 4th October 1943. Notice how prominently Toronto is shown in the list of major Rolex agents and how the USA, for reasons discussed earlier, is glaringly conspicuous by its absence. Documents of this kind are rare and highly prized by collectors. This item is especially interesting as it relates only to the particular Wellington model and is not a universal guarantee for all Rolex models sold in Canada at the time. Obviously we have no way of knowing, but we can't help wondering just how many of these original Rolex Wellington guarantees still exist. By now, virtually every one must have been lost or thrown away. In over twenty five years of daily involvement with vintage Rolex watches, we have never seen another and if ten more examples survive anywhere in the world, then we would be surprised. If we were to sell this guarantee paperwork alone online, without a watch accompanying it, we would expect it to change hands for around £300 GB pounds, simply because there are enough Rolex collectors out there to create high demand for an item that they would be well aware was unlikely to be found again.
The original box in which this watch was sold in 1943 is present. This is one of the most famous Rolex box formats of all time and takes the shape of an Oyster shell. There is some irony in the fact that though this is the correct box for this watch, the Wellington was not an Oyster model, being without the waterproof winding crown that defined this patented type.
Perhaps surprisingly, this item is not prohibitively expensive. Even with its box and paperwork, it still remains one of the most affordable vintage Rolex watches for sale on this site. After some deliberation, we have priced it at £975 GB pounds, which is far from excessive. Locating first rate Canadian market Rolex models in this condition at similar price levels is not at all easy and when this one has sold, it will be quite a challenge to replace it in our stock for a similar amount of money.
Price £975 GB Pounds
Vintage Watch Brands
Vintage Watch Decades
Vintage Ladies Watches
Vintage Watch Bracelets
Swipwreek Straps
Travel Clock/ Pocket Watches
Home
About
Brand Overviews
By Decade
Reference
Contact Details
Telephone from the UK:
07453 734666
or 07428 051005
Telephone from overseas:
+44 7453 734666
or +44 7428 051005