Rolex Tudor Prince Oysterdate gold capped 1960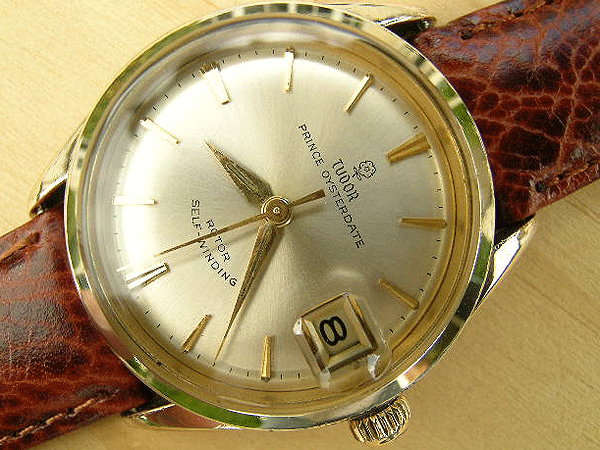 The Rolex Oyster has, quite deservedly, become one of the design classics of our age. Introduced in 1926, these elegant yet robust icons are instantly recognisable and revered by legions of fans in every developed country in the world. Many books have been written about the history of Rolex, from its humble beginnings in London to its current position as the world's number one luxury wristwatch brand. Prices of classic and vintage models seem to rise on an almost monthly basis, to the extent that articles discussing old Rolex watches as alternatives to shares as investments have appeared in numerous financial publications over the last five years, both here in Britain and in the USA.
One of the most appealing aspects of the Rolex Oyster phenomenon is that the appearance of the watches has followed a slow process of evolutionary change, rather than having been ever radically altered to fit in with the prevalent fashion of the moment. For the buyer of a used Rolex Oyster model, this has enormous advantages because older watches, looking essentially the same as those produced today, hold their value extremely well and indeed, over the last two decades, the prices of classic Rolex models have risen far more than is the case with any other luxury watch model.
The gentleman's self-winding Rolex Tudor Oysterdate for sale here was produced in 1960, yet has numerous similarities to far more recent models while retaining a typically characterful vintage appearance. We often think that 1960s Oysters, like this one, that still ooze a large amount of charm and old world charisma, yet are very technically advanced and remarkably reliable, are perhaps the most practical of all the classic Rolex models, being both high value collectible pieces and capable of being worn on a regular basis without any ill effects. The watch has obviously been a prized possession of its previous owners and looks to have carefully cared for throughout its life. It is a perfect investment grade example of the type that appears ever less frequently on the market today. Most of the really worthwhile classic Oysters were flushed out of the woodwork in the 1980s when the price of vintage Rolex items started to soar, and are now firmly in the hands of private collectors who have no intention of parting with them in the foreseeable future.
The heavy, large size ( the watch has a width of 37mm including winding crown, and a substantial depth of nearly 9mm), gold shell case is in superb condition, with almost no wear whatsoever being present, other than the usual light legitimate scratches that one would expect to find on any classic watch and have occurred during the course of normal careful use. The watch has an eye catching gleam to both the case front and back which would certainly suggest to the casual observer that the item was far more modern than is the reality. To the casual observer with no specific knowledge as to the minutiae of Rolex Oyster development, this could easily be taken for a five year old watch.
Between the top two lugs is the stamped model reference number 7966. It is well worth acquiring the habit of checking that Rolex reference numbers do actually relate to the specification of the watches on which they appear. If we look up reference 7966 in Charles Jarman's excellent book "The Rolex Reference Guide 4th Edition", we can see on page 109 that this identifies a "Prince Oysterdate, with smooth bezel", which is clearly a summarised description of this item. The added note is included that some 7966 Oysters were Ranger models. This is very interesting. The Ranger, with its black dial and distinctive arrow hands, is highly desirable to the collecting fraternity and commands a price of several thousand pounds. However, if we look beyond the cosmetic gloss, we can see that in fact, the specification of this watch and the Ranger is the same, making this item something of a bargain for the informed buyer who is aware of this similarity.
Beneath the lower lugs is the unique serial number 336556. Falling between the two extremes of Rolex Tudor Oyster production for that year of 280000 and 340000, this confirms to us that this watch was manufactured in late 1960.
The watch is entirely original and still retains its correct screw down crown, complete with a large Rolex coronet logo on its outer surface. Sadly, the majority of vintage Oysters have now had their crowns replaced due to excessive wear on their threaded interiors. These delightfully evocative vintage crowns are now almost unavailable as spare parts and it is not unusual to see a watch from this era that has been fitted with a later, incorrect crown. The threads on this winding button and the case tube are in perfect condition and, as it should, the winding crown screws down perfectly onto the case body, creating a perfect waterproof seal.
The gleaming stainless steel case back is fully signed internally and is in almost mint condition. The entire case back is decorated inside with an engine turned pearled pattern and stamped "Montres Tudor SA, Geneva Switzerland, Patented, Carrure, Lunette Plaque Or Lamine, 20 Microns ( the case is gold capped to a thickness of 20 microns), Swiss Made, Fond Acier Inoxydable ( the French for stainless steel), Stainless Steel Back". Interestingly, there is also the tiny coded case maker's mark of Bielna. Rolex, in common with Omega, Jaeger LeCoultre, IWC and Patek-Philippe, was not a manufacturer of watch cases. Instead, production of the patented Oyster housings was sub-contracted to a small number of independent Swiss firms that specialised in this field. Bielna produced some superb cases for Rolex during the vintage era, and this one is an excellent example of its first rate work.
On so many classic watches, their cases have become dulled with use, but this one still shines as it did on the day it first left the Rolex factory. Externally on the case back, the large letters "Original Oyster Case by Rolex Geneva" are crisp and well defined, as is the company's famous coronet emblem.
The original, French white dial is in spectacular, almost perfect, condition and is fully signed as being a Prince Oysterdate model. This is significant as a date feature, together with its magnifying Cyclops bubble lens, in itself an important Rolex patented invention, is very desirable on vintage models not least because most earlier Rolex Oysters display the time only.
Beneath the dial centre point is the wording "Rotor, Self-Winding", with the latter phrase in an arc below the former. This is one of the most attractive vintage Rolex Oyster dial signatures ever produced and is probably most familiar to collectors as the printing on the very first Explorer models of the early 1950s. Osvaldo Patrizzi's excellent book "Collecting Rolex Wristwatches 2001" includes a double page colour spread (p. 339) of a 1953 Explorer with exactly the same curved Self Winding signature as that on the watch for sale here.
The elegant gold alpha shaped hands are in almost mint condition and compliment the art deco fan shaped dial batons. Any departure from standard production specification adds considerable interest ( and in turn, commercial value) to a classic Rolex watch and the dial variant on this piece, with double spearhead batons at the compass points, is both very attractive and difficult to find.
As one would expect from any Rolex watch, the all mechanical, hand assembled movement is a joy to behold. The mechanisms in Rolex timepieces are arguably the finest wristwatch movements ever to have been created and the engineering, finish and build quality of the automatic unit present in this watch is a feast for the eyes. For the technically minded, we should mention that this mechanism is Rolex's calibre 2776, a 25 jewel creation that runs at 21600 half beats per hour and has every possible refinement, these including shock resistance and anti-magnetic protection. This unit is fully signed "Tudor Auto Prince" on its rotor, this wording having been carefully filled with 18 karat gold in order to make it more legible against its rhodium plated background. The watch has been regularly serviced throughout its life with the result that the movement looks to be almost as-new and works perfectly.
The watch has been fitted with a very high grade ostrich skin type strap. This is not an original Rolex item, but is very close in appearance to the one that was originally supplied when new and is perfectly in keeping with the style of the piece. The strap is in mint condition and has never been worn.
Overall, this is a very tidy, totally authentic classic Rolex Tudor Oyster that is dually suitable for purchase as an investment and also as a luxury watch to be worn. Self-winding examples like this one, with a date feature, in worthwhile condition are so difficult to find now and always in demand with enthusiasts who are keen to add unmolested pieces to their collections. We have priced this watch at £775 GB pounds, which reflects the fact that a lot of effort goes into sourcing untouched, unmodified vintage Oysters of this quality for our stock. Period Tudor Oysters appear regularly for sale online and in the physical auction circuit, but most are not as they should be, often with re-finished dials and movement calibres that are incorrect for their cases. In vintage wristwatches, as with every field of antiques, the buyer gets what he pays for and it is well worth spending a little more to obtain an item that is entirely correct, like the one here. Good, original vintage Rolex Oysters are the blue chip purchases of the vintage watch world and it is difficult to imagine how anyone could ever lose a penny over the long term by buying a clean, looked after watch of this kind. The asking price represents extraordinary value for money when we consider the amount of craftsmanship that went into Rolex production at this stage, and the price of even the most basic current Oyster models. While still a considerable amount of money, it is very satisfying to realise that for however long a vintage watch of this grade is owned, it will continue to appreciate in value as a collectible, something that certainly cannot be said about the new luxury watches sold in today's high street.
Price £775 GB Pounds
Vintage Watch Brands
Vintage Watch Decades
Vintage Ladies Watches
Vintage Watch Bracelets
Swipwreek Straps
Travel Clock/ Pocket Watches
Home
About
Brand Overviews
By Decade
Reference
Contact Details
Telephone from the UK:
07453 734666
or 07428 051005
Telephone from overseas:
+44 7453 734666
or +44 7428 051005