Rolex Tudor gold cushion, very early, 1935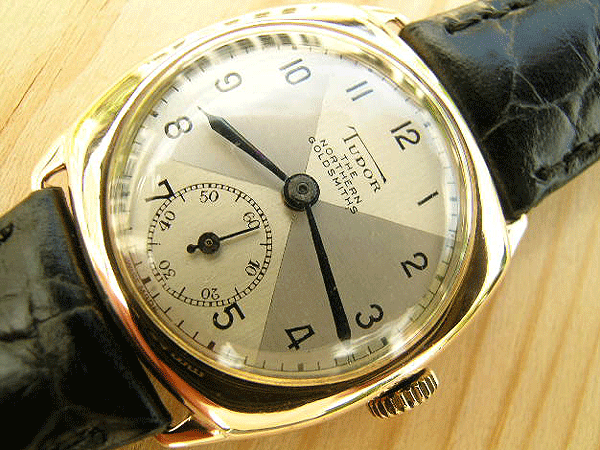 This Tudor gentleman's cushion in gold is a genuine rarity that is especially interesting from a serious Rolex collector's point of view. The fact that it exists at all challenges a number of firmly held beliefs and makes it very much a talking point if shown to enthusiasts. It's not actually terribly expensive either and its rarity should ensure that it will make a safe and effective investment vehicle.
It is universally acknowledged that Rolex introduced its Tudor range of watches in 1945. This also fits in with what we know about the world economic situation at the time. With Tudor, Rolex aimed to offer a selection of very high quality watches that could be purchased for less than those in the mainstream Rolex range at a time of widespread financial instability in the immediate post-war period. The cost saving that made this possible was achieved by using conventional Rolex cases but fitting them with movements that were purchased in a raw, unprocessed state from third party suppliers. These mechanisms were not used in the same form in which they arrived at Rolex, but were totally re-worked and finished to the usual Rolex standard. There is a certain irony in the fact that Tudor watches were of such high quality that often, there wasn't a great deal of difference between them and their closest Rolex equivalents. Certainly in the last ten years as collectors have become more knowledgeable, there has been a growing realisation that the gap between "full" Rolex and Rolex Tudor vintage watches is often very small.
What makes this watch such a curiosity is that it was manufactured in 1935, a full ten years before Rolex officially launched the Tudor range. It is entirely original and completely authentic, and unique in our field of experience. We are only aware of the existence of one other pre-war vintage Tudor watch and will include references to this in print later in this description. We haven't actually owned another, or even seen another one in the flesh, despite having dealt in vintage watches every day for the last twenty five years. To suggest that this is some ludicrously rare, seen once a lifetime item would be misleading, but unquestionably it is a very unusual early watch of a kind that doesn't crop up for sale with any predictable regularity. If we regularly looked for pre-war Rolex Tudors online and found perhaps one for sale each year, we would consider ourselves lucky.
Irritatingly for the modern day collector, Rolex doesn't enter into discussion about its back catalogue and enthusiasts are left to piece together their own evidence and speculate at to why certain watches take the form that they do. The key to understanding how this watch came about lies is the fact that Rolex first registered the Tudor trade name in 1926. At this point, Rolex's founder, Hans Wilsdorf, was following a plan of bulk registering a whole variety of catchy trade names, many of which were never used.
It seems likely that in the second half of the 1930s, Rolex had decided to do something with the Tudor name, but wasn't exactly quite sure what. The fact that this dial is signed Tudor, with no reference to Rolex, tells us that Wilsdorf had intended to use Tudor as a free standing offshoot brand in its own right rather than as just another Rolex model in the main Rolex range. We believe that this watch simply represents, if you like, an early version of what Tudor would become when it was launched on a wider scale in 1945. We don't think it was a prototype as such, but we do think it was one of a small number created to test the water and see how receptive the market was to a sub-division of the Rolex concept. The gap between this 1935 pilot and the official launch of Tudor in 1945 is considerable, but we must remember that six years of this period were taken up with World War II and it is quite conceivable that the embryonic "Tudor project" was simply overtaken by events and mothballed until peace had returned.
The condition of this watch is superb throughout, to the extent that the whole piece borders on nearly mint. The heavy gold case is in a very warm colour that is typical of these vintage Rolex housings and entirely different from the harsher, brassier gold used in new jewellery today. There are a few very tiny, almost invisible marks here and there to the case, but these are so minor as to be almost irrelevant.
Inside the case is the signature "RWC Ltd" ( Rolex Watch Company Limited) and a full set of British hallmarks, these telling us that this case was assayed in Glasgow in 1935. While the earlier vintage Rolex watches of the World War I era almost all have London hallmarks, certainly by the end of the 1920s, virtually every Rolex case was being assayed in Glasgow.
On the case back outer is the stylised engraving "F.D 11-8-37 F.M". The two sets of initials and the date suggest that this was probably a gift from one individual to another. Notice how the year engraved on the case back is later than that of the hallmark on the same component. This is perfectly usual and reflects the fact that the hallmark simply gives the date that a case was assayed. From then on, it had to be fitted with a movement, tested, sold to a retailer and then eventually purchased by a member of the general public.
This dial could not be more desirable. Its format, with four segments divided diagonally with two intersecting lines, is among the most attractive that Rolex has ever offered. The segments opposite each other have been brushed in different directions, giving the dial a two-tone, harlequin appearance. This style of Rolex dial appeared in the mid-1930s and is hardly ever seen after the end of World War II. It is much sought after and watches with this feature will always command high prices from the collecting community.
This is an original dial that has not been restored. Its surface is virtually perfect, with just the slightest amount of yellowing that must be expected on an untouched vintage piece of this age. Notice how the name of the retailer that supplied this item in the first instance, The Northern Goldsmiths, is stated beneath the Tudor signature. Located at 1 Blackett Street, Newcastle upon Tyne, this long established concern remains an official Rolex agent today and is one of the most prestigious jewellers in the north of England. Double signed dials of this type are far from common and when they do appear, especially in the immaculate condition of the one here, they command a significant price premium over their singly signed equivalents.
The movement in this watch is also fascinating. With its distinctive "shoulder of mutton" bridge plate, it is instantly recognisable as a Rolex item. But pinpointing its actual calibre number isn't easy. Later, after the "official" 1945 launch, Tudor models would have movements purchased by Rolex largely from FHF, but this movement doesn't look at all like its later Tudor successors and has far more in common visually with its mainstream Rolex equivalents of the inter-war period. We haven't seen its twin, and can best describe it as a very close relation to the Rolex Hunter movement that was the company's flagship manually wound mechanism at this time.
The condition of this movement can be described as excellent throughout. The policy on this website is always to take a very critical view of condition and grade very conservatively in this respect, but it is legitimate to categorise this unit as being in a superb, all original state. The rhodium finish to the plates is almost perfect and is not at all tarnished. A lot of the vintage Rolex movements in circulation now from the pre-war period are looking very neglected and shabby, but this one is bright and beautifully preserved. If we wanted to be very critical, we might comment that the finish of the winding wheels has marginally dulled over the last seventy five years, but this is really to artificially find fault when none of any consequence is present.
Having been serviced regularly since new, this movement works perfectly. It runs very smoothly and sets precisely, without any back lash to its gear train. These pre-war Rolex movements were built to a superlative quality standard and provided they are cleaned and re-oiled every three or four years, it would be almost impossible to wear one out. A point that we often make, the most important consideration when buying a vintage watch of this age, whether by Rolex or any other maker, is its mechanical condition. If a movement is deteriorated, rusty and adulterated with non-standard components, it really doesn't matter how high its quality was in the first place, because it will always be troublesome and in need of repairs. The watches for sale on this site are not cheap and in fact, they are some of the most expensive of their kind to be found online. But they are first rate examples with movements in excellent, original condition that will not be problematic in future if treated with care.
This watch has been fitted with a high quality crocodile skin type strap that is perfectly suited to its upmarket, old money appearance. This not a genuine vintage Rolex strap, but it is in mint condition having never been worn.
The only other pre-war Tudor that we have ever seen is given the honour of a full page spread on page 219 of London based Japanese collector Shigeharu Aritake's book "Rolex Scene 1913-1997". This has an almost identical dial layout to that of this watch, with the Tudor word written in exactly the same typeface and the same Rolex Hunter inspired movement.
It is very difficult indeed to set a price for this watch. Other pre-war vintage Rolex Tudors must certainly exist, but in our business, we have not encountered another for sale, so there really isn't a lot to go by in terms of a price precedent. If this was a conventional Rolex Tudor gold cushion from the second half of the 1940s or the early '50s, we'd find it for sale on this site for somewhere between £700 and £750, depending on its actual specification. With this gorgeous quartered dial, leaving aside the issue of its very early status, we would expect it to command a slight price premium over its more common siblings if we included it in one of the specialist horological sales held by Christie's, Bonhams or Sotheby's.
After some deliberation, the asking price has been put at £875 GB pounds, which is little more than a figure pulled out of thin air, for reasons explained in the previous paragraph. As a vintage Rolex Tudor cushion in gold in nearly mint condition, it is certainly not expensive at this, and as a fascinating piece of early Rolex history that very few hardened vintage Rolex collectors will have come across, it may well be considerably under-valued at this level. It is an extremely attractive, very well built watch that will be a delight to wear and always attract interest and favourable comments when shown to other collectors.
Price £875 GB Pounds
Vintage Watch Brands
Vintage Watch Decades
Vintage Ladies Watches
Vintage Watch Bracelets
Swipwreek Straps
Travel Clock/ Pocket Watches
Home
About
Brand Overviews
By Decade
Reference
Contact Details
Telephone from the UK:
07453 734666
or 07428 051005
Telephone from overseas:
+44 7453 734666
or +44 7428 051005