Rolex Tudor gold 1960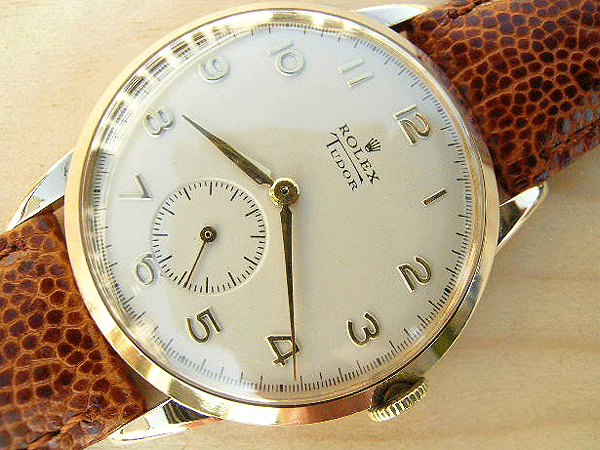 This vintage Rolex Tudor gentleman's gold watch from 1960 would be the perfect choice for someone looking for a classic timepiece that would be fine in a collection or on its owner's wrist on a regular basis. Despite its age and near perfect condition, it isn't very expensive and represents very good value when we remember the cost of similar looking gold Rolex watches in the high street today.
Rolex introduced its Tudor range in 1945, just after the end of World War II. In recent years, we've seen an enormous upswing in the level of interest in these models and when they appear for sale in the horological auctions held by Sotheby's, Christie's and Bonhams, they change hands for substantial amounts.
A major plus of these gold Tudor models from this era is that their design is absolutely classical. This look, with a large circular case and wide solid lugs, is timeless and will be just as relevant in twenty or thirty years time as it is today. Like the wardrobe staples of the little black dress and Levi 501 jeans, vintage gold watches of this kind have aesthetics that don't ever date. Particularly for those looking for a gift, this characteristic is an appealing one. It gives many people a lot of pleasure to think that a relative or loved one will still be wearing the watch they presented to him several decades from now.
The large diameter solid gold case is almost unmarked. If we examined its surface long enough with a jeweller's eyeglass, we might discern the slightest faint imperfections here and there, but in real terms, this is a virtually mint housing and we couldn't find better. There is no doubt that this is one of those watches that has spent most of its past life wrapped up in tissue paper in the back of a dry drawer or safe somewhere.
Internally, the snap on case back is covered with an ornate engine turned pearled pattern. The serial number 13642 is here, together with a full set of British hallmarks, these telling us that this case was assayed as 9 karat gold in London in 1960.
Also present are the stamped letters "DS & S", which inform us that this case was manufactured for Rolex by the much respected English case making concern David Shackman & Sons Ltd. We typically tend to think of Birmingham based Dennison as being Rolex's British case maker of choice during the vintage period, but in fact, Shackman produced some exceptionally fine cases for the company during the 1960s. After Dennison closed its doors for the final time in 1967, Rolex purchased almost all its UK market gold cases from Shackman. There was an overlap between the two suppliers, as the existence of this case proves, but it is relatively unusual to find a Rolex case that is as early as this one with a Shackman stamp inside it.
On the outside of the case back is the engraving "M.V.C.J 1941-1966". Given the twenty five year gap between the two years mentioned, it is reasonable to assume that this watch was given originally as a long service or retirement gift to a valued employee. Awarding a gold Rolex watch in these circumstances wasn't actually that uncommon back in the 1950s and '60s and over the years, in our business we've noticed that some of the best preserved vintage watches that have passed through our hands were handed out in this way. The owner that used his own money to buy a Rolex watch was likely to wear it regularly, but it seems in quite a few instances, those receiving these items as gifts considered them too precious to use and left then languishing in storage, hence their pristine state now.
A final note about this case should be to point out the interesting anomaly between the 1960 hallmark date stamped into the case inner and the 1966 engraving on the outside of the same component. This disparity has puzzled us in the past when we've seen it before on similar watches. It seems very unlikely that an employer would award a used watch as a retirement gift and a more plausible explanation could be that large companies would buy batches of watches from their local jeweller in order to obtain a substantial discount. These would be held in the office safe to be duly used up as required over a period of several years. We don't know for sure that this was the case, but it seems like a credible theory.
A nice touch is the presence of the original Rolex winding crown, which is signed on its outer surface with a large coronet emblem. This crown is in excellent condition and there is no discernible wear to its serrated edges, which, on a manually wound watch, is always indicative of a piece that has seen very little use.
Finding a vintage Rolex watch for sale with a more attractive dial than the one here would be quite a tough challenge. The background colour here is possibly marginally creamier than it was in 1960, when it would have been a stark white, but this ageing is very minimal. There is no spotting or dust staining and described in realistic terms, this item is almost perfect.
"Rolex, Tudor" is stated above the dial centre together with the Rolex coronet emblem. This wording is very clear and not at all faded.
All three hands are totally original. These are in gilt and not at all corroded. Lance shaped hands are some of the most elegant to have ever been used by Rolex and so typical of these 1950s and early '60s models. Later, Rolex would switch to plainer parallel sided hands that lacked the charm of these earlier versions.
The movements in vintage Rolex watches are some of the most exceptional that have ever been offered by the Swiss watch industry. There has never been a low point in Rolex movement quality and it can be said with authority that if one buys a vintage Rolex watch in excellent condition, its movement will be of an outstanding grade.
This particular movement looks today just as it did when it first left Rolex in 1960. Its silver coloured rhodium plated finish gleams like that in a brand new watch. There isn't the slightest hint of tarnishing and the whole unit is in a perfect, time warped state. If we showed this mechanism to the layman with no specialist knowledge of vintage Rolex watches, he would naturally assume that it was of recent manufacture. We see very few movements, by any maker, that are as clean and pristine as the one here.
As called for, "Tudor, 17 Rubies, Swiss Made" is signed on the bridge plate. It is interesting that the movement is surrounded by a base metal collar in order to enable it to be used in a much larger diameter case than would otherwise be possible. This approach was common with those brands that wanted to offer oversized models without creating correspondingly large movements. Rolex, Omega and Jaeger LeCoultre all adopted this same technique during the 1950s and 60s.
Having been serviced on a regular basis, this movement runs without fault. Provided it is cleaned and re-lubricated every three or four years in the future, it will continue to be supremely reliable in the future. One of the main reasons why vintage Rolex watches are so often given as gifts is their potential to last almost forever. Unlike a modern watch that has been built down to a price, these classic models date from a time when movement making was of a much higher standard than it is today and were built with the intention that they would be possessions for life.
This watch has been fitted with a high quality crocodile skin type strap. This is not a genuine vintage Rolex strap, the original having disintegrated long before we acquired the piece, but it is virtually identical to the strap that would have been supplied with this model when new. Having never been worn, this strap remains in mint condition.
This piece is priced at £845 GB pounds. For a genuine vintage Rolex watch in gold, this is remarkable value for money. Its condition is nearly perfect and it would be a struggle to find a better example for the same sum even at auction. This is a very tidy, classically styled classic Rolex that will never lose a penny in worth if treated with care and maintained correctly. It would make a worthwhile addition to any vintage Rolex collection and be a source of pride for the owner wanting a period watch for regular use.
Price £845 GB Pounds
Price £845 GB Pounds
Vintage Watch Brands
Vintage Watch Decades
Vintage Ladies Watches
Vintage Watch Bracelets
Swipwreek Straps
Travel Clock/ Pocket Watches
Home
About
Brand Overviews
By Decade
Reference
Contact Details
Telephone from the UK:
07453 734666
or 07428 051005
Telephone from overseas:
+44 7453 734666
or +44 7428 051005