Rolex Tudor Royal gold 1959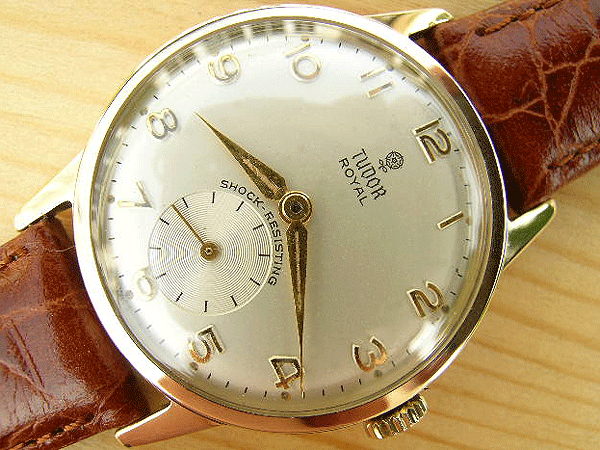 Manufactured in 1959 and given to a long serving employee in 1962, this beautiful gentleman's gold Rolex Tudor is a classic example by this famous Swiss company. More than any others, models by Rolex dominate the results tables in the themed horological auctions held by Christie's, Sotheby's and Bonhams. There are many other extremely highly respected brands, among them Jaeger LeCoultre, Patek-Philippe and Omega, but without doubt, it is Rolex items that attract the most attention and capture the imaginations of the largest number of collectors worldwide.
Increasingly, as prices for all vintage watches have risen to sharply over the last fifteen years, we see all manner of incorrect, lashed up elderly Rolex pieces come up for sale. These often have inappropriate dials, movements with parts that have been replaced with others of a non-Rolex origin and cases that are not signed as they should be. In some instances, all the components in these watches are legitimate Rolex items, but they didn't start life together as a single watch when new. So we might see, for example, a 1965 case mated to a 1956 movement. Without a lot of experience in the field, these hybrids can be very difficult to detect.
The watch for sale here is guaranteed to be totally original and exactly as it left Rolex in 1959. Finding these sleeping examples is not easy and with every year that passes, we spend more time and money in our business hunting down an ever diminishing pool of worthwhile watches. If the supply chain continues to dry up at the present rate, good, unmolested Rolex watches from the 1950s and '60s will not be available with any regularity even a decade from now with dealers, like us, having to shift their focus onto more recent offerings. We were delighted to buy this item and were happy to pay a little over the odds to acquire something so well preserved.
The condition of the thick gold case is almost perfect. As with any vintage watch that is not literally unworn old stock, there are some trivial tiny marks here and there to the surface, but in the real world, this housing can be classed as virtually mint.
One of many appealing characteristics about watches like this one is their timeless styling. There is nothing about the look of this item that ties it down to a particular era or year. Cases in this shape were manufactured in the 1930s before the outbreak of World War II and are still offered by the major Swiss luxury brands today. Classical in the extreme, this watch will look just as relevant in thirty years time as it does now, or did thirty years ago. This look can be regarded as the wristwatch equivalent of the staples of the Hermes Kelly bag for ladies, or a pair of Levi 501 jeans for gentlemen. In short, it will never fall from grace.
The snap on case back is signed internally as "Dennison, Made in England for ROLEX", together with the three letters "A.L.D". Based at Villa Road, Handsworth, Birmingham, Dennison was the most famous British watch case manufacturer of the vintage period and the creator of arguably the highest quality wristwatch housings of all time. Originally, the relationship between Rolex and Dennison began in 1916 after the British government banned the import of gold into the UK in an attempt to reduce luxury spending at a time of grave national crisis. Deprived of its most lucrative market and seeking to rectify this issue as soon as possible, Rolex shipped uncased movements to its Hatton Garden office and then had these cased with housings that had been manufactured in the UK and were therefore not subject to the import ban. The irony is that Rolex continued to use Dennison cases for its British market watches long after there was any compulsion for doing so. After the import ban was repealed, Rolex realised that it was so convenient to use Dennison's work that it remained a customer of the company, without pause, until the latter eventually ceased trading in 1969. In his excellent book "Rolex Watches, The Best of Time", English author James Dowling comments on page 315 that Dennison cases were the highest quality ever used on the early Rolex models. We, and the majority of experienced collectors, would not disagree with him. Incidentally, the A.L.D initials here are those of Aaron Lufkin Dennison, the firm's American born founder.
Also inside the case back is the model reference 12833 and the serial number 968653. A full set of British hallmarks tell us that this case was assayed as domestic, not imported, 9 karat gold in Birmingham, 1959. These hallmarks are very crisp and well defined, exactly as they should be on a watch for investment.
Externally, the case back has been engraved with the wording "E.J Richardson Ltd, W.G Graham, 1932-62". The firm of E.J Richardson Ltd was a famous tannery in Newcastle Upon Tyne and a major employer in its area. Mr Graham clearly worked there and was presented with this watch after completing thirty years of service. Gold Rolex watches were often given as long service and retirement gifts to senior employees and dedications of this kind on case backs are not at all uncommon. Their presence does not at all detract from commercial value, but some dealers prefer to polish any engraving out to give case backs a smooth appearance. We take the opposite line and always leave them in place. Engraving of this type are attractive and, we feel, add a sense of past history and provenance to a vintage watch.
Newcomers to the vintage watch field are often mystified when they see two examples of the same model sold side to side, ostensibly looking the same but with very different price tags. In most instances, the reason for this disparity lies in their dials. Without doubt, the dial is the single most important factor in setting value of watches of the same type. At the high end of the vintage watch collecting scene, which is the one in which our business specialises, pieces are sold for high prices because they have original dials in near mint condition. Very few of any older watch model have dials in this state, with most being with dials that are either noticeably discoloured or alternatively re-finished and non-original. Hence it is that when they do appear, those survivors with unblemished, untouched dials sell for high prices.
The dial on this watch is as close to mint and guaranteed to be completely original. It has not been restored and has no signs of ageing whatsoever. Finding a vintage Rolex dial like this is the horological equivalent of stumbling into a barn and discovering a 1950s Rolls-Royce or Bentley car with its original paint still in perfect condition. Unfortunately, dials of this kind are expensive, but in the long term, will appreciate more than their average counterparts. Whether Georgian furniture or pre-war British motorcycles, collectors will always pay more for the very best examples of whatever interests them and this watch falls squarely into this top class bracket.
"Tudor Royal" is stated above the dial centre point, with "Shock Resisting" curling around the top of the subsidiary seconds register. "Swiss" appears at the very bottom edge. Rolex introduced its Tudor range in 1946 and has tinkered with various accompanying logos ever since. The emblem here, a small rose not surrounded by any border, is the correct one for a watch manufactured in the late 1950s.
All three hands are original and in superb condition. In the alpha shape, these stand as a reminder of just how bland new Rolex models have become over the last twenty years. During its golden era, the company used some wonderfully stylish hands, like those here, but today seems content to stick with the mundane parallel sided baton hands that have been its staple since the 1970s. The generally held view is that the popularity of vintage watches stems from the exceptional quality of their movements and while this is certainly true, we cannot help but think that the very attractive aesthetics of a lot of these classic models also played a major role in establishing their desirability today.
The movements used in Rolex wristwatches are among the finest to have been produced at any time, by any maker. Much to the company's credit, there has never been a weak era of Rolex movements with the standard remaining consistent throughout.
It would be impossible to find a better preserved Rolex movement from the 1950s than the one here. Even studied at a distance of a few millimetres under high magnification, it appears to be in an almost brand new state. The rhodium finish to the plates is unbroken and the bridges are not at all brassed. Every wheel gleams brightly and this whole unit, despite being over half a century old, looks as if it came off the assembly bench a week ago. Most importantly, everything here is original and not a single component has been changed. Particularly during the 1970s, when mechanical watches were regarded as passé in the face of the newly introduced quartz technology, a lot of these pieces, even those by prestigious makers like Rolex, were badly neglected by owners who were very wary of spending money on items that were almost worthless. This watch has been looked after extremely well and its immaculate condition now, both inside and out, reflect this.
This is a hand wound movement with every possible luxury including shock resistance and anti-magnetic shielding. "Tudor, Swiss Made" is signed on the bridge as called for. As a consequence of regular servicing, this movement runs very smoothly and sets with great precision, without any of the backlash in the gears that is the tell tale sign of mechanical wear. Sent for routine cleaning and lubrication every three or four years, this watch will last almost forever. The general public have very little idea of just how much went into the classic Rolex watches from this period and do not appreciate that, unlike today's models, they were designed from the outset to last a lifetime.
We have fitted this watch with a high quality crocodile skin type strap. This is not a genuine Rolex strap, but is very similar to those supplied with the Tudor range when new and certainly does not need to be changed. This strap is in mint condition and has never been worn.
Early Rolex Tudors offer remarkably good value for money at the time of writing. In the mass market online auction world, poorer examples can be sourced for just a few hundred pounds but we would suggest paying a little bit more and obtaining an example, like this one, that is known to be completely original and nearly mint throughout. This is a good, solid investment grade watch that combines a world famous pedigree with superb quality and handsome looks. The price of this piece is £745 GB pounds, which is far from excessive for an item that is becoming much harder to source with every year that passes. We cannot recommend early Rolex Tudors enough and over the last decade in particular, they have proved to be firm favourites with many of our customers.
Price £745 GB Pounds
Vintage Watch Brands
Vintage Watch Decades
Vintage Ladies Watches
Vintage Watch Bracelets
Swipwreek Straps
Travel Clock/ Pocket Watches
Home
About
Brand Overviews
By Decade
Reference
Contact Details
Telephone from the UK:
07453 734666
or 07428 051005
Telephone from overseas:
+44 7453 734666
or +44 7428 051005