Rolex steel with ribbed teardrop lugs 1943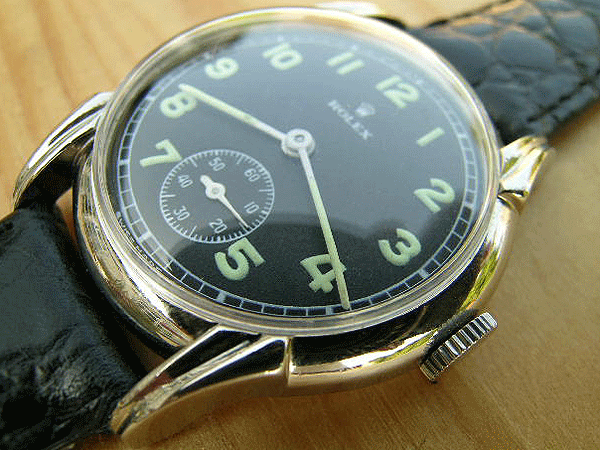 From 1943, this stainless steel gentleman's vintage Rolex, with the most spectacular ribbed teardrop lugs, is yet another watch that would be so difficult to find elsewhere in remotely comparable condition. This piece dates from an era when Rolex was at its most innovative and flamboyant. Today, nearly eighty years on, the company still manufactures superb quality movements, but has become rather a victim of its own commercial success in that it steadfastly refuses to make changes to what has been a winning formula for many decades. Rolex does make changes to its watches, but these are very, very conservative and it is true to say that in essence, the appearance of every current Rolex model is loosely similar to its equivalent of the 1950s.
The condition of this watch is literally virtually perfect and it is difficult to imagine that it has been worn on more than a handful of special occasions. Even when studied under high magnification, its heavily stylised case is almost mint and free from all but the very tiniest of almost invisible marks that may have been present when the piece was shipped new to its purchasing jeweller.
This case style, with oversized ribbed lugs, is one of a number of very similar housings that were offered by Rolex in between the late 1930s and the early 1950s. When new, they were extremely in vogue, but by the 1970s, their elegant art deco inspired forms had largely fallen from grace and many failed to survive the dark age of the quartz revolution, when traditional mechanical watches were regarded as anachronistic and of little value. Today, the wheel of popularity has rotated again back to its original position, and in the eyes of many collectors, these are some of the most attractive cases that Rolex has ever made.
Internally, the snap back case is signed "SAR, Rolex, 31 Victoires de Haute Precision, Geneve, Suisse" together with the model reference 3882. This signature is an important one, as it was the final evolution of a stamping that had begun only just after World War II. The "Victoires de Haute Precision" were the accuracy records that Rolex had broken in the industry competitions that were held annually by the Swiss observatories as a way of promoting the country's watch industry worldwide. Very early Rolex cases from 1920 or 1921 will be signed as "7 World's Records". Gradually, as the years progressed, the number of records alluded to rose with the final stage being the thirty one here. Curiously, having established new standards in every possible category for wristwatch movements, Rolex abandoned this style of signature just after World War II and we don't know of any example with this stamping that dates from after 1946.
Externally, the case back is stamped with the unique serial number for this watch 262975. Falling between the two extremes of production for that year of 253000 and 285000, this clearly dates the piece as being from 1943. Notice that this stamping is of full depth, indicating that the case has almost certainly never been re-polished in the past and still retains its original factory finish.
The jet black dial is in superb condition and it would be impossible to find better. It isn't literally mint, and if one looks very closely, there is some slight uniform fading that has almost certainly been caused by prolonged exposure to bright sunlight. In the real world though, the state of this dial is nothing less than exceptional, and the collector looking for a wartime era vintage Rolex for investment would struggle to find a better representative sample than the one here. The white printed double minute track is crisp and uncorrupted, as is the signature "Rolex, Swiss Made", together with the firm's coronet emblem. It is universally acknowledged by experienced collectors that the dial of any vintage wristwatch is the most significant influencing factor in defining its value, and a good dial like the one here will always command an enormous price premium over its second rate counterpart, largely because these are so difficult to find now. In addition to this, a black dial will always be regarded as far more desirable than its white equivalent. As a percentage of the total surviving units of any vintage Rolex model, only a relatively small percentage will be with black dials, and this rarity, combined with very eye catching visual appeal, results in an inflated price.
In any field, be it vintage wristwatches, period motorcars or antique fishing reels, there are definite classics that are universally acknowledged to be key units that are of the utmost historical significance. The movement in this watch, Rolex's 10.5 ligne ( the ligne is the unit of width measurement traditionally used in the Swiss watch industry) Hunter, fits into this revered category perfectly, and is, without doubt, the most important mechanism that the company has ever created.
Launched in 1923, the hand wound Hunter was the movement that replaced the venerable Rebberg that had powered the firm's officers' watches of the World War I era. It was the mechanism fitted to the first waterproof Rolex Oyster model of 1926 and, quite remarkably, remained in production until 1969. This long manufacturing span wasn't in any sense because Rolex rested on its laurels in terms of innovation and research, far from it, but simply because the Hunter was so right from its first moments that there really wasn't any feasible way of revising it.
While the basic architecture of the Hunter remained unchanged through its forty six year lifespan, Rolex did gradually evolve its features to take account of new technical developments that had emerged. Having a familiarity with these changes will prove worthwhile to the collector as it will enable him to hopefully quickly identify a Hunter that is mated with a case that is of the incorrect age for the movement. All Hunters of a given ligne size are physically interchangeable, and there are many elderly Rolex cases in circulation that have movements in them today that couldn't possibly have been there when they were sold in the first instance.
This movement is the classic example of a Hunter manufactured in the mid 1940s. The signature "Rolex" appears on its bridge plate, with "Rolex, 15 Rubis, Swiss Made" on its winding wheel. A key indicator of age is that this mechanism has a streamlined Superbalance balance wheel, but no mention of this is made anywhere on the movement. The Superbalance was an ingenious invention patented by Rolex in 1935 and was based on the principle that the timing screws that protruded around the edge of a conventional balance wheel impaired its efficiency as they oscillated back and forth at high speed. By recessing these into the surface of the balance, a far more streamlined arrangement could be offered that was more efficient and accurate than its predecessor. Initially, because the Superbalance was something that Rolex was, quite rightly, extremely proud of, its presence was clearly signed on each movement to which it was fitted. Ironically perhaps, because this device was so effective, it became standard on all Hunter movements by the late 1930s, and by the time this unit was manufactured in the mid 1940s, no mention of it was even made on individual movements.
The condition of this movement is almost perfect throughout. Not one component here has ever been changed, and in every respect it is absolutely original. Over the years, so many of these older vintage movements have been adulterated with non-standard parts in order to keep them running when the appropriate replacements have not been available, and it is unusual to see a 1940s Hunter that is as untouched as the one here. Having been serviced throughout its life, this item works faultlessly. One of the most appealing characteristics of all vintage Rolex movements from this period is their potential for extreme longevity. It is totally realistic to regard a watch like this one as a possession for life, provided it is treated sensibly and cleaned and lubricated every three or four years.
This model, and its close relations from the same era, appears in various books:
One of the most interesting allusions comes on page 223 of George Gordon's book "Rolex, Timeless Elegance", where this exact same case shape is shown in colour, but in the form of a chronograph. The reference for the watch here is 3882, whereas the chronograph was assigned the model number 3834, suggesting that these two clearly inter-related models were launched at approximately the same time.
This exact vintage Rolex model, reference 3882, was offered as Lot 152 in the physical auctioneer Antiquorum's November 19th 2000 sale "100 Years of Wristwatches", held at the Hotel des Bergues, Geneva. This event aimed to include the most exceptional models by the major houses that had defined the genre over its first century. It was described as having a "two body case, with overhanging fluted and teardrop lugs" and had the same Superbalance equipped 10.5 ligne Hunter movement as the piece here. The pre-sale estimate of $2000 US dollars was given, on which 15% buyer's premium would have been payable. In reality, the actual selling price would almost certainly have been in considerable excess of this sum and today, the market has expanded so much in recent years that we would be very lucky to buy this piece is a specialist sale for less than double this amount.
We have priced this watch at £1675 GB pounds. While this is certainly a considerable sum, it is far less than even the most basic steel Rolex model offered new today, and this is food for thought when we stop to consider the high intrinsic quality of the vintage movement in this earlier piece. Provided they are bought sensibly in the first instance and not allowed to deteriorate and fall into a state of disrepair, distinctive, classic Rolex models from the 1930s and '40s will never lose a penny in value. These are very much the blue chip investments of the vintage watch world in the sense that, while they are always expensive to acquire in the first instance, but have a proven, year on year record of rising in value, regardless of the prevailing economic climate at the time. This is a really lovely example of the type of watch that, a decade from now, will be virtually impossible to locate at anything other than the most ridiculous price.
Price £1675 GB Pounds
Vintage Watch Brands
Vintage Watch Decades
Vintage Ladies Watches
Vintage Watch Bracelets
Swipwreek Straps
Travel Clock/ Pocket Watches
Home
About
Brand Overviews
By Decade
Reference
Contact Details
Telephone from the UK:
07453 734666
or 07428 051005
Telephone from overseas:
+44 7453 734666
or +44 7428 051005