Rolex Oyster with black dial, steel 1944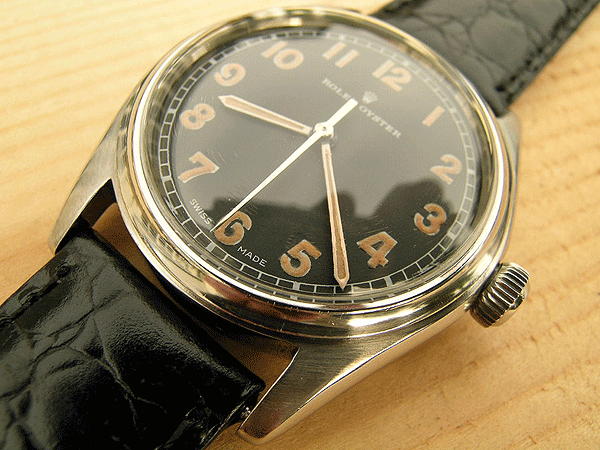 This 1944 black dialled gentleman's vintage Rolex Oyster in almost brand new condition is one of the most attractive classic timepieces on our site, and certainly a item that would be worthy of any enthusiastic collector of vintage Rolex watches. The Rolex Oyster models, first introduced in 1926 as the world's first waterproof wristwatches, are now considered to be the most collectible timepieces of all, but rarely is a classic wartime example found that is as unmolested and perfectly preserved as the one offered here.
One of the difficulties facing the new collector of elderly Rolex watches today is that so few really premium pieces are ever offered for sale, with the vast majority of available items in general circulation being mechanically tired, worn out examples, often heavily cosmetically enhanced to entice the novice buyer and with a multitude of changed components. With every year that passes, less and less genuinely immaculate vintage Rolex models surface, this lack of quality products pushing the already high prices up even further, thus fuelling a vicious circle with collectors refusing to part with their watches on account of their representing such a superb investment. Good, all authentic vintage Rolex Oysters have consistently risen in price by 25% per year over the last decade, outperforming significantly more traditional forms of investment such as property and the stock market, and this relentless rise seems to show no sign of slowing down whatsoever.
This particular watch is absolutely original in every respect, with no changed parts whatsoever, and only the slightest imperfections to its large ( the watch has a width of 36mm) gleaming stainless steel case that have occurred during the course of occasional, very careful use. This case is in the classic Oyster style, first introduced in 1932, six years after the original cushion shaped Oysters made their debut in 1926. The term "classic" in this context is entirely justified, this case design remaining essentially unchanged since its launch. Indeed, the Rolex Oysters sold brand-new today have the same basic case geometry as this item. One of the reasons that Rolex Oysters have become so collectible is that they have a very non-dating appearance that makes their value unaffected by changes in fashion. While the other famous watch making houses bring out new collections on a regular basis, Rolex sticks to a tried and tested formula, gradually evolving its products over decades rather than years, hence the appearance of this watch looking very distinctive and old fashioned in terms of its dial, but almost current in terms of its case. An Oyster like this one, from the 1940s, is so appealing because it combines a number of plus points into one package. Its condition is almost as new yet the dial, hands etc are in a wonderful vintage style. It is beautifully built, featuring a significant amount of hand work that could never be present in today's age of computer controlled machinery, and best of all, already established as a collectible antique, it will appreciate in value and prove to be a superb investment.
The case back is fully signed internally as "Geneva Swiss, Rolex, Patented". Also present are two model reference numbers, 4377 and 4461. The first of these references doesn't seem to appear in print, but the second is identified in Charles Jarman's book "Rolex Reference Guide, 4th Edition" on page 48 as "Oyster, stainless steel, manual wind, polished bezel", which is a perfect abbreviated summary of the watch here. As many of you will be well aware, Rolex assigned a model reference to each combination of movement and case. A model reference could have several different dial options, and these cannot be identified by this number alone. It is unusual for an Oyster to have two model references stamped inside it, the explanation for this being that Rolex had a stock of case backs that had been pre-stamped for one model, but also were common to another. When running low on case backs for this second type, rather than produce a new batch specifically, they would simply re-stamp case backs that were in stock with the required model reference. For a more in depth discussion on Oyster case backs that carry two model references, including several photos of similar examples to this one, we would recommend Nick Urul and Martin Skeet's book "Rolex Sports Models" ( page 131 ), where this subject is explored in some detail.
Between the lower two lugs on the case body is stamped the individual serial number 337757. Falling between the two extremes of vintage Rolex watch production for that year of 285000 and 348000, this clearly tells us that it was manufactured in 1944. This production year is perfectly consistent with its specification.
The winding crown on this watch is the early "Oyster Patent" type, used from 1929 up until 1944. As a business, we have to confess to being rather obsessive regarding the different types of Rolex winding crowns, but certainly view the Oyster Patent type as being among the most attractive of these, second only to the almost extinct onion pattern that was used only in the first three years of Oyster production from 1926 to 1929. Nearly all these older Oysters from the 1930s and '40s have had their crowns replaced with the more recent, post-1952, coronet type that is still in current production, simply because there is no longer any stock of the correct crowns as spare parts at Rolex in Geneva, and hasn't been for at least twenty years. The threads inside the crown and on its corresponding case tube are in perfect condition, and the crown locks down onto the body of the watch very securely, creating a waterproof seal. Condition of these threads should be very important to the potential buyer of any older Oyster. With time and careless handling, they can become worn with the result that the crown refuses to tighten properly onto its tube. Repairs to older Rolex cases are expensive, but more significantly, will adversely effect the originality of the piece and my advice would be, unless compelled to do otherwise for financial reasons, to buy a very lightly used watch in almost perfect condition, like this one, that is entirely correct in every respect, and will require nothing more than basic routine servicing in the foreseeable future.
The most instantly recognisable feature of this piece is its beautiful black dial, a completely original item in almost mint condition. Vintage Rolex Oysters with black dials always command price premiums over their lighter dialled siblings, both on account of their rarity now and their striking good looks. The presence of a black dial on a wartime watch intended for civilian use reminds us that Rolex were still largely supplying their non-European distributors as normal during the conflict years. Military watches from this period were nearly all produced with black dials to reduce their night time visibility to the enemy and this association meant that the civilian demand in Europe was almost exclusively for watches with white or silvered dials, the buying public largely wanting to buy timepieces that were aesthetically as different as possible to those used by services personnel rather than be grimly reminded of life at the front. Rather evocatively, this watch was actually purchased new in Hong Kong, from an official Rolex stockist there, where it was obviously possible to buy a black dialled Oyster without any suggestion of military overtones.
The dial is fully signed "Rolex Oyster" and is nearly perfect, its only slight departure from almost mint condition being a deterioration to the luminous numerals around the dial. When new, these would have been almost lime green in colour, but with the passage of time have faded to a dull khaki. When viewed in darkness, there is still some glow from the numerals and hands, but this is very weak and not really adequate for effective nighttime use. On any vintage watch with radium painted hands and batons, fading performance must always be expected due to the inevitable decay of the radium element, and in no way does this negatively affect the value of the watch even in the slightest. We have deliberately tried to take as close as possible a photograph of the dial in order to show potential purchasers just how near perfect it is, but really, this doesn't begin to do justice to the reality. It is generally agreed among collectors of vintage Rolex watches that dial condition and originality account for up to 40% of a item's market value and pieces like this one, in such excellent condition and totally original, are always sold for high prices, simply because of their rarity today.
The movement in the piece is the manually wound 10.5 ligne ( the ligne is the unit of movement width measurement used in the Swiss watch industry) Hunter, first introduced in 1923 and still in production in essentially the same form in 1969. This is now considered to be the most reliable and accurate movement used in Oysters during the vintage period, and without doubt, if only one classic Rolex is to be bought as a representative sample of the company's best work, it must contain a 10.5 Hunter . The finishing in these older Rolex movements is quite remarkable, with every visible surface being dressed to perfection by hand. Even the bridge plates have bevelled edges, having been finished by a craftsman over a period of several hours. In the 1930s and '40s, a very dynamic management team at Rolex cemented the reputation that they had built up in the 1920s as the finest watch making house in the world, creating some of their most impressive models to date.
The movement is fully signed "Rolex, 15 Rubis, Swiss Made" on the winding wheel and "Rolex" on the bridge plate. It is in almost perfect condition, working perfectly, and has no corrosion or oxidisation of any kind to its surfaces. This is largely a reflection on the watch having been fully serviced since it came into our possession as a continuation of the maintenance schedule upheld by the watch's previous owner. The light machine oil used to lubricate the movement additionally has the effect of preventing corrosion, and a very clean movement is a good sign that a watch has been regularly serviced. When a watch is not regularly serviced, the lubricating oil within it tends to dry out with time, and consequently, rust is able to gradually form on the movement surfaces. We would advise any potential purchaser of a vintage watch to avoid a piece where the movement appears to be badly discoloured or corroded, unless it is so fantastically rare that a the chances of finding a better example are minimal. These older Rolex models were produced to the finest of tolerances, and are perfectly honed precision instruments, created when new in controlled, dust free, manufacturing conditions. Any rust particles that find their way between the gear teeth can cause horrendous wear and damage, and removing corrosion from complicated movements like this one is a very expensive, and at best of times not entirely satisfactory, process.
A very interesting feature of this particular movement is its regulator, which, while completely original, is of a type not often seen. This is a far more complicated arrangement than the standard one used on the 10.5 Hunter in the 1940s, and allows for a much finer degree of adjustment of the movement's running speed than would normally be possible. A close up shot of the exact same movement, stated as being from 1949 and with the identical micro-setting regulator, is given on page 32 of the Japanese collector Shigeharu Aritake's book "Rolex Scene 1913-1997".
In addition to its superb condition, it must be mentioned that this movement is totally original, with no changed or altered parts whatsoever. Because of their high value, vintage Rolex watches are so often built up from spare parts to affect a lucrative online sale, but it can be stated categorically that every individual component in this piece is exactly as it left the Rolex factory in 1944. While initially often temptingly cheap, pieces with incorrect or non-standard parts are often horrendously unreliable, poor timekeepers with very weak long-term investment potential. Watches like this one, in the top condition tier of the vintage Rolex field, are for the most part reliable and will always increase in value in the future, particularly in the current climate where such premium examples are so difficult to find.
The watch has been fitted with an unworn, mint condition, high quality black crocodile skin type strap that is perfectly in keeping with the appearance of the piece. This is not a genuine Rolex strap, but the original that was still on the watch when we acquired it was cracking with age and was no longer serviceable.
Overall, this is an almost as-new gentleman's vintage Rolex Oyster from 1944 in entirely original condition. Anyone looking for the perfect vintage wristwatch investment from the war years would find it very difficult to locate a finer example than this beautiful piece. So few 1940s authentic black dialled Oysters actually come onto the market now that it's very difficult to refer back to any previous sale for guidance as to what our asking price should be.
On page 169 of the excellent book "Rolex Wristwatches, The Best of Time" by James Dowling, there is a colour photo of a 1942 black dial Oyster with a serial number very close to the one present on the watch for sale here. The price guide at the rear of the book suggests this to be worth £1200, but this obviously reflects the fact that the dial is in quite worn condition, with an overall slightly grubby appearance. The price guide in this tome was compiled in 1996, and the worth of all vintage Rolex watches has risen sharply in the last fifteen years, making the suggested figure seem far lower than even the lowest sensible valuation of the piece today. In a specialist central London dealer's shop, this piece would carry a price tag of perhaps £2500 to £3000 GB pounds, but this is somewhat inflated, reflecting huge trading overheads and a constant stream of wealthy tourist customers , and we would suggest that its correct current value lies somewhere between these two, high and low, estimates.
We have priced this watch at £1450 GB pounds, which, for a wartime example in a condition that would be accurately described as virtually perfect, is very reasonable. Even a decade ago, we used to unearth exceptional 1940s Rolex Oysters on a fairly regular basis, typically from provincial jewellers who had taken them in from members of the public, but now, we hardly ever see anything in such a time-warped state. This is lovely piece that seamlessly blurs the line between a vintage watch that can be worn on a regular basis and an item that would be ideal as a strategic purchase forming part of an investment portfolio.
Price £1450 GB Pounds
Vintage Watch Brands
Vintage Watch Decades
Vintage Ladies Watches
Vintage Watch Bracelets
Swipwreek Straps
Travel Clock/ Pocket Watches
Home
About
Brand Overviews
By Decade
Reference
Contact Details
Telephone from the UK:
07453 734666
or 07428 051005
Telephone from overseas:
+44 7453 734666
or +44 7428 051005