Rolex Oyster steel with tropical Birch & Gaydon dial 1943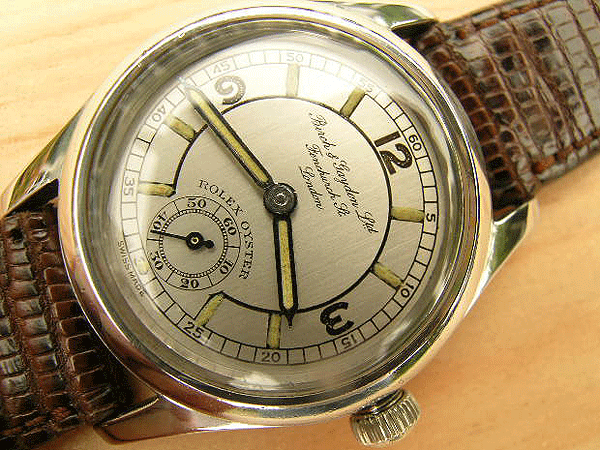 From early 1943, this beautifully preserved stainless steel gentleman's double signed Rolex Oyster is one of the most visually appealing of all the vintage Rolex watches for sale on our website. In this condition, it is not an inexpensive purchase, but for the serious buyer looking for a totally authentic vintage Rolex in museum standard fettle, this would be a difficult item to better. For anyone taking up antique wristwatch collecting as a hobby today, probably the greatest challenge is the sourcing of genuinely original pieces that are exactly what they first appear to be. Twenty years ago when the concept of the elderly wristwatch as a collectible first appeared, it was possible to stumble across virgin classic Rolex examples that were still in the hands of their first owners, and new to the marketplace. Today, this is no longer the case, and any 1930s or '40s watch will have had at least one relatively recent owner that will be either be a modern day dealer or collector. More worryingly, the high worth of vintage Rolex items has led the widespread creation of complete watches from scrap parts, many of which would never have been together in the same model when new. Items like this one, that are literally "sleepers", totally unmolested and have been allowed to mellow gently for almost eighty years, are few and far between.
Rolex is famously secretive about its past output and notoriously unhelpful to anyone with an interest in learning more about the specifics of their vintage models, but even without knowing the exact date of its introduction, we can confidently say that this model, reference 3136, was introduced in the mid 1930s, remaining in production until approximately 1945. In our business, we certainly haven't seen a 3136 with a pre-1935 serial number, or one manufactured post-World War II, and would be very surprised if any example existed from outside this decade long time window.
While, with two or three very notable exceptions, the overall shape of the Rolex Oyster case hasn't changed an awful lot since 1933, when the cosmetic style that we still associate with this famous model range today was introduced, there is some variation between Oyster cases from this period. The 3136 case is one of our favourites from the inter-war years, being somewhat more rugged than many of its contemporaries. It also represents the first time that flat case sides appeared on the Oyster, these being a distinctive feature that still exists today on the company's Submariner and GMT Master sports watches.
The case here is in excellent condition, with only the slightest imperfections to its surface that must be expected on even the most carefully used watch of this age. Certainly, there are no scratches of any consequence, and none of the pitting that blights early stainless steel cases, particularly on their reverse side where many examples have been attacked by the acid contained in perspiration. The milled case back edges are in almost perfect condition, with none of the chewing that one all too often finds on vintage Rolex Oysters. Particularly in the late 1970s, when the traditional mechanical watch was perceived as something of an anachronism, many owners were reluctant to pay for the high priced official servicing of what were, then, items of low value. In many instances, independent repairers were used who lacked access to the correct case opening tools, with the consequence that improvised alternatives were used and damage to the milling done. Having only ever been engaged with the appropriate Rolex factory tool, the milled edges here remain crisp and perfectly defined.
The case back outer carries the individual serial number for this watch, 255777. Falling between the two extremes for that year of 253000 and 285000, this clearly indicates that the piece left Rolex for the first time in early 1943. Internally, the case back is completely decorated with a pearled engine turned pattern, and is signed as "Oyster Watch Co, Geneva-Swiss, Patented All Countries", together with the "RWC Ltd" ( Rolex Watch Company Limited) cartouche, the firm's coronet emblem, and the model reference 3136.
It has always fascinated us that these early vintage Rolex Oysters, typically those manufactured from the early 1930s until the late war years, had this reference to the "Oyster Watch Co" inside their cases, almost as if this was a separate concern to Rolex itself. Having given considerable thought to the matter, our explanation of this would be that, for financial reasons, it was beneficial to have a free standing business, the Oyster Watch Co, manufacturing cases that it then sold to its customer Rolex, rather than having a single corporate entity. There seems to be no other possible explanation for this obviously contrived division, and indeed, a similar state exists even today, with the movement making concern "Manufacture des Montres Rolex SA" being entirely separate on paper from its only customer "Montres Rolex SA", in order that certain tax advantages can be taken. Once again, this is a matter that could be clarified for all time by Rolex with a few hours research in its archives, but given its iron curtain policy to such enquiries, we doubt that collectors will ever known a definitive answer to this mystery.
Still present is the original screw down winding crown. The remains of the "Oyster Patent" wording on the crown's flat outer surface is just about still visible with an eyeglass, but has been smoothed over the decades. Both the threads inside the crown and on its corresponding case tube are free from wear, with the former item locking down securely onto the latter. Always check this point and be wary of examples on which the crown fails to bite onto the tube threads. In theory, it is possible to re-thread crowns and replace worn case tubes, but this is highly specialised work that should be avoided unless absolutely necessary.
When buying a vintage Rolex Oyster, it is vitally important to ensure that its components are correct for the both the model, and its period of production. This distinctive crown type is pictured in full colour on page 325 of James Dowling's book "Rolex Wristwatches, The Best of Time", with the caption that it appeared in 1929 and continued in production until the early 1940s, when it was replaced by the "Rolex Oyster" signed version. So many of these older Oysters have now had their original crowns replaced over the years, typically with the totally incorrect coronet emblem crown that has been in use since 1953, and examples that are accurate in every detail, like the one here, do command high price premiums. Finding spare parts for inter-war period Oysters is now effectively impossible, and it is easy to buy a piece with incorrect aspects, presuming that these can be put back to standard at minimal expense. The reality is far from this, and we would recommend strongly that anyone buying with a view to serious investment sources only a completely original watch from the outset.
It should be appreciated that a Rolex model reference identifies a particular combination of movement type and case, but it does not denote a specific dial variant. Hence we find the situation that several watches with exactly the same model reference have totally different dials, and widely varying price levels to match. In general terms, though there are some specific examples of dials that are valuable primarily on account of their rarity, Rolex dial desirability is directly linked to visual appeal. A very plain dial with nothing remarkable about it will be far less interesting to the experienced collector than some of the art deco derived variants that were manufactured during this period. The format on this particular watch is one of the most attractive ever offered on the vintage Rolex Oyster, and is universally regarded as being among the most collectible. The appearance of this striking layout is so evocative of the 1930s, and if had to choose our own personal favourite vintage Rolex dial design from the inter-war years, this would be it.
It is very interesting to note that this dial, like many others from the same period, appeared on several Rolex models. Osvaldo Patrizzi's book "Collecting Rolex Wristwatches 2001" shows a full page picture of a 1946 bubbleback Oyster, an automatic watch as opposed to the manually would item here, with the identical dial to this one, adding the caption that "the watch illustrated bears a marvellous dial called "tropical". Many attempts have been made to reproduce or reprint this dial, but with no success". The London based Japanese collector Shigeharu Aritake includes a picture of a 1935 manually wound steel Oyster on page 27 of his book "Rolex Scene 1913-1997", again with this same dial. This has a black background, but is otherwise absolutely identical to that on our watch for sale.
A point often not fully appreciated by many novice collectors, Rolex, in common with all its competitors, did not manufacture all of its watches, instead relying on a network of other concerns to supply a whole host of major components. The world of these trusted ateliers was a close knit one, with the result that in many cases, competing brands bought common parts of a particular type from the same manufacturer. The Singer company supplied Rolex with most of its dials from the 1930s until the 1980s, but at the same time, was also selling these to virtually every other prestigious horological house. Hence we find that occasionally, a certain dial format was purchased by two different brands, Singer signing these with the relevant company name as required. Recently, within the last twelve months, we had for sale a beautiful pink gold and steel IWC from 1929 with exactly the same dial layout as present on the Rolex here. Both dials are completely original, and both IWC and Rolex are well documented as having used Singer dials almost exclusively in the inter-war period. Both dials are sized to fit 10.5 ligne movements, and given that Rolex's Calibre 59 and IWC's Calibre 76 share this dimension, it perhaps seems logical, though a little opportunistic, that Singer sold the same component to two of its best customers. However, it is fascinating that the use of this dial format by IWC predates its appearance on a Rolex Oyster by at least five years. This is particularly ironic, given that this dial style is now regarded as being one of the all-time classic early Rolex Oyster variants. So much can be learned about the Swiss watch industry by carefully studying a number of high grade specimens from the top tier houses, and it is quite remarkable, when one starts to dig deep into coded case stamps, hands and dials, to see how a handful of specialist suppliers equipped the key brands at this time.
Regardless of its layout, at this level of the market, where investment potential is certainly an important aspect, any vintage watch must have its original dial in need perfect condition in order to be a serious contender for purchase. While the widespread adoption of the internet has been an enormous advantage to the collector in that he will have access of a much wider range of rare watches than previously, it has created a physical gap between buyer and seller that in itself has introduced associated problems. In the pre-internet era, collectors would almost universally buy watches on a face to face basis, and therefore had to opportunity to examine these in detail before money changed hands. To an experienced buyer, dial condition and originality are the two most critical factors in any purchase, but in the internet environment, these are often glossed over, or, worse still perhaps, dealt with in a description with the statement that a dial has been "beautifully restored" or similar. When a dial is "restored", this being an innocuous term for completely refinished, its surface is stripped away and replaced by a new substitute. Restored dials have a brand new appearance that is often attractive, but devalue a watch enormously when its worth is compared to the same model with its authentic dial. Even taking a very conservative view, a watch with a restored dial will have a value of at least 40% less than its all-original equivalent. This has enormous implications for the investor, and any watch with a restored dial will fail to appreciate to anything remotely approaching the rate of its well preserved counterpart. Original inter-war examples that retain their original dials in excellent condition are rare and consequently expensive, but without question, are worth paying a premium to obtain.
Examining this completely original dial with the aid of an eyeglass, it would be an exaggeration to suggest that it was in mint condition. While a silvery white in 1940, its background colour has mellowed to a slightly creamier shade. The signature "Rolex Oyster" remains crisp and well defined, as does the black printed centre circle and eye-catching double minute track. Also here is the name of Birch & Gaydon Ltd, Fenchurch St, London, the Rolex agent that supplied this watch when new. Founded in 1861, Birch & Gaydon was one of the most prestigious jewellers in the capital and was known as a supplier of ships' chronometers to the Admiralty in the Victorian era. Shortly after the watch here was sold, the firm was bought out by its close competitor Asprey.
Matching the completely original hands, the batons between the Arabic numerals at the compass points are filled with luminous material. As must be expected on any so equipped watch of this age, the radium ingredient of this paint has deteriorated, this having the effect of turning its colour from a once lime green to a now drab khaki tone. Given that this is an unavoidable effect of chemical ageing, and in no way a reflection on how the watch has been treated or stored in the past, no collector would ever criticise a timepiece on this basis, and, we have to admit, the period look of dials with deteriorated radium paint is actually charming in the extreme. In the real world, in a marketplace where totally untouched early Rolex Oyster dials are few and far between, the example here is a gem, and it would be nigh on impossible to find better.
When the threaded waterproof case back is unscrewed, a gleaming Rolex calibre 59 movement is revealed. During the firm's golden years of the inter-war period, Rolex purchased movements ( leaving aside the Cortebert units used in pocket watches) from two suppliers, the Jean Aegler company, and FHF, these initials standing for Fabrique d'Horologerie de Fontainmelon. Every Rolex Oyster from the 30s and 40s, without exception, contained a movement by one of these two houses, and both manufactured to the very highest possible quality standard. Casual browsers are often amazed at the high selling prices of vintage Oysters, but when one actually studies the breathtaking quality present in mechanisms like the one here, and the extent of laborious hand finishing that went into then, they still represent incredibly good value for money. On a personal level, we are fans of calibre 59 equipped Oysters, this movement having been used on a smaller scale that its Aegler equivalent, the 10.5 ligne Hunter. Both are superb units, hand wound and with 15 jewels, but we definitely feel that the 59 is just that little bit more unusual than the Hunter, with the ratio of perhaps 1:4 representing the relative quantity of these two types used by Rolex.
In every respect, this movement is completely original. It has no changed parts whatsoever and has been serviced on a regular basis, with the consequence that it runs perfectly today, winding and setting extremely smoothly. There is none of the corrosion and discolouration that one finds on so many of these older movements today, and it would be almost impossible to visually differentiate between this item and its equivalent in a brand new watch. A point working looking out for when buying any vintage watch, the slotted screw heads here are undamaged, and are not in the least bit checked. When movements fall into the hands of amateur repairers, all too often the incorrect screwdrivers are used, with the result that the screw lots are mangled. Near perfect screws on a bright, clean movement are a good sign that servicing has been performed by a competent technician who was prepared to take his time and use the correct tools for each stage of the disassembly and reconstruction process.
For anyone with access to a comprehensive library of Rolex related reference material, Shigeharu Aritake's book "Rolex Scene 1913-97", already mentioned above in the context of this beautiful dial format, shows seven 1930s Oysters with this same calibre 59 movement, in full colour, on pages 8 to 11. This is certainly one of the most photogenic of the early Rolex movements, and worthy of the close up shots that Mr Aritake has included. Of particular interest is a 1935 example on page 10, with the same 3136 model reference as the watch for sale here, and, with the exception of its less attractive dial style, identical to this piece in every detail.
We have fitted this watch with a high quality crocodile skin style strap that is perfectly in keeping with its upmarket, obviously vintage appearance. This is not a genuine Rolex strap, the original having disintegrated many years ago, but it is a completely acceptable and, having never been worn, remains in almost as-new condition.
For many collectors, reference 3136 represents the archetypical vintage Rolex Oyster from the inter-war period. These watches were beautifully engineered and finished, to a standard that would be unthinkable today, very much in the same way that the degree of hand craftsmanship that went into a luxury coach built motorcar from the same period would embarrass the current equivalents standing new on the showroom forecourts today. While manufactured on a relatively large scale in the 1930s for a worldwide network of agents, genuinely well preserved Oysters from this era are not easily found, with the majority of surviving examples being mechanically very worn and usually cosmetically enhanced to increase their saleability. This is a completely correct watch, totally original and in excellent condition throughout, that is quite capable of withstanding critical expert scrutiny at any level. The intrinsic quality present in Rolex production from this period was so high that, if a well cared for watch is sourced today and continued servicing performed in the future, it will prove capable of lasting almost indefinitely. When the proven investment performance of vintage Rolex watches over the last two decades is factored into the equation, it has to be said that a good 1930s Oyster is an exceedingly sensible purchase, on a whole variety of different levels.
We have sold several model reference 3136 vintage Rolex Oysters in the last five or six years, all of which were in excellent original condition. Depending on the dial variant, these have sold between the extremes of £1200 and £2400 GB pounds, the highest price having been attained by a rare two-tone quartered dial example in September 2009. Ozvaldo Patrizzi includes the 3136 in stainless steel as part of the price guide accompanying his book "Collecting Rolex Wristwatches 2001", including the note that this model is "rare" and suggesting a value of 5000 Euros, or approximately £3400 GB pounds in "exceptional condition". This watch is in excellent condition throughout, but Patrizzi is known as a stickler, and our view is that the piece here would fall very slightly short of Patrizzi's exceptional grade, simply because of the very slight yellowing of the dial and the few tiny imperfections of the case. Even making adjustment for these minor shortcomings, we don't think that, with this wonderful dial, our asking price of £1345 GB pounds is at all excessive. While this is certainly a substantial sum of money, we mustn't lose sight of the fact that it is still a lesser amount than that needed to purchase almost any current model Rolex Oyster, and we still firmly believe that the market for the best early vintage Oysters has many years of rising before it reaches its ceiling.
Price £1345 GB Pounds
Vintage Watch Brands
Vintage Watch Decades
Vintage Ladies Watches
Vintage Watch Bracelets
Swipwreek Straps
Travel Clock/ Pocket Watches
Home
About
Brand Overviews
By Decade
Reference
Contact Details
Telephone from the UK:
07453 734666
or 07428 051005
Telephone from overseas:
+44 7453 734666
or +44 7428 051005