Rolex Oyster Standard steel Mercedes hands 1942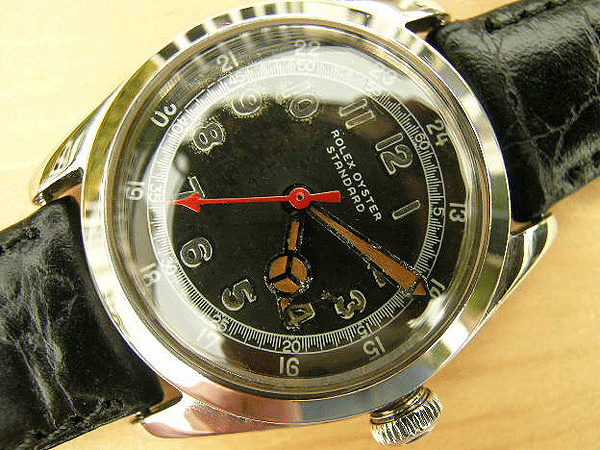 From 1942, this beautiful stainless steel gentleman's vintage Rolex Oyster is a classic example of the firm's production from the war years. Watches like this one have been firmly established as collectors' items for nearly thirty years now, and as a consequence are extremely difficult to find in totally original unmolested condition. With the proviso that it is bought at a sensible price in the first instance, it would be almost impossible to ever lose money on a classic Rolex Oyster, and in the longer term, provided the piece is regularly serviced and treated with respect, a tidy profit will always be made if it ever liquidated.
The condition of this particular watch is nearly mint throughout, and it appears to only have ever had the lightest use. Its heavy case has only the very faintest of imperfections that must be expected on any timepiece of this age, and none of the pitting to its reverse side that one often finds on early stainless steel housings. This is the classic Rolex Oyster case shape, introduced in 1932 and still the one used by the company today for its current Oyster range. One of the most appealing aspects of a collectible Oyster like the one here is that, while it has an obvious vintage charm, it doesn't look in the slightest bit dated in an uncomfortable sense. Anyone who appreciates the look of luxury motor cars from the 1930s and '40s, with their running boards and distinctive radiator mascots, will understand the appeal of inter-war vintage Rolex Oysters, and it could be quite reasonably argued that the Rolex models manufactured at this time were the most attractive that the company has ever offered.
An important point to consider when buying with a view to investment, the fine milled edges of the case back outer are in almost mint condition, these having only ever been engaged with the correct Rolex factory tool. On so many of these older Oysters, at some time in their lives the case back has been amateurishly opened by an improvised method, leaving irreparable damage to its milling. Each milled ridge here is perfectly defined, and there is not even the slightest hint of wear or tool slip.
Externally, the case back carries the model reference 3478 and the individual serial number for this watch, 171347, this, falling between the two extremes of vintage Rolex production for that year of 143509 and 230878, clearly identifying the watch as being of 1942 origin. A point that we always make in our descriptions, when buying any vintage Rolex Oyster, its model reference should be checked against an authoritative source as confirmation that this is the correct designation for the type of watch being sold. The amount of swapping of cases and movements that has gone on over the last twenty years as prices of elderly Rolex items has soared is astonishing, and the number of watches of this type that are incorrect and artificially built up now vastly outnumbers those that genuinely are what they purport to be. We tend to use Charles Jarman's excellent book "The Rolex Reference Guide, 4th Edition" for this purpose, and on page 47 of this we find the model reference 3478 stated as being "Manual wind Oyster, polished bezel, inner 24 hour ring, Canadian market", this of course being a perfect summary of the item here. As a final note regarding this case back outer, notice that the stamping of both numbers is of full depth, this informing us that this component has never been re-polished. Cases on which the numbers and, where present, hallmarks are crisp and legible will always be preferable to those on which these stampings are rubbed and difficult to make out.
Internally, the case back is decorated with an engine turned pattern and has the signature "Oyster Watch Co, Geneva Swiss, Great Britain Patents, 260554/1925, 274788-274789, Swiss Patents 114948 120640, 120851 122110, USA Patent 1661232, D.R.P 471002". The Rolex Oyster had shot to fame after its introduction in 1925 as a consequence of it being the world's first reliably waterproof wristwatch. Its design, with a one piece case body onto which the back and crown are screwed down, was heavily patented in every country in which Rolex saw a potential market. The company was aware that, for as long as the Oyster patent remained unchallenged, it had a strong advantage over its competitors, and was keen to list patents in full as something of a warning to any concern perhaps inclined to infringe these registrations and ride on the back of the Oyster's success.
The original winding crown with which this watch started life in 1942 is still present today, this being signed as "Rolex Oyster" around a centrally positioned recessed square section. Again, when buying at this level, at which considerable sums of money are involved, a watch must be entirely original and correct in every detail. Small component changes will have a dramatic negative effect on market value, and conversely, examples like this one, that are faultless in every respect, will command high price premiums. The use of this crown is particularly interesting, as 1942 was the first year in which it was offered. James Dowling's excellent book "Rolex Wristwatches, The Best of Time" includes a colour photograph of this crown type on page 325, commenting that it replaced the "Rolex Oyster" signed crown without the square section that was in use in the very early 1940s. The condition of this crown is literally almost perfect, and it locks down perfectly in place on its corresponding threaded case tube. The threads on both the crown and tube are free from wear in the very best possible order.
While the quality of all vintage Rolex models from the 1930s and '40s makes them extremely desirable by default, it is largely their dials that defines the market value of Oysters from this period. Despite the war raging in Europe at this time, Rolex had a strong network of distributors in non-effected countries, and this period saw some of the most flamboyant dials ever used on the Oyster.
This dial is an absolute gem, and is a variant that has always been one of our own personal favourites, with large radium painted Arabic numerals located inside a very finely calibrated seconds track and an outer 24 hour ring. This dial appeared in both black and white forms when new, the black version being the rarer and therefore more valuable today. Shigeharu Aritake's book "Rolex Scene 1913-1997" includes a close up colour photograph of the same black dial here, on a 1940 steel Oyster, on page 29, this also having a red centre seconds hand.
This is a completely original dial, and has never been restored in the past. A point that is very rarely brought to the attention of novice buyers, largely because it is in very few people's commercial interest to do so, is that a vintage watch on which the dial has been restored is rendered extremely undesirable to the purist collector. Online, we often see restored dials being trumpeted as if they were a virtue, rather than something that, in reality, should be avoided like the plague. The euphemism "restored" conjures up delightfully innocent images of a highly experienced craftsman, painstakingly working on an original dial with tiny brushes, rather like a conservationist gently lifting dirt from the surface of an old master painting. The reality couldn't be more different, and a more accurate description of the dial restoration process would be total refinishing. When a dial is restored, it is stripped down to bare metal and then re-printed from scratch. No remnant of the original surface finish is left, and an intrinsic part of the watch as it was when new has been destroyed for ever. Be also on the lookout for deliberately misleading terms that are wildly contradictory. We often see the phrase "completely original restored dial" used online, and this is absolute meaningless nonsense. Either a dial is original, in which case it is untouched and virgin, or it has been restored, in which case, by definition, it can never be original. We labour this point endlessly in the descriptions on this site to attempt to communicate the message that, when buying for investment, a watch must be with its original dial in near perfect condition.
The condition of this dial is extremely good. Black dials on older watches have a tendency to fade, but this one is as dark as it was on the day it left the jeweller when first sold. When viewed under high magnification, there is the slightest degree of deterioration caused by the decay of the luminous paint around the 9 and 10 numerals, but this is so trivial as to be hardly worth mentioning. In real terms, this dial is in the best possible state that one could ever wish to find on a watch of this age.
The signature here "Rolex Oyster Standard" is an interesting one, as it defines the watch as having been sold when new in the Canadian market rather than in Europe. There doesn't seem to be a generally accepted explanation as to why there was the difference in signature for these Canadian models, particularly when, as in this case, the same versions were often offered for sale in the UK also. As a matter of interest, we have another reference 3478 vintage Rolex Oyster for sale, manufactured a year later than this one in 1943, that was sold in the UK, this being confirmed by the presence of a British retailer's name on its dial. Both watches have exactly the same case, movement, hands and dial layout, and one wonders what the significance of the "Standard" word was in this context. Similarly, if we look at Rolex production sold in Canada in the 1930s and '40s, some of it was signed as "Rolex Oyster" without the "Standard" suffix, yet there seems to be no rhyme or reason as to which models were allocated this additional word. James Dowling's book "Rolex Wristwatches, The Best of Time" shows a 1941 rectangular model in colour on page 141 with its dial signed as "Rolex Standard". Interestingly, the caption accompanying this photograph tells us that many Rolex variations were made exclusively for the Canadian market, with the non-Oyster types having their cases made there in order to circumvent heavy import tariffs on completed watches. In this instance, the case here being a waterproof Oyster, this was manufactured in Switzerland and indeed, the whole watch is identical to the same model that would have been sold by Rolex agents in the UK.
The beautiful art deco styled Mercedes hands are completely original to this watch, as is the very distinctive red centre seconds hand. Notice how the hour and minute hands here are quite different from the Mercedes types used on current Rolex production, with the minute hand being tapered, and much wider at its outer end that that at the dial centre. Not often found today, early Mercedes hands are undoubtedly the most sought after to be used on any vintage Oyster, and will add significantly to the value of this watch as it would have been with more conventional indicators. Of course there are exceptions, but when one encounters a red second hand on an early Rolex, this is a good indication that the watch to which it is fitted is a pre-war centre seconds example. Even at late as 1945, centre seconds, as opposed to subsidiary seconds that are displayed at the bottom of the dial, were a relatively unusual feature. Rolex originally marketed this aspect as being suitable for doctors, on account of it being far easier to monitor the passing of a minute when checking a patient's pulse with a centre seconds timepiece. To promote its centre seconds watches, Rolex nearly always used a red hand, as here.
Without a doubt, a major factor for Rolex models being the most highly regarded among vintage watch collectors is their superb movements, which are arguably the very finest to have been used by any of the Swiss top tier houses. Curiously though, and this is a fact that often surprises many newcomers to the vintage watch field, Rolex did not manufacture its own movements at this stage, but instead purchased them almost exclusively from one of two separate concerns, these being the Jean Aegler company, in which Rolex held a financial stake, and FHF ( The Fabrique d'Horologerie de Fontainemelon). This particular mechanism is the hand wound calibre 59, a gorgeous 15 jewelled unit that was supplied by FHF and is universally regarded as being one of the classic early Rolex movements. It appeared initially in subsidiary seconds form, and later, as here, with centre seconds. If we had to choose a definitive Rolex movement to represent the Oyster in the company's inter-war years, we would opt for the 10.5 ligne Hunter, supplied by Aegler, but this would be as a consequence of it being used more often than the calibre 59, and not because of any inherent technical merit. Both movements were very much the staples of Oyster production at this time, and for the serious collector looking to acquire examples of each of the key mechanisms in the company's history, a sample of both types is essential.
For anyone with access to a comprehensive library of vintage Rolex reference books, there is a large full colour plate of this same calibre 59 movement on page 10 of the London based Japanese collector Shigeharu Aritake's work "Rolex Scene 1913-1997", this having been mentioned above in the context of the dial variant.
Another colour photograph of the same movement appears on page 287 of George Gordon's "Rolex, Timeless Elegance" book.
This movement, in common with the rest of the watch, is completely original and in almost mint condition. Not one component here has been changed since new, and the rhodium plated finish to the plates gleams like that in a brand new mechanism. Typically, when one finds a vintage Rolex movement from this period, its appearance is dull and uninspiring, often with signs of the brass underneath creeping through the plated surface. The state of this one is quite the opposite, with it looking crisp and immaculately preserved throughout. Something that we always use as a yard stick when assessing a vintage movement, the mirror polished screw heads here are free from chewing and have obviously only ever been turned by the appropriate sized screwdrivers. There is no evidence of any past repair work having ever been carried out on this movement, and in every respect, it is virtually impossible to fault. Having been serviced regularly since new, it works perfectly today, and will continue to do so almost indefinitely if routinely cleaned and lubricated every three or four years.
I have fitted this watch with a high quality crocodile skin type strap that is perfectly suited to its upmarket vintage appearance. This is not a genuine Rolex strap, the original having deteriorated to the point where it was no longer serviceable, but it is almost identical in construction and style to those shown with the steel Oysters in the company's early 1940s advertising material.
This is an exceptionally fine example of a classic wartime Rolex Oyster, with the most wonderful dial layout and Mercedes hands, and the interesting aspect that it was sold in Canada when new. There are certainly Oysters for sale from the 1940s on a reasonably regular basis online, but very few are completely original and in the remarkable state of the one here. We have priced this item at £1375 GB pounds, which is approximately a third of the sum asked for similar models in the specialist vintage watch shops in central London. Even now, it is quite a struggle to locate watches of this grade, and a decade on, we would suspect that it will be virtually impossible. At the price asked, despite its age and superb condition, this item is still far less costly than its nearest brand new Rolex equivalent. The quality of its hand built movement surpasses its modern day machine made counterpart with ease, its styling is charismatic and it will only ever appreciate in value as the years progress. Looking at it in this way, it really is a very difficult item to resist for the buyer who wants to own a classic Rolex at a very modest price level and makes perfect sense for anyone looking for a very useable vintage watch that he can potentially sell very profitably with ease only a few years from now.
Price £1375 GB Pounds
Vintage Watch Brands
Vintage Watch Decades
Vintage Ladies Watches
Vintage Watch Bracelets
Swipwreek Straps
Travel Clock/ Pocket Watches
Home
About
Brand Overviews
By Decade
Reference
Contact Details
Telephone from the UK:
07453 734666
or 07428 051005
Telephone from overseas:
+44 7453 734666
or +44 7428 051005