Rolex Oyster Royal steel 1958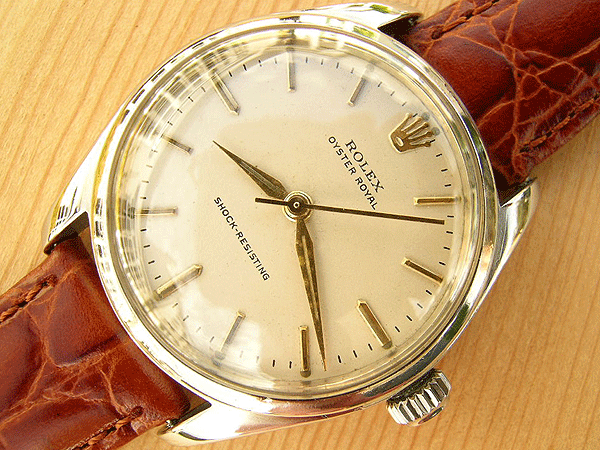 This 1958 gentleman's Rolex Oyster Royal in stainless steel is a superb post-war example of this classic model. Reasonably plentiful even fifteen years ago, genuinely well preserved 1950s Rolex Oysters are now relatively difficult to find. Poorer pieces, those with discoloured dials or movements containing non-original components still appear for sale quite regularly online, but cosseted watches from this era that have been well cared for since new are largely now in the hands of collectors, who are unlikely to part with them in the foreseeable future.
The Oyster Royal was introduced in 1933 and was recognisable on account of it having a centrally pivoted second hand as opposed to the small subsidiary seconds register that was still the norm at this stage. Interestingly, Rolex marketed the Royal as being ideally suited for those in the medical profession, this assertion being made on the basis that a large second hand would be far easier to consult when timing a patient's heartbeat over a sixty second period. Ironically, as centre seconds became more common, the Oyster Royal would be offered in both centre and sub-seconds formats, and the Royal name became little more than additional dial decoration that would enable Rolex to show more models in its range than would otherwise have been possible.
This particular watch is in the most remarkable condition throughout, and, given that its basic shape still remains that used for the Rolex Oyster today, almost looks like a brand new item. Its large stainless steel case is virtually unmarked, and has only the tiniest imperfections that can only really be noticed with the assistance of a jeweller's eyeglass. When assessing a stainless steel watch of this age, always carefully scrutinise the back of the case, particularly at the point where the case back joins the case body. Though effective against rust, stainless steel from this period was still vulnerable in other respects, and was prone to pitting when exposed to the acid contained in perspiration. On a British market model like this one, a steel case will usually be reasonably well preserved, but on those watches sold when new in the former colonies, many of which have been re-imported back into the UK in recent years, where the conditions were hot and humid, pitting can be very dramatic indeed.
The Rolex Oyster achieved fame in the late 1920s as the world's first waterproof wristwatch, and all the key design features that appeared on the inaugural 1926 model are still to be found on the piece for sale here. Having included an account of the development race in the early 1920s that led to the Oyster, and explained why its construction was so effective as part of several of the other Rolex Oyster descriptions on this site, it seems superfluous to repeat this information here. Suffice it to say in summary then, that the Oyster is sealed against water on account of it having a single piece case body, onto which the threaded case back is securely screwed. This threaded arrangement creates a far more secure union than could ever be possible with a conventional press fit case back. More ingenious still was the solution to the problem of sealing the winding crown, something that had challenged engineers since the first wristwatches were used in the water-logged trenches of World War I. Rolex brilliantly created a threaded winding crown that wound down onto a corresponding tube on the watch case side. When the watch was to be wound or the time set, the crown was unscrewed from its captive position and the operation performed. Once completed, the crown was pushed gently inward to connect with the case tube threads, and screwed back into place, resulting in a watch that was again hermetically sealed.
Perhaps the Achilles' heel of the construction outlined in the previous paragraph is that it assumes that a wearer will always remember to screw the winding crown on his watch back in place after use, and that the fine threads on the case back and crown remain in good condition. An Oyster on which the threads have been abused in the past through rough handling will quickly leak water. Such watches can often be repaired by having their winding crowns and case tubes replaced, but this work is specialised and expensive. We would advise anyone investing in a classic Oyster to purchase the very best preserved example available from the outset, even though this will inevitably cost significantly more than a tired, worn piece in need of attention. The threads on the case back, case body, winding crown and case tube here are all in superb condition, and, though we certainly wouldn't advise anybody to place a collectible vintage watch of this kind under water, theoretically at least, this piece should remain sealed without any difficulty.
Having only ever been opened with the appropriate Rolex factory tool, the milled edges of this case back are almost perfectly preserved and are free from damage. On so many older Oysters, as a consequence of their backs having been opened by amateur repairers without access to the correct equipment, these edges are badly chewed. While many readers may find it excessive that we mention such issues, they are vital in establishing the worth of a watch as a collectible and must not be overlooked.
Internally, this case back is signed "Rolex, Geneva, Swiss, Patented, Stainless Steel" together with the model reference 6144. This same reference is repeated again between the upper lugs on the case body, this being clear confirmation that case body and back are correct for each other. Again, always check the consistency of these two reference numbers, as so many vintage Rolex pieces that are for sale now have been built up from spare parts that were never together when new. In many instances, such items have been in circulation for nearly two decades since the vintage watch boom of the early 1980s, and their sellers are often blissfully unaware that things are not as they should be. Additionally, if access to any specialist reference material is available, check that both the model reference does indeed relate to the type of watch being offered, and that its serial number, stamped between the bottom case lugs, ties in with the approximate year of the piece, as suggested by its styling and features. We tend to use Charles Jarman's book "The Rolex Reference Guide 2004" for this purpose, and indeed, on page 56 of this work we find the model 6144, with the note that this is a "manual wind Oyster Royal, in stainless steel, with polished bezel", this being a perfect summary of the watch here. Similarly, the serial number 832187 clearly identifies the piece as having been manufactured in 1958, it falling between the two extremes of vintage Rolex watch production for that year of 800000 and 1100000.
The original winding crown is fully signed with the firm's large coronet emblem, which is still the logo used on new Rolex Oyster crowns today. The serrated edges of the crown are sharp and unworn, suggesting that this component has seen very little use, and, as mentioned earlier, it locks down perfectly in place on its case tube.
The styling of this piece is absolutely typical of Rolex production in the late 1950s, and even its serial number was unknown to us, this watch could have been fairly accurately dated by its appearance alone. As a collector becomes more experienced, he will gain the ability to instantly gauge the approximate age of an item in this way, particularly if he concerns himself primarily with the output of a single manufacturer. Given that Rolex has largely kept its Oyster case design unchanged, the defining feature of its vintage output has always been dials, which have altered quite considerably over the decades. In the 1940s, printed dials were the fashion, usually with Arabic numerals or, by the end of the decade, with a mixture of these and printed batons. In the early 1950s, perhaps prompted by an understandable post-war desire for a new look that contrasted with everything that had gone before, we see very few printed dials, these instead being replaced with versions on which straight-sided applied batons were used.
The display of the Rolex emblem also changed over the same time period. In the 1930s and '40s, the coronet symbol was typically printed above the company name and was relatively small. In the early 1950s, while the size of the crown remained unchanged, this often appeared as an applied logo, still above the Rolex wording, and in the mid 1950s, the step was taken to increase the crown's prominence and it was enlarged dramatically, now replacing the 12 o'clock numerals entirely.
The original gilt hands are in excellent condition and are again indicative of the watch's era of production. In the 1940s, Rolex typically used radium filled "pencil" or, perhaps best of all, Mercedes shaped hands, and the dauphine type here are rarely seen before 1950. In our business, we have always considered dauphine hands to be some of the most beautiful that the company has ever fitted, and they must have looked almost embarrassingly elegant when the changeover to parallel sided baton hands was made in the early 1960s.
Even studied through an eyeglass, this dial remains in virtually perfect condition. If one looks hard enough, the slightest degree of patina is just visible, but in realistic terms, this component is almost beyond criticism. It must be appreciated that this is a totally original dial, and has never been refinished or restored in the past. This is such an important factor when buying with a view to investment, with many serious collectors refusing to even consider watches on which the dials are not absolutely virgin. Perhaps being deliberately small minded, it might be suggested that the radium based luminous material present at each of the hour points and along the hour and minute hands has deteriorated somewhat, mellowing in colour from a once lime green to a faded khaki shade, but this has happened as an unavoidable consequence of the radium element's short half-life, and is not a reflection on the way in which the watch has been treated or stored.
Among collectors of vintage timepieces, there is a strong argument that suggests that the quality of mechanical movements created by the Swiss luxury watch industry has never been higher than it was in the 1950s and early 1960s. It is hard to disagree with this view and, certainly, it does make logical sense. A number of important developments to the mechanical movement were created in World War II as a consequence of research carried out by the major Swiss houses for the allied military, not the least of these being shock protection and anti-magnetic shielding. While not widely available to the civilian buyer in the 1940s, these gradually filtered through to general production by the early 1950s and indeed, the movement here has every conceivable refinement. However, the reason that 1950s mechanisms are so highly regarded is that at this stage, there was still very little automation within the industry, and movements of this grade were still assembled and finished on an individual basis by hand, just as they had been in the inter-war years. Of necessity, by the mid-1960s, under the threat of the newly introduced battery powered movements from the Far East, traditional manufacturers in Switzerland had to reduce costs and did so by increasingly cutting back on the number of man-hours needed to produce each unit. Today, the 1950s are seen by enthusiasts as the period when technical refinement reached its all time high, but equally, when the finishing and build quality present in high level movements like this one had not been in the least bit compromised. In short, the mechanisms created by Rolex and the other top tier Swiss houses at this time represent the best of both innovative technology and traditional craftsmanship, hence these being so highly regarded in the collectible market.
While this movement may have been updated with the latest post-war features, it was still actually a revision of the 10.5 ligne ( the ligne being the unit of movement width measurement used within the Swiss watch industry) Hunter that was introduced by Rolex in 1923 and became the staple flagship of the Oyster range until its eventual discontinuation in 1969. However, to presume that a Hunter manufactured in the 1920s is identical to its descendent produced in even the '40s or '50s, let alone the '60s, would be erroneous. While the Hunter movement was brilliantly designed from the outset, and should be regarded today as the most important hand wound luxury watch movement of the 20th century by far, it was constantly altered throughout its production span to include cutting edge innovations.
It is particularly interesting to see how features that were trumpeted as huge breakthroughs by Rolex when first introduced became everyday aspects of the Hunter as it evolved. The movement for sale here is fitted with a Superbalance, the patented balance wheel with recessed timing screws to make it more streamlined. First launched in 1935, movements with this component were initially prominently signed as such, with "Patented Superbalance" being stated on their winding wheels, but by even the late 1940s, this ingenious component was ubiquitous on all Hunter mechanisms, and was no longer mentioned by name on each unit sold.
In every respect, the condition of the movement in this watch is almost perfect, and it is without doubt one of the best-preserved 1950s Hunters that has passed through our hands for some time. This mechanism is totally original throughout, with no changed or incorrect parts whatsoever and no evidence of any past repair work having ever been performed. As a consequence of it having been regularly cleaned and lubricated since new, it works perfectly, running smoothly and with excellent amplitude. Its rhodium plated finish remains bright, with no dulling or corrosion being present of any kind. The signature "Rolex" is stated in large letters on the bridge plate, together with "Rolex, 15 Rubis, Swiss Made" on the winding wheel. Very unusually, this movement has an individual serial number 52921 stated beside its regulator, and this is intriguing. Rolex movements from the 1950s are not typically numbered, with the exception being those that were to be sent for independent accuracy testing at one of Switzerland's observatories. Under strict Swiss law, in order that they can be unequivocally identified, every movement to be monitored in this way must have its own unique number. Rolex certainly did submit movements for accuracy assessment on a regular basis, then selling the passed watches as officially certified chronometers. This item carries a serial number, but there is no suggestion whatsoever that it was ever independently tested or sold with a chronometer certificate when new. A fair explanation for this, which is based only on inspired logic rather than known fact, is that it was easier to give every movement in a certain batch, the majority of which had been earmarked for testing, a serial number during production, rather than add these selectively at a later date. On the other hand, if this was so, why don't we see more Rolex movements from the same period with serial numbers and no mention of chronometer testing ? Unfortunately, and utterly pointlessly, due to a totally uncooperative attitude from Rolex today and a complete refusal to even discuss its older watches with collectors, this matter, like so many others that could be clarified at a stroke with access to factory records, will probably remain shrouded in mystery forever.
We have fitted this watch with a high grade crocodile skin strap that is perfectly in keeping with its charming period appearance. Though not a genuine Rolex strap, this item is virtually identical to those shown with the Oyster Royal in the company's post-war period catalogues, and is in mint condition, having never been worn.
Different eras of Rolex production have different characteristics and attributes that will appeal to a variety of buyers. While an older watch might be more appealing to the academically minded collector who is unlikely to ever wear his timepieces, a post-war model like this one would be an ideal choice as a useable watch. We would go further in this direction, and comment that, with its blend of incredibly high build quality and advanced engineering, a 1950s Oyster is a thinking man's alternative to a current Rolex model. These vintage examples were manufactured to an initially higher standard, have far more character and, best of all, are proven as superb investments. The concept of the vintage wristwatch emerged, originally in Italy, in the early 1980s due to a small number of horological enthusiasts becoming increasingly disenchanted with the standards of current production and realising, quite correctly, that the golden age of Swiss watch making had long since passed. During the intervening quarter of a century, there has never been a period in which the value of collectible Rolex Oysters has not risen, which makes the contrast between these and current models, that depreciate dramatically during the first few years that they are owned, even more glaring.
This is obviously a desirable watch, but its present worth is not easy to define, not least because very few 1950s examples appear today in such superb condition. In his excellent book "Rolex Wristwatches, The Best of Time", English collector James Dowling shows an almost identical stainless steel Oyster Royal in colour on page 198. The pictured watch has exactly the same case, case back signature and movement, also unusually with a serial number, as the piece for sale here. The only difference between these two items is in the dial, which on Mr. Dowling's watch has a honeycomb texture as opposed to the conventional flat style here. In the accompanying price guide at the rear of this book, the watch shown is suggested as having a value of $2000 US dollars, this being roughly equal to £1150 GB pounds. However, it should be recognised that this work was published in 1996, and the market level for all classic Oysters, particularly in steel, has risen enormously in the past sixteen years, making this figure no longer realistic today, even for a much poorer example than the beautifully preserved watch here.
We have priced this watch at £1450 GB pounds. If their merits are really considered, these 1950s Rolex Oysters represent incredible value for money, having far more intrinsic quality in their movements than their current equivalents, and still for less than half the price of the most basic new steel Oyster today. We wouldn't hesitate to unreservedly recommend an Oyster from this period to any buyer looking for a collectible watch that is also eminently practical, and would suggest that for the individual looking for a single, really excellent, classic Rolex for regular use, this item would be a difficult act to follow.
Price £1450 GB Pounds
Price £1450 GB Pounds
Vintage Watch Brands
Vintage Watch Decades
Vintage Ladies Watches
Vintage Watch Bracelets
Swipwreek Straps
Travel Clock/ Pocket Watches
Home
About
Brand Overviews
By Decade
Reference
Contact Details
Telephone from the UK:
07453 734666
or 07428 051005
Telephone from overseas:
+44 7453 734666
or +44 7428 051005