Rolex Oyster Raleigh steel 1940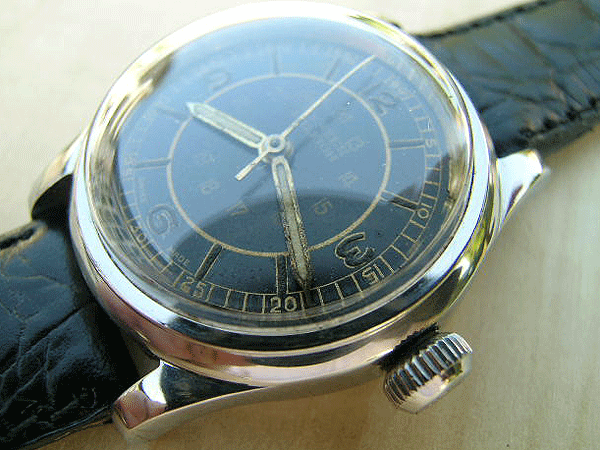 The Oyster Raleigh is a classic wartime vintage Rolex watch, and one of those models that really is an essential purchase for anyone attempting to build up a collection that charts the products of this famous Swiss house through the decades. First introduced in 1926 as the world's first reliably waterproof watch, the Rolex Oyster has remained in production to the present day, but it is these beautiful vintage models which now inspire almost fanatical enthusiasm on account of their striking period good lucks and exquisitely crafted movements. The Rolex Oyster is unquestionably the most sought after elderly watch type, with well preserved examples collected worldwide. To a large extent, we can attribute this popularity and cult following to the fact that the sheer over engineering and rugged nature of these pieces means that as well as being proven strong financial investments, they can be carefully enjoyed on the wrist on a regular basis without any negative consequences.
The two main factors that ensured the success of the Oyster were its waterproof, ultra reliable nature and the supreme accuracy of its movement. Rolex had always carefully marketed these models with very much a sporting, almost daredevil, theme, capitalising on their use by legendary figures like Sir Malcolm Campbell, the famous British land and water speed record pioneer, and Alex Henshaw, the first pilot to fly from London to Capetown and back again. As an aside, it is worth noting that, incredibly by today's worldly attitudes, none of these individuals were ever paid by Rolex for their support and were happy to promote the Rolex brand out of a genuine appreciation for this remarkable watch to which they entrusted their lives. This image was cultivated further by an increased alignment with British RAF pilots as the 1930s continued towards their inevitable conclusion. The RAF team members that first flew over Everest wore Rolex Oysters, as did Flying Officer Coulston, who was the first man to pilot a round trip between London and New Zealand, proudly sending a cable upon arrival to Rolex in London to confirm that his watch, that had been purchased privately six years before this flight, had kept perfect time, allowing him to calculate his course without incident.
By the outbreak of war in Europe in 1939, quite literally, every Rolex Oyster in Britain had been purchased, out of their own pockets, by pilots and other front line military personnel who simply felt more comfortable depending on a Rolex watch than those officially issued by the Government by other Swiss manufacturers. In retrospect, this was an enormous compliment, particularly when we consider just how expensive these watches were when new. For a young pilot, often in his late teens or early twenties, purchasing a piece like the one for sale here was a very significant investment, and this perceived necessity for ownership of a Rolex Oyster among RAF flyers in the war years tells us an awful lot about the justified aura of technical brilliance that the company's products had earned by this time.
The Oyster Raleigh is now inextricably linked with World War II, but in truth, is not technically a wartime watch having been first introduced nine years before hostilities broke out in 1930 and indeed only remaining in production for the first year of the conflict, it being no longer pictured in Rolex catalogues after 1940, the year in which this example was made. It is also worth noting that despite its widespread use among RAF pilots, this watch was never purchased for official issue by either the British, or indeed by any Allied government, instead being paid for individually and independently, over the counter from Rolex stockists, in the conventional civilian way.
The Oyster Raleigh is not a military watch, ( and in this respect is again in common with the Oyster Army, which despite its name was a civilian model purchased privately by military users) though quite understandably, it is often viewed in this context. Rolex was later, in the 1950s, to trademark a selection of exploration themed names, and we can safely assume that the Raleigh title of this model was inspired by the dashing British Elizabethan era explorer of the same name, Sir Walter. If we look back over the last century, there are certain common re-occurring themes that constantly show up in Rolex Oyster model names. One of these is a sense of speed, exploration and pushing forward boundaries and the other is a connection with English aristocracy and in some cases, the Royal house itself. Even the crown logo, the symbol adopted by Rolex in 1925, utilises this regal imagery that the company's founder, Hans Wilsdorf, found so irresistible. If we take almost any Rolex model name at random from the 1920s through to the 1980s, it can invariably be assigned immediately to one of these two categories and this Raleigh name is a title that perfectly illustrates this point, combining strong overlapping aspects of both.
The watch for sale here is in exceptionally fine condition throughout, and most importantly, is completely original and unmolested. Its gleaming stainless steel case is almost mint, with just the usual tiny imperfections that must be expected on any carefully looked after piece of this age. If the photos of this item are studied carefully, it will be seen that the Oyster Raleigh actually used a slightly different case type from the vast majority of other Oysters from the same era. Unlike the standard models, which have curved sides bending inwards to meet the glass and bezel, the very chunky sides of the Raleigh are almost vertical, these meeting the top surface of the lugs almost at a right angle. Rolex have very rarely produced any design feature in isolation, and we can see this same flat sided case type continued today on the current Rolex diver's models, whereas the less robust Oysters still use the curved sided cases. We have always liked the very utilitarian, substantial look of the Raleigh case and feel that it just adds that extra interest factor to what is already an extremely attractive watch.
The milled edges that surround the case back are in almost perfect condition, this item having only ever been removed for servicing with the correct Rolex tool. This is a very important point, as so many vintage Rolex Oysters, all of which have had this distinctive edging since 1926, have been at some time opened with an incorrect implement causing very unsightly damage. Novice collectors can often be rather swept up in a wave of over enthusiasm and overlook these matters, but this is very unwise as these finer points will have a huge influence over a piece's value. If ever confirmation of this is needed, simply visit the viewing session that occurs before any of the traditional specialist vintage wristwatch sales held by the hallowed physical auction houses. At these events, serious collectors, often with years of experience behind them, will be seen poring over potential purchases with eyeglasses, looking for imperfections to case back edges, dials and movements, often for several minutes per watch. As with so many areas of antique collecting, condition and originality are everything, near perfect order often multiplying the worth of a watch to several times that of its merely average sibling.
This smooth, perfectly polished, screw down case back outer is signed with the serial number 174315, while internally we find the model reference 3478. The two numbers here are, of course, correct for this watch. Page 47 of Charles Jarman's excellent book "The Rolex Reference Guide" identifies model reference 3478 as "Oyster Raleigh, manual wind, polished bezel, stainless steel" and the second indicating unequivocally that this particular example was made in 1940 ( 1939 production ended with serial number 136000 and 1941 started with 165000). It is always worth checking these numbers before buying any vintage Rolex as so many of these high value pieces have been built up from spare parts removed from scrap or badly damaged watches. The case back numbers should always tie in, as they do here, with the rest of the piece, correctly identifying its model and being appropriate in age.
Inside the case back we find the correct stamped wording "Oyster Watch Co, Geneva Swiss, Patented in All Countries", together with the "RWC Ltd" ( Rolex Watch Company Limited) oval cartouche and the wording "Patented in All Countries". From this strong reference to patent protection we can see how utterly obsessed Rolex were with securing the Oyster case design in all possible worldwide markets. This is a very important point for anyone wishing to really understand why Rolex were so successful, particularly in the inter and immediately post war years. The quality of Rolex workmanship was second to none, with the sheer standard of finish and build that went into watches like this beautiful example being almost breathtaking, but the success of the company was its genius in combining this high standard with the only case design that was effectively waterproof at the time. The continued prosperity of Rolex depended entirely on the Oyster patent continuing to stand unchallenged, and the firm were well aware, as the forceful mention of worldwide patents signed inside this case leaves us in no doubt, that they needed to take an incredibly active approach in protecting their landmark design at all costs.
The original threaded winding crown that was fitted to this watch when new in 1940 is still in place and is in superb, almost unworn, condition. This locks down perfectly onto its correspondingly threaded case tube, creating the waterproof seal for which the Oyster design became world famous. Quite correctly, this crown is signed around its flat outer edge as "Oyster Patent", together with the Swiss cross emblem. This type of crown is universally regarded as being one of the all time Rolex classics, having been used as standard on the company's Oysters from 1929 when it replaced the so-called "onion crown" until the early 1940s, when the "Rolex Oyster" signed crown made its debut. So many older Oysters today have had their original crowns replaced, typically with the post-1953 coronet signed type that remains in production today, and it is a pleasure to find an original, near mint vintage crown here.
Anyone that enjoys browsing through the selection of vintage Rolex Oysters for sale on our site will no doubt be well aware of our mantra regarding dial condition and originality. For nearly twenty years it has been understood that at least 40% of the value of any rare vintage wristwatch can be directly assigned to the state and authenticity of its dial, with many collectors having a self imposed ban on the purchase of any piece on which the dial is not completely original and almost as new. Over the last seven or eight years, the widespread permeation of the Internet has led to a new generation of vintage watch enthusiasts appearing who in many cases are unaware of the well established "rules" of what does and conversely does not make a collectible elderly watch. We cringe time and time again, both in the physical marketplace and while watching online sales occur, every time we see watches with badly discoloured or completely restored dials sell to buyers that are blissfully ignorant of the fact that their latest acquisitions will always be considered poor relations by serious collectors. If the visitor to this site only takes away one message away with them, let it be that more than any other aspect, a watch must be bought on the merits of its dial. A rare watch, in excellent condition with an original, undarkened dial will always be a strong investment if bought sensibly, but a lesser piece, with an unsightly dial will remain in the long term the pariah that it has always been to the knowledgeable connoisseur.
The art deco black dial on this watch is completely original and in excellent condition. As many of you are well aware by now, we do tend to be horrendously critical of our watches, and we would have to class this dial as being a degree lower than nearly mint, simply because there is some minor deterioration to its edges. In a perfect world, we would have preferred a watch on which the dial was perhaps 5% better preserved than this one, but having said this, during the course of almost thirty years in the vintage watch business, this is by far the tidiest Oyster Raleigh that we have offered for sale.
With all these watches, there is a fine line between steadfastly sticking to the pursuit of absolute perfection, and making a degree of compromise that reflects the rarity of the model in question. An all original, completely unmolested black dialled Oyster Raleigh is one of those watches that one sees perhaps one of twice a decade and in this context, this dial, that is just slightly less in condition than we would normally aim for, was acceptable to me. This piece is incredibly attractive and exudes a sense of wartime charm, but the obsessive perfectionist might prefer to chance his arm that a "new old stock", unsold example may surface in the future. We always took the view in a rising market for vintage watches that if a rare piece became available with an excellent, but not mint, dial and we needed it to fill a gap in our stock, we would buy it, knowing that if a perfect example was ever sourced later, these watches were so difficult to find in any form that we would have no difficulty liquidating the earlier purchased of the two pieces for a profit.
This particular dial layout is one of the most attractive and evocative of all 1930s Rolex variants and actually appeared on several different Oyster models from the inter-war period, these including the self-winding bubbleback types. This is a very complex item, with a gold double minute track consisting of rectangular blocks and Arabic numerals being set outside large radium painted luminous numerals. As one would expect on any watch of this age, the luminosity of these numbers and the original, very distinctive, matching hands is now relatively weak. "Oyster Raleigh" is signed in black above the dial centre point. Best of all though, and the features that give the Raleigh that famous "special operations" look are the twenty four hour numerals around the dial centre point. If we look at every aspect of this watch, and this inclusion of a twenty four hour read-off scale is the perfect one to point, Rolex had deliberately produced a piece that was ideally suited to the military buyer and targeted the Raleigh directly at this market.
Every vintage wristwatch enthusiast is aware that elderly Rolex movements are the very finest ever made within the Swiss horological industry. One of the major reasons for the rapid advancement in the popularity of these early watches by the great houses is an increased appreciation that this level of quality and hand finishing simply cannot be obtained in a brand new timepiece today. This piece utilises Rolex's calibre 59 movement, one of the most famous hand wound movements to be offered by the company during the inter-war years and eminently suitable for inclusion into a watch designed for use by forces personnel due to its sheer proven track record of keeping going under the most demanding conditions. This watch has been serviced with no regard to expense on a regular basis since new and is, as a result, in gleaming, almost as new, order. This is of course a fully signed calibre of which Rolex were extremely proud, "Rolex Geneve" being signed on the top plate beneath the dial and "15 Rubies, Swiss Made" being stamped into the bridges. It is very difficult to really begin to scratch the surface of these older Rolex movements within the confines of a short website description, but suffice it to say that they were the very best of their type, still produced when there was very little automation within the Swiss watch industry and essentially finished and regulated by hand on the workbench of a craftsman, many of whom had worked at Rolex since the 1920s.
If one looks very closely at the movement photo we have included with this listing, the wonderful Geneva stripes across the top surface of the movement can be seen, but what cannot be appreciated without the benefit of an eyeglass are the lengths that Rolex went to finish every internal aspect of these units. Each component, every individual screw head and chaton into which the jewels are fitted, every minutely fine gear, has been mirror polished to perfection, something that should fill us with admiration for those Rolex employees that were capable of such highly skilled detail work. One the most appealing aspects of items like this one is that they are of such high quality that, if bought in nearly mint condition and well maintained, they are in real terms a watch for life. There is no reason whatsoever why this piece, or any other vintage Rolex or similar top tier watch from the same period, will not be in full working order, keeping accurate time, a century or more from now, just as many pocket watches from the early Victorian era are today. Vintage watches by Rolex, due to their robust nature and sealed cases, are perfect as heirloom pieces and are a very strong investment that can be conveniently handed down through the generations.
We have fitted this watch with a very high quality crocodile skin type strap that we think suits it perfectly. When we study period photographs of World War II pilots standing outside their planes before take off, when a wristwatch is visible it is usually on a plain calfskin strap so technically, this item is probably not right for the era of the piece. From an aesthetic viewpoint, it is a superb match for this very attractive watch and we would leave it exactly as it is now. This is not a genuine Rolex strap, but is in mint condition having never been worn.
In summary, this is a very tidy vintage Rolex Oyster Raleigh from the early World War II period with the most beautiful art deco black dial. Despite being sold in quite significant quantities when new, not many of this model have survived and, perhaps due to the environment in which they first saw service, hardly any now seem to surface in the quite remarkable condition of the one here. We were delighted to locate this watch when we bought it privately, and were aware that it might be an awfully long time before we found a better preserved example. This watch is what the antiques trade often refer to as a "sleeper", one of those pieces that has spent most of its life in a drawer, being removed only occasionally for routine servicing and occasional use. As to its price, we have to hold our hands up and admit that that we found very hard to put a value on this item, simply because we do not recall having seen another completely genuine black dialled Oyster Raleigh for sale in the last decade from which some precedent could be taken.
It goes without saying that the Oyster Raleigh is pictured, almost without exception, in every significant book that has been published on vintage Rolex watches in the two decades and references to it are innumerable. The Japanese book "2421", a work that features some of the most beautiful, and rarest, of all early Rolex Oysters pictures four stainless steel Oyster Raleigh examples in full colour on page 21.
Another work that we highly recommend, "Rolex Scene" by the London based collector Shigeharu Aritake shows a glorious colour plate of an identical watch to this one, in very similar condition, on page 11, complete with the same distinctive wide hands.
Probably the most useful reference to the Oyster Raleigh in terms of establishing an idea of its worth comes in the Italian collector Osvaldo Patrizzi's book "Collecting Rolex Wristwatches 2001" where this exact model, the 3478, is suggested as having a market value, in "exceptional condition" of 5000 Euros, approximately £3300 GB pounds at the present time. Patrizzi is known to be a stickler for detail, particular in terms of dial condition, and we would definitely suggest that this watch would fall just slightly short of his definition of exceptional. On the other hand, prices of all vintage Rolex watches have escalated exponentially in the last decade years since this book was published, a factor that must be taken into account when trying to work out a realistic level for this item today.
We deliberately try to keep our prices low in order that we have a fairly rapid turnover of stock and attempt to undercut the major auction houses quite significantly. We purchased this piece well as part of a larger collection and can offer it at £975 GB pounds, which is far less than its equivalent would be on sale for in the central London vintage watch shops. There is no little irony in the fact that when this watch has sold, we will probably have to pay almost exactly its selling price to replace it in our inventory, even buying competitively from one of our regular trade sources. We do see vintage Oyster Raleigh examples for sale now and again, but rarely in such a virgin state as the one here and typically with discoloured or refinished white dials. This is a good, unmolested classic Rolex Oyster that is a solid investment and ideal for anyone specifically looking for a 1940s piece by this world famous company.
Price £975 GB Pounds
Vintage Watch Brands
Vintage Watch Decades
Vintage Ladies Watches
Vintage Watch Bracelets
Swipwreek Straps
Travel Clock/ Pocket Watches
Home
About
Brand Overviews
By Decade
Reference
Contact Details
Telephone from the UK:
07453 734666
or 07428 051005
Telephone from overseas:
+44 7453 734666
or +44 7428 051005