Rolex Oyster Commander 1944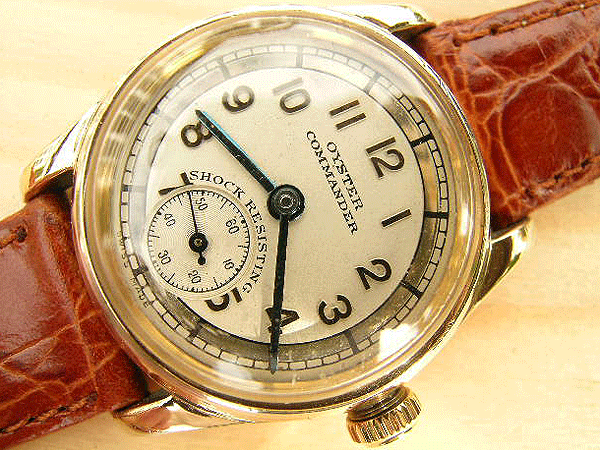 This Rolex Oyster Commander from 1944 is an unusual vintage Rolex watch variant that we have not come across before. Despite being almost seventy years old, the watch remains in superb, totally original condition and as a consequence is certainly of a grade that would be ideal for serious investment. While built to exceedingly high quality standards in the first instance, a lot of the vintage Rolex Oysters for sale from this period are now badly mechanically worn and cosmetically shabby. This one is quite the opposite and its presence here offers the chance to acquire a genuinely very collectible classic Rolex watch for a surprisingly small amount of money.
The Oyster Commander forms part of a small group of vintage Rolex Oysters, all from the late 1930s and early 1940s, that were intended originally for sale in the Canadian market. These include the Oyster Centregraph, Oyster Lipton, Oyster Raleigh and the Oyster Aqua. We have never read an entirely plausible explanation for why these Canadian models exist, but it seems that somehow, this matter is linked to the fact that Rolex watches were not offered in the USA at this time as part of a complex legal agreement between the Jean Aegler company in Switzerland, which manufactured almost all early Rolex movements, Rolex, which sold its products in Britain, Europe and the British colonial countries, and Gruen, which also bought movements from Aegler and sold them in the USA. In slightly over-simplified summary, the situation seems to have been that Aegler effectively covered the market by authorising Rolex to operate in one set of countries while Gruen sold in the rest. Having agreed not to sell in the USA, it appears that Rolex tried to gain a foothold in the nearest possible alternative and created a series of models that were specifically tailored to Canadian taste. In fact, when examined closely, they aren't actually very different to their British market equivalents and we strongly suspect that in reality, many of these Canadian variants were also sold in the UK as well.
The watch for sale here is one of the best preserved Canadian market Rolex Oysters that we have encountered in several years and would make an ideal choice for someone looking for a representative sample of this type of watch for inclusion in a collection. Its case body is in rolled gold and follows the standard Rolex Oyster format that was already firmly established by the outbreak of World War II. Purely from a personal viewpoint, we find the proportions of these Canadian Oysters very aesthetically pleasing. While very similar to their UK market equivalents, they are slightly chunkier and have flatter sides that are reminiscent of the vertical sides that today we would associate with Rolex sports watches like the GMT-Master and the Submariner.
This case cannot be faulted in any way. So often in our business, we see cases on early vintage Rolex Oysters that have been significantly pitted by the acid contained in perspiration, especially at the point where the case back screws onto the case body. This case hasn't suffered at all in this way and my guess is that it has seen very little use. If one looks very closely with a jeweller's eyeglass, there are the usual almost invisible imperfections here and there in places, but in realistic terms, this case is as close to being mint as any of us are ever going to find.
Internally, the threaded case back is signed "Oyster Watch Co, Geneva-Swiss, Patented In All Countries" together with the RWC Ltd ( Rolex Watch Company Limited) oval cartouche. Also here is the model reference 3478 which, when we look it up in Charles Jarman's excellent book "The Rolex Reference Guide, 4th Edition", we see defines a "Manual wind Oyster with polished bezel, Canadian market". This is clearly the perfect abbreviated summary of the watch here. When buying a vintage Rolex Oyster, it is very important to be sure that the model reference on its case back ties in correctly with the specification of the watch to which it is fitted. Case backs do get swapped over the decades and you'd be surprised how many vintage Rolex Oysters currently in circulation now have case backs that didn't start life on them when new. Here, the model reference is correct for the Rolex Oyster Commander and we can state with authority that this back is completely original.
The milling around the case back outer is literally almost perfect, having only ever been engaged with the correct Rolex factory tool. Chewed edges on vintage Rolex Oyster case backs are not uncommon, caused when an amateur repairer has tried to open up the watch without access to the correct equipment to do so harmlessly. Once damaged, it is impossible to return these fine milled edges to an acceptable state and any watch with a chewed case back will always be regarded as second rate by the purist collector.
Stamped into the case back outer is the serial number 311934. Falling between the two extremes of Rolex Oyster production for that year of 285000 and 348000, this clearly dates the watch as having been manufactured in 1944.
The dials used on these 1940s Canadian market Oysters are some of the most attractive to have ever been offered by Rolex. Our cousins on the other side of the Atlantic seem to have had a taste for the flamboyant that was in sharp contrast to the typically restrained nature of British market models at this time and the beautiful dial here is the perfect illustrative example of this.
When buying an antique Rolex Oyster, or other valuable vintage wristwatch for that matter, dial condition and originality are everything. Certainly, even at the most conservative estimate, 40% of the commercial value of any classic watch can be attributed directly to its dial. High price premiums are paid for watches with untouched, near mint dials and these are difficult to find, representing only a tiny percentage of the total surviving examples of any given model. To have any chance of being in this state after seven decades, a dial must have been kept away from bright sunlight and from exposure to damp. Finding a watch with an original, near mint unrestored dial is the equivalent of opening an old barn and discovering a vintage motorcar with its original pristine paint finish.
This particular dial is without doubt the best that we have offered on a Canadian market Rolex in several years. In fact, we could go further and describe it as being, literally, almost perfect. This is a wonderfully evocative two tone item, with a shiny reflective ring joined to a double minute track. There isn't any spotting to the surface at all and not even the slightest hint of deterioration caused by either moisture or dust. Best of all, it can be stated unequivocally that this is a completely virgin, totally untouched dial that has never been restored or re-finished at any stage in its life. In short, though costly, this is exactly what the serious collector should be buying in an ideal world.
"Oyster Commander" is stated above the dial centre point with "Shock Resisting" and "Swiss Made" below it. Notice how on these Canadian market Oysters, there is no mention of the Rolex brand. In every respect these were full blooded Rolex Oysters and it is clear that this omission was not accidental. Again, though we have never read chapter and verse regarding the specifics of this issue, we would guess that trademark matters prevented Rolex from signing its Canadian models as it would have done in Europe, hence we see a proliferation of the Oyster name, but no mention of the manufacturing house itself.
All three hands are entirely original. The blued steel surface on these is free from corrosion and in excellent condition.
Similarly, the screw down winding crown is original to this watch and has not been changed. This is signed "Oyster Patent" on its flat outer surface and is in excellent condition, its internal threads being in first class order and not in the least bit damaged. In many respects, the threads on these winding crowns are the Achilles' heel of the Rolex Oyster concept. If handled carefully, they will last almost forever, but if used in a rough and ham fisted manner, there is the strong possibility that damage will occur. In theory, it is possible to replace the winding crown and, if the correct replacement is to hand, this is actually a very easy job. The difficult part is finding unused crowns from the 1930s and 40s and we would advise avoiding pieces where crowns and hands have been changed.
The Canadian market Rolex Oysters all featured the hand wound calibre 59 movement that was supplied to Rolex by FHF. It comes as something of a surprise to many new collectors that Rolex wasn't actually a manufacturer of its own movements during the vintage period, but instead worked closely with several third party makers, the most significant of which were Aegler and, in second place in terms of quantity, FHF. The calibre 59 unit present here is universally regarded as being one of the all-time classic Rolex movements.
Calibre 59 appeared in Rolex Oysters in a variety of forms. While it was always a superb movement, in its most basic version it had fifteen jewels and plainly finished bridges. The version here, with seventeen jewels and beautifully striped bridges, was the most refined variant and one that is not only highly functional, but also charming to look at under high magnification.
Again, notice that on these Canadian market models, there is no Rolex signature to be seen on the movement when the case back is opened. In fact, these units are signed as Rolex, but curiously, this wording appears on the dial side of the movement and is only apparent when the dial is removed.
The condition of this movement is in effect brand new. Finding another comparably clean example of an unmodified calibre 59 wouldn't be at all easy. The bridges and gears all gleam brightly like those in a current model watch and if we didn't know that this movement was nearly seventy years old, we could easily be fooled into thinking that it was made only a few months ago. Nothing whatsoever has been changed and every component is correct and original to this unit. Having been serviced regularly, this movement works perfectly and runs very smoothly. Provided its future owners treat it sensibly and take the trouble to have it cleaned and lubricated every three or four years, it will last almost forever.
We have fitted this watch with a high quality crocodile skin strap. This is not a genuine Rolex strap but is very similar in both appearance and construction to the one that would have been supplied with this model when new. Having never been worn, this strap remains in perfect condition.
The price of this watch is £975 GB pounds, which makes it one of the least expensive antique Rolex Oysters for sale on this site. We have held the view for some years that Canadian market vintage Rolex models are significantly undervalued when compared to their European market equivalents and while prices have risen in the last two or three years, they are still much lower than they should be when the high quality and relative scarcity of these watches are taken into account. Of the various Canadian market Oysters, the Commander is certainly the most unusual and in this remarkable condition, we would not hesitate to suggest that the piece here represents an opportunity to purchase a genuinely collectible vintage Rolex Oyster for a very modest sum that can withstand expert scrutiny at any level and, if looked after properly, will always steadily rise in value as the years progress.
Price £975 GB Pounds
Vintage Watch Brands
Vintage Watch Decades
Vintage Ladies Watches
Vintage Watch Bracelets
Swipwreek Straps
Travel Clock/ Pocket Watches
Home
About
Brand Overviews
By Decade
Reference
Contact Details
Telephone from the UK:
07453 734666
or 07428 051005
Telephone from overseas:
+44 7453 734666
or +44 7428 051005