Rolex gold 1958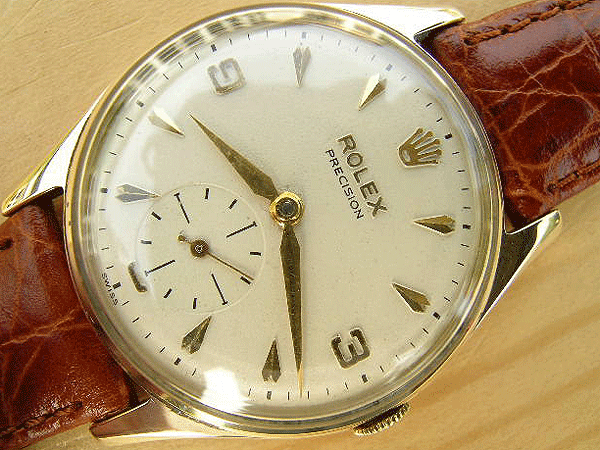 From 1958, this gentleman's gold vintage Rolex is the classic model from this period that remains just as stylish and elegant today as it did over half a century ago. Instantly eye catching and manufactured to the highest possible quality standard, there is nothing here that will ever go out of fashion. Just like a pair of handmade English brogues or a tweed Norfolk jacket, this watch is utterly timeless and will look just as relevant thirty years from now as it does currently.
Rolex came out of World War II as the industry leader in the expanding field of luxury wristwatches. Its waterproof Oyster models had been adopted on a widespread scale by pilots flying for the RAF and the credibility of the brand, and the quality of its work, had never been higher. There was a period of post-war austerity during which the import of gold cased watches was prohibited by government legislation, but certainly by 1950, Rolex was again back to being extremely commercially successful in Britain. Given the number of watches that Rolex sold here despite their high retail price, it is surprising that more haven't survived in a near mint state. But the fact is that the majority of those that exist today are either original and in scruffy condition, or renovated to the extent that much of their originality has been irrevocably lost.
This particular watch is a beautiful example of a piece that has survived in an almost mint, totally original state. It was given when new as a long service gift and we would suspect that, for whatever reason, it was either never used or only used very rarely for special occasions. Its large case is almost unmarked throughout and has merely the very faintest of imperfections that can only really be seen with the aid of a jeweller's eyeglass.
The colour of gold used for this housing is very attractive, falling mid-way between yellow and red gold. Almost all the gold used in jewellery today is of a brassy yellow variety, whereas this pinkish metal has a much warmer, softer glow that is especially charming to modern eyes.
The case back interior is entirely covered with an engine turned pearled pattern and signed with the model reference 12868 and the individual serial number 897553. The wording "Dennison, Made in England for Rolex" informs us that this case was manufactured by this famous Birmingham concern. The relationship between Rolex and Dennison went back to the World War I era and had proved so satisfactory for both parties that it continued until 1967, when the latter concern eventually closed its doors. Dennison cases were produced to a superb quality standard and are typically of a noticeably heavier gauge than their Swiss made equivalents.
Also here are a full set of British hallmarks, confirming that this case was assayed as solid 9 karat gold in Birmingham 1958. This year ties in perfectly with the engraving on the case back outer "S.H & WR Ltd. W.E. Wallace, For Long Service, 1958". We have always advocated leaving such dedications in place on the basis that they do not adversely effect the value of a watch in any way and add a sense of history and past life to a piece. However, if the new owner wishes to have a plain case back, this inscription is very light and could be polished out at any competent jeweller's with only a few minutes work.
This website was created essentially as a vehicle for buyers looking specifically for very high grade vintage wristwatches for serious investment rather than merely average examples for regular use. The main difference that separates these two categories is dial condition and originality. In order to have its maximum potential value, a watch must have its original dial. Just as an antique coin that has been polished will instantly lose all appeal to an experienced numismatist, so a vintage watch with a so-called "restored" dial will be rejected out of hand by all seasoned collectors. This innocent sounding term in fact refers to the brutal process of stripping the surface from a dial completely before replacing it with a modern equivalent which is then printed to look as close as possible to the original. When a dial restoration is performed, a major part of the watch as it was when new is gone forever, and it can never again be classed as original.
The dial on this watch is both totally original and in near mint condition. It has not been restored and is in a completely untouched, almost perfect state. The white background colour is just as sharp as it was when new, which suggests that this piece has spent most of its life away from bright sunlight and in the dark, perhaps in a drawer or safe. With several decades of age, the vast majority of white dials have become a touch creamier. This isn't a problem, and in fact many collectors find this gentle ageing attractive, but the ultimate for the purist is to stumble across a dial like this one that is faultless in every way.
The art deco styled spearhead batons are in gilt and haven't corroded in the least. At the 12 o'clock position, there is a large applied coronet emblem and the word "Rolex" is also in applied gilt letters. The typeface used for the 9 and 3 numerals is very distinctive and classically Rolex, being the one still used on the company's Explorer model today. Black minute markers run round the outer edge of the dial and "Swiss" is printed below the subsidiary seconds register.
The alpha shaped hands are in gilt to match the batons and numerals, and are totally original. Similarly, the winding crown, signed on its outer surface with a large coronet emblem, is the correct one for this model. So often on these classic Rolex models, while cases and movements may be correct for each other, details like hands and crowns have been swapped over the years, particularly if the former have become corroded and unsightly looking. This watch is untouched and almost perfect in every respect and while such examples will always command a premium initially, ironically, they often work out cheaper in the long run than others that are bought in poor order and then gradually put back to correct specification as the appropriate parts are sourced.
Any vintage Rolex movement from the 1950s in unaltered, excellent condition will automatically be highly desirable. The Swiss watch industry was passing through a golden age in the 1950s and certainly Rolex production had never been of a higher standard. This movement is calibre 1200, which was a version of the 10.5 ligne ( the ligne is the unit of movement width measurement used as standard in the Swiss watch industry) Hunter introduced by Rolex in 1923 and used as the company's flagship manually wound movement until its eventual retirement in 1969. Calibre 1200 was in production from 1958, the year of this example, until 1964.
However large the sum of money spent, it would be impossible to locate a better preserved 1950s Rolex movement than the one here. In keeping with the rest of the watch, this looks as if it has been manufactured yesterday, yet it is completely original down to the last detail. Nothing has been changed or replaced and all the components are correct for this calibre. The rhodium plated finish of the plates gleams brightly and the screw head slots are unmarked, which is always a good sign that a movement has never been in the hands of amateur repairers.
Exactly as called for, the bridge plate is signed "Montres Rolex SA, Geneva, Swiss, Seventeen Jewels". The calibre number 1200 is stated in the balance well, and the individual serial number for this unit, N58675, appears next to the balance wheel.
It goes without saying that the watch works perfectly. Having been serviced on a regular basis, it sets, winds and runs very smoothly and with high amplitude. Rolex will still undertake the maintenance of its output from the 1950s and, though costly, any work required will be performed to a very high standard.
An example of this exact same model, but dating from 1960, two years later than this piece, is shown in a full colour plate on page 5 of the Japanese vintage Rolex reference book "2421". This has the same Dennison case, alpha hands, "Explorer" type dial format and numerals, and winding crown.
We have fitted this watch with a high quality crocodile skin type strap. This is not a genuine Rolex strap, though it is very similar to those shown in the company's advertising from the late 1950s. Being brand new, this strap is in mint condition.
The price of this watch is £1675 GB pounds. Today, this same sum would not buy the most basic watch in the Rolex range in stainless steel, let alone gold. This is a lovely looking model from the period when Rolex was at its pinnacle and, provided it is treated with care and serviced every three or four years, will continue to provide sterling service almost forever. Really immaculate examples of vintage Rolex models, those with mint original dials and unworn cases, have been disappearing from the market for nearly thirty years now and have all but dried up. This one is as near to perfection as any of us will ever encounter and, as such, will only ever rise steadily in value while at the same time being a delightful object to own and wear.
Price £1675 GB Pounds
Vintage Watch Brands
Vintage Watch Decades
Vintage Ladies Watches
Vintage Watch Bracelets
Swipwreek Straps
Travel Clock/ Pocket Watches
Home
About
Brand Overviews
By Decade
Reference
Contact Details
Telephone from the UK:
07453 734666
or 07428 051005
Telephone from overseas:
+44 7453 734666
or +44 7428 051005