Hunter wristwatch silver with World War I provenance 1919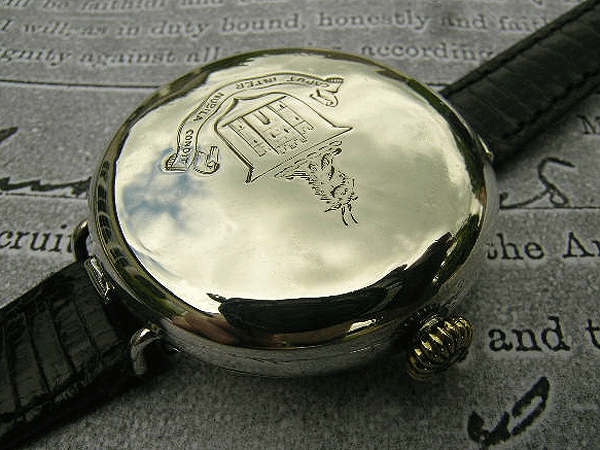 Just occasionally, in our business we stumble across a piece that is fascinating, not only because of its particular specification or type, but on account of its past history. This 1919 gentleman's silver hunter wristwatch undoubtedly fits into this category, and is one of the most evocative vintage models for sale on our site at present. It is an extremely high quality watch in superb condition and even without its provenance it would be very much a sought after collectible, but with this background it has a degree of extra magnetism that pushes it into an even more desirable bracket.
What makes this item so special is that its original owner can be clearly identified. The vintage watch descriptions on this website tend to take a standardised format, with an analysis and commentary on case, dial and movement following in that order, after which come a few brief notes that discuss the position of each watch in the market today, and its future potential as an investment vehicle. In this instance, because so much of the appeal of this piece lies in its provenance, we will break from this tradition, discussing this aspect first before returning to an inspection of the watch itself in our normal manner.
The case back bears the very decorative inscription "Presented to Pte. C. Johnston, M.M, 9th D.L.I by the Gateshead War Honours Recognition Committee 1919". When we purchased the watch, we were aware that such a specific dedication, with so much detail, could be investigated further to give some degree of chapter and verse about the piece's recipient. While not military buffs by any means, we worked out that M.M in this context refers to Military Medal, a decoration for bravery on the battlefield that was introduced in 1916 primarily for those serving in the trenches. The 9th D.L.I clearly indicated that Private Johnston had been a member of the 9th Battalion of the Durham Light Infantry, and the combination of these various facts enabled us to provide quite a considerable amount of background information when we contacted London's Imperial War Museum in the hope of uncovering even more detail.
Much to their credit, the museum were extremely helpful and pointed us in the direction of one of their recommended researchers, Mr. David Seeney, to whom we duly wrote and who supplied a great deal of information regarding Pte. Johnston, much of which is summarized below. All correspondence between Mr. Seeney and our business will be included in full when the watch is posted to its new owner.
The Durham Light Infantry was founded in 1881, going on to have a distinguished role in Egypt and the Boer War. The 9th Battalion, of which Christopher Johnston was part, was formed from volunteers originally organised into rifle clubs, with each member paying a subscription to participate. Without question, the D.L.I's most tragic hour came in World War I, when it sustained enormous losses in the trenches. The regiment was present at every one of the major battles of the Great War: Ypres, Messines, Arras, the Somme, Verdun, Cambrai and Passchendaele, but the prestige of winning six Victoria Crosses could hardly begin to make up for the slaughter of over 13000 of its men, with a greater number horrifically mutilated, blinded by gas or so mentally scarred that they would never be able to return to normal civilian life.
Quite remarkably, we obtained copies of Private Johnston's military documents, and these make sobering reading. He was born in 1896 and enlisted in the 9th D.L.I on the 7th September 1914. After being assigned to C Company, he completed basic training and arrived in France on the 28th June the following year.
For reasons that it is hard to define, we genuinely found the experience of studying Private Johnston's papers a very moving one. This man was no relation of anyone here, but seeing his original signature, written when he was only eighteen years old to confirm his allegiance to King George V before departing to what must have been nothing less than hell on earth made us stop and realise how almost unbelievably lucky we are today. The beautiful, almost Edwardian, typefaces on these documents give them such an atmospheric quality and reading them somehow almost transports the reader momentarily back to Gateshead Town Hall on that Autumn day so many years ago when a long line of eager young men would have queued up in front of a makeshift recruiting booth to pledge their loyalty to King and Country before emerging, glowing with pride, to the admiration of the public gathered outside.
In addition to his joining up documents, we also have copies of his original medical examination before enlisting, these telling us that he was 5 feel 6 ½ inches tall and with "good" vision and physical development. This document is dated the 8th of September 1914 and was signed at the D.L.I's station in Gateshead. Only twenty four hours after the Town Hall euphoria, Christoper Johnston was very much in the army for real.
Johnston's pay record is in tact, as is a full breakdown of his Great War career, this informing us of his movements. There is even his regimental conduct sheet, giving details of his being disciplined on the 11th March 1915 for being "improperly dressed" and, perhaps worse, "absent from parade" on the 9th October 1917.
There is so much detail here that one really begins to feel that he knows Johnston, this being a major factor why browsing these papers is so touching. Following the details through the various documents charts his progress from a porter in civilian life through to a rifleman in the Army, initially ranked a Private, and then a Corporal in the later stages of the war. His finest hour came when he was awarded the Military Medal for bravery in the field while fighting in the Somme, his courageous actions actually getting a mention in London Gazette of the 11th December 1918, and of course, being commemorated on the case back engraving of the watch for sale here.
Probably the bleakest documentation present relates to Johnston's life after he left the Army on the 22nd April 1919. After having signed an official form, a copy of which is here, to say that he was "not suffering from any disability due to my military service", presumably to absolve the military from any potential responsibility in the future, Johnston was demobbed. A piece of paper, dated the same day, gives summarized details of his military career and mentions a handshake payment of £2. Painfully, it is stated that this document was to be presented to confirm his identity each time Johnston collected his unemployment benefit. Johnston appears to have come back from the trenches physically unharmed, but, like so many who gave so much in the Great War, hardly returned to the land fit for heroes that had been promised him.
Because the documents that we have all relate to Christopher Johnston in the war years, we don't know what happened to him after he left the army. His physical address, 29 Stephenson Street, Blaydon, County Durham, is stated, and it would be very easy to conduct a little background research to uncover the events of his later life. As mentioned above, we will include all the documents that we have relating to this man with the watch, and these will prove exceedingly helpful as a basis for any further investigative work that might be done.
Moving on from its original owner to the actual watch itself, it should be noted that this remains in remarkably fine condition. Very appropriately, these hunter wristwatches, identifiable by the hinged flip-up lids that protect their crystals, were specifically intended for use in the trenches, where shrapnel and flying debris were a constant threat to fragile watch glasses. Very few wristwatch types have anything even remotely approaching the sheer charisma of the World War I hunter, and its is this evocative period association that plays a major part in these items being so sought after today. However, simply because hunters were designed to be used at the front, the majority of surviving examples are in relatively poor condition, often with major dents and damage to their cases. This one, we can deduce from its dedication and the fact that we know that Christopher Johnston left the Army this same year, never saw active service and remains virtually perfect, with only the lightest of imperfections that must be expected on even the most carefully worn watch of this age.
Even if we didn't know its age from its hallmarks, we could be confident of dating this piece from its construction. On earlier hunter wristwatches, typically those manufactured between 1914 and 1917, a hinged snap back was used. Later, in an attempt to provide greater protection against water, a threaded case back was introduced, this being found on this item. Notice also how the pusher used to release the spring loaded dial cover was moved on later watches from its original place alongside the 4 o'clock position to between the bottom two lugs, this preventing the accidental release of the lid. These evolutionary points are fascinating to the serious collector, and our website provides the opportunity to compare and examine rare watches that are hardly ever seen for sale on a side-by-side basis.
Internally, the case back is beautifully decorated with an engine turned pearled pattern, together with the serial number 755594 N, the wording "Brevet ( Patent) 71363" and a full set of British hallmarks, these telling us that this housing was assayed as solid sterling silver in Glasgow, 1918. Also present here is the sponsor's mark "A.G.R", this telling us that this case was submitted for assay by Arthur George Rendell, of 40-42 Clerkenwell Road London. This company, a highly regarded silversmiths, is one that crops up time and time again in the context of the early wristwatch. Its work was of an exceptionally fine standard, and its watch cases were extremely heavy, having considerably thicker walls than the majority from this period.
When buying an early hunter wristwatch, take a few moments to ensure that its case components are consistent with each other, and that the item is indeed a genuine wristwatch rather than a converted ladies' pocket watch. Here, exactly as it should be, the serial number 755594 N is repeated on both the flip-up dial cover and the case back, as indeed is the A.G.R stamping. Further confirmation that all is well comes from the most attractive engraved coat of arms on the outer lid, this being the heraldic crest of the town of Gateshead, complete with its Latin motto "Caput Inter Nubila Condit". It has been an awfully long time since the correct conjugation of Latin verbs was high on my priority list, but in very loose terms, this translates as something like "The head is found between the stars". More importantly to us here, this Gateshead related theme on both case front and back engravings tells us that the various component parts of this housing have been together since new.
The completely original black dial here is nothing less than gorgeous, and is in literally almost perfect condition. The hard baked enamel dials that are found on early wristwatches from this period are very effective at withstanding corruption by dust and moisture, but are prone to hairline cracking if subjected to shock. Almost every enamel dial from this period will have some cracking, and this is considered almost unavoidable by collectors today. Quite remarkably, this particular dial is entirely free of cracking and, in real terms, exactly as it was when presented to Christopher Johnston in 1919. First used in the Great War in order that they would be less reflective in the trenches at night, black enamel dials are relatively unusual, with most watches of this kind having the same white dials that were used on the pocket watches of the Edwardian and Victorian eras. The gold double minute track is instantly legible, my only criticism of the dial as a whole being that the original luminous material present on the large Arabic numerals has deteriorated from a once bright green to a now much darker shade. The same comment can be applied equally to the infill on the original tulip shaped hands. Ageing of this type is an unavoidable consequence of the short half life of the radium element, and knowing this, no experienced collector would expect anything other than weathered luminous material on a watch of this age.
The dial is signed "The Northern Goldsmiths", this being the name of the Newcastle upon Tyne jeweller that supplied it when new. Founded in 1892, the company was the city's most prestigious retailer, and is important to the collector today on account of it being one of the first provincial wristwatch stockists at a time when pocket watches still dominated the marketplace. Northern Goldsmiths was one of the earliest official Rolex agents outside central London and carried IWC wristwatches during the World War I era. Certainly, there is no possibility that this firm would have ever lent its name to any product that wasn't of the very highest possible quality grade, and its signature here adds value to the watch as it otherwise would have been. For anyone wanting to know more about this famed establishment, and even see an image of its premises, the following link will prove worthwhile:
http://www.ejr.ndo.co.uk/rolex.html
Though unsigned, the quality of the Swiss 15 jewelled, hand wound movement here is exceptionally high. We would have no hesitation in stating that the quality of this unit is at least equal to those by the major houses sold by Northern Goldsmiths during the same era. This is a 13 ligne mechanism, the largest size that was offered in wristwatch form in the World War I era. Always be wary of early wristwatches that contain movements with a width exceeding 13 lignes, as in almost every instance, these were originally sold as pocket watches and have since been converted for use on the wrist. While the piece here has an impressively large appearance even today, it is much smaller than a standard pocket watch and has always been a wristwatch since new.
The entire upper surface of the plates is covered in Geneva stripes, these having been laboriously polished into the movement with a rotating boxwood disk. The plate edges have been bevelled, and all screw heads polished individually to a mirror finish. The condition of the movement is nothing short of nearly mint, with no discolouration or corrosion being present whatsoever. Studying this mechanism closely with a jeweller's eyeglass, it is apparent that every aspect is entirely original, and that there are no changed components whatsoever. The clean, un-chewed screw slots appear to be virgin, and there is no evidence that any repair work has ever been carried out in the past. Having been serviced regularly throughout its life, this watch works perfectly, setting and running extremely smoothly. One of the most appealing characteristics of luxury watches from this era is their capability for almost infinite working life. Movements from this period were beautifully made but also extremely simple, and consequently, with nothing more than routine cleaning and lubrication every three or four years, they will continue functioning perfectly for decades, and have no difficulty whatsoever in outlasting their present owners.
We have fitted this watch with a high quality lizard skin type strap that is perfectly in keeping with its early period theme. However, if one wishes to be technically correct, this is not the style of strap that would have been on this piece when it was presented to Christopher Johnston in 1919. Archive photographs of officers in the trenches of World War I show very distinctive two part straps being used, these having a continuous run of leather that passed between both lugs and behind the case back, this in turn then being threaded through a much wider backing piece that was as broad as the watch case itself. For years we bemoaned the lack of these straps for early trench watches, and after an afternoon of careful research at the Imperial War Museum, had a small batch of historically accurate reproductions hand made to the highest possible standard. These were not cheap, costing five or six times that of conventional luxury watch straps, but to the owner of a valuable piece like this one, they are something of a Godsend. More details of these items, including price, can be found by clicking the "Shipwreck Straps" link at the top of this page.
For the buyer looking for an absolutely exceptional example of an early trench wristwatch, this piece would be a difficult one to improve upon. Judged purely as a watch alone, this item is superb in every respect. Its condition is immaculate, it is entirely original in every respect and its quality is of the highest standard. Any hunter cased trench watch from this period will automatically be considered a collectible, with their flip up lids making these some of the most evocative timepieces ever made.
What makes this one so unique though, is that its provenance can be traced right back to the time when it was awarded to Christopher Johnston when he returned to his native Gateshead as a decorated war hero in 1919. In the cases of almost every other surviving watch from this period, evidence of their past lives have long been lost. Almost every detail of Johnston's war record is included with this item, making this package appealing in the extreme.
Putting a value on this lot is not easy, not least because the worth of the provenance here is difficult to quantify in financial terms. Last year we had two similar genuine hunter wristwatches for sale, both in silver and from 1918. These were superb items, but had white dials rather than the rarer black version here and were without this verifiable history. Respectively, these were sold for £1050 and £1175 GB pounds each, which was very reasonable when we stop to consider just how few totally authentic vintage hunter wristwatches we see for sale today. There is no doubt whatsoever that this piece is worth more than those other two watches, and accordingly, we have priced it at £1275 GB pounds. We are happy to guarantee quite categorically that every aspect of this item is entirely original and correct, and that the file of copied documents supplied all relate to its first owner. This is a remarkably preserved piece of World War I horological history, and is of a quality and condition standard that would unquestionably make it suitable for museum display, ideally back in Gateshead where it was first presented.
Price £1275 GB Pounds
Vintage Watch Brands
Vintage Watch Decades
Vintage Ladies Watches
Vintage Watch Bracelets
Swipwreek Straps
Travel Clock/ Pocket Watches
Home
About
Brand Overviews
By Decade
Reference
Contact Details
Telephone from the UK:
07453 734666
or 07428 051005
Telephone from overseas:
+44 7453 734666
or +44 7428 051005