Hamilton 6B "Mark 11" military RAF pilot's steel 1967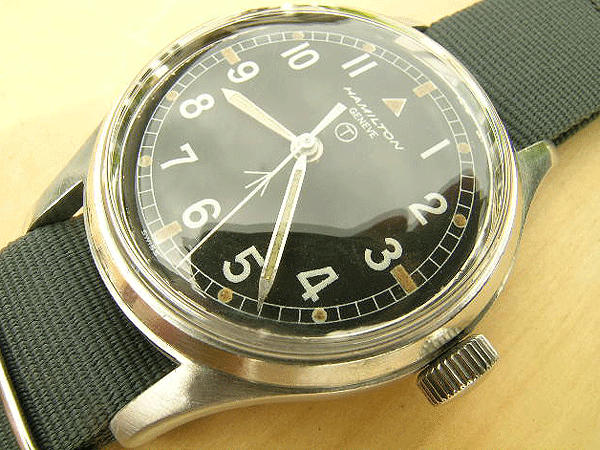 Vintage military watches are among the most fanatically collected of all elderly timepieces and, certainly over the last decade, have become the focal point for many serious enthusiasts. Back in the early 1980s when we first started in the vintage watch business, military pieces were perceived in an entirely different light and regarded as a chance to acquire some very high quality movements for a modest sum on the basis that their cases were more utilitarian than those of their civilian equivalents. Twenty-five years ago, the rugged look of military watches was at odds with the fashion of the time, which leaned towards dressier, slimmer models. Today, they are riding on a wave of popularity and their large sizes and heavy steel cases fit in perfectly with current taste.
The downside of this recognition is that prices have rocketed. In 1985, we would have bought a British military issue Rolex Submariner for much less than its used civilian equivalent of the same age. In fact, unbelievable as it now sounds, the disparity in value was so great that dealers would acquire military Submariners and then replace their dials and hands in order to return them to civilian specification. Today, genuine ex-government Submariners are very difficult to source and extremely expensive, with five figure sums being paid for examples with provenance at auction.
The same can be said of the iconic IWC and Jaeger LeCoultre Mark 11 pilots' watches. In the 1980s, the British government sold off the last of the retired Mark 11s at auction in cases of, literally, dozens of watches at a time. We don't know the exact figures that a case typically sold for and apocryphal stories abound, but certainly, the cost per watch was very low indeed. Today, in a good central London specialist shop, We would have to pay between £5000 and £6000 GB pounds for a tidy Mark 11 by either of the above manufacturers.
We have been well aware of this model, the Hamilton 6B, for some time, but this is only the second example that have actually owned. Enthusiasts refer to it as the "Hamilton Mark 11" because it was manufactured for the British government at the same time as its famous brothers, to exactly the same RAF specification, and has the same features. Looking at it objectively, the truth is that the Hamilton 6B is no lesser watch than its IWC or Jaeger LeCoultre Mark 11 equivalents, but yet it seems to have slid under the radar of most collectors, making it something of a bargain. Prices have climbed in the last couple of years, but still, when judged on its quality and relative rarity, this watch is an awful lot less costly than it should be.
The condition of this watch is near mint throughout. Experienced military watch collectors are famous for their insistence on total originality, right down to the finish on cases. With this in mind, we have left this case in its completely unpolished, untouched state. There are a few minor imperfections here and there which could be removed with a few seconds work, but we have resisted this temptation and the case is still with its original virgin finish.
This is a large watch, with a width of 37mm. The case style is typical of these British military models and is identical to that used on both Mark X and Mark 11 issues. In common with those on the Mark 11, the strap bars are not removable, with the aim of providing greater security in a combat environment are integral to the case body. We have included a photograph of this watch without its strap in order that these fixed bars can be clearly seen.
Again in common with the Mark 11 and almost all Mark X models ( IWC's Mark X had a snap back, but all others supplied to the British government in 1945 onwards had threaded backs), this watch has a screw on, heavy steel back. Externally, this is stamped with the British military arrow emblem and the model reference 6B-9614045. The 6B term on RAF property denoted "flying equipment" and was not used exclusively on watches, but on a whole variety of items that were intended for airborne use. The classic Mark VII pilots' watches used during World War II were assigned the reference 6B/159 whereas the later Jaeger LeCoultre and IWC Mark 11s ( notice, by the way, that the Mark 11 is the only type in the Mark series of watches to always be written with Arabic, rather than Roman, numerals) were given the code 6B/346. While collectors will simply identify these watches under the all-encompassing term Hamilton 6B, in fact, the Hamilton 6B was supplied with two slightly different model references. These were 6B-9614045 and 6B-9101000. It would appear than there are no differences in the specification of these two types and we would guess that the change of reference number was done for administrative purposes.
Also here is the stamp H-67, this informing us that this watch was supplied to the RAF in 1967. Hamilton was an official provider of wristwatches for use by RAF air crews between 1965 and 1975. Notice that this period was within the production span of the Mark 11, this being the standard model for navigational use employed by the RAF at this time.
Interestingly, below the H-67 stamping, we can make out the number 1227. This has been carefully obliterated with a series of five machined lines, but still remains legible. We have seen this same crossing out in the past and would suspect that it was done when watches were officially decommissioned from military use and sold off to the general public. Don't take this as gospel, because it's no more than conjecture on our part, but it does seem to make logical sense that the RAF would be keen to avoid confusion by marking those items that were no longer its property.
Inside the case back, we find the wording "Hamilton Watch Co, Swiss" and the individual serial number 1473473.
A nice touch, and indeed a classic feature of the Mark 11, is the thick iron cover that encloses the movement. When combined with an iron dial and collar around the movement, this provides very effective protection against the effects of strong magnetic field. On a lot of these watches, this movement cover has been lost and when it is present, as here, this is a good sign that a watch has probably been in the hands of careful owners.
One of the really interesting aspects of vintage military watches is the way that many of them have been upgraded during the period during which they were in active service. When a civilian walks out of a jeweller with a brand new luxury watch, he typically wears his purchase for several years, hopefully having it serviced every now and then in accordance with its manufacturer's guidelines. But he doesn't change the watch in any way and even if it's still on his wrist thirty years after he bought it, the chances are that it will still be exactly the same item that it was when new. This situation is completely different when applied to military watches. The British armed forces continually revise their equipment to bring it up to the latest standards and specification. Whether it be rifles, radio communications equipment or watches, once it is agreed that these can be improved by alteration to a new specification, this work is carried out. Curiously, but also quite logically, while modifications are the kiss of death to the value of any civilian watch, they are regarded as perfectly acceptable to the military watch collector provided they have been carried out as part of an official upgrade program.
This watch is especially interesting because we know from its previous owner that it was recalled in 1975 for servicing and returned with a completely new dial to bring it up to then current MOD specification for luminosity. In 1967 when new, it was fitted with a dial that had a similar layout, with the same Hamilton signature in italicised letters, but with the omission of the word "Geneve". Both the 1967 dial and its replacement feature the large encircled "T" emblem, this informing us that the luminous material on both the dial and hands is based around the tritium element, rather than the radium ingredient that is typically found on earlier watches. It can be said with absolute certainty that this dial is original and has never been restored. Its condition is almost as new, with just the very, very faintest, almost invisible, deterioration around its outer edges. You could search long and hard before finding another Hamilton 6B with an unrestored dial in this pristine state.
All three hands are original and correct for this model. Their luminous infill has never been replaced, though it is a slightly mellower, more khaki shade than it would have been when new. Otherwise, the hands are perfect and not in the least bit corroded or even dulled.
Hamilton purchased the ebauches ( this the Swiss term for a movement in its most basic form, without finishing, pinions or wheels) for the movements for its 6B models from the corporate supplier ETA. Theoretically, it would be reasonable to describe this unit as a modified ETA calibre 2390, but in fact, to state this without further analysis would be to completely understate the alterations that were made by Hamilton before these mechanisms were ready for supply to the RAF. Comparing this Hamilton S75 S movement to an example of the standard ETA 2390, cosmetically, they don't even look remotely similar. Hamilton completely reworked the 2390, even changing the shape of the plates, before finishing it to the highest possible standard. In every respect, the S75 S was the equal in quality to the calibre 89 fitted to the IWC Mark 11, or the calibre supplied in the Jaeger LeCoultre version, which again, makes it look like rather a steal at current market value.
The condition of this movement is indistinguishable from brand new. It is noticeable that because of the strict maintenance schedule adhered to by the military when these watches were in its possession, the majority of these classic post-war RAF and army models have survived with much better preserved movements than those found in civilian watches from the same era. Even studying this movement with an eye glass, it is genuinely flawless and it can be said with authority that no better example of the Hamilton S75 S could be obtained, at any price.
Very importantly, this movement is completely original. It hasn't been corrupted with non-standard parts and is exactly as it should be in every respect. The signature "Hamilton, S75 S, Seventeen Jewels, Swiss" is stated on the bridge, with the calibre number and the Hamilton emblem stamped next to the balance wheel. Having been serviced regularly, this movement works perfectly. In common with all military pilots' watches, the Hamilton 6B is totally over-engineered and if its movement is cleaned and lubricated every three or four years in the future, it should have no difficulty in giving faultless service for many decades to come.
We have fitted this watch with a grey woven NATO strap of the type that would have been supplied with it when new. A nice period alternative would have been a period Bonklip bracelet of the type that is often pictured with early Mark 11s, but unfortunately, while these do regularly crop up in our stock, we do not have one of the correct size at the moment.
For anyone with access to a good horological reference library, it is worth mentioning that the twin brother of this watch is shown in full colour on page 697 of Konrad Knirim's monolithic new book "British Military Timepieces". The watch pictured has the same case, hands, winding crown and movement as the piece here, and has the serial number 1474079, making it just very slightly later than the 1473473 stamped example for sale. The very next page shows the identical Hamilton dial to the one here, with the Geneve word below the company name.
The price of this piece is £775 GB pounds. For a direct substitute for either the Jaeger LeCoultre or the IWC Mark 11, this is an almost ridiculously small amount of money. Logically, the Hamilton 6B should be right up there in value with its famous brothers, yet is isn't. Serious vintage military watch enthusiasts will be very familiar with the Hamilton 6B, but for whatever reason, consciousness of it hasn't crossed over to the wider buying public. The fact that the watch is of such exceptional quality and is relatively rare means that as it becomes better known, its value is almost certain to increase sharply, just as so many other RAF pilots' watches have done in the past.
Price £775 GB Pounds
Vintage Watch Brands
Vintage Watch Decades
Vintage Ladies Watches
Vintage Watch Bracelets
Swipwreek Straps
Travel Clock/ Pocket Watches
Home
About
Brand Overviews
By Decade
Reference
Contact Details
Telephone from the UK:
07453 734666
or 07428 051005
Telephone from overseas:
+44 7453 734666
or +44 7428 051005