Ebel Videomatic with art deco skeleton case 1954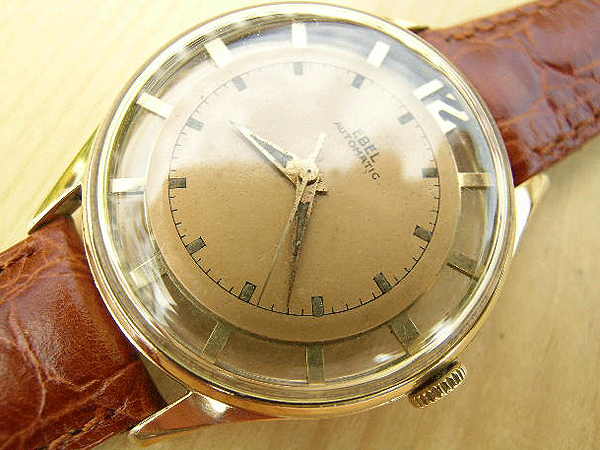 This very unusual 1954 Videomatic model is one of the most interesting vintage Ebel watches for sale on our website for some time. Founded in 1911 in La Chaux de Fonds, the company catered for a high level market, initially using movements supplied by Jaeger LeCoultre and later, Zenith. A similar indication of competence comes with the realisation that Ebel actually sold watches to Vacheron Constantin and later, in the 1970s, won the contract for the production of watches for Cartier, the famed French jewellery house.
Curiously, among British vintage watch collectors, Ebel has always flown slightly under the radar, for no other reason that, because it has never really been properly represented here, it is not widely recognised. This is a great shame and in fact, vintage Ebel models are excellent items that stand very favourable comparison to their equivalents by other, better known makers. This situation is not the same in continental Europe and in Germany in particular, due to a brilliant marketing campaign there, Ebel is second only to Rolex as the most widely recognised luxury wristwatch brand in the country.
This model is extremely eye catching on account of its skeleton-like construction. A movement occupies a central area inside the case, but this is supported by struts running to the outside of the case, around which is nothing but fresh air. The effect is that the movement and dial are suspended in space, and is very successful. Despite this being a 1950s watch, its overall appearance has been strongly influenced by the art deco taste of the inter-war period. It is very attractive and certainly an item that will attract compliments when worn at the dinner party table.
The case is fascinating, not least because both the back and front are in transparent crystal. The rest of the case is gold filled, suggesting that this may well have been an American market model. The American economy was booming in the immediate post-war period and the Swiss luxury houses found a strong market in the USA for exotic models like this one. Case condition is almost mint and it is reasonable to assume that this watch has seen very little use in the past, perhaps being brought out for special occasion use now and then.
The commercial values of vintage watches of the same model are heavily influenced by dial condition and originality. Two examples of ostensibly the same watch, even from the same year and with very close serial numbers, can have wildly disparate worth simply due to the varying state of their dials. A non-original, refinished dial will devalue a watch dramatically, as will a dial that is original, but also badly deteriorated. This dial is guaranteed to be completely original, with just the very slightest age related patina that can only really be seen with the aid of an eyeglass. It isn't mint in the strictest sense, but it can certainly be described conservatively as excellent. "Ebel Automatic" is signed in black in the upper half of the dial.
In gilt to match the case, all three hands are original. The hour and minute hands have luminous infill that has mellowed in appearance from an originally bright green colour to a now darker, murkier shade. This mellowing is repeated in the luminous batons on the dial. Deterioration of this kind is an unavoidable consequence of the chemical decay of the radium ingredient used in luminous paint at this time and is not in any way a result of neglect or inappropriate handling.
Interestingly, Ebel built this model around a movement that it out sourced from A Schild of Grenchen, a manufacturer that had previously supplied its mechanisms to Rolex. Automatic calibre 1320 was launched in 1950 and featured every technical innovation of its day, including anti-magnetic shielding and shock protection. Ebel purchased the Schild base calibre and then refined and refinished it in its own workshops to an extremely high standard. The self-winding module is based around the rotor, rather than bumper, principle, making it relatively advanced for its time. While Rolex had offered rotor automatics since the mid-1930s, the shift to rotor arrangement had only just been made by arch-competitor Omega at the time when this watch was manufactured.
The condition of this movement is superb. It can be examined through the crystal case back and is a source of considerable pleasure when scrutinised under high magnification. A lot of the vintage movements we see today have been adulterated with non-standard parts, typically in the 1970s when mechanical watches had little value and owners were reluctant to pay for high quality repairs. This mechanism is in a remarkable state and has been maintained with a great deal of care.
This watch works perfectly. It sets, winds and runs extremely smoothly and will continue to do so for many decades if sent for servicing every three or four years. The classic models by all the top Swiss makers, among which Ebel was certainly one, were built to a very high standard that would never be economically viable today. The owner of a piece like this can take a great deal of satisfaction in it being vastly superior to almost everything in the modern day jeweller's window.
We have fitted a brand new crocodile skin type strap and this suits the upmarket, clearly vintage, character of the watch perfectly.
The price of this item is £645 GB pounds. Finding another vintage Ebel watch for sale with this same art deco case style would be very difficult and perhaps even impossible in this superb condition and state of total originality. This is a very unusual and very attractive piece that combines high quality with extremely eye catching aesthetics. It stands out from other models manufactured at the same time and would be an obvious choice for an investor looking for a vintage watch with a great deal of character.
Price £645 GB Pounds
Vintage Watch Brands
Vintage Watch Decades
Vintage Ladies Watches
Vintage Watch Bracelets
Swipwreek Straps
Travel Clock/ Pocket Watches
Home
About
Brand Overviews
By Decade
Reference
Contact Details
Telephone from the UK:
07453 734666
or 07428 051005
Telephone from overseas:
+44 7453 734666
or +44 7428 051005