Duo Dial Doctor's Watch Scottish dial gold 1933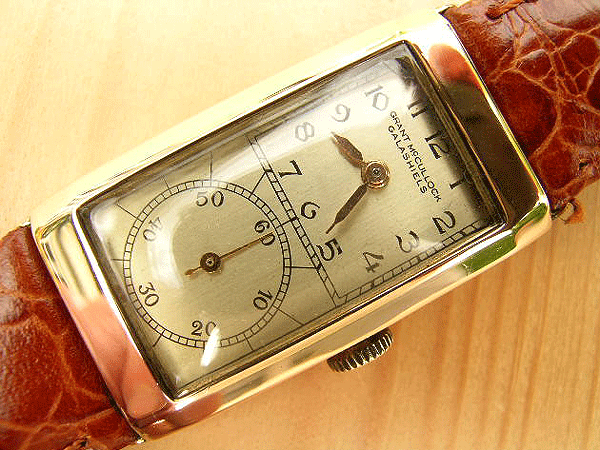 This exceptional, virtually unworn, solid gold elongated duo dial doctor's watch from 1933 is the sort of piece that the serious collector dreams of locating. As the enthusiasm for fine vintage wristwatches becomes ever more widespread, the general standard of the items available for purchase steadily lowers, with the constant lament of every experienced buyer being that there is so little on the market at any given time that is genuinely worthwhile as an investment purchase. We bought a lot of our stock in the early to mid 1980s, when the concept of the elderly wristwatch as a collectible was very much in its infancy. Even at that time, this particular watch was regarded as a rare beauty and we had to pay handsomely to acquire it, probably in excess of its actual worth at the time. We always had, and still have, a policy of being prepared to pay, within reason, a little over the odds to secure those watches that were rare models in a condition that we were unlikely to ever find again, and that this item falls firmly into these two categories. It is an absolute gem of a piece and one of the most attractive on this site. In the context of the currently rising market for all high grade vintage wristwatches, if a slight price premium is paid to acquire it, this will be of no consequence if the watch is to be retained for any length of time.
The duo-dialled watch is one of the archetypical 1930s styles and classically art deco in the extreme. Modern reissues with this same look have been built, but anyone with even the most basic appreciation of aesthetic trends would immediately recognise this format as being originally a product of the inter-war years. The duo dial term obviously applies to the face of the watch being entirely divided into two separate sub-dials, the upper one containing the hour and minute hand, and the lower being for the seconds register. Unlike the arrangement normally found in a vintage wristwatch equipped with a subsidiary seconds dial, the hour and minute hands never cross over the second hand at any time, and are totally separate from each other, giving this distinctive appearance. From a practical point of view, this isolation of the second hand made it very legible, far more so than when it was confused with the other hands. And it was because of this ease of consultation of the second hand that these watches, produced by most of the top tier Swiss luxury makers in the 1930s, were primarily marketed as doctor's watches, being perfect for timing the period of a minute over which a patient's heartbeat was to be monitored. Today, the majority of collectors will automatically refer to a watch with this unmistakable dial format as a doctor's watch, and the term is used in the majority of acknowledged vintage wristwatch reference books to describe the rectangular duo dial arrangement.
This particular example is one of the very finest quality doctor's watches that we have ever encountered in over two decades of serious collecting, and is a piece that we will find very difficult to replace. Its elongated case, with an instantly eye catching length of 37mm, is in almost brand new condition, only having the very slightest few imperfections to its surface that can only be really seen under high magnification. The top of the lugs, so often a wear point on gold cased watches of this age, are in a fine state, their edges still crisp and well defined, exactly as they were when new. Internally, the case is spectacularly mirror polished, and given this incredible attention to detail is on a surface that would under normal circumstances never be seen, it comes as no surprise whatsoever to see the presence of the B.W.C company signature here, together with a domestic UK hallmark telling us that this case was assayed as 9 karat gold in Edinburgh 1933. Also present is the serial number 10948
The Britannia Watch Case Company was one of the most important British concerns to be involved with the development of the early wristwatch, and their story is inextricably linked to that of the great Swiss movement making houses for which they almost universally supplied cases for the UK market. Founded in 1877 by Otto Fulda, a German entrepreneur who relocated here in 1862, this highly regarded enterprise traded from 11 Hatton Garden, London EC. Somewhat ironically given the nationality of its chairman, Britannia prospered largely as a result of fortuitous circumstances, these being the imposition of punitive rates of duty, and later an outright ban, on imported gold and silver from overseas during World War I. Eager to find a way around this attempt by the British Government to curb non essential spending, the tactic used by the Swiss houses was to ship uncased movements to their British distributors, who would then proceed to house them in domestically manufactured cases, thus avoiding the import tax altogether and keeping their products at a more affordable level.
This policy would only work if a high quality case maker could be found in the UK that could custom build cases to exacting specifications at the highest level. And of course, this is where Britannia immediately achieved such prominence, building cases of such remarkably fine grade that, ironically, they surpassed the standard of those that had been built in Switzerland, both in terms of their neatness of manufacture and finish, and in the sheer weight of precious metal used. When examining a 1920s or '30s Britannia case, there is always a sense of amazement that such a thick gauge of gold could be used at a time when the bullion price was at an all time relative high.
Almost all, with hardly any exceptions, of the great marques that we so revere today as high value collectibles used Britannia in the period between 1916 and February 1965 when, due to low bullion prices and a relaxed import tariff on gold, it was no longer relevant to UK manufacture cases and the house of Britannia was finally dissolved.
The entirely original, gorgeous lightly silvered dial is one of the most attractive that we have seen used on a doctor's watch, and sets off the distinctive duo dial configuration to spectacular effect. Interestingly, this look has been achieved by taking what appears to be a German silver dial and carefully brushing it. This brushing is invisible to the naked eye, and only to be noticed when the dial is studied under a jeweller's eye glass, but is very ingenious and so typical of the wonderful techniques used by the master dial makers in the inter-war years. The majority of collectors would agree that in terms of sophistication, the mechanical movements by the Swiss luxury houses reached their apex in the 1950s, but few would ever argue that dials and cases were at their best in the '30s and '40s. An original 30s dial like this one, in very good condition with just the very slightest patina to its outside edges ( this being caused not by damage or moisture, but by the tiniest amount of dust creeping into the case around the watch glass edges), is the perfect vehicle for investment, and, to echo the theme of the first paragraph, well worth paying a little extra to obtain. The desirability and value of these examples stems primarily from their rarity, and is entirely logical. If we consider these 1930s doctor's watches, we can immediately subdivide the total number produced into gold, silver and steel, gold obviously being the rarest and most desirable of these three metals. Subdivide this top category into the number of average and nearly mint surviving examples, and it can quickly be realised just how exceptional this particular watch is. If one looks at the vintage watches for sale on this site, they are the very finest of their type, in every way superior to their merely average siblings. We have always believed that the secret of successful investment in vintage wristwatches, or indeed any antique commodity, is to identify a particular model or item that appeals, preferably an unusual, high value piece, and then filter through the available examples of this type until one is left with an even rarer variant of what was already a rare watch to begin with. Of the relatively small number of entirely original 1930s duo dialled watches that have survived, there certainly cannot be many that are cased in gold, and in this astonishingly fine condition.
The dial is signed with the retailer's name "Grant McCullock" of Galashiels. This concern was an extremely respected jeweller in the South of Scotland and an official agent for Rolex from 1923 to 1967. Under no circumstances would McCullock's have allowed their name to be used with anything less than a watch of the highest quality standard, and certainly the item here fits into this superlative bracket. When a retailer's name is found on any vintage timepiece, its associated connotations will undoubtedly have a strong bearing on value. The signatures of firms in exotic outposts, Bombay, Cairo, Johannesburg or similar, will carry huge premiums, quite literally doubling of trebling the value of a watch as it otherwise would have been. Scotland is obviously less desirable than such ultra-rarities, but, with the linked mental imagery of grouse shooting and country house parties in the early 1930s, its mention here is undoubtedly a measurable commercial plus.
Since our first days in business in the early 1980s, we have always bought watches as a result of being influenced by the quality of their movements more than any other feature, and the 15 jewelled elongated rectangular shaped unit present here is of the most exquisite grade. This movement is of an enormous size, taking up almost the full interior space of the long case. This is a point of note, and well worth bearing in mind when looking for a vintage duo dial watch. On a "real" doctor's watch, like the one here, a lengthened movement was used because this enabled a larger diameter balance wheel to be incorporated, this in turn making the movement inherently more accurate. The disadvantage of watches like this one with these large size movements was that there were very expensive to produce. As is always the case, this same look, with the distinctive two dialled arrangement, was produced down to a much cheaper price for the man in the street, and to facilitate this low cost production, regular circular movements were used with an awful lot of fresh air being present at either end of the case. We do not recommend that a "faux" doctor's watch with a circular movement be purchased as an investment.
Curiously, though beautifully made and, judging by the various hand finishing techniques employed to its bridges and jewel seats, almost certainly from the Le Locle region of Switzerland, this unit is entirely unsigned, except for the statement "Swiss Made" and an enigmatic Calibre number "14". At this time, there were so many independent manufactures with the skill to craft exceptionally fine movements in their own ateliers that, in truth, finding out which concern built this mechanism would be now nigh on impossible. Given that the dial is also unsigned with a manufacturer's name, our guess would be that, given that we know it was shipped to the UK to be cased by Brittania, it was an item ordered by one of the many Hatton Garden watch importers for a retailer client, who had it signed on the dial before offering it to the public. Interestingly, significant numbers of very high grade watches, this one being the perfect example to point, from the mid to late 1930s have surfaced over the twenty years as unsigned items, which makes us think that in some way, the fact that they were sold hastily, without having a manufacturer's name added to their dials, is linked to the outbreak of World War II. It may simply have been that the company normally used to sign these dials was no longer active, many jewellery related industries being inoperative during the conflict due to their craftsmen being engaged in active duty
This piece has been serviced on a regular basis throughout its life and as a result, works perfectly today. It is entirely original in every respect, both externally and internally, and runs smoothly and reliably, with excellent amplitude. Looking at this movement now under high magnification, We would certainly have no hesitation in categorising it as being nearly mint, there being not even the slightest hint of corrosion or discolouration to any of its surfaces or beautifully hand bevelled gears.
We have fitted the watch with a very high quality crocodile skin type strap that is perfectly in keeping with its high quality, dramatically period appearance. This strap has never been worn and is in almost mint condition.
Overall then, this is a nearly mint example of a rare duo dial "doctor's watch", which oozes 1930's art deco charm and is of the very highest quality. In solid gold, and cased by one of the most sought after English case manufacturer of the inter-war period, it would be almost impossible to fault this item in any way, either as an exotic watch for occasional use, or as a high value collectible. When found in signed form by the grand houses, original 1930s duo dial watches, of no higher intrinsic quality than the piece here, will typically change hands for upwards of five or six thousand pounds.
Valuing this exceptional example is more difficult, because we have to subtract considerably for the fact that its dial and movement are unsigned by a manufacturer. We have priced it at £1075 GB pounds, which is a very small sum to pay for this level of quality. This is very much an art deco icon that will attract favourable comments around the dinner party table while, as long as it is treated with care and kept in pristine condition, never lose a penny in value in the future.
Price £1075 GB Pounds
Vintage Watch Brands
Vintage Watch Decades
Vintage Ladies Watches
Vintage Watch Bracelets
Swipwreek Straps
Travel Clock/ Pocket Watches
Home
About
Brand Overviews
By Decade
Reference
Contact Details
Telephone from the UK:
07453 734666
or 07428 051005
Telephone from overseas:
+44 7453 734666
or +44 7428 051005