Charles Nicholet Tramelan chronograph boxed 1940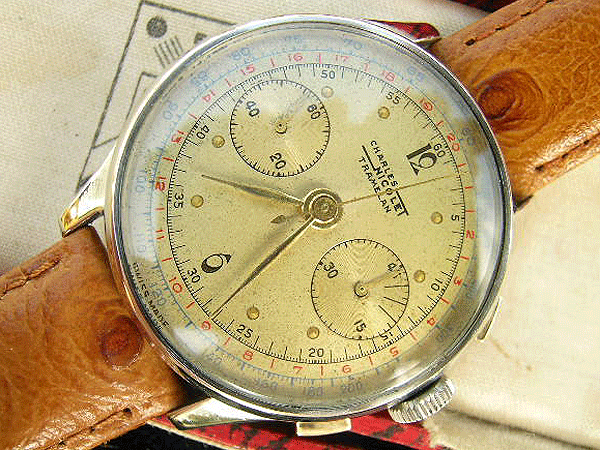 Vintage chronographs from the 1930s and '40s in original, untouched condition often have a very charming, elegantly faded appearance that is hard to define, but very appealing to those with a taste for such things. This example, produced by Charles Nicholet of Tramelan is evocative of a completely different age, when gentlemen wore trilby hats and motor cars had running boards and dicky seats. For some reason, when writing this, the first chapter of Graham Greene's novel Brighton Rock, describing the upmarket British seaside town on a packed bank holiday in the 1930s comes to mind. There is no link whatsoever between Charles Tramelan and Graham Greene, but it is doesn't require a great leap of the imagination to think of some dapper chap strolling along the freshly painted West pier in the 1940, taking a moment to proudly check his new watch to be sure not to be late for a booking at a chic restaurant in the Lanes or a rendezvous with a coquettish lady friend. Not all old watches conjure up the past in this way, but there is something about these ancient chronographs, with their seemingly infinitely detailed yellowed dials and large, slightly dulled cases, that renders them relics of an Agatha Christie-style past that has long ceased to exist. This example is an inexpensive purchase, yet there are few watches for sale on this site that fire up such nostalgic emotions or are as aesthetically charming.
The condition of this watch is very good throughout and we would have no hesitation in recommending it as an investment. Like many of its time, it combines a nickel plated brass case body with a stainless steel back. This mixture of metals is best known to modern day collectors on account of it being the one used for the Mark X military watches that were supplied to the British RAF in the months directly following World War II. We have heard several interpretations of why brass was used, ranging from a shortage of steel during the conflict through to a desire for increased anti-magnetic shielding of movements, but there is no definitive answer to this question. Given the desperate state of the European economy during and after the War, it may well have been a factor that it was simply cheaper to manufacture brass cases than those in solid steel, but again, this view is nothing more than speculation on our part.
For a buyer specifically looking for a worthwhile 1940s vintage chronograph for his collection, it would be difficult to find a better preserved example than the item here. If the meeting point between the case body and back is closely studied on a lot of these watches, there is often considerable pitting where the two meet, caused by the acid in perspiration from a wearer's wrist gradually eating into the brass. This case is perfect and has survived in a remarkable state, suggesting that the watch has seen very little use and spent most of its life wrapped up in paper in the back of a drawer or safe. We normally find that the nickel plating on brass cased watches from this era has worn in places, revealing the brass below. The nickel here is not at all rubbed and, as it did when new, the case has retains a steel appearance.
Even by modern standards, this is a substantially sized watch that could be worn today by someone with larger wrists. When it was new in 1940, it must have been one of the most sizeable wristwatches on offer and with a case diameter of 35mm, was considerably wider than the Rolex Oysters and Omega gentleman's models of the time.
The snap on back is very domed, making it extremely comfortable to wear for extended periods. The experienced collector cannot help but be reminded of the Rolex bubbleback models of the 1930s and '40s, but aside from cosmetic similarity from the rear, these two types have nothing in common, this being a manually wound chronograph and the latter time-only automatics. The stamp "Fond Acier Inoxydable" ( the French for stainless steel back) is here, together with the model reference 178. This wording is of full depth and has not been smoothed by prolonged wear or over-enthusiastic polishing.
Sadly, virtually nothing has survived in the way of information about the Charles Nicolet concern. The dial tells us that this firm was located in the Swiss town of Tramelan, near Bern, and records there reveal that it began trading in 1916, but beyond this, virtually everything else remains a mystery. An obscure bit of information is that Charles Nicholet patented a chronograph with a built in compass mechanism in 1937 ( patent number 190771), but we have never owned or seen an example of this model in our business. We do know from period advertising than in 1944, the company changed the dial signature on its watches from the version here to Nicholet Watch Co and this, combined with an assessment of its movement, lets us date this piece down to a short time frame.
This dial in is very good condition and, most importantly, is all original. It has not been restored at any point and is guaranteed to be authentic and untouched. The dial surface has perhaps yellowed to some degree, rather like the pages on an antiquarian book, but this effect is uniform and very attractive. Again, if we look closely enough under high magnification there is some light spotting, but this is very mild and can hardly be picked out by the unassisted naked eye.
In a sense, it doesn't matter too much that we don't have chapter and verse regarding Charles Nicholet, primarily because, like several hundred other small scale wristwatch businesses in Switzerland at the time, this one didn't actually manufacture anything. Instead, it purchased cases and movements from external suppliers and finished them as required to a high standard in its own workshop. The costs involved, both then and now, in buying the machine tooling to create in-house build chronograph movements are astronomical and it was for good reason that even Rolex, Patek-Philippe, Breitling, Heuer and Jaeger LeCoultre all followed the same route of reworking movement blanks ( known in the Swiss watch industry as ebauches) for their chronographs.
Charles Nicholet chose the hand wound Landeron calibre 51 as the basis for the movement here. Launched in 1937 and, quite remarkably, remaining in production until 1970, calibre 51 acquired a well deserved reputation for reliability. Collectors may know it best as one of the movements selected by Dubey & Schaldenbrand to be modified with their ingenious Index Mobile complication, this adding the facility for split second time measurement. Calibre 51 made an ideal donor unit for this project and was stable and robust enough to be doctored in this way without the result of a drop in performance. Landeron is regarded very highly today as having been one of the most important Swiss chronograph makers of the golden era. Initially independent, Landeron was purchased in 1921 by Ebauches SA, the corporate giant that we know better now as ETA, the movement supplier to Omega, IWC, Rolex and Longines.
Probably the most significant contribution to the development of the chronograph movement pioneered by Landeron was its invention of cam lever operation for the start/stop/reset functions. Previously, chronographs featured the column wheel system of control which, while elegant, was expensive to manufacture while offering no practical advantage over the cam lever arrangement. Dating these classic Landeron chronograph movements is not easy, but having studied this one in some detail and compared it to various published photographs of early calibre 51 units, we would be confident in defining its year of manufacture as 1940 or possibly 1941.
There are some excellent printed references to Charles Nicholet chronographs and for anyone with access to a comprehensive horological library, these are well worth examining. Page 98 of Gerd-R Lang's book "Chronograph Wristwatches, To Stop Time" shows a 1940 Charles Nicholet two register chronograph next to similarly specified model by Rolex from the same year on the same page. The styling of the two pieces is almost identical and it is obvious that this look was very much in vogue at the time.
Page 125 of the same book provides us with a large colour photograph of a 1950 Charles Nicholet chronograph, this time in an 18 karat gold case. The movement used remains the Landeron 51 but notice how a decade later, this has been revised with a shock protection system. Quite correctly, the 1940 watch for sale here has a movement without a shock resistance feature. When buying a vintage watch that contains a movement type that was manufactured over a long period, it is very important that the unit present is of the correct age for the case and dial. Landeron 51 mechanisms from all decades of production are interchangeable without the need for modification and it is not difficult for the novice to unwittingly buy a watch that has been fitted by an unscrupulous vendor with an inappropriate movement. This movement is guaranteed to be the one that was present in this case in 1940 when both were brand new.
From a serious vintage chronograph collector's perspective, a model with a Landeron movement is something of a must-have, not least because it is possibly the only chronograph type to have its stop and reset functions controlled by the lower pusher. On vintage chronograph movements by other makers, starting and stopping is performed with the top pusher and the lower pusher only used to reset.
Vintage chronographs are notoriously difficult for the novice to buy successfully. These movements are horrendously complex and if mechanically worn, as most definitely now are, they will be constant sources of frustration and expense. Equally, in our business, the number of vintage chronograph movements that are offered to us with non-standard components is quite astonishing, with all original unmodified examples, like this one, vastly in the minority.
Bitter experience and a small stock of watches in our safe that are beyond repair has taught us to only buy vintage chronographs with movements that are literally nearly mint. This movement is among the best preserved Landeron based units that we have seen in the last decade. Not only is it unmolested and authentic, but also in gleaming, bright condition with not the slightest hint of corrosion or tarnishing anywhere. "Charles Nicholet, Tramelan, Seventeen Jewels, Swiss" is signed on the Y shaped bridge. Previous owners have had the good sense to send this watch for servicing on a regular basis with the result that today, it works perfectly. Start, stop and reset functions are all performed very smoothly, with none of the woolly, spongy feeling to the pusher action that gives away a tired mechanism of this type. Given that it has survived so unscathed since World War II, it would be a tragedy to let this watch fall into a state of disrepair now and we would strongly encourage its next owner to take it to an experienced local watchmaker every three or four years for cleaning and re-lubrication. If this is done and the watch is treated with care, there is no reason whatsoever why it should not be performing faultlessly, both as a standard timekeeper and as a chronograph, a century from now. Many of the general public are now aware of the quality of these vintage luxury watches from the 1930s and '40s, but it must be stressed to them that, just as a pre-War Rolls-Royce motor car still needs servicing, these classic models require routine maintenance to extend their longevity into extreme old age.
We have fitted this watch with a high quality crocodile skin type strap. This strap is in mint condition having never been worn.
The watch is boxed in appropriate period packaging from the early War years. This box is in very good condition and sets the piece off perfectly.
At the asking price of £775 GB pounds, this watch represents a lot of very attractive period machinery for a modest amount of money. If this was a similarly specified vintage chronograph for sale by Omega or Longines, we would be lucky to purchase it for less than £3000 and by Rolex, an acquisition for less than £15000 would be considered a bargain. It would be misleading to suggest that this Charles Nicholet piece is of exactly the same grade as those famous names, but if viewed impartially, the truth of the matter is that the standard of finishing present on the movement here is very close to that of these other brands, far closer in fact than most buyers are likely to realise. This is a high quality 1940s vintage chronograph that was expensive in the first instance and today can still hold its head up high when compared directly to equivalent models of the same age by the household name makers.
We would recommend it to anyone who wishes to acquire a charming untouched vintage chronograph with a fine quality movement, undervalued for no other reason than the name on its dial being one that is not widely recognised by the general public. Just as it might have done in 1940, it will prove very satisfying to consult while strolling along Brighton promenade on a summer evening en route to a fine dining experience or a night at the theatre.
Price £775 GB Pounds
Vintage Watch Brands
Vintage Watch Decades
Vintage Ladies Watches
Vintage Watch Bracelets
Swipwreek Straps
Travel Clock/ Pocket Watches
Home
About
Brand Overviews
By Decade
Reference
Contact Details
Telephone from the UK:
07453 734666
or 07428 051005
Telephone from overseas:
+44 7453 734666
or +44 7428 051005