Omega steel, boxed and documents, buckle 1964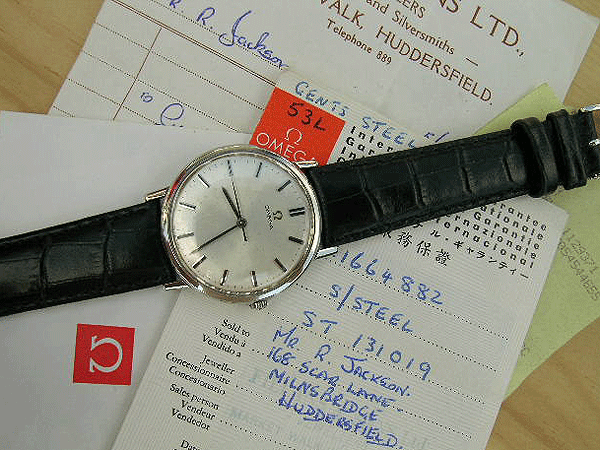 From 1964, but retailed new in the UK in 1967, this gentleman's steel Omega is the text book example of a vintage wristwatch that has been cared for all its life and is in a very similar state today that it was in on the day it was purchased new. We bought this watch from its first owner who had carefully filed away its original documentation. It is complete with all its guarantee paperwork, its original owner's handbook, the red wallet that contained this information, its original Omega signed buckle and both its original inner and outer boxes. In short, it would be impossible to find a better package than this. It is obviously priced at a higher level than the equivalent watch without these extras, but for a collector looking for a really exceptional example of this model or perhaps someone specifically looking for a watch from this particular year, maybe as a gift or in celebration of an anniversary, it will be worth this additional premium.
Over the years we have noticed that those watches that are still complete with their paperwork are invariably in excellent condition. This makes logical sense. If an owner takes the trouble to conscientiously store this documentation over many years, he is probably the sort of person who takes good care of his possessions in general. The watch here isn't new old stock mint, but it is very, very close indeed. Looking at its large steel case with an eyeglass, it has a few very tiny imperfections here and there, but these must be expected on any older watch that is not unused. The condition of this piece is so good that we would be inclined to the view that it has only ever been worn on a very limited number of special occasions and certainly, it can be said with absolute certainty that it has never been employed as a timepiece for daily use.
The case back is of the snap on variety and is signed internally as "Omega Watch Co, Fab Suisse, Swiss Made, Acier Inoxydable" together with the model reference 131.019. Usefully, to the modern day collector, Omega model reference numbers from this period can be deciphered to some degree. Here for instance, the first digit, 1, indicates that this is a man's watch that was supplied new on a leather strap rather than a metal bracelet. The second digit, 3, denotes a manually wound watch with centre seconds and the third digit, 1, tells us that this was not a water resistant model. It can be seen that all these details tie in perfectly with the specification of this watch. Over the years, case backs on many of the classic Omega watches in circulation have been swapped and replaced, and it is worth taking a few moments to check that the model reference number stamped inside a case back on a watch being considered as a potential acquisition is appropriate for the rest of the piece.
The original winding crown is still present, signed on its outer surface with a large Omega emblem. The serrated edges of this crown are well defined and not in the least bit smoothed, which is always indicative of a manually wound watch that has seen a limited amount of use.
Very importantly to the collector or investor, this dial is completely original and has not been refinished at any time. While a mint looking restored dial will be attractive, it will have disastrous implications for the value of the watch as a serious collectible. The general public are largely aware that the polishing of antique coins renders them almost valueless, but they do not usually appreciate that similar devaluation occurs with dial refinishing. It would be no exaggeration to say that a watch with a restored dial will only be worth approximately half the value of the same model with a near mint original dial.
The French white dial on this watch is very good indeed, but it isn't mint. There is the very slightest degree of deterioration to its surface that prevents it from being classed as absolutely perfect, but in the real world, it is of an investment grade standard and it would be virtually impossible to locate an original 1960s dial that was in a cleaner, better state. A chromed Omega emblem sits below the twelve o'clock position, this matching the parallel sided hour batons and the original hands. "Omega" is stated above the dial centre point with "Swiss Made" around its lower edge.
Probably the most compelling reason to buy a vintage Omega watch as opposed to a recent or new one, aside from its strength as an investment, is the in-house movement that will be found inside it. Something that the firm is not keen to shout about, Omega has not been a manufacturer of its own movements since the early 1980s. Instead, it has purchased movements from third party corporate suppliers, most notably ETA, and processed them as required, adding its signature at the same time. If you buy a modern Omega watch, you're not really buying an Omega movement in the truest sense of the word, but actually a mechanism that will also be used by a whole variety of other brands, often at wildly differing price levels. This can be very off putting to enthusiasts, many of whom feel that the integrity of a watch brand is compromised when its movements are not self-generated.
The movement in this watch is a "real" Omega movement in the strictest sense of the word. It was designed, manufactured and tested in-house in the Omega factory at Bienne and contains no components from external suppliers. Omega had total control over the quality of its production at this time and the standards to which units like this were built is nothing short of remarkable. The mid-1960s, when this piece was built, were still a golden period for the Swiss watch industry in general, before the industry was decimated the following year in the face of newly introduced quartz movements brought in cheaply from the far east. Omega today doesn't offer any movement that is as well finished as the one here and unquestionably, the buyer of a vintage model in excellent condition has a far better watch in terms of its intrinsic quality than the man who walks out of the Omega agent's shop clutching an item from the firm's current product line.
This mechanism is calibre 601, a hand wound movement introduced in 1960. It was used primarily for Omega's Seamaster, but, as we can see by the existence of the watch here, it did appear in other models on occasion. This was a very robust creation that inherited the potential for extreme accuracy from the 30mm series Omega manually wound movements of the 1940s and '50s from which it was directly descended.
The condition of this movement is literally almost perfect and we don't recall having seen a better example of the 600 calibre series in our business in the last few years. The distinctive pink gold finish of the bridges is as bright and shiny as it was when new. The screw heads have all been polished individually by hand and their slots are completely free of chewing. Even the two steel winding wheels reflect the light in a way that reminds us of the surface of compact disks. In short, this movement is the best preserved 601 that could be sourced, at any price level.
"Omega Watch Co, Swiss" is signed on the bridge plate, together with the calibre number 601. Also here is "Seventeen 17 Jewels, Adjusted Two 2 Positions". The individual serial number 21664882 is next to the winding wheel. Falling between the two extremes of Omega production for that year of 21000000 and 22000000, this clearly dates this movement to mid-1964.
Having been serviced frequently, this watch works perfectly and runs very smoothly. Its condition now is such that provided it is treated with care and maintained correctly, it will last for many decades without giving the slightest bit of trouble. Omega built its vintage watches to last a lifetime, and provided a sensible approach to servicing is taken, they will live up to this expectation with ease.
We have fitted this watch with a high quality crocodile skin type strap. This is not a genuine Omega strap, but it is very similar in both appearance and construction to that which would have been supplied with this model when new. We have transplanted the original Omega stainless steel buckle over to this new strap where it fits perfectly. The value of this buckle should not be overlooked. Modern Omega buckles, on which the Omega emblem is in intaglio ( recessed into the buckle surface), are easy to find, but vintage examples, with the Omega emblem standing proud, are tough to source. If sold alone, this buckle would sell for around £70 GB pounds and this worth should be factored into the equation when considering this watch as a potential purchase.
We love the folder of documents that come with this watch. These things are exactly what the serious collector hope to find in an ideal world, but in reality rarely does. The original receipt tells us that this watch was purchased on the 5th August 1967 by a Mr. R. Jackson, from the official Omega agent Fillans & Sons Ltd, of Market Walk, Huddersfield. He paid £21 pounds and 10 shillings for it, which represented quite a significant outlay at the time.
Mr. Jackson's name appears again on the guarantee papers. Also on these is the same 1967 date and both the case and movement number of the watch in full. Notice how we saw earlier that the movement was manufactured by Omega in mid-1964, but wasn't sold to a member of the public until 1967. This is typical of the way in which the major Swiss houses worked and not at all out of the ordinary. By manufacturing large batches of the same movement calibre, economies of scale could be made. When assembled, the majority of these would be sent to the factory stores where they would languish until used in due course. Quite often we find a gap of five or six years between manufacturing date and sale. The stating of its number on the guarantee gives us conclusive proof that this was the movement that started life inside this watch when it was sold new.
Another period gem is the "You and Your Omega" owner's handbook that is still here. This would have been supplied with every Omega watch sold new at the time, but one doesn't often encounter it today, most having been lost years ago.
Having been stored in their original red Omega wallet, all these documents are in near mint condition. In this state, they are actually collectibles in their own right and something that many enthusiasts would love to get their hands on.
All the above fits neatly into the correct red Omega box for the watch. This is the standard square type of the day, with a white satin lining on which the Omega logo has been printed.
We have priced this watch at £675 GB pounds, which is an awful lot less than the same piece would sell for in a London specialist dealer's window. While it is the perfect wearable vintage Omega watch that will give a great deal pleasure when on the wrist, we cannot help but think that it would make a very fine present for someone with connections to either 1964, when it was manufactured, or 1967, when it was first sold in the UK. It is a charming period package that if looked after carefully in the future, will never fail to rise in value. We don't often find vintage watches with their documents and when we do, they always sell very quickly to those who appreciate how difficult it is to locate these time capsule items.
Price £675 GB Pounds
Vintage Watch Brands
Vintage Watch Decades
Vintage Ladies Watches
Vintage Watch Bracelets
Swipwreek Straps
Travel Clock/ Pocket Watches
Home
About
Brand Overviews
By Decade
Reference
Contact Details
Telephone from the UK:
07453 734666
or 07428 051005
Telephone from overseas:
+44 7453 734666
or +44 7428 051005