Omega Seamaster steel with 14k gold bezel 1958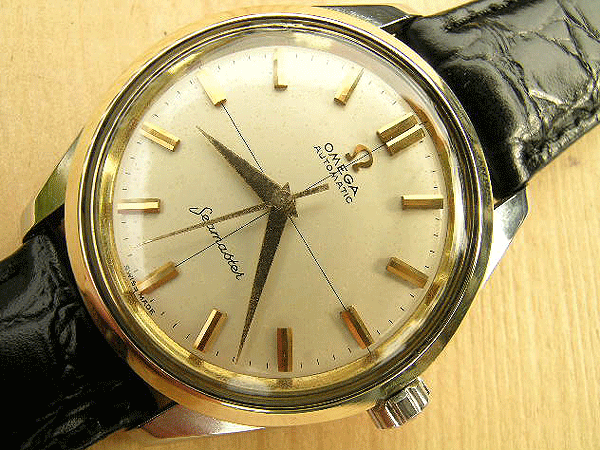 Among the vintage Omega Seamasters for sale on this site, this example from 1958 is a rare variant that could be considered in retrospect to have been rather ahead of its time. Anyone looking at this piece today would almost certainly believe it to date from the mid-1960s onwards, having a similar aesthetic to landmark rugged classics from that era such as the IWC Ingenieur and the Rolex Milgauss. With its large, thick case and heavy, wide lugs, it doesn't have the appearance of a 1950s model at all. Yet in fact, this Seamaster reference, CK 2975, was offered by Omega from 1958 to 1962, which once again stands as evidence of the company being very much a design powerhouse that led rather than followed.
In common with almost all vintage Omega watches, this Seamaster variant was offered in a variety of metals, ranging from all stainless steel at the least expensive end of the scale through to solid 18 karat gold at the priciest. This example is unusual, combining a stainless steel case back and body with a bezel in solid 14 karat gold. We normally associate the use of 14 karat gold with the American market, but in the instance of this model, it was intended for UK and European consumption.
Condition of the case here is almost mint throughout. There are the usual few very tiny imperfections to its surface here and there, but judged by realistic criteria, this housing is as close to being mint as any of us could ever hope to source. With a retail price when new of 400 Swiss francs, this was an expensive watch and given its condition today, it seems likely that this example has only been worn on special occasions rather than as a working timepiece in daily use.
It is worth commenting on the construction of this case. It employs one of the most famous of all vintage Omega case innovations, with a snap on back compressing a thick rubber washer against a lip protruding from the case back to create an effective waterproof seal. Omega had devised this system as a market competitor to the sealed Oyster cases offered by Rolex and, in fairness, it worked extremely well. The only proviso was that in order to remain waterproof, the rubber gasket had to be refitted every time the watch was opened for servicing or inspection. Appreciating that if careless technicians failed to put the washer back in place all sealing would be lost, Omega marked the inside of these case backs with clear instructions to watchmakers in four languages. On the interior of this case is stamped "Dichtung Im Boden Einsetzen, Loger Le Joint Dans Le Fond, Fit Washer in Back, Ponga La Junta En El Fondo". Remarkably, such is the originality of this particular watch that the rubber washer with which it started life in 1958 is still in place and in surprisingly fine order.
Also stamped in this case back is "Acier Inoxydable ( stainless steel), Omega watch Co, Fab Suisse, Swiss Made" together "Patent + ( the Swiss cross) 315.164". We have obtained a copy of the original patent grant documents for this case design from the Swiss patent office and they make very interesting reading. These will be included when we ship the watch to its new owner.
Additionally, the model reference 2975-1 SC is also here. This particular numeric string defines this version of the Omega Seamaster while the SC letters stand for Seconde au Centre, letting us know that this item has a sweep second hand rather than the subsidiary seconds register that we would often seen on earlier Seamasters from the late 1940s and early '50s.
The case back outer is fascinating and in itself is probably reason enough for the serious vintage Omega watch enthusiast to buy this piece. Earlier Seamasters had entirely smooth backs, with the iconic seahorse emblem that we still associate with this famous Omega model range first appearing around 1958. The seahorse emblem here is identical in design to those we would see throughout the 1960s, but is far larger and more noticeable. It is probably fair to say that this giant logo version is the most eye catching that was ever used on vintage Seamasters. It is also far from common. In our business, we buy and sell several rare classic Omega watches every week, but we don't often see Seamasters with this distinctive case back type, typically perhaps no more than once every two or three years.
The definition on this case back detailing is superb and it hasn't been at all smoothed by wear or over zealous polishing in the past. "Seamaster", the Omega emblem and the seahorse itself are just as crisp today as they were over half a century ago. Similarly, the word "Waterproof" running around the rim of the case back is of full depth. When buying as an investment, these are all important factors that aggregate to make the difference between a merely good watch and one, like this item, that can genuinely be described as exceptional.
The winding crown is original and signed with a large Omega emblem. This style of crown is completely correct for the 2975 Seamaster. It is important to appreciate that Omega offered several hundred crown variants for different watches in its model range. Many of these had a tap 9 thread, making them instantly interchangeable without modification. Just because the winding crown on a vintage Omega watch for sale has the Omega emblem doesn't mean that it is necessarily the correct crown for the model to which it is attached.
The majority of our regular purchasers buy with a view to investment and are looking for genuinely first rate, rare watches that will appreciate in value rather than items for routine use. We constantly repeat the mantra that in order to be worthwhile as part of a calculated investment strategy, vintage watches must have original dials in almost mint condition. More than on anything else, a vintage wristwatch must be judged by the state of its dial. Reflecting this, those pieces with near mint original dials will typically change hands for almost double the sums needed to secure the same models with either restored or scruffy original dials.
This cross hair dial is very close to being perfect and is guaranteed to be completely original. If it is studied very closely under high magnification, there is the slightest degree of ageing to its surface, but only the most fanatical perfectionist would pick fault in this way and a better surviving example might not exist. There has never been any restoration to this dial at any time and it is literally untouched since 1958. Finding a dial of this age that is restoration free and near mint is rather like stumbling across a classic car from the same period with its original paint in superb condition. As a percentage of the total number of vintage Omega watches for sale at any one time, very few have original dials in anything remotely approaching this condition.
This item was created at a time when Omega still used dials with batons that had been applied by hand. The gilt batons here are faceted and match the dauphine shaped hour and minute hands. All three hands are totally original to this watch.
"Omega Automatic, Seamaster, Swiss Made" is stated above and below the dial centre point in black. All this printing is clear and not at all faded.
Even the original Hesalite crystal is still in place. Hesalite was an extremely durable synthetic material that is associated in horological circles with classic Omegas from the second half of the 1950s and '60s. The Omega Speedmaster, most commonly associated with the moon mission, in its original form used a Hesalite crystal and finding it here on this watch is a nice touch.
The movement inside this piece is probably the best example of the Omega calibre 501 that we have seen in the last five years. Despite its age, it is indistinguishable from brand new. This unit gleams brightly like that in a current model watch and its pink gold finish isn't even dulled, let alone corroded or tarnished. Collectors dream of opening vintage watch cases and finding untouched movements that are as immaculate as the one here.
Calibre 501 was introduced in 1955 as a deluxe variant of calibre 470, this being a unit that made its debut the same year. The significance of this movement family to purist collectors is that it was the very first group of Omega mechanisms to feature automatic winding by rotor. There had been Omega automatics since 1943, but these had employed the more agricultural bumper arrangement rather than the rotor, the later being very much the preserve of competitor Rolex. It is also worth noting that Omega movements at this time were manufactured entirely in-house inside Omega's own facility. Later, in the 1980s, Omega would seek to reduce costs by purchasing movement blanks from the corporate giant ETA and then process these as required, adding its name in the process. Pre-1980s Omega movements like the 501 have great credibility with serious collectors and are perceived as having integrity as "pure" vintage Omega products.
The fascinating thing about these calibres is the fact that they were rather improvised, yet still worked brilliantly. Rather than designing a rotor automatic movement from the ground up, Omega instead took an existing manually wound movement from its range and proceeded to bolt a freestanding rotor module onto it to facilitate auto winding. This approach had a sound historical precedent, because Rolex took exactly the same course of action when creating the movements for its early bubbleback automatics in the early 1930s. By effectively grafting a rotor mechanism onto the top a proven hand wound movement, rather like a hat sitting on a wearer's head, Omega reduced its development costs and quickly brought to market something that would have otherwise taken many months, or even years, to develop as a complete entity.
"Omega Watch Co Swiss, Twenty Jewels" is stated on the rotor. On the automatic bridge, the calibre number "501" appears. Also stamped is the unique serial number for this movement of 16291160. Falling between the start and finish limits of vintage Omega production for that year of 16000000 and 17000000, this clearly identifies this unit as having been manufactured in early 1958.
After being serviced on a regular basis, this movement works perfectly. Omega will still undertake the maintenance of its pioneer rotor automatics via its specialist vintage watch department back in Bienne, but in fact, a good local repairer will do the job to the same standard for a fraction of the price. While beautifully made, these first generation Omega rotor units are not complicated, which is a major factor for their justified reputation for reliability. If cleaned and lubricated every three or four years, they will last almost forever and prove virtually impossible to wear out.
This watch has been fitted with a high quality crocodile skin type strap that is perfectly suited to its appearance. This strap has not been worn and remains in mint condition.
Also present is the correct period buckle for a vintage Omega watch of this age, with its distinctive raised Omega emblem. A lot of collectors are forced to fit their watches with modern Omega buckles, instantly identifiable by their recessed Omega logos, simply because supply of genuine vintage buckles by all the top tier Swiss makers is very limited. Sold alone, this buckle would have a value of certainly over £70 GB pounds, which is worth factoring into the overall equation when considering this watch as a potential purchase.
This watch is priced at £885 GB pounds. For a rare vintage Omega Seamaster variant, with this very unusual oversized case back emblem, this represents remarkably good value for money. We would expect to pay a very similar amount for the same model in all stainless steel and this eye catching mixed gold and steel version is considerably harder to find. This is a very attractive, large sized classic Omega that perfectly fulfils the criteria required for an investment grade watch and a piece that can be worn carefully on a regular basis. A vintage Seamaster like this will always have far more charm and character than its modern equivalent while always holding its value in the future.
Price £885 GB Pounds
Vintage Watch Brands
Vintage Watch Decades
Vintage Ladies Watches
Vintage Watch Bracelets
Swipwreek Straps
Travel Clock/ Pocket Watches
Home
About
Brand Overviews
By Decade
Reference
Contact Details
Telephone from the UK:
07453 734666
or 07428 051005
Telephone from overseas:
+44 7453 734666
or +44 7428 051005