Omega Seamaster steel early rotor automatic 1956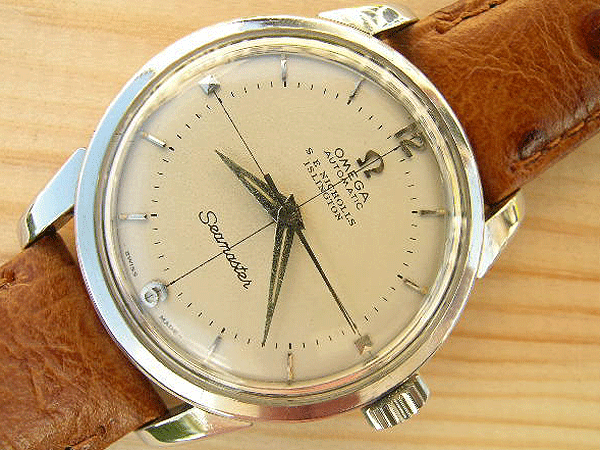 In real terms, the early vintage Omega Seamaster was a military watch intended for a civilian market. During World War II, Omega had supplied more pilots' watches to the British Government than any other Swiss house, and largely as a consequence of this, its reputation with the general public was at an all time high in the years immediately following the conflict. Though clearly expensive, the man in the street knew, quite correctly, that Omega manufactured extremely high quality timepieces that were capable of performing faultlessly for prolonged periods, even under very hostile operating conditions.
Omega capitalised on this reputation by launching the Seamaster in 1948, with the first version being fitted with the bumper type self-winding movements that the brand had introduced in the mid-1940s. These were extremely successful, particularly in the English market, and further variations followed. Indeed, it is worth noting that the Seamaster, in one form or another, has never been out of production in the last fifty eight years and is still one of Omega's most desirable current models, even appearing on the wrist of the fictional British secret agent James Bond in the recently released 2006 film Casino Royale.
While high tech gadgets and Hollywood special effects may appeal to many, they are a million miles away from the upmarket old world charm of the beautiful 1956 gentleman's Seamaster here. This should be regarded as the second version of the Seamaster, having the same distinctive wide lugged case style as the early bumper examples, but with a rotor driven movement. From a practical point of view, for the buyer who wants to acquire a watch at the point where the two lines of useability and collectibility intersect at the highest level, this is probably the most suitable Seamaster model to purchase. Earlier bumper versions are unquestionably exotic, but while bumper movements are inherently no less reliable than their rotor counterparts if well looked after, most have now been neglected at some point in their lives and are mechanically well on the way to being life expired. Later vintage Omega Seamasters from the 1960s are technically superb, so much so that if the only criteria was technical excellence, we wouldn't advise that anything else be considered, but by this stage, the raw masculine aesthetic style of the '40s Seamaster had been sanitised and diluted, and in the process, some of its appeal was lost.
We deliberately refrain from using the unqualified word "mint" in our website descriptions on the basis that common sense tells us that any object of this age can never be literally perfect. From a practical point of view, this watch is in the best condition that any of us are likely to find, and we would suggest that it has only ever been worn on a relatively small number of special occasions. If one looks carefully enough with a jeweller's eyeglass, there are perhaps a few tiny imperfections here and there, but these are so small as to be of no consequence.
Externally, the case back is signed "Seamaster, Waterproof", but does not yet have the large seahorse emblem that would appear on later versions. Internally, there is the signature "Acier Inoxydable ( the French term for stainless steel), Omega Watch Co, Fab Suisse, Swiss Made, Patent + Applied" together with the two model reference numbers 2846 4 SC and 2848. Notice how the presence of two model numbers shows us that the same case back was used on two variations of Seamaster. The first reference applies to the watch here, the "SC" suffix standing for "seconde au centre" and indicating that the movement has a centrally pivoted second hand. The other reference, 2848, is the one for ostensibly the same watch, but with a subsidiary seconds register at the 6 o'clock position.
The reference to a patent application relates to the waterproof construction of this case type. Omega used a snap on case back for the early Seamaster, but sealed this with a thick rubber gasket that was sandwiched tightly between case back and body, and compressed by the pressure between the two. If set up correctly, this arrangement was very effective, but it depended entirely on the gasket being replaced after every service. To reinforce the importance of this action, watchmaker's instructions were added in four languages "Dichtung Im Boden Einsetzen, Loger Le Joint Dans Le Fond, Fit Washer In Back, Ponga La Junta En El Fundo".
Vintage watch buying can be regarded as formulaic in many ways, in that certain combinations of cases and movements will have commercial values that are universally fairly defined. By having a good working knowledge of which model references are regarded as being desirable, the collector will fairly quickly get an idea of roughly how much he should be paying to acquire a certain watch in an acceptable condition grade. The finessing of this concept, and probably the hardest thing for the newcomer to do, is to assess a particular dial format and decide how much this adds or detracts from the mean average for any given model. Model references define a certain case style with a certain movement type ( known as a "calibre"), but they do not identify a dial colour or style, and there can, quite literally, be several dozen dial variants used on the same model. In extreme cases, a certain type of dial will triple or quadruple the market value of a watch as it would have been with a plainer dial.
This dial is particularly attractive, and a major reason why we bought the watch in the first instance. The layout is unusual, it having a combination of Arabic numerals at the 12 and 6 positions, square faceted markers at the other compass points and short rectangular batons for the rest. The overall look is eye catching and evocative of the post-war period, and we would have no hesitation at all in categorising this as being one of the most appealing dials used by Omega in the 1950s.
Very importantly to the serious collector, this dial is totally original and has never been the subject of any restoration work. The presence of a so-called "restored dial" will have an enormously detrimental effect on the value of any vintage watch, with the majority of experienced buyers refusing to consider any piece on which the dial is not untouched and in nearly perfect condition. As a percentage of the total number of older watches in existence, very few have original dials that are in anything remotely approaching the near mint condition of the one here. The once bright white surface has just slightly mellowed to a marginally creamier hue, but there is no spotting whatsoever and no dust staining around the outer edge where dirt tends to creep under the glass. This is exactly the type of dial that should be purchased for investment, but increasingly, items preserved in this state are becoming much harder to source than they were even a decade ago.
The signature "Omega Automatic, Seamaster, Swiss" is clearly stated in black, but, unusually, this is also accompanied by the name of the London retailer that supplied the watch when new "S.E Nicholls, Islington". Double signed dials of this kind are much sought after, both because of their rarity and attractive appearance. As a percentage of the total number of watches sold by Omega, very few would come supplied with double signed dials, and these were only ever offered to the company's most highly regarded agents. It must be appreciated that the secondary names were not added by the retailers themselves, but were already in place when the watches were shipped from Omega's UK distributor.
Small aspects must be correct in order for any vintage watch to have its theoretical maximum value. Here, for instance, both hands and the fully signed Omega winding crown are completely original to this watch. Locating cosmetic parts for classic watches can be an horrendous task, and it is very easy to unwittingly buy an apparently bargain piece on which there are several component substitutions, all of which will make it a pariah to the informed collector. This watch is as it should be in every respect, and can withstand any degree of expert scrutiny. It is relatively expensive because of this, but in the long term will appreciate in value at a faster rate than its merely average counterparts with questionable aspects. Just as the novice buyer of a classic car or motorcycle can easily acquire a vehicle on which many parts are from later or earlier models, thinking all the time that everything is correct and authentic, the newcomer to vintage timepieces can enthusiastically buy a watch, basically from a certain year, on which hands, winding crown, case back and movement parts have all been grafted on from scrap examples from other years. It is very important to study old factory and auction catalogues, reference books and specialist periodicals to identify the correct specification for a particular year before making a purchase. This watch is guaranteed to be faultless and unaltered since new, but many others for sale, both online and on the physical auction circuit, are not.
The movement in this model is calibre 500. Introduced in 1955, a year before this particular watch was manufactured, this mechanism is significant to the collector on account of it being part of the first group of movements by Omega to feature rotor driven automatic winding. Charmingly, these were not constructed as fully integrated movements, but were built in two separate halves. The lower half, that directly behind the dial, was actually a standard Omega manually wound movement, onto which the winding module sat as a free standing entity, rather like a hat on a wearer's head. While sounding rather improvised, this arrangement worked exceedingly well, and had the advantage that it was also very easy to clean and service, the entire winding module being capable of being lifted clear after the removal of just two screws.
The quality of these early Omega automatics is so high that if looked after carefully and serviced every three or four years, they will continue to run almost indefinitely without problems. As with any piece of high precision machinery, the key to successful, low cost ownership of one of these watches comes in buying only a wear free, excellent example in the first instance. This one is almost perfect, and its pink gold finish is free from even the slightest hint of corrosion or dulling. The regular replacement of lubricating oil during servicing will prevent any oxidation of a movement's surface, and we am always rather sceptical when offered a supposedly regularly maintained movement that looks dull and faded. This one is bright as a new pin, and gleams like its equivalent in a brand new model. Having been serviced regularly since new, it works perfectly, auto winding and setting very smoothly.
The rotor is fully signed "Omega Watch Co, Swiss, Seventeen Jewels". The top of the rotor module has the Omega emblem and the calibre number 500, with the individual serial number for this movement, 15338796. Falling between the two extremes of production for that year of 15000000 and 15500000, this clearly identifies the watch as having been manufactured in 1956. It is worth mentioning that this movement dates from an era when Omega still produced its own mechanisms entirely in-house, without resorting to the use of any components from external suppliers. Omega has not been a movement maker since the early 1980s, and now relies entirely on mass produced movements bought from the ETA corporate giant, which it then signs as its own. The integrity of these older, entirely hand built, watches as "genuine" Omega items makes them very attractive to collectors.
We have fitted the watch with a crocodile skin type strap that is perfectly suited to its sophisticated vintage appearance. This is not a genuine Omega strap, but we have transplanted the original stainless steel buckle that was on the watch when we acquired it over to this replacement. Authentic period buckles by all the top tier Swiss manufacturers are desirable in themselves, not least because so many watches have become separated from these over the years and owners are keen to restore their items back to factory specification. A 1950s Omega buckle, with the correct raised emblem rather than the later impressed type, in this near mint condition would certainly be worth at least £70 on its own, and possibly slightly more than this amount.
For those with access to a good horological library and a selection of recent specialist magazines, there are numerous references to this Seamaster model. "00/24", the new wristwatch magazine on sale in the UK reproduces in colour a 1955 advert for this watch on page 14 of its debut issue. This has the same movement, hands and case style as the watch offered here.
The Japanese magazine "Time Spec", issue 26, shows the same model in colour on page 53 as part of an article devoted to collectible vintage Omegas. This has the same case style, hands and movement, but is in solid gold, rather than stainless steel.
A very similar example, from 1957, is shown on page 83 of "Omega Designs, Feast for the Eyes" by Anton Kreuzer. Again, this has the same wide lugged case style and hands, but this time, has a date feature and is equipped with calibre 503, this being essentially the 500 here, but with a date complication.
John Goldberger's book "Omega Watches" shows this model in full colour on page 135. While the watch shown is in gold rather than steel, it has the same case, hands and movement as the item here.
In summary, this is a beautiful example of a completely original 1956 automatic Omega Seamaster, with a rare double signed dial and even its authentic Omega buckle. Watches in this immaculately preserved condition are not easy to find now, and will only ever appreciate in value in the future. The Seamaster is universally regarded as a classic in collectible wristwatch circles, and its robust nature makes it an ideal purchase for the buyer who is attracted to the quirky character of vintage timepieces, but likes the idea of a piece that can be carefully worn now and then without adversely affecting its worth.
In mechanically tired condition, with a restored or scruffy discoloured dial, it would still be possible to obtain a basically original Seamaster of this age for perhaps £400 or £500. This watch is a really top notch example of its type, very much a serious collector's item, and represents remarkable value at £925 GB pounds. In real terms, a vast amount of superb engineering is being obtained for a very small amount of money, and this must represent one of the best value vintage Omega purchases on our site at present. It is perfectly realistic to think that one could buy this watch, wear it for fifteen years and then sell it for a very significant profit. Many people, us included, would find this a very attractive proposition.
Price £925 GB Pounds
Vintage Watch Brands
Vintage Watch Decades
Vintage Ladies Watches
Vintage Watch Bracelets
Swipwreek Straps
Travel Clock/ Pocket Watches
Home
About
Brand Overviews
By Decade
Reference
Contact Details
Telephone from the UK:
07453 734666
or 07428 051005
Telephone from overseas:
+44 7453 734666
or +44 7428 051005