Omega Seamaster steel bumper 1952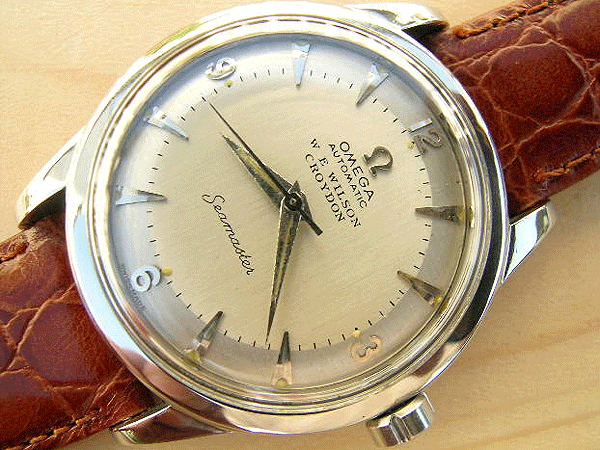 First launched three years after the end of World War II in 1948, the Omega Seamaster is quite rightly recognised as an all time classic, up there in public consciousness with the Rolex Oyster, the Breitling Navitimer and the Jaeger LeCoultre Reverso. While it was an expensive luxury watch when new, the commercial success of the early Seamaster has meant that when good examples crop up for sale today, they are still relatively affordable. Prices have risen sharply over the last three years, not least because of the widespread publicity given to vintage Omega watches in the wake of specialist auctioneer Antiquorum's much hyped thematic sale "Omegamania" in April 2007, but even so, classic early models from Omega's back catalogue are still very undervalued at the time of writing. The watch here can be bought for under £900 GB pounds, whereas an automatic Rolex Oyster in steel from the same period would certainly be priced at more than £2500 GB pounds in comparable condition. In terms of quality, the Omega is every bit the equal of the Rolex and there is a strong argument that it has far more room to rise in value in the future.
The difficulty today lies in finding early Seamasters that are in worthwhile condition. These were rugged, beautifully finished watches manufactured to the highest standards of the day, but most that appear for sale now are in pretty poor order after having been neglected at some stage over the last sixty years. A deliberate attempt is made to keep a good selection of pre-1960 vintage Omega Seamasters for sale on this site, but replacing stock with similar pristine examples is noticeably far more of a challenge than it was even five years ago.
This particular watch dates from 1952. This style of Omega Seamaster, with wide lugs and a flat bezel, was that used on the original 1948 model and as such, is regarded as being iconic. Today, the Seamaster remains a staple collection in Omega's range but it was this particular look that started it all off. Omega produced some really lovely looking Seamasters in the 1960s, but in the eyes of a lot of purists, they never quite recaptured the blend of masculinity and elegance that is so prevalent in this first generation case style.
The condition of this watch is literally almost mint throughout. The watches sold on this website are heavily scrutinised before being offered for sale and represent only a tiny percentage of the total number of vintage timepieces on general sale elsewhere. The heavy stainless steel case is almost flawless, with only the very slightest imperfections here and there that are always going to be present on any vintage watch that isn't literally unused new old stock.
Externally, the threaded, screw on, case back is entirely plain, without the seahorse logo that would become a trademark feature of Omega Seamasters during the 1960s. Prior to 1958, Seamaster case backs were without decoration, rather like those of the Rolex Oyster with which the Seamaster competed in the market. There doesn't seem to be an official explanation for this, but we could guess that originally, a plain case back was regarded as being an ideal place for a buyer to place an engraving. Many of these early Seamasters do have engraved case backs with the name or initials of their first owner, but this example is entirely free of any such wording.
Internally, the case back has been covered with an engine turned pearled pattern. The signature "Omega Watch Co, Fab Suisse, Swiss Made" is present, together with "Acier Staybrite". Acier is the French term for steel, with Staybrite being a patented form of stainless steel widely used in the luxury watch making industry. Also here is the model reference 2577-6 H.
This has to be one of the best preserved and most visually appealing dials that we've encountered on an early Omega Seamaster in recent years. It's in a two-tone silver, with an outer ring under the batons in a slightly different colour to the dial centre. This stepped colour effect and the chromed spearhead batons combine to produce a look that is very heavily influenced by art deco. Most significantly of all to the serious collector or investor, this dial is guaranteed to be completely original. It has never been restored and is exactly as it was in 1952 when new. If we wanted to be pedantic, it could be suggested that its overall colour is just a very slight fraction creamier than it would have been on the day it first left the jeweller's shop, but any ageing is so minimal as to be hardly worth mentioning.
"Omega Automatic, Seamaster, Swiss Made" is signed on the dial, together with the name of the retailer that supplied the watch in the first instance, W.E Wilson of Croydon. Double-signed dials of this kind are not often found and are regarded as highly desirable by collectors. They look exceedingly attractive and if the retailer mentioned has evocative associations, perhaps being located in some obscure former British colonial country, then the watch will have a value that can sometimes be double or even triple that of its singly signed equivalent. The retailer mentioned here is less exotic, being a good, solid UK jeweller and Omega agent, but even so, this additional signature adds perhaps 25% to the worth of the watch as it would have been.
These very early self-winding Seamasters were equipped with bumper movements. This curious nickname refers to the fact that unlike later automatic movements in which a rotor spun bi-directionally through a full 360 degrees, these early units wound by means of a pivoted weight that rocked forward and backward through a limited arc of travel. The bumper tag comes from the fact that this weight can actually be felt "bumping" as it reaches its extreme of swing and is bounced back by the buffer springs.
Early Omega bumper movements are charming to look at and beautifully engineered. Any serious collection of vintage wristwatches that attempts to chart the evolution of the wristwatch through the last century must include an example of an Omega bumper on the basis that it stands out as one of the classic mechanisms built around this concept.
The movement in this watch is Omega's calibre 354 which, for reasons that will be explained, makes this piece something of a bargain. Calibre 345 was launched in 1952, the year this watch was made, as the top self-winding model in Omega's movement range. It was intended as the flagship engine to be used for the newly launched Constellation range. When fitted to the Constellation, every movement used had been sent for independent accuracy testing at one of the Swiss observatories and was officially certified as a chronometer. But if we look beyond the "Tested to 5 positions and temperature" wording found on the 345s used in the Constellation and actually read the first hand accounts of those in the Bienne factory at the time, we find that in fact, the quality of the 345 was so high that the movements sent for testing were not tuned or specially regulated in any way but were just picked at random from the production line.
Coming back to the point made above, this makes the Seamaster here suddenly seem like a very inexpensive watch. A Constellation from 1952, the model's first year, with exactly the same calibre 345 movement, only certified there as a chronometer, and a very similar steel case, would be offered on this site at perhaps £1850 to £2200 GB pounds depending on its condition. The cases used on these early Seamasters are just as attractive, and just as well finished, as those found on the first generation Constellation. But yet the price of this item is only approximately a third of that needed to acquire its better known brother. The truth is that this watch is every bit the equal of a 1952 Constellation and therefore represents much better value for money.
However superb the movement in a vintage watch was when new, it will not be worth buying today if significantly worn and deteriorated. Just like the motor in a classic car, the movement in a classic wristwatch requires regular changes of lubrication in order to continue performing at its best.
This movement is very close to being in mint condition and is not in the least bit mechanically worn. Its pink gold finish is shiny and not at all dulled. "Omega Watch Co, Swiss, Seventeen Jewels" is stated on the oscillating weight with the calibre number 354 next to the winding wheel. The individual serial number for this movement 13362163 is stamped into the automatic bridge. Falling between the two extremes of Omega production for that year of 13000000 and 13500000, this clearly identifies this unit as having been manufactured in 1952.
In every respect, this movement is entirely original. It contains no changed parts and is authentic and still in factory standard specification throughout. There is no evidence of any repair work having ever been performed and, looking at the watch in detail when writing this, its overall immaculate condition would suggest that this unit has been serviced on a regular basis. It was last given a complete overhaul in November 2009 and runs and auto-winds extremely smoothly.
An original vintage Omega buckle in stainless steel has been fitted to this watch. This is the correct buckle for the period of the watch, with a raised Omega emblem rather than the recessed logo that we see on Omega buckles today. Well preserved vintage buckles by any of the top tier Swiss brands are very much in demand with collectors looking to return their watches back to complete originality. If sold alone, this buckle would certainly change hands for between £50 and £80 GB pounds. While the value benefit is worth keeping in mind when considering this watch as a potential purchase, the main bonus here is probably the fact that the next owner of this item will be spared the tedious task of finding a genuine Omega buckle of the correct ago to go with it.
The price of this item is £865 GB pounds, which, for a near mint example of one of the most iconic luxury watch models of the 20th century is not excessive, particularly if we stop to consider that it contains the same movement calibre found inside the first Omega Constellation of 1952, a model that would cost at least three times this sum. This is an exceptionally fine vintage Omega watch that will give a lot of pleasure to its owner and, provided it is correctly looked after, always increase in value in the future.
Price £865 GB Pounds
Price £865 GB Pounds
Vintage Watch Brands
Vintage Watch Decades
Vintage Ladies Watches
Vintage Watch Bracelets
Swipwreek Straps
Travel Clock/ Pocket Watches
Home
About
Brand Overviews
By Decade
Reference
Contact Details
Telephone from the UK:
07453 734666
or 07428 051005
Telephone from overseas:
+44 7453 734666
or +44 7428 051005