Omega Seamaster steel automatic 1966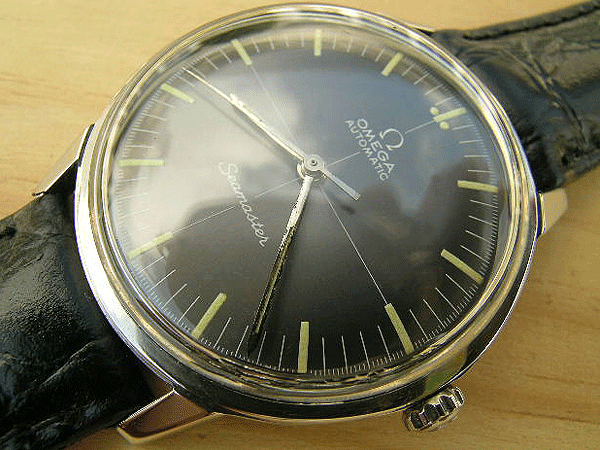 Vintage Omega watches from the golden period when the company still manufactured its own movements in-house are one of our specialities. The quality of Omega production pre-1980s was extremely high and compared side by side, there is no doubt at all that the mechanisms in these models are every bit the equals of those by Rolex, IWC, Jaeger LeCoultre and the other top tier Swiss makers. Prices for first rate vintage Omega material have risen sharply in the last five years since the landmark Omegamania sale held by Antiquorum in 2007 increased awareness of the brand with die hard collectors, but even so, the value for money offered by classic Seamaster and Constellation variants from the 1950s and '60s is still almost impossible to find in watches by any other brand. In our business, we have said for years that classic Omega models offer Rolls-Royce quality at Jaguar prices and we always strongly recommend them to our customers.
This watch dates from 1966 and is the cleanest, most original example of a vintage Seamaster from this period that anyone could ever hope to find. The Seamaster was introduced in 1948 and effectively allowed Omega to continue producing the rugged pilots' watches that it had sold to the British military during the war years. By the time the example here was created, the case style and movement type had both evolved from that of the immediate post-war models, but the overall Seamaster concept of a rugged, masculine watch that was dually elegant and capable of withstanding rough use still remained unchanged.
The large stainless steel case is classically styled, which is certainly a bonus to the investor. There is always a danger that watches with a style that strongly links them to a specific era will fall out of fashion and therefore reduce in price. At the moment, there is a great deal of enthusiasm for overtly 1970s models and these are selling for high prices in Christie's, Sotheby's and Bonhams fine wristwatch sales, but we fear that they have the potential to fall from grace in the future, simply because their styling is distinctive and very dating. Judged purely on its aesthetics, the watch here could date from 1950, 1970 or 2012. Its look is timeless, which makes it a very safe choice as a piece for long term ownership.
Scrutinising this case with an eyeglass, there are a few very tiny imperfections to the steel in places, but these are so small as to be almost invisible to the naked eye. The angles between the lug top and sides are very crisp and not at all smoothed, which is always a good sign of a watch that has been hardly worn.
Internally, the threaded case back is covered with an engine turned pearled pattern and signed "Acier Inoxydable, Omega Watch Co, Fab Suisse, Swiss Made" together with the model reference 135.002.
Beneath the signature is the tiny coded case maker's mark of Samuel Graber SA of 2616 Renan. In common with Rolex, IWC, Jaeger LeCoultre and its other close competitors, Omega was not a manufacturer of watch cases and instead purchased these from a small number of approved concerns that specialised in this field. Graber was very much a favoured supplier to Omega in the 1960s and was responsible for some of the most substantial vintage Seamaster and Speedmaster housings. We have often thought that it would be fascinating to write a book that detailed the network of independent suppliers that produced cases, hands, crystals, winding crowns and all manner of other components for the famous brands. The general public automatically assume that firms like Rolex and Omega manufactured their watches on site from start to finish, but the reality was quite the opposite. It always strikes us as such a shame that companies like Graber, that made a great contribution to the golden age of the Swiss luxury wristwatch, have now almost been entirely forgotten.
Externally, the case features a large rendition of the Omega seahorse emblem that has been the symbol of the Seamaster range since the late 1950s. Earlier Seamasters had not been decorated on their case backs and there was a transitional period around 1958 when several weird and wonderful variants briefly appeared, some of which are offered for sale on this site. By 1966, the logo here had become firmly established and was found on all Omega Seamaster models.
The winding crown is original and in almost mint condition. This is signed with a large Omega emblem on its outer surface. When buying a vintage Omega, it is important to establish that the crown present, even if signed with the Omega logo, is actually the appropriate one for the model to which it is fitted. It is easy to forget that, quite literally, there were several hundred different Omega crown types in the 1950s and '60s, with most of them being interchangeable without the need for modification. This crown is correct for this Seamaster model reference.
It has often been suggested that when a collector pays a high price for a desirable vintage wristwatch, his money largely goes on securing a dial that is both original and nearly perfect. After nearly thirty years in the business, we wouldn't argue with this view. If several examples of the same model are compared side by side, the key feature by which they will be ranked in order of desirability will be their dials. An original dial in poor condition is undesirable while equally, a so-called "restored" dial will devalue the watch to which it is attached by almost fifty percent. The magic combination, and of course the most difficult to locate, is an original, untouched dial in immaculate condition. Watches with dials of this kind are the holy grails of the collecting scene and what every serious enthusiast hopes to locate.
This dial is almost as-new, but it is completely original. It has not been restored and is in the same state today that it was in back in 1966 on the day it first left Omega. In a dark charcoal, almost black, shade, it is very attractive. With these luminous printed hour batons and the cross hair format, the look of this dial resembles that of a scientific instrument, which has a lot of charm. Rolex was clearly inspired by the same look with the dial on its Milgauss model of the same era.
"Omega Automatic, Seamaster" is signed in white, with "Swiss Made T" running along the lower edge. All this printing is very clear and not at all corrupted.
All three hands are original and in very good condition. Their luminous paint has dulled very slightly and is now more of a drab khaki than a bright lime green, but this must be expected on a watch of this age. We know from the "T" letter signed on the dial that the active ingredient in this paint is tritium, rather than radium as we would expect to encounter on early pre-war vintage models.
The best reason to buy a vintage Omega watch of this age is undoubtedly its movement. Later, in the early 1980s, Omega ceased production of its own movements and instead purchased mechanisms from the corporate giant ETA, which signed these with the Omega name prior to delivery. The classic units from the 1950s and '60s represent the pinnacle of the company's achievements, when it was the maker of arguably the finest mechanical wristwatch movements in the world. At the time, Omega was regarded as having more credibility than its competitor Rolex and if we compare the numbers of movements sent by the two houses for independent chronometer rating each year, we can see that before 1970, Omega submitted far more units than Rolex during the 1960s. In 1966, when the watch here was built, Omega sent 149457 movements for accuracy testing, with Rolex lagging behind in second place with a total of 96108 units. There is a strong line of reasoning that Omega movements from this period were more advanced and better engineered that their Rolex equivalents, which, given the current price disparity between the two today, makes them something of an undervalued bargain.
This movement is calibre 552. Launched in 1958, this remarkable unit was part of a series of mechanisms that were assigned the calibre numbers 550 to 565. Designed by the talented Marc Colomb, they effectively represent a distillation of all the knowledge that had been accumulated by Omega in the area of self-winding movement technology in the post-war period. At the time of their release, the British publication "The Horological Journal" dared to suggest that they were the most precise, stable and reliable of any manufacturer. It would not be an exaggeration to state that the 550 series, in all its closely related forms, would be on the shortlist of any experienced collector's most highly regarded self-winding vintage watch movements of all time.
"Omega Watch Co, Swiss" is signed on the rotor. The rotor bridge features the wording "Twenty Four 24 Jewels", while the calibre number 552 is stamped on the plate. Notice how there is a tiny number "1" inside the Omega emblem next to the calibre number. The generally accepted view for several decades was that this small digit indicated that a movement type had been revised. So, for instance, the "1" here informed us of a first modification to a particular calibre and the "2" on some of these vintage Omega movements indicated that a second set of factory upgrades had been performed. Though very plausible, in fact this theory proved to be untrue. The reality is that, obscurely, this number corresponds to the height of hands required for a given vintage Omega movement. Where no number is indicated on an Omega mechanism from this era, the standard height hand assembly was fitted. Here, because the dial was rather more domed, the H1 height was needed and a "1" duly stamped inside the Omega emblem.
Also present is the individual serial number 23009467. Falling between the start and finish points of Omega movement production for that year of 23000000 and 25000000, this informs us that this unit was manufactured in 1966.
Movement condition is almost perfect. Common sense tells us that given its age, this cannot be considered a brand new unit, but in realistic terms, it is indistinguishable in condition from that in a current model. Better could not be found, at any price level. A lot of the vintage Omega watches that we see for sale, both in the physical marketplace and online, have movements that contain some non-original components. In many instances, these were fitted as a matter of necessity in the 1970s when the correct parts were expensive and difficult to obtain. At the time, following the arrival of battery powered quartz movements in bulk from the Far East, the future of the mechanical watch looked bleak and owners were, understandably, reluctant to spend money on items that, at the time, were almost worthless. Every aspect of this movement is entirely original and apart from routine cleaning and lubrication, it seems likely that no repair work has ever been performed on this unit. It comes as no surprise that this movement works perfectly, setting, auto-winding and running very smoothly. Omega built its watches during this golden period to last almost forever. There is no reason at all why a classic Seamaster from the 1950s or '60s shouldn't be in full working order two hundred years from now, just as many antique pocket watches built in the Georgian period still are today.
When we bought this watch, the strap on it was original but in fairly poor condition, its leather having become hard with age. We have replaced it with a crocodile skin type substitute which suits the look of the piece perfectly. The correct vintage Omega buckle has been transplanted over to this new strap where it fits perfectly. Period buckles by any of the major Swiss houses are not easy to find and do tend to be expensive, not least because so many owners of vintage models that have been separated from their buckles are trying to find the appropriate buckles to return their watches back to factory standard specification. This buckle is a very good example of its type and unquestionably has a worth of around £70 GB pounds if sold alone.
We have priced this watch at £865 GB pounds, at which level it represents very good value for a vintage Seamaster with an in-house Omega movement in this near mint state. Twenty years ago, we bought tidy pre-1970 Seamasters in on a very regular basis, both from within the trade and from members of the general public, but times have changed. Today, we simply don't see these watches, not because they don't exist, but on account of almost everybody who owns a well preserved classic Omega not wanting to part with it. We see second rate examples with incorrect hands, winding crowns etc, typically in the online auction environment and these often sell for relatively high prices, but good, untouched watches fresh from the back of drawers do not surface with any predictability any more.
This is a very attractive item that is in every way as good as a Rolex Oyster Perpetual of the same age. It is vastly superior in quality to a current model Omega, while at the same time having a lot more character and, of course, being a much stronger choice for the investor. The Omega Seamaster is a blue chip icon of the luxury wristwatch world and already established as very collectible, these early models with genuine Omega made movements will only ever rise up in value in the future.
Price £865 GB Pounds
Vintage Watch Brands
Vintage Watch Decades
Vintage Ladies Watches
Vintage Watch Bracelets
Swipwreek Straps
Travel Clock/ Pocket Watches
Home
About
Brand Overviews
By Decade
Reference
Contact Details
Telephone from the UK:
07453 734666
or 07428 051005
Telephone from overseas:
+44 7453 734666
or +44 7428 051005