Omega Seamaster gold capped bumper 1953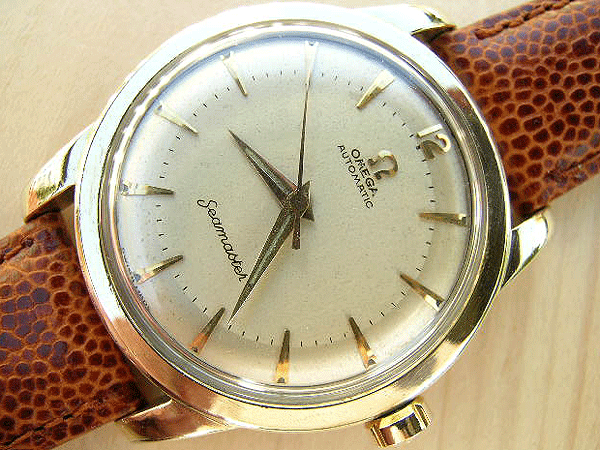 We always try to have selection of immaculately preserved vintage Omega Seamasters for sale. Introduced in 1948, they are quite rightly regarded as being among the legends of the classic wristwatch world. Omega still manufactures the Seamaster today, but it looks entirely different from the first models of over sixty years ago. One of the most interesting horizontal collections can be built up by assembling examples of the Seamaster as it went through numerous changes, these being made to both cases and the movements contained within them. There are a lot of worn out, neglected early Omega Seamasters out there and finding immaculate, worthwhile specimens isn't easy. However, when these are sourced, they represent one of the most charming vintage watches ever made.
This watch dates from 1953 and represents the very first wave of the Seamaster. This model, reference 2577, was the original one of 1948 and as such, is historically important to the serious vintage Omega collector. The combination of the distinctive wide lugged case and an art deco inspired two tone dial is extremely attractive and in the eyes of many purists, has never been improved upon in subsequent versions. This model can be regarded as the genesis of the Seamaster and as such, is an essential inclusion if an attempt is being made to chart the evolution of this famous range.
The case is 14 karat gold capped, meaning that a thick cladding of gold has been mechanically bonded to a stainless steel case. This is not a gold plated case and the two types should not be confused. A gold plated case is created by electroplating a base metal object with the thinnest layer of gold imaginable. Gold capped cases have a high gold content which, unlike their plated counterparts, will never wear through under normal circumstances.

It is interesting to note the relative prices of this Omega Seamaster model according to its case material. In stainless steel, it had a retail price of 250 Swiss francs, whereas with a gold cap, this jumped sharply to 320 francs. A gold capped case was viewed as a more luxurious item than the same thing in stainless steel and this relative position still applies today.
The case back is a threaded item that screws down into the case body to provide a waterproof seal. Internally, this is covered with a decorative pattern of pearled engine turning. "Omega Watch co, Fab Suisse, Swiss Made" is signed, together with "Acier Staybrite", the French term for stainless steel.
Also in the case back is the model reference 2577-22 SC, with the letters standing for seconde au centre and telling us that this Omega Seamaster variant has a centrally pivoted sweep second hand. This first generation Seamaster case style was also available with a snap on back and when sold in this form, had the related model reference 2767.
The case back outer is entirely plain, without the seahorse emblem that we automatically associate with Omega Seamasters of the modern era. In fact, this logo first appeared on Seamaster case backs in the late 1950s with the earlier models having entirely smooth backs that were superficially similar in appearance to their Rolex Oyster equivalents.
The original winding crown is present, signed on its slightly domed outer surface with a large Omega emblem. While Omega produced several hundred different signed winding crowns, only one will typically be correct for a given model reference. The crown here is entirely appropriate for the 2577 Seamaster and the one shown in period Omega advertising from the early 1950s.
In a two tone colour combination, the art deco dial is a pure delight to the eyes. Unlike so many others, this dial is completely original and has not been restored at any stage in the past. So many of the vintage watches from this era have dials that look fine from a distance of even a few centimetres, but when examined under high magnification can be seen to have been restored at some point. If we look closely enough with a jeweller's eyeglass, there is the slightest degree of almost imperceptible ageing to the surface, but in realistic terms, this dial is virtually perfect. The vintage Seamaster models on public display in Omega's own factory museum in Bienne do not have dials that are any better preserved than the one here.
"Omega Automatic, Seamaster, Swiss Made" is signed above and below the dial centre point. The spear head batons are in gilt, the colour of the gold used for these exactly matching that of the case body and the dauphine shaped hands. All three hands are original and in excellent condition. It is worth a passing comment on the shortened length of the second hand, this finishing at exactly the point of the inset seconds track. This kind of attention to detail, which we would never find on the luxury watches made today, is what makes these high grade vintage models so exceptional and so appealing to the collector.
Omega Seamaster reference 2577 was fitted with two closely related movements during its production life from 1949 to 1958. For the first three years, calibre 351 was used, before the change was made in 1952 to calibre 354, the movement we find in this example. The 351 and the 354 are almost identical, both being built around the system of bumper, rather than rotor, self-winding. In a bumper mechanism, a pivoted weight rocks backwards and forwards through a limited arc of travel, winding in one direction as it does so. When a watch of this kind is worn, it is sometimes possible to feel the weight as it swings, hence the bumper nickname by which this style of movement is known by enthusiasts.
The 354 is a significant movement to vintage Omega historians on account of it being the mechanism used in the first Omega Constellation model of 1952. This was the very top of the range Omega movement of its day and could compete on equal footing with any automatic movement of the same era by any Swiss luxury maker. Every possible refinement is here, ranging from anti-magnetic shielding through to shock resistance, both of which were still very much in their infancies in the years immediately after World War II.
It is also fundamental that Omega still manufactured its own movements entirely in-house at this time. Later, in the early 1980s, Omega would abandon in-house movements and instead re-work ebauches, this being the term used in the Swiss watch industry for un-finished movements in their most basic state, from third party suppliers, most notably the corporate ETA. These beautiful vintage mechanisms are "real" Omega movements in the strictest sense and as such, have immense credibility with purist aficionados. The issue of an in-house movement is becoming an increasingly debated one and it seems almost certain that the market will steadily favour those watches that do contain self-made mechanisms. We have been advising our long term clients for some time now that if buying classic Omega watches for investment purposes, pre-ETA powered pieces should be sourced.
The condition of this movement is almost perfect throughout. Its pink gold finish is bright and there is no sign of corrosion anywhere. While astonishingly accurate and very reliable, these early Omega bumper automatics are extremely simple in their construction. Provided an example in purchased in the first instance in nearly mint condition without mechanical wear, it will last for an almost infinite length of time. These units were heavily over-engineered and built with the intention that they would be possessions for life rather than objects to be worn for a few years and then replaced.
"Omega Watch Co Swiss, Seventeen Jewels" is signed on the oscillating weight. The automatic bridge is stamped with the individual serial number 13722840 which, falling between the extremities of vintage Omega movement manufacture for that year of 13500000 and 14000000, clearly tells us that this unit was created in 1953. Also here, stamped next to the winding wheel, is the calibre number 354. Notice that a calibre number is not stated on pre-August 1949 Omega movements but was only introduced after the company's complete reorganisation of its numbering system at that point.
This movement works perfectly, its swinging weight bouncing back and forth with the slightest motion of a wearer's wrist. Despite its age, this unit is in the best possible mechanical health and will almost certainly be still running smoothly when almost all of today's luxury wristwatches are defunct.
The specialist horological auction house Antiquorum sold a steel 1953 example of the Seamaster reference 2577 as lot 114 in its landmark April 2007 thematic sale "Omegamania". This had exactly the same hands, winding crown and bumper movement as the piece here. The final result for this item was 4012 Swiss francs or approximately £2650 GB pounds.
John Goldberger's book "Omega Watches" includes a full page colour photograph of a reference 2577 Omega Seamaster ( page 137). Again, this has a bumper movement and the same case style, hands and winding crown as the piece here.
A brand new crocodile skin type strap has been fitted to this watch. This is not a genuine Omega strap, but is perfectly suited to this model and almost identical in appearance to those shown in period advertising promoting the early Seamaster.
These early vintage Omega automatics are some of the most characterful wristwatches ever made and at the moment, they are still undervalued. In this first generation case shape, the Omega Seamaster can be legitimately described as iconic, yet even in superb order, these watches can be found for relatively modest sums. This particular watch is outstanding throughout and today is just as it would have been in the mid-1950s. We have priced it at £965 GB pounds, which represents remarkably good value for money and reflects the fact that we don't have to pay auction house commission on our sales. A Rolex semi-bubbleback from the same year, which is in no way a better watch, would command a price of perhaps £2500 to £2750 and it is clear than the Omega has a lot of potential to rise sharply to a worth that reflects its superb quality. At less than £1000, early Omega Seamaster Automatics are one of the last genuine bargains in the vintage watch world and cannot be recommended too highly at the time of writing.
Price £965 GB Pounds
Price £965 GB Pounds
Vintage Watch Brands
Vintage Watch Decades
Vintage Ladies Watches
Vintage Watch Bracelets
Swipwreek Straps
Travel Clock/ Pocket Watches
Home
About
Brand Overviews
By Decade
Reference
Contact Details
Telephone from the UK:
07453 734666
or 07428 051005
Telephone from overseas:
+44 7453 734666
or +44 7428 051005