Omega Seamaster bumper automatic steel deco dial 1951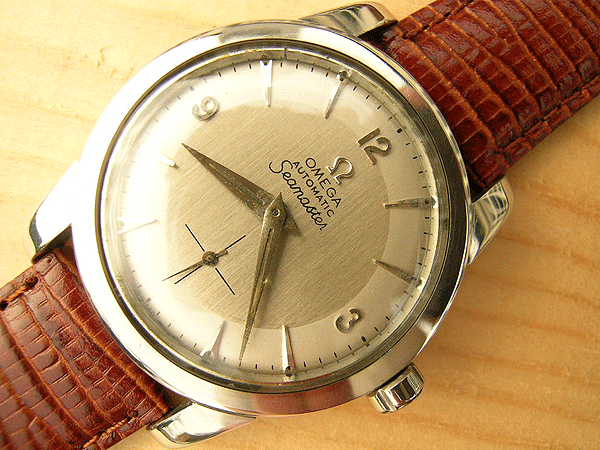 This vintage Omega Seamaster bumper automatic is the perfect example of a classic timepiece that would be extremely difficult to find today. The Seamaster model, intended as a rugged, high precision sports watch, was introduced only three years earlier in 1948, and rarely are very early examples from the first production run, like this one, offered for sale. The Seamaster name is still used by Omega today and these early watches are quite rightly perceived by enthusiasts as being historically significant as the first of this world famous bloodline.
For the uninitiated, it should be explained that the "bumper" nickname given to these particular watches is a reference to their automatic winding rotors. Unlike later Omega self-winding models, these early automatics do not allow for full circular motion of their rotors. Omega engineers at the time calculated that maximum winding efficiency could be achieved by limiting the available rotor travel to roughly 300 degrees.
These superb movements were entirely hand assembled and built to remarkably high standards. Only experienced Omega watchmakers were involved in the assembly of these movements, due to their high complexity. As the rotor moves backwards and forwards, it is cushioned by a pair of small buffer springs. When in use, the wearer can actually feel the rotor impacting against the springs and bouncing back again, hence the bumper title ascribed to this type of self-winding movement. Sadly, due to the complexity of this design and its associated high production cost, despite the superb levels of accuracy and performance attained, Omega only manufactured bumpers for a relatively short time span, hence their high desirability factor today.
For those concerned with Omega reference numbers, the movement in this watch is calibre 342, possibly the most highly regarded and technically advanced of all the Omega Bumpers. The 342 was the new model designation given to the 340 in 1949, when Omega restructured its naming system for these early automatics following the introduction of a number of 300 series variations in this same year. The 300 series bumper automatics were introduced in 1944 as the product of a two-year design project at Omega lead by the talented movement designer Charles Perregaux. It is often overlooked, simply because these movements were the very first Omega self winding mechanisms and are remembered primarily as such, that much research that had been done at Omega during the war years into both anti-magnetic and shock protection systems, both of which were featured in the 300 series automatics. This example is fully signed "Omega Watch Co, Swiss", has 17 jewels, a 36 hour power reserve ( the length of time that the watch will run from fully wound to stopped if untouched) and runs at 19800 beats per hour. The movement serial number is 12812144 which, falling between the two extremes of vintage Omega production for that year of 12500000 and 13000000, clearly identifies a manufacturing date of mid-1951. These movements had a well-deserved reputation for accuracy and solid reliability. This particular watch has been regularly serviced throughout its life and is in full working order.
An interesting tale that illustrates the sheer accuracy and build quality of these 300 series calibres is set in 1944, when Georges Berner, the director of the school of horology in Bienne, selected a 300 series equipped bumper automatic at random from the Omega production line. Being also the head of the official chronometer testing station in the same town, it was very easy for him to have the watch checked for accuracy in its brand new state and, as one would expect, it passed its time trials with flying colours. The story becomes fascinating though when we hear that when tested again in March 1945 and May 1946, despite having not been touched in any way, even for servicing , and being worn on a daily basis as a working watch, this same timepiece again attained superlative chronometer accuracy. This is the only time in the annals of Swiss high precision watch making that the same movement has been issued with no less than three separately tested chronometer certificates.
Another important aspect of this watch is its superb condition and total originality. This model featured extremely attractive art deco arrowhead markers on its dial and equally deco dauphin hands. We would certainly suggest that, largely because of its striking dial, this is one of the most attractive vintage Omega Seamaster variants from the immediate post-war period. The dial is, of course, fully signed "Omega Automatic, Seamaster" and is in almost perfect condition, with no damage or discolouration. Exactly as called for by the serious collector, this dial is original and unrestored, and the watch has its original hands and winding crown, the latter complete with its large Omega logo on its outer surface.
The large stainless steel case ( diameter 33mm) and case back are in gleaming, nearly mint condition and show no measurable wear. Exactly as it should, this case has the very wide lugs that were a feature of the original Seamaster production run of 1948. The screw on case back inner is fully signed "Omega Watch Co, Fab Suisse, Swiss Made" together with the model reference 2576-5". The crystal is unmarked.
The watch is on a brand new, lizard skin type strap that we fitted to it after it arrived in our hands. This is not a genuine Omega strap, but we have transplanted the correct stainless steel Omega buckle over from the badly cracked original strap, where it fits perfectly. Vintage buckles for any of the major Swiss brands are difficult to source as spare parts, and in themselves have significant monetary value as collectibles.
Overall, this is a rare, extremely well preserved very early vintage Omega Seamaster automatic. We are offered the later Seamaster models from the 1960s and '70s on a fairly frequent basis, but we no longer see the first generation bumper versions with any predictability. Worthwhile, and by this we mean those that are in good order, bumpers are becoming very difficult to find now and when they do surface, they seem to be immediately snapped up by eager collectors, particularly when sourced in this remarkable condition. We have seen such models attracting strong interest on the physical auction circuit recently, and our asking price for this piece of £875 GB pounds is very reasonable. We deliberately try to keep the prices on our website to a level that is significantly below what comparable items change hands for in the thematic sales held by the major London auction houses, which is possible mainly because we don't have commission fees to pay when selling direct to our customers. Very tidy, completely authentic 1940s and '50s watches by both Omega and Rolex simply are not available anymore in the quantities that they were even a decade ago. An early Omega Seamaster, already firmly established as a vintage wristwatch icon, will never lose a penny in value and provided it is carefully looked after in the future, will always appreciate in worth over the long term while being a very satisfying object to own and wear.
Price £875 GB Pounds
Vintage Watch Brands
Vintage Watch Decades
Vintage Ladies Watches
Vintage Watch Bracelets
Swipwreek Straps
Travel Clock/ Pocket Watches
Home
About
Brand Overviews
By Decade
Reference
Contact Details
Telephone from the UK:
07453 734666
or 07428 051005
Telephone from overseas:
+44 7453 734666
or +44 7428 051005