Omega Seamaster 300 with Omega Museum document 1966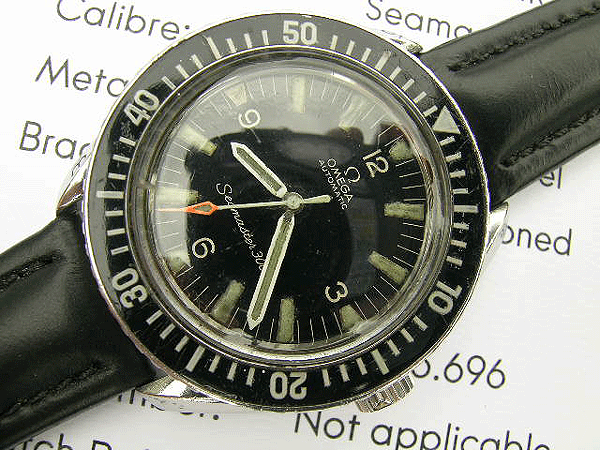 The Omega Seamaster 300 is arguably the most dangerous vintage watch of all for a collector to purchase. Unquestionably, it is by far the riskiest model that can be considered by the serious Omega collector. Since the early 1990s, Chinese and Eastern European Seamaster 300 fakes have been on the market, built to such a high standard that in many instances, it is almost impossible to differentiate between these and the few genuine examples that have survived. Even the most experienced vintage Omega enthusiast can come unstuck so easily and we have personally spoken to several passionate collectors in the past who refuse to consider buying any Seamaster 300 altogether, simply because the chances of being duped with a fake example are so high.
The fakes appeared in the first instance to service the high demand for what has become one of the most desirable vintage Omega sports watches. When prices soar and collectors scramble to purchase, it is inevitable that the unscrupulous element seek to take advantage of the situation by bringing out bogus replica versions. Again, because prices are so high, most of the better fakes actually have genuine vintage Omega movements of the correct year and calibre. It is financially viable for the faker to acquire a more common Omega variant, typically a standard Seamaster, and transplant its movement into a reproduction Chinese case, fitting replica hands and dial along the way. This blend of part genuine/part almost exact replica is a nightmare to detect and even as professional vintage watch dealers with over twenty five years experience under our belts, we will only buy a Seamaster 300 from private, rather than trade, sources and then only when its provenance is fully known.
This watch is guaranteed to be entirely authentic throughout. We purchased it directly from the Lincolnshire farmer who bought it brand new in 1967 when he was stationed in Germany with the British Army. It has been worn carefully for over forty years and is not a mint example, but its condition remains extremely good throughout. Nothing about this watch has been changed or modified since the day it left its supplying jeweller when it was sold for the first time. A more original, untouched example does not exist anywhere in the world, at any price level.
The Omega Seamaster 300 was launched in 1957 as part of a trio of three tool watches, so named because they were each intended to fulfil a particular practical function and cater for the specific needs of professional users. The Speedmaster was the chronograph in this group, appealing to pilots and those involved in competitive motor sport. The Railmaster was built to withstand high magnetic field and challenged Rolex's Milgauss in the scientific market. The Seamaster 300 was a serious diver's watch that could be used daily by those whose living involved spending time under water at considerable depths.
The version here is the fourth revision of the Seamaster 300, which made its debut in either late 1964 or 1965, depending on which of the several published chronologies you prefer to believe. The earlier model references, CK 2913 ( launched 1957), CK 14755 (1960) and ST 165.014 (1962) represent a gradual progression towards what most Omega purists regard as the most iconic Seamaster 300, the reference ST 165.024 here. The latter was the variant chosen for use by the elite British SAS and SBS military regiments, which clearly added to its glamour and desirability.
This is a chunky, large watch that has considerable presence on a wearer's wrist. In diameter, the Seamaster 300 is comparable to a Rolex Submariner, but the Omega is a thicker and noticeably more robust item over all. There are very great similarities between the cases of this model of Seamaster 300 and the Speedmaster chronographs of the late 1960s. Both have very distinctive bombee lugs, this curious French word describing their rounded, convex inner surface. Earlier Seamaster 300 variants and pre-crown guard Speedmasters have lugs with flat tops, just as we would find on any number of conventional watch cases. Even without a dial or movement, just by looking at an empty case of this type from the front, we could be almost certain that it belonged to an Omega Seamaster 300 or Speedmaster model. Incidentally, as the latter is a chronograph, the cases of these two models are clearly not interchangeable.
This particular case is in excellent order. If we study it closely through a jeweller's eyeglass, we can see a few very small imperfections here and there, but these must be expected on any used watch of this age. In order to preserve a state of total originality, we have resisted the temptation to polish this housing and have left it exactly as it was when we acquired it.
The original plastic bezel insert is still in place, calibrated with minute markings. Some years ago now, an enterprising individual in Italy began remanufacturing the bezel inserts for vintage Seamaster 300 models. These were not intended to deceive and were sold honourably, as legitimate replacements for owners who had purchased otherwise complete watches on which the bezel inserts were damaged or missing. While an Italian reproduction bezel insert is better than no bezel insert at all, clearly in the eyes of the serious collector or investor, nothing will ever be more desirable than a totally original watch like the one here.
On the case back outer is a large stamped rendition of the Omega Seamaster seahorse emblem, surrounded by the words "Certified High Pressure Waterproof, Seamaster". Collectors quickly spotted that this wording was in a slightly incorrect typeface on the fake Seamaster 300 cases, with the letter "A" in waterproof coming to a narrow point rather than having a wide flat top as here.
Internally, the threaded case back is signed "Omega Watch Co, Fab Suisse, Swiss Made" together with "Acier Staybrite", the French term for Staybrite stainless steel. Also here is the HF case maker's mark, telling us that this housing was manufactured by Huguenin Freres of Parc 1-3, 2400 Le Locle. In common with Rolex, IWC and Jaeger LeCoultre, Omega did not manufacture its own cases and instead chose to purchase these from external suppliers that were experts in this specialised field. The Huguenin mark appears in a lot of vintage Omega cases from this period and the firm's work was of the highest quality. Fascinatingly, collectors of sporting memorabilia may already be familiar with the Huguenin name on account of the same company being responsible for the manufacture of the medals for the Olympic games in the post-war period.
At this level of the market, where genuinely rare vintage watches change hands for substantial sums of money, dials must be both original and in near mint condition, but so often, this is not the case. A lot of the watches sold online, particularly in the caveat emptor world of the internet auction, have either original dials in significantly deteriorated condition or so-called "restored" dials that have been completely refinished, looking mint but actually entirely non-original.
This dial is both totally original and as near to being perfect as could ever be found. This is not some new-old-stock dial that has been retrospectively fitted to make a tired watch look nearly new, but the actual untouched dial that was in place when this piece was retailed in 1967. Its jet black finish is free from fading and uncorrupted by moisture. Even when inspected very closely under high magnification, it is almost impossible to find even the slightest negative aspect of this dial, with the exception of some very minor flaking around its central point.
"Omega Automatic" is signed above the dial centre point, with "Seamaster 300" in the lower half and "T Swiss T" running around the very bottom edge. The original tritium luminous material is in place, but has noticeably chemically decayed with age. This is exactly what we want to see on a vintage dial and if the luminous aspects appeared perfect and freshly printed, our suspicions would be raised.
Again, notice how this genuine dial differs very slightly from the dials found on the Seamaster 300 forgeries. On the bogus dials, the white minute marker printing continues right through the luminous hour blocks and almost touches the inner bezel. This is absolutely wrong and in direct contrast to the authentic dials, where there is no white line corresponding to the hour positions, only the luminous block. These may sound like obsessive details to the vintage watch newcomer, but methodical assessment of a watch in this way is very worthwhile in differentiating between the myriad of Omega Seamaster 300 fakes on the market, which have no commercial value, and the few totally genuine examples, which are worth several thousand pounds.
All three hands are original. The hour and minute hands are broad and white painted, looking entirely different from the arrow hands used on the first two Omega Seamaster 300 references. The second hand is noteworthy because of its bright orange tip. This is entirely correct, but unusual, with almost all mid-1960s Seamaster 300s having exactly this style of second hand, but completely in white. Careful inspection of this hand reveals that the orange colouring is factory standard and not been applied retrospectively.
Everything about the Seamaster 300 is over-engineered and designed to perform well even in extremely hostile operating conditions. It probably shouldn't surprise us too much that Omega chose its calibre 552 movement for this model, this being a unit that had proved itself beyond any doubt as absolutely reliable since its launch in 1958. The 550 series of movements, which included following calibre numbers up to 565, is generally regarded as being the most accomplished self-winding design ever built by Omega and still ranks today as having iconic status with collectors.
The 550 series was a direct challenge on the part of Omega to the 1570 movement that had been released by arch competitor Rolex for use in its Oyster Perpetual. When compared closely, these two remarkable movements are technically almost identical, the only major difference being the latter's use of ruby bearings, as opposed to the bronze based bearings used on the Omega. It would be invidious to try to rank these two almost legendary movement types. Both stand out as high points in the evolution of the self-winding wristwatch though purists will sometimes argue that the quality of movement finish was slightly higher on the Omega. The reality of the matter is that both are exemplary and any serious vintage watch collection will include good examples of each.
Despite being the movement equivalent of thoroughbred racehorses in their day, we shouldn't forget that these units are now over half a century old and many in circulation today have been woefully neglected. It must be appreciated that however well built a piece of machinery was in the first instance, it will wear prematurely if starved of lubrication, resulting in a unit that it troublesome and inaccurate. The scruffy, corroded vintage watch movement, even by the most celebrated maker, is the horological equivalent of a Rolls-Royce or Bentley motor car engine that has been run for several hundred thousand miles without an oil change. Initial quality counts for absolutely nothing if a movement has fallen into a state of disrepair.
The movement in this watch is original down to the very last screw and, most importantly, is in a near mint state throughout. Nothing here has been modified and it is obvious even from first inspection that this is an immaculate, very well cared for example of its type. Survivors like this are never likely to be cheap, but based on our own experiences over the years, we would always advise buyers that it is wiser to dig deep and acquire something genuinely outstanding than to pay less and opt for something in a poorer state with possible non-original aspects.
"Omega Watch Co, Swiss" is signed on the rotor. Beneath this, on the rotor bridge, is the wording "Adjusted Five Positions and Temperature, Twenty Four Jewels". This is extremely interesting and adds an extra dimension to what would already have been a highly desirable watch. This reference to positional adjustment tells us that this movement has undergone the intensive accuracy testing process required in order for it to be sold legally, under Swiss law, as a chronometer. The standard Seamaster models of the vintage period did not have their movements assessed in this way, but instead were fitted with, still excellent, movements fresh from the assembly process at Omega. When we think of vintage Omega movements that did have chronometer status, we automatically come first to the Constellation, which was the company's flagship movement and was chronometer rated. Here we have a movement calibre, the 552, which is normally not chronometer rated, but in fully certified form.
If we didn't know the background to this watch, we might be inclined to think that its movement had been swapped at some point for another from a Constellation of the same era. In fact, because we know that the 552 was never fitted to the Constellation, we can be sure that this was not the case. Confirming this is an extract from the Omega archives, obtained via the Omega Museum in Bienne. This tells us that this movement, serial number 24205896, started life in the case that houses it today and confirms that its unusual chronometer status is entirely correct.
This watch works perfectly. It sets, auto winds and runs very smoothly and if treated with care and sent for routine servicing every three or four years, it will last almost forever. Vintage Omega watches from the company's golden pre-quartz period were never built as disposable items and it was assumed that the purchaser would retain the piece for the duration of his lifetime. One of the most appealing aspects of vintage watch ownership at this level is that the fairly high cost of entry is offset both by the longevity of the watches and by the fact it can be almost guaranteed that every year, these items will be worth slightly more than they were the year before.
We have fitted this watch with a black calfskin strap that is very suited to its rugged, overtly masculine appearance. This is not a genuine vintage Omega strap, but it does not need to be changed and is brand new. A vintage Omega buckle, with its distinctive raised Omega emblem, has been swapped over to this new strap where it fits perfectly.
Not surprisingly, there are numerous in-print references to the Seamaster 300 in the books devoted to vintage Omega watches:
Page 148 of John Goldberger's book "Omega Watches" devotes a full colour page to a reference 165.024 Seamaster 300. This has the same case, dial, bezel and calibre 552 movement as seen in the piece here.
On page 54 of the Japanese magazine Time Spec's superb feature on rare vintage Omega watches, a large colour plate of a 165.024 Seamaster 300 is shown. Again, this is identical in specification to the example here, but its dial has noticeably deteriorated.
Period advertising is always interesting, and on page 136 of the "Omega Saga" book by Marco Richon, curator of the Omega factory museum, a publicity release for the 1965 165.025 Seamaster 300 is reproduced. This has the same hands, winding crown, dial and case as this watch. The comment is made that the model was intended for "professional divers and water sports enthusiasts".
In physical auctioneer Antiquorum's landmark thematic sale "Omegamania", devoted purely to rare Omega vintage watches, Lot 128 was a Seamaster 300, in this same Speedmaster style case and with a calibre 552 movement, that had been supplied when new to the British Special Air Service ( SAS). This changed hands for 20471 Euros, excluding buyer's premium. Clearly, without the glamorous SAS connection, the watch here will be worth substantially less than the Antiquorum example, but even so, this is a good indication of how the best Seamaster 300 survivors will command extremely high prices. In passing, it is worth mentioning that since the Antiquorum sale, there has been some speculation regarding the authenticity of this Lot, with several collectors voicing the opinion that its dial was almost certainly of recent Asian manufacture.
This is an exceptional item and represents a chance for the serious vintage Omega watch collector to acquire a Seamaster 300 that, for once, is totally authentic from top to bottom, with no question marks whatsoever over its legitimacy. This item will be supplied with its accompanying extract from the archives of the Omega Museum in Bienne, confirming the total authenticity of the watch and stating that it was sold on the 15th November 1966 to Omega's German agent. Given its desirability and extreme scarcity in this original state, common sense should tell us that, sadly, this is not going to be an inexpensive purchase. We were delighted to secure this watch and had to pay handsomely to prevent its owner sending it to Bonhams for inclusion in one of their specialist wristwatch sales.
After some deliberation, we have priced it at £3450 GB pounds, which is not cheap by any means, but also definitely not greedy either. Even the wealthiest of collectors will find that the obstacle when adding a Seamaster 300 to his portfolio is that of establishing originality, and it is well worth paying a little more for a watch that is guaranteed to be the real thing, rather than a piece that arguably may or may not be correct at a lower price. Over the last five years, the market for these classic sports models, both by Rolex and Omega, has risen dramatically and as an investment, this watch can be recommended strongly. As the pool of verifiable worthwhile examples of these watches continues to shrink and demand increases, it seems a fairly safe prediction that prices will become much higher than they are at the moment.
Price £3450 GB Pounds
Vintage Watch Brands
Vintage Watch Decades
Vintage Ladies Watches
Vintage Watch Bracelets
Swipwreek Straps
Travel Clock/ Pocket Watches
Home
About
Brand Overviews
By Decade
Reference
Contact Details
Telephone from the UK:
07453 734666
or 07428 051005
Telephone from overseas:
+44 7453 734666
or +44 7428 051005