Omega gold 1954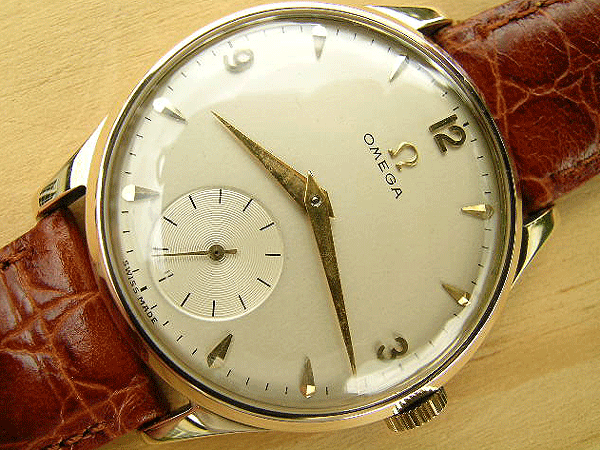 This exceptionally fine, large size solid 9ct gold, gentleman's Omega dates from 1954 and is in almost mint condition. The late 1930s through to the mid 1960s are very much considered to have been a golden period for the Omega company, with many of that firm's technical advancements and most collectible models having been produced during this era. Indeed, it could certainly be said that the late 1950s and early '60s models represent an era when Omega was constantly breaking accuracy records ( indeed, just before this watch was produced , Omega set the all time precision record for a mechanical chronometer, at Kew-Teddington, with an officially tested reading of 97.8 points) and yet was still enormously concerned with the production of attractive case styles that still retained something of an art deco flavour.
The original, very large case is fully signed "Dennison, Made in England, Omega Watch Co" and bears the reference number 13322, together with the serial number 599265 and a full set of British 9 karat gold hallmarks confirming Birmingham assay in 1954 . The letters A.L.D, these standing for Aaron Lufkin Dennison, the company's founder, are signed inside the case back, indicating that the case was supplied to Omega by the Dennison company. Dennison, based at 234 Soho Hill and 40 Terrace Road, Handsworth, Birmingham, produced some of the finest and most attractive cases that were ever used by Omega for the British market, and collectors are now inclined to pay slight price premiums for Omega pieces that are complete with Dennison cases.
The case back outer is decorated with an attractive dedication, this reading "10.2.1955 Mr. B.F Spratt, for service with M.K Electric Ltd since 1929". Traditionally, high quality gold watches were often given as long service and retirement gifts, and it is not at all uncommon to find inscriptions of this nature on vintage timepieces. In this case, this engraving is very light and could be easily polished out, but we always prefer to leave personal touches like these in place, feeling that they add a sense of past life to any collectible watch. This wording is not accidental damage, but has been legitimately applied to the case back by a highly skilled craftsman by hand at an important stage of its existence. To remove it now, after more than half a century, seems a terrible shame, particularly as there is no financial justification for doing so, the value of the watch being unaffected, either with, or without, this inscription.
The winding crown is an original item, fully signed with the large Omega emblem and is, of course, in excellent condition.
A main feature of this watch is its completely original French white dial, which, very unusually for any dial of this age, is in almost unused, near perfect condition, with no discolouration or patina whatsoever. The dial is elegantly decorated with a alternating mixture gold Arabic numerals and art deco styled batons, and is one of the most attractive variants that we have encountered on this particular model.
The original dauphine shaped hands are in good condition and are wonderfully evocative of the highest levels of 1940s and '50s watchmaking design. With its almost unmarked gold Dennison case, gleaming gilt hands and unfaded dial, the watch has obviously been cosseted all its life. We can safely draw the conclusion that this was an exceptionally costly timepiece when new, and very much a treasured status symbol when originally purchased.
This theory is also supported in Omega's choice of movement for this example. The company chose its flagship manual movement, the all-mechanical calibre 266 for this piece. This series of movements, first introduced in 1939 and known collectively as the 30 millimetre series ( available with both subsidiary and centre seconds, there were several minor upgrades to this range of calibres through the following years, these being identified by a number after the "T" designation, hence the T3 here was the third revision), are highly sought after by collectors of vintage Omega timepieces worldwide, these being present in nearly all of the company's early chronometer rated watches. Indeed, during the mid 1930s this movement calibre actually established new records for accuracy at numerous observatory contests, winning first prizes in five out of seven consecutive annual events. After a 30mm series movement of this type set a new record for timed accuracy at Kew Observatory in 1946, there was a very interesting interview printed in the factory magazine "Omega Information" in June 1947 ( Issue number 5) with the firm's technical director Henri Gerber questioning how it came to be that the 30mm series movements had achieved seeming "invincibility" in the accuracy testing competitions held within the Swiss watch industry and, surprisingly given the fact that this was an official Omega publication, asking him to justify the relevance of these competitions to the average luxury wristwatch buyer.
Considering its remarkable success as one of the finest mechanical wristwatch movements ever built, there is a supreme irony that its designer, the very modest and retiring Henri Kneuss, had no formal training in watch making whatsoever and was entirely self taught. One cannot help but wonder if this lack of preconceived ideas on his part gave him much greater creative freedom to produce something that was indeed very different to Omega's earlier movements. He was assisted by Paul Brandt in finishing his prototypes and it is no small tribute to the work of this innovative pair that German collector Fritz von Osterhausen referred to the 30mm series movements in his excellent 1997 reference book "Klassik-Uhren" ( The Classic Watch) as "Ein legendares Werk" ( a legendary movement). The beautiful calibre 266 30mm T3 used here was one of the last evolutions of the 30mm series movements, being introduced in 1950. The movement in this example is serial numbered 13749275 and is fully signed "Omega, Swiss, 17 Jewels". A point we often like to make in our website descriptions is the wisdom of checking serial numbers and hallmark dates for consistency. Falling between the two extremes for that year of 13000000 and 14000000, this movement was clearly manufactured in late 1953, this being just slightly earlier than the 1954 hallmark date on the case. Given that this movement was shipped from Omega in Switzerland to the firm's British agents and then had to be housed in a domestically produced case, this slight discrepancy of a few months between case and movement is perfectly acceptable, but a gap of several years would raise our eyebrows and require further clarification. The piece has every luxury feature that one could possibly imagine, including a wonderfully complex and extremely ingenious 7 stage mainspring evolution system that gives the watch a very impressive 42 hour running reserve ( the length of time that the watch is capable of running from fully wound to stopped if left untouched).
The watch has been regularly cleaned and serviced throughout its life and of course, works perfectly today. It is almost "as new" internally, completely original in every last detail, and has no changed or substituted components whatsoever.
The original strap that was supplied with the item when new has long since disintegrated, but has been replaced with a brand new, unworn, crocodile skin type strap of the very highest quality. This is not a genuine Omega strap, but is very similar to those shown in Omega's period advertising of the day.
Overall, this spectacular vintage solid gold Omega in almost unused condition is very much a collector's dream, having a virgin, almost perfect dial and a near mint example of one of the company's most highly regarded hand wound movements of all time. The soaring price of bullion in the 1970s having prompted the scrapping of so many fine watches from this era, solid gold cased pieces in an all original state from the 1940s and '50s are very difficult to find and always command a strong price premium when included in conventional specialist antique watch auctions like those held by Bonhams, Christie's and Sotheby's.
We have priced this watch at £975 GB pounds. As with every field of antiques, the buyer gets what he pays for, or, perhaps better said, he doesn't get what he doesn't pay for. Online, we do see Omega gold watches for sale from the 1950s, typically on the mass market auction websites, but they invariably tend to have the wrong hands, replaced balance wheels and dials that are not original. This example is first rate in every respect and will satisfy the exacting requirements of the most critical purist collector. It would be exceedingly difficult to find a better preserved specimen of a gold cased Omega from this period than the one here and the buyer of this item will certainly not regret their purchase. This is a very attractive, very high quality vintage watch by one of the world's finest makers that if looked after with care, will only ever appreciate in value as the decades go by.
Price £975 GB Pounds
Vintage Watch Brands
Vintage Watch Decades
Vintage Ladies Watches
Vintage Watch Bracelets
Swipwreek Straps
Travel Clock/ Pocket Watches
Home
About
Brand Overviews
By Decade
Reference
Contact Details
Telephone from the UK:
07453 734666
or 07428 051005
Telephone from overseas:
+44 7453 734666
or +44 7428 051005