Omega Geneve steel automatic blue dial 1968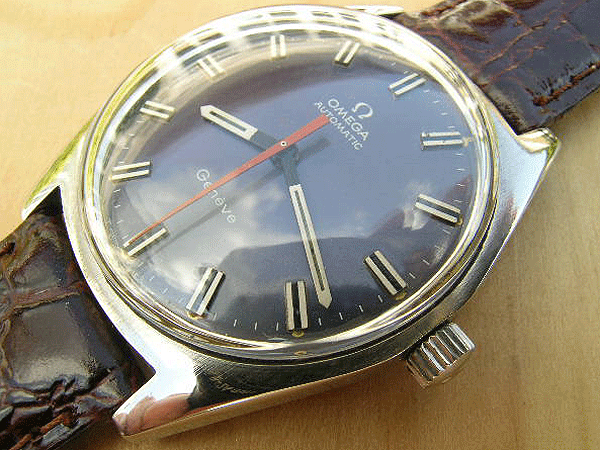 In stainless steel and in immaculate condition, this gentleman's Omega Geneve model formed part of the company's International Collection between 1968, when this example was manufactured, and 1972. It was offered with a choice of several dial formats and colours, these including white, silver and the very attractive metallic navy blue here.
Today, vintage wristwatches from the 1960s and '70s are very fashionable yet even fifteen years ago, their distinctive styling made them less desirable than their equivalents from the immediate post-war period. It is difficult to identify reasons for shifts in market trends, but noticing the demand for these models rising dramatically in the last seven or eight years, we have speculated that many of those collecting now in this area are of an age that can remember these watches when they were in their late teens and early twenties. A lot of us can recall vividly the times when as youngsters, we longingly looked in shop windows at items, be they exotic guitars, watches or even motorcycles, that we couldn't begin to afford. Moving forward in time, many of those who recall lusting after items like this one are now well soled professionals and business owners, with the resources to purchase the classic luxury items that were denied to them first time around. We have no factual evidence that this is so, but the theory does seem to make sense and have some factual basis.
The condition of this watch is almost perfect, yet it remains completely original throughout. The large stainless steel case is almost unmarked and short of finding a new old stock item that has never been previously sold, it is probably the best that could be located anywhere, at any price. We make a great effort to only purchase watches for our stock that we feel are in outstanding order, and this one fits squarely into this bracket.
Internally, the threaded case back is stamped "Omega Watch Co, Fab Suisse, Swiss Made, Acier Inoxydable ( the French term for stainless steel)" together with the model reference 165.041. This reference defines a particular combination of case and movement type ( correctly known as a calibre) within the Omega model range. It is worth noting that on vintage Omegas of this age, the section of the model reference number that comes before the decimal point can be deciphered to tell us more about the specification of the watch on which it appears. Here, for example, the first digit, the 1, tells us that this is a man's watch with a leather strap rather than a metal bracelet, the second digit, the 6, identifies a self-winding model with a centrally pivoted second hand while the third, the 5, confirms a variant that is waterproof, but without a date feature. It may sound banal that mention of this is included here, given that all these things are obvious when studying this watch even without opening its case, but there is a very good reason for carrying out this check as a matter of routine. Over the years, so many vintage watches in circulation by all the major brands have been modified and built up from parts that were not together when new. The case backs on a high percentage of Omega models from this period are instantly interchangeable and it is surprising how often we perform this basic check on watches offered to us and find a case back that has no place being on the watch to which it is fitted.
Externally, the case back is stamped "Waterproof". This wording is crisp and sharp, with no loss of definition due to polishing or prolonged abrasion with a wearer's wrist.
The navy blue dial is totally original and in nearly mint condition. Even on watches of this age, we are seeing a lot of refinished dials or dials that are original and scruffy. Even when studied under high magnification, this dial is virtually perfect and the harshest critic would find very little to say here. These coloured dials are extremely attractive and, in this instance, the blue gives the watch a sporty look that fits in well with current taste. This would be the ideal piece to wear casually with a pair of jeans and would make a characterful alternative to a modern steel Omega or Rolex. Anyone can walk into a jeweller's shop and buy a brand new watch, but tracking down a near mint vintage model is not easy. From a serious collector's perspective, the dial accounts for almost half the commercial worth of any vintage watch and in order for any model to be worth its salt in the eyes of the purist, its dial must be both untouched and almost faultless. This dial is as clean and virgin as any of us could ever hope to own.
All three hands are original. This style of vintage Omega hands, correctly known as stick hands, is to be regarded as an all-time classic for the company, appearing on the Geneve Dynamic and Flightmaster models. The Geneve reference 165.041, the model for sale here, was also offered with plain black printed numerals and simple blued steel hands, but this combination is far less attractive, and worth less, than the one on this watch.
Similarly, the winding crown is correct for this model. As we would expect on a lightly used automatic watch, this crown is in excellent condition, with no measurable wear at all to its milled outer surface. This crown is signed with a large Omega emblem.
Vintage Omega movements from this period are some of the very finest to have been created by any manufacturer, at any time. In the late 1960s, Omega was still producing its own movements entirely in-house and this point should not be overlooked. Later, after the quartz revolution that almost destroyed the traditional Swiss watch industry in the 1970s, Omega ceased movement manufacture and instead purchased mechanisms from the corporate giant ETA, signing these with its own brand name as required. Omega made its name as a top tier Swiss watch house with the outstanding movements that it designed, built and adjusted under its own roof and it is these that should be bought for serious investment.
The movement in this watch is Omega calibre 552. Introduced in 1958, it is a member of the group of Omega movements known collectively as the 550 series and encompassing the calibre numbers between 550 and 565, which many enthusiasts regard as the pinnacle of self-winding Omega mechanisms.
A little background research reveals some very interesting information about the 552. Used in the Seamaster and Geneve models, it is identical to the 551 that found its way into Omega's flagship model, the Constellation, except for it not being certified as a chronometer. Without becoming too side tracked from the main subject, it be explained that under strict Swiss law, for a movement to be legally sold at a chronometer it must have passed through a stringent accuracy testing procedure held by an independent observatory. Both Omega and Rolex submitted, and still submit today, movements in this way in order that they can be signed as officially certified chronometers on their dials.
It would be easy for us to regard the 552 as an inferior unit to the 551, but in fact, this is not at all so. We know from contemporary accounts that the quality and tolerances in the 550 series were so fine that the movements sent for chronometer assessment were pulled at random from the production line and were not in any way specially tuned prior to submission. We also know that failure rates on testing were extremely low, with only a nominal number of the units tested failing to achieve chronometer status. By purchasing a vintage Constellation, you will acquire a movement that is unequivocally a chronometer and signed as such, but you will pay a price premium for the privilege. By instead opting for a Geneve, like the one here, or a Seamaster with a movement from the 550 series of calibres, the truth is, to all intents and purposes, the buyer will end up with a watch that is every bit the equal of the Constellation, but at a significantly lower price level. In our business, we have been aware that the often overlooked Geneve offers some of the very best value for money to be found in any vintage Omega watch, without any loss of intrinsic quality whatsoever.
The rotor of this movement is signed "Omega Watch Co Swiss". The calibre number 552 is stated on the rotor bridge with "Twenty Four 24 Jewels" also present. Movements in the 550 series were offered with seventeen and twenty four jewels, with the latter being the versions typically sent for chronometer testing. The individual serial number for this movement, 27147215, is here. Falling between the start and finish of Omega production for that year of 27000000 and 28000000, this clearly identifies this unit as having been manufactured in early 1968. We know that Geneve model reference 165.041 was launched in 1968, so it seems reasonable to assume that this watch was one of the very first of its type.
This movement is extremely clean and in fact, we probably haven't bought a better preserved 550 series unit in better condition in the last two or three years. Its distinctive copper finish is unbroken and as bright as that of a brand new watch. Even more importantly, it can be said with authority that everything in this movement is original. As the years go by, the number of surviving examples of any vintage movement calibre that are all original and unmolested diminish and it is worth paying a little more to buy a watch with a near mint, authentic movement like this one, rather than something at a lower price level that is incapable of withstanding expert scrutiny.
It is almost superfluous to confirm that this watch works perfectly. It has been serviced regularly since new and runs very smoothly. Unlike today's new luxury watches, the quality of these classic models was so high in the first instance that if bought in excellent condition and looked after sensibly, they will last almost forever. Provided it is cleaned and oiled every three or four years, there is no reason at all why this item shouldn't be telling accurate time half a century from now. This potential for longevity alone is a very strong inducement to buy a high grade vintage wristwatch.
When we bought this watch, it was fitted with a leather strap that was possibly original, but had become brittle with age. We have replaced it with a crocodile skin type strap that is perfectly in keeping with the aesthetic theme of the piece. This is in superb condition and has not been worn.
Fairly plentiful even fifteen years ago, good, all original vintage Omega Geneves from the 1960s are getting thin on the ground. There used to be quite a lot of dealing in these models as collectors up and down graded, but it seems that at the time of writing, most of those people who own a tidy unmolested classic Omega from this period are not willing to part with it. The vintage Omega shop in Burlington Arcade, London has a good selection of post-war models by the company, but reflecting the high trading overheads inevitable in the centre of any major capital city, the asking prices there are very high. We deliberately try to work on a much smaller profit margin than our competitors and have priced this watch at £545 GB pounds, at which level it is something of a bargain. This is a lovely honest vintage Omega, still with an in-house Omega movement, and it is difficult to imagine anyone not being delighted when it arrives in their hands.
Price £545 GB Pounds
Vintage Watch Brands
Vintage Watch Decades
Vintage Ladies Watches
Vintage Watch Bracelets
Swipwreek Straps
Travel Clock/ Pocket Watches
Home
About
Brand Overviews
By Decade
Reference
Contact Details
Telephone from the UK:
07453 734666
or 07428 051005
Telephone from overseas:
+44 7453 734666
or +44 7428 051005