Omega Chronostop chronograph steel 1968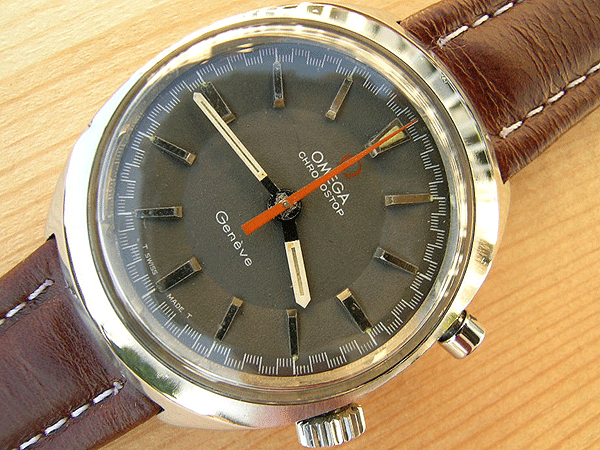 This very attractive 1968 vintage Omega Chronostop gentleman's chronograph, complete with its box and in nearly mint condition, is an appealing find for any serious Omega collector. 1960s sports watches are now probably the fastest appreciating area of the collectible watch market and as demand increases and prices are pushed up seemingly on an almost monthly basis, excellent condition, genuinely unmolested examples are becoming ever increasingly difficult to obtain. For reasons detailed below, despite the fact that values have risen enormously over the past six or seven years, we firmly believe that the Chronostop is very significantly undervalued at present, and is a particularly strong potential purchase for anyone looking to acquire a still very modestly priced vintage Omega watch for investment purposes.
The Chronostop was introduced in 1966 as an addition to Omega's existing chronograph range. It is, quite deservedly, regarded as one of the all time classic 1960s sports watches and was a costly model even when new, though it had a lower retail price than Omega's Speedmaster range. The styling and technical performance of the watch were certainly revolutionary and indeed, the Chronostop was awarded the top prize in 1966 at the prestigious "Federation Horologer" competition which was entered by Omega in preparation for the International World Exhibition in Montreal in 1967. It should be remembered that, at this time, the Omega company was very much riding on a high, with its watches arguably being considered the finest on the market. In turn, this credibility resulted in a huge increase in sales when compared to a decade earlier, which, in turn again, ensured that vast resources were available to Omega's development team for the design of such gems as this piece. In 1963, Omega wristwatches had set new world records for accuracy in timing competitions in Geneva and Neuenburg in the categories of individual watch, serial products and regulation and, unquestionably, the company's output from 1960 remains of a far higher build quality than anything that has been offered since.
It is most significant to note that the hand wound, all mechanical, 17 jewel Omega calibre 865 movement that is to be found in this watch was actually developed both for the Chronostop and Omega's famous Speedmaster chronograph, the only difference between the two movements fitted to the two models being the units intended for Speedmaster use ( badged as Calibre 861) having the addition of a 12 hour register and an external antimagnetic dust cover. The 865 was first released in 1966 and featured every luxury available the time, including shock resistance and internal antimagnetic protection, together with a rapid, and therefore intrinsically highly accurate, 21,600 half beats per hour running speed.
To suggest that the Chronostop is technically the equal of the Speedmaster series, commonly known by collectors as the "Moonwatch" models, would be untrue. The Speedmaster is a more complicated watch, with additional counters that are not present on this simplified version. But at the same time, the fact remains that the basic mechanism is almost identical in these two watches, a fact that, given the Chronostop currently has a value of only perhaps 40% of that of the Speedmaster from the same period, makes it one of the few genuine bargains to be had in the vintage sports watch market at present. When new in the late 1960s, Omega actually marketed the Chronostop with a separate brochure headlined "Technical Watches", also including in this the Flightmaster, Speedmaster Professional ( known today as the "Moonwatch"), Speedmaster Mark II, the Seamaster 300 and the Seamaster 120. All of these models are now expensive collector's items, yet the Chronostop, which is far more complicated than the two Seamasters in this series on account of it having a chronograph function, is still very affordable. There is no reason whatsoever for this current lagging behind in value. The same high quality standard is present in the Chronostop's 865 movement as is found in the Speedmaster's 861 unit, but just in slightly simplified form. For the thinking man who wishes to buy into the technical sophistication of this must respected range of classic timepieces, but without the high price levels associated with the Flightmaster and Speedmaster models, we very firmly believe that the Chronostop represents amazingly good value for money. At present, here in Europe, the Chronostop seems largely to have flown under the radar of the serious collecting fraternity, but this situation will not remain indefinitely. It is telling to note than in Japan, where appreciation and study of vintage wristwatches is at a far more advanced level than here in the West, much is made of the Chronostop/ Speedmaster link. Kesaharu Imai's superb book on the development of the Speedmaster "Time Capsule", devotes much attention to the Chronostop, allocating two full pages to the model ( 182 and 183) and discussing it as an equal to its more famous siblings.
The raw ebauches for this movement were supplied by Lemania. Omega's relationship with the Lemania company is well documented and need not be repeated here, but suffice it to say that, even today, nearly all Omega's mechanical chronograph movements, including those intended for use in space, are supplied by this venerable producer.
This particular watch is in almost mint condition, and has hardly been worn. In our business, we have not owned another early Chronostop model in such fine fettle, the majority having been well used over the years in a sporting environment. The very rugged, large stainless steel case ( the watch has an impressive width of 36mm ) is in a delightful tonneau style and has only the very lightest of legitimate scratches from careful use. The fully signed "Omega, Watch Co, Swiss Made", bears the Omega case reference number 145.010. The outside of the case back is stated as being "Waterproof, Tested 30m".
The watch has its original charcoal coloured dial in almost mint condition. This is a very attractive item with pie pan edging and high visibility luminous marker points. The dial has not been restored and is virtually indistinguishable from new. The watch still retains its fully signed Omega winding crown, wonderfully 1960s styled luminous hands and bright orange seconds pointer. It hardly needs to be said that the dial is fully signed "Omega Chronostop, Geneve".
As previously mentioned, the calibre 865 hand wound mechanical chronograph movement is a joy to behold. It is in almost perfect, gleaming condition and has been regularly serviced throughout its life. The watch of course works perfectly, both as a regular timekeeper, and when employed as a chronograph. This movement is fully signed on its beautiful pink gold bridge as "Omega Swiss, 17 Jewels", together with the Calibre number 865 and the individual serial number for this mechanism, 27332045, which informs us that it was manufactured in the second half of 1968; the third year of the Chronostop's production.
The watch is on a very high quality rugged calfskin strap in perfect condition. Best of all perhaps, the watch is boxed and is even complete with a fully signed stainless steel Omega buckle, this item featuring the company's distinctive emblem. These accessories should not be overlooked, as both have considerable value and would be difficult to source as spare part items. In particular, because almost every vintage watch today has lost its original buckle, these are very expensive to purchase separately if located. A stainless steel 1960s Omega buckle in this condition would certainly have a value of £60 to £80 GB pounds, and this worth must be factored into the equation when placing one's bid. It is these small details that create the perfect watch for collector investment and certainly, in the flesh, this item is a mouth-watering package.
These watches have become much more sought after over the last three or four years, but are still relatively inexpensive. Really first rate, totally untouched examples don't often appear on the market now, particularly after the explosion of interest in classic sports watches in the early 2000s when most were purchased by private buyers who have retained them within their treasured collections.
After some discussion, we have priced this watch at £825 GB pounds, which seems remarkably good value for money when we consider the current worth of the other classic "technical series" Omega models with the same 860 series movement basis. In London, similar, but certainly no better, vintage Chronostops are typically offered at between £1500 and £2000 GB pounds, so the asking price here is far from greedy for such an immaculate watch. Chronostops are still affordable enough to allow for a high degree of discernment and critical appraisal on the part of a potential buyer, and certainly this example is head and shoulders above the majority of surviving examples of its type. That a vintage Omega, with a chronograph function, from the golden days of the 1960s is still available for less than one thousand pounds is quite remarkable and there can be very few watches on our website that offer better value for money than this item.
Price £825 GB Pounds
Vintage Watch Brands
Vintage Watch Decades
Vintage Ladies Watches
Vintage Watch Bracelets
Swipwreek Straps
Travel Clock/ Pocket Watches
Home
About
Brand Overviews
By Decade
Reference
Contact Details
Telephone from the UK:
07453 734666
or 07428 051005
Telephone from overseas:
+44 7453 734666
or +44 7428 051005