Longines with calibre 23-ZS 1957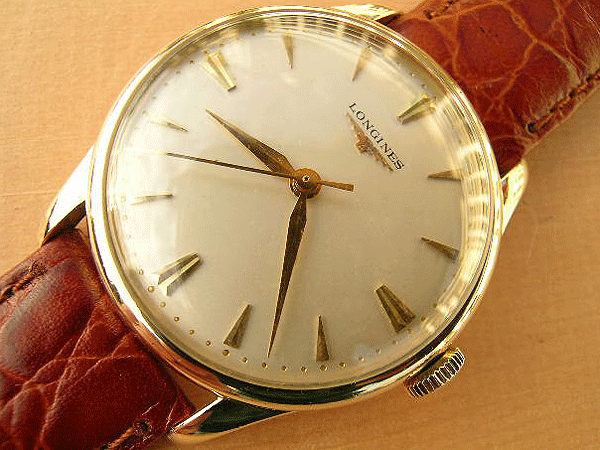 This is a textbook example of how it is still possible to acquire a very worthwhile vintage wristwatch by one of the world's most highly respected makers for a tiny amount of money. In a high street jewellers in any town in Britain, this sum would buy a mass produced brand new watch that even three years down the line would be worth virtually nothing and five years further still, would be fit only for the dustbin. An immaculate, totally original vintage piece like this will only ever appreciate in value and it can be said with absolute certainty that a decade from now, this watch will be worth substantially more than it was a decade ago.
Manufactured by Longines in 1957, this large sized gentleman's model is in such a remarkable condition that we have to doubt whether it has been worn on more than a very occasional basis in the past. If we look closely enough with a jeweller's eyeglass there are some almost invisible handling marks, but these must be expected on any watch that is not literally brand new.
The colour of this case is nothing short of beautiful. Gold has always been available in a variety of different shades, these reflecting the other metals alloyed with its gold content. Different colours of gold have been fashionable at different times in history so, for instance, Victorian jewellery tends to be in a rosy red gold whereas the gold jewellery we see new today usually has a brassier, stark yellow look. While still yellow gold, this case has a much warmer glow than its modern equivalents and is immediately identifiable as a vintage item, even from a distance of several feet.
When the case back was removed a few moments ago in order that this description could be written, it was a surprise to find that this isn't a solid gold watch but actually a rolled gold piece. Its condition is so exceptional that nobody could ever judge this from the outside and in fact, I have a feeling that we purchased this as a solid gold model as part of a much larger parcel of vintage watches some years ago.
Inside the case back is the signature "Longines, Plaque Or L ( the French term for gold plated), 80 Microns"( the thickness of gold present). Also here is the case maker's mark "KB" and the reference number for this model 6393-6. The number 57 appears at the very bottom of the case back stamping and it is tempting to assume that this indicates a production year of 1957. There is no other obvious interpretation for this figure and given the 1956 year of the movement, it does seem a likely one.
To the experienced vintage wristwatch collector, dials are almost everything and a watch with either a dial in poor condition or one that has been restored will almost certainly be rejected out of hand. The dial alone will be directly responsible for typically half the value of a watch and if this is sub-standard, it will render a watch very undesirable. On the internet, watches with refinished, restored dials change hands for high prices regularly, typically to beginner buyers who don't appreciate the key criteria that should be applied when purchasing seriously. In the physical marketplace, either at specialist retailers or at themed horological auction sales, buyers are more discerning and a restored dial will usually result in either an unsold watch or a sale for a very low price.
This dial on this watch is completely original and almost perfect. Its French white surface is free from staining and impossible to fault. For the aficionado, dials like this one represent the ultimate finds. It is easy to assume that mint original dials are reasonably plentiful, but in fact the opposite is true. Once it has been decided to purchase a particular model, locating this with an original, untouched dial can be a lengthy and frustrating process.
The hands are pitched and in the alpha shape. They are in mint condition and free from even the slightest hint of deterioration. The same can equally be said about the Longines winged emblem and the art deco influenced hour markers.
The movement in this piece is of interest to the collector and tells us quite a bit about this watch. It's a calibre 23-ZS unit, first introduced by Longines in Autumn 1948. At this time, almost half of Longines' production was sold in the USA and the company's agent there had an enormous influence over what was manufactured in St.Imier. It was suggested that the predecessor to the 23-ZS, the 10.68Z, was getting rather long in the tooth and needed replacement. While the 10.68Z was a superb movement, to some extent this criticism was a valid one, particularly considering that it had been introduced in 1925 and was closely derived from the 11.62 of even earlier.
The 23.ZS is historically significant as one of the only movement types, by any Swiss maker, to have been created in the immediate post-World War II period. The whole of Europe had been economically decimated by the conflict and even the major horological houses were reluctant to spend large sums on both the research and the machine tooling needed for an entire new calibre. It is a matter of recorded fact that Longines spent 20000 Swiss francs on research for the 23.ZS, and then another 25000 Swiss francs for the tooling that would enable it to be produced on a commercial scale. This calibre certainly wasn't the only new movement to be released in the aftermath of the war, but it is one of a small number that appeared in these austere years.
In common with several other movement types from the same era, this unit was manufactured simultaneously in two closely related versions. The 23.ZS was equipped with centrally pivoted sweep seconds, whereas the 23.Z was the same movement, but with a more traditional subsidiary seconds register at the bottom of its dial. There is no difference in desirability between the two to the collector.
In technical terms, the 23.ZS was at the very cutting edge of development for its period. It was fitted with a shock resistance system and anti-magnetic protection. Both of these concepts had been refined dramatically during World War II as a consequence of research carried out on behalf of both the Allied and German governments. They were applied here to a movement that had been intended from the outset as a luxury product for the civilian market rather than one for military service.
This particular example of the 23.ZS is among the best preserved vintage Longines movements that we have ever seen. We can honestly describe this movement as being, literally, mint. It would be impossible to differentiate visually between this mechanism and one in a brand new watch and for the collector looking for the perfect specimen for long term ownership, he will not find a better representative sample.
"Longines, Swiss, 17 Jewels" is stated on the bridge, together with calibre number 23.ZS. Also here is the individual serial number 9964157, which, falling between the two extremes of production for that year of 8570000 and 10000000, clearly informs us that this movement was manufactured in late 1956. If we assume that the "57" stamped inside the case is a reference to its year of manufacture, then case and movement dates match perfectly, given that Longines, in common with its competitors, would manufacture movements in significant batches in order to achieve economies of scale and then use them up as required often over several years.
A 1955 example of the 23.ZS is pictured in full colour on page 286 of John Goldberger's book "Longines Watches". This is fitted to an 18 karat gold case and was originally owned by King Ibn Saud of Saudi Arabia.
Having been serviced regularly throughout its life, this movement works perfectly. Longines today will still undertake the maintenance of its classic pieces and while official servicing by any major house is never cheap, this will certainly ensure that the piece remains in the same incredible condition that we find it in now. Provided it is treated with care and lubricated every three or four years, there is no reason whatsoever why this watch shouldn't be running smoothly a century from now, just as many antique pocket watches from the Victorian era still are today.
We cannot be categorically sure, but we are very confident that this watch was sold in the USA when new. Its movement was specifically introduced for the benefit of the American market and its gold filled case is classically American. Especially in the immediate post-war years, high import taxes were imposed on Swiss watches in order to protect the interests of the developing domestic watch industry. Buyers would prefer to purchase a Swiss made watch on the basis that these were better made and regarded as having more prestige, but found that punitive taxation made this difficult in many cases. By offering models with high quality gold cases to the American market, the Swiss manufacturers could still retain a strong market share. The case here bears the maker's mark "KB", which is not the stamp of any Swiss or English company that we are aware of, and we are strongly inclined to the view that it is of American origin.
We have fitted this watch with a high quality crocodile skin type strap. This is in perfect condition and has never been worn. It is not a genuine Longines strap, but is very similar to those shown with models like this one in period advertising from the 1950s.
The price of this watch is £425 GB pounds and it can be said emphatically that it would be impossible to find better value in a vintage wristwatch than the item here. This is a gorgeous looking piece in virtually new-old-stock condition and we could not suggest any other watch on this website that gives equivalent value for money. It is an example of a very wearable, very high quality model that could be bought, worn and enjoyed regularly on its owner's wrist for a few years and then sold easily for a profit. What more could any of us ever ask for ?
Price £425 GB Pounds
Vintage Watch Brands
Vintage Watch Decades
Vintage Ladies Watches
Vintage Watch Bracelets
Swipwreek Straps
Travel Clock/ Pocket Watches
Home
About
Brand Overviews
By Decade
Reference
Contact Details
Telephone from the UK:
07453 734666
or 07428 051005
Telephone from overseas:
+44 7453 734666
or +44 7428 051005