Longines Mystery Watch 14k white gold 1957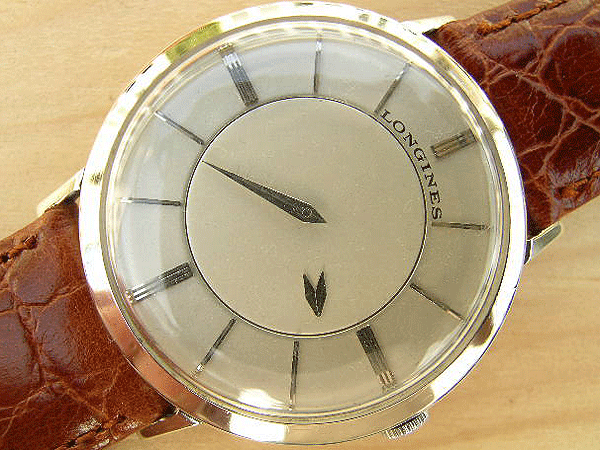 This vintage Longines mystery watch, in solid 14 karat white gold and in almost mint condition, is a lovely example of an important type that is not often found. Manufactured in 1957 and sold new in the United States, it is a very elegant piece that will attract comments from the curious at the dinner table, while containing a beautifully crafted hand built movement that typifies the work of the high level Swiss watch industry from this era.
The concept of the mystery dial first appeared in 1912 with the launch of the model A mystery clock by Cartier. Instead of having conventional hands pivoted from the dial centre point, the time was displayed by jewelled indicators mounted on transparent glass disks, creating the illusion that these moved "by magic", without any obvious means of power or indeed physical connection to the rest of the mechanism. In other words, it was a mystery to the casual observer just how these clocks actually worked.
Moving forward in time to the 1940s, the mystery dial made its transition to the, by now well established, wristwatch. Longines was not the only maker to offer a mystery watch and they were also supplied by LeCoultre, Hamilton and various lesser brands, but certainly, the Longines variant is among the best executed and most attractive. For the serious collector specifically looking for a representative sample of the mystery watch genre, the piece here would be a difficult choice to improve upon.
Anyone looking at this watch for the first time could be forgiven for assuming that it was in stainless steel, when in fact, its case is in white gold. While yellow and pink gold cases are seen regularly on vintage wristwatches, those in white gold are much rarer. Due to this rarity, white gold models tend to carry a price premium over their yellow equivalents. Over the last three decades, we have been lucky enough to own three or four of this Longines mystery watch model, but this is the only example that has passed through our hands in a white gold housing.
Internally, the case back is stamped with the vintage Longines model reference 1017 and the unique serial number 572098. Also here is the signature "Longines-Wittnauer, Watch Co. Inc, New York, Geneva, Montreal" together with "14 k Gold". The fact that this case is in 14 karat gold would have informed us that this was almost certainly an American market model, the purity standards in Europe being traditionally 9 and 18 karat, but even if we hadn't spotted this, the tiny case maker's mark "S & W" would have given the game away. Longines, in common with almost all its competitors in the upper echelon of Swiss watch making, was not a manufacturer of its own cases, but instead bought these in from trusted third party specialists as they were needed. In the immediate post-war period, the American government imposed punitive rates of import duty on complete watches arriving from Switzerland in a deliberate attempt to create a favourable trading climate for the domestic watch manufacturing industry. Wishing to continue supplying the lucrative American market, the major Swiss brands, like Longines, shipped uncased movements, these not being subject to the full rate of import duty, to their agents in the USA, who then proceeded to fit them with housings manufactured by American makers. This piece is the perfect specimen of a vintage Longines that combines a Swiss made movement with an extremely well finished American case, resulting in a very fine complete unit.
The dial is always going to be the most noticeable feature of any mystery watch. This dial, and others like it, consists of two separate components: an outer ring which is decorated with hour batons and remains static, and an inner circular section which rotates fully every twelve hours. The plain background of the inner section gives no clue that it rotates and it can take quite a while before someone who isn't familiar with these watches to work out how the hour indicator actually functions.
Dial condition is of paramount importance on any vintage watch, but is especially significant in the case of a mystery model. The slightest mark or deterioration to the inner section will immediately spoil the optical illusion of a floating hour marker and render the whole mystery concept a sham. This dial has the merit of not only being totally original, but also remaining almost mint. There are no blemishes of any kind to this dial and it could truthfully be described as being as-new in every respect. Almost half the value of a vintage wristwatch can be attributed directly to the originality and condition of its dial and this example is the text book sample of what every collector hope to find in an ideal world. In reality, very few vintage watches dials are in anything even roughly approaching this condition and in most instances, buyers will of necessity have to accept some departure from the ideal standard.
"Longines" is stated below the 12 o'clock position. This signature is in black and has not faded in the slightest. The minute hand is original and in excellent condition. The hour indicator, attached to the dial, is also completely correct.
A nice touch, which is indicative of a watch that has seen very little use, is the presence of the original winding crown, signed on its outer surface with the Longines winged hourglass emblem. These may seem like small points to the novice collector, but in fact, they add up to define a vintage watch as genuinely outstanding rather than merely good or even average.
Vintage Longines watch movements are the most undervalued in the entire field of antique horology. The quality present in these period Longines units is in every way equal to that found in mechanisms by Rolex, IWC and Jaeger LeCoultre from the same period, yet at the time of writing, for no reason that has ever been explained, sale results for even the rarest antique Longines models lag behind those of these other brands.
The movement in this watch is Longines calibre 19.4. After going hell for leather in the 1920s and '30s with the launch of new movement types, Longines went to great lengths to rationalise its calibre range in the 1940s. By the time 1950 was reached, the company had trimmed back to a core selection, despite overall sales being higher than they had ever been in the past. The 19.4 was introduced in 1953 and was actually the only new Longines movement to make its debut that year.
Interestingly, the 19.4 is cosmetically not dissimilar to many of the Longines movements of the 1930s. Technically though, it took advantage of every current development of the day, coming complete with Incabloc shock protection and a rapid running speed of 19800 half beats per hour. The 19.4 came in three closely related forms, these having subsidiary seconds, no seconds at all, as here, and lastly, with centre seconds. If we want to be pedantic, we should refer to this last variant as the 19.4S.
Quite correctly, "Longines Watch Co. Swiss" is stated on the bridge of this movement, together with "Swiss". The individual serial number 10479579 clearly defines this mechanism as having been manufactured in 1957, the two extremes of vintage Longines watch production for that year being and respectively. The calibre number 19.4 is also marked on the bridge.
The quality here is breathtaking. Whisper it quietly to avoid offending those who have paid vast sums for their watches, but in truth, the finishing standard here is considerably better than that of the flagship Rolex movement, the Hunter, from the same period. The edges of the plates are all bevelled rather than left at right angles. Perhaps even more impressively, each jewel is surrounded by a brass sleeve, correctly known as a chaton, which screws into a threaded hole drilled in the plate. Screwed chatons are a refinement only ever seen on exotic movements and a hallmark of extreme quality. Very few Rolex or Omega movements came with screwed chatons, the vast majority having jewels that were simply press fitted into place.
Interestingly, near the regulator we can see the three letters "LXW". In the years after World War II, watch movements shipped from Switzerland to the USA were required by law to be marked with a three letter code that identified their importer. LXW was the code assigned to Longines & Wittnauer in New York. Notice how we find consistency in the American manufactured case and American import marks stamped on the movement. We offer extremely high quality, immaculately presented vintage watches for sale that are specifically intended for investment purchase but in fact, a lot of what we do is achieved by careful, methodical vetting of each piece before we purchase it in the first instance.
Previous owners of this watch have clearly treated it with a great deal of care. There are numerous service marks inside the case back and consequently, this movement works perfectly. Balance amplitude is very strong and the whole unit is in almost brand new condition. Every component in this movement is guaranteed to be entirely original and unmodified. Provided its future owners have the good sense to keep on top of routine maintenance, there is no reason at all why a vintage watch of this quality shouldn't be providing good service a century or much more from now.
We have fitted this watch with a high quality crocodile skin type strap. This is not a genuine Longines strap, but it is perfectly suited to the piece. Period Longines advertising material from the 1950s depicts very similar looking straps to this one with the mystery models. This strap is brand new and has never been worn.
Maria Darozzi's book "Longines" shows this same model in full colour on page 380. The caption comments that this is a "beautiful" item. While identical in other respects, Marozzi's mystery watch is in 14 karat yellow gold, rather than the rarer white gold here. The price guide accompanying this book tells us that this watch has a value of approximately £1550 GB pounds or $2450 US dollars. However, we must appreciate that this was compiled over twenty years ago in 1990, and values of vintage wristwatches have risen dramatically during this time.
Antiquorum's thematic sale on the 24th November 1994 at the Grand Hotel in Milan "Longines, Legendary Watches", included no less than five mystery models. These were described as "rare and elegant". The closest example to the watch here, with the same case, movement and dial, but in yellow rather than white gold, was Lot number 166. The pre-sale estimate equated to approximately £550 GB pounds, which stands as a reminder of just how much vintage watch values have risen in the last eighteen years. Today, in a similar widely publicised thematic sale, we would expect the same watch to sell for more than four times this sum, plus buyer's premium.
The price of this watch is £1275 GB pounds. For a rare, and very attractive, vintage Longines variant in a solid white gold case, this is a small sum to pay. Over the years, we have owned very few completely original mystery watches and this particular piece is a real gem. One could look for a long time before another was found in comparable condition. Because of its rarity and its distinctive appearance, this is a vintage watch that has an established identity and will always be sought after, making it a very suitable item to be acquired as part of a serious investment strategy. Simply because they are so plainly undervalued at the time of writing, the best vintage Longines watches stand out as being ideal for this purpose and it seems very likely that as the appreciation of this famous company continues to grow, items like this will be worth far more in ten years time than they are today.
Price £1275 GB Pounds
Price £1275 GB Pounds
Vintage Watch Brands
Vintage Watch Decades
Vintage Ladies Watches
Vintage Watch Bracelets
Swipwreek Straps
Travel Clock/ Pocket Watches
Home
About
Brand Overviews
By Decade
Reference
Contact Details
Telephone from the UK:
07453 734666
or 07428 051005
Telephone from overseas:
+44 7453 734666
or +44 7428 051005