Longines gold 1962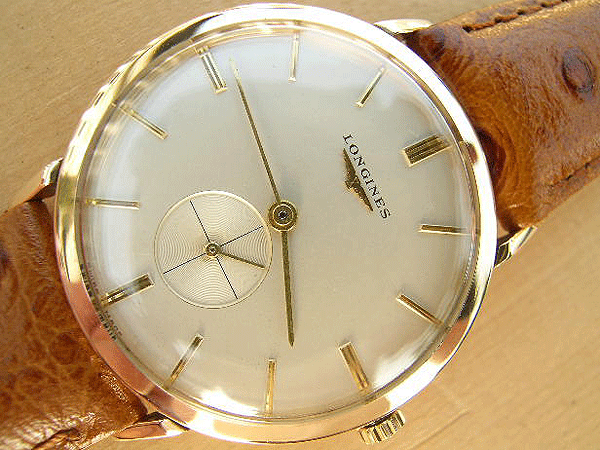 In a condition that could only be described as almost perfect, this gentleman's 1962 vintage Longines watch in gold is an ideal piece for someone looking for a classic model that is both collectible and wearable at the same time. The quality in this item is second to none and its movement the equal of anything that was served up by Rolex, Jaeger LeCoultre, IWC or any of the other prestigious Swiss houses from the same era, yet it can be acquired for a tiny sum of money. Without doubt more than vintage watches by any other brand, those by Longines are painfully undervalued in the marketplace and there has to be a sharp upward correction for examples like this one sooner rather than later.
The styling of this model is absolutely classical. If we weren't able to ascertain its year of manufacture exactly from its hallmark letter and movement serial number, we could glance at this piece and believe it to be from 1935, 1955 or 2005. This type of watch never looks dated, which again, commends it to the investor. Incidentally, over the last year, this classical look has come right back to the forefront and in the eyes of many commentators, will soon take over completely from the awful stainless steel sports watches that have been prominent of late. Both the British magazine QP and the American WatchTime publication have both hailed a long overdue return to classical form and ironically, despite being almost half a century old, this piece actually looks virtually indistinguishable from a number of current models by the major houses.
Looking at the large gold case with an eyeglass, there are the tiniest few imperfections here and there, but in realistic terms, this is an effectively mint item. The watch has been worn and is not unused old stock, but we would suspect that its previous owner reserved it for special occasion use only. It can be said with conviction that short of finding an unsold example that had languished in the back of a jeweller's safe for half a century, a better preserved gold watch from this era could not be obtained.
The snap on case back carries various stampings, all of which are informative. At the top is "DS & S", which was the sponsor's mark of David Shackman & Sons. Based in Chesham, Buckinghamshire, Shackman was an independent case making concern that supplied its products to most of the major Swiss houses for use on their watches that were to be sold in the UK. Experienced collectors will have encountered Shackman cases on Omega, Jaeger Le Coultre and more commonly, Rolex models from this era. Gold Swiss watches sold in Europe tended to have Swiss made cases, but those supplied to the British market were invariably equipped with UK made housings. This state of affairs came about after the ban on the import of precious metal into the UK imposed by the British government in December 1916. Needing to service their most lucrative market, the Swiss houses skirted the obstacle by shipping only uncased movements to their UK agents and having these housed in British made cases upon arrival, these of course not being subject to any restriction. Long after the ban was lifted, this same arrangement continued, basically because it was so convenient for all involved. Ironically given that they were first used as a temporary stopgap in a crisis, the quality of British made cases proved to be so high that they now typically command a slight price premium over their Swiss equivalents.
"Baume" is stamped exactly as it should be. Baume & Co, of 1 Hatton Garden, London, EC1, had acted as official British agents for Longines since the World War I period. On an earlier watch, we would expect to find the initials "AB" inside the case back, these being those of Arthur Baume, the company's managing director. By the 1950s, the full Baume signature seen here was instead used.
The individual case number 25176 is present. Those who know us well are very much aware of our enthusiasm for Longines items and our firm belief that they have never received anything like the recognition that they deserve. Swiss made Longines watches tend to, almost uniquely, have case and movement numbers that match each other, which is enormously impressive. Sadly, this luxury was never extended to British market production and there is no matching between numbers on these models.
On a watch clearly sold when new in the UK, we would expect to see a full set of British hallmarks. These are indeed here and inform us that this case was assayed as 9 karat gold in London, 1962.
Time after time we repeat that dials are everything when buying a vintage wristwatch. In terms of defining value, the dial, and by this we mean its condition and degree of originality, is the most significant part, by far, of any collectible watch. When a discoloured original dial is present or, worse still, a so-called "restored" dial, the value of any watch plummets to approximately half of what it would have been with a first rate untouched dial. It is so easy to purchase, particularly online when a watch cannot be examined with an eyeglass in the flesh, a piece with a restored dial on the basis that it looks visually perfect, when in practice, it is to be regarded as wholly undesirable. Exposed to dirt, sunlight and damp, dials deteriorate with age unless they are kept well away from damaging elements. Of the total number of any vintage watch model that survives, very few will have totally untouched, original near mint dials and hence those that do are sought after and expensive.
This dial is faultless. It literally looks exactly as it did when on display in the Longines agent's shop window as a brand new watch in 1962. The creamy white surface has no spotting, dust staining or deterioration of any kind. "Longines" is stated in black above the centre point, with "Swiss Made" running around the very bottom edge. Most importantly of all, this dial is completely original. It has not been restored and is totally untouched. In an ideal world, dials in this pristine, virgin state are exactly what the collector would purchase on every occasion, but in reality, finding examples that are as exceptional as the one here is not easy.
All three hands are original and in perfect condition. Their gilt finish matches that of the block hour markers and the applied Longines winded hourglass emblem.
Similarly, the winding crown is unchanged. This is signed "Longines" around its outer surface and again features the company's winged hourglass. It is difficult to convey to the casual browser just how unusual it is to find a watch that is as original and as immaculate as the one here. Winding crowns were changed after they became worn and very few buyers took the trouble and expense to order the correct signed replacements when substitution came. The serrated edges of this crown are crisp and sharp, which again suggests a watch that has seen very little use and has certainly not been wound on a daily basis for any prolonged length of time.
If dials define the value of vintage wristwatches, then it is the hand built movements inside them that make them of such interest in the first instance. These mechanisms were built long before the advent of CNC machines and computer controlled polishing lines. While machinery was obviously used in movement manufacture, it was of a very traditional nature and controlled by an operator exactly as it had been since the Victorian era. Every component in a movement like this one was visually inspected by a specific individual, finished until it met with his satisfaction and then gradually built up into a complete unit that was sent for the laborious process of regulation, again by hand. The quality present in these classic watches by makers like Longines is breathtaking and more than justifies the high prices that good vintage examples by all the important houses command.
The movement in this watch is Longines' calibre 19.4, a hand wound unit that made its debut in 1953. This is an interesting mechanism, not least because it was the only new calibre launched by the company that year. The 1930s had been a time of exponential growth for Longines in terms of sales, but involved the house in the production of a huge selection of movements, many of which had been loosely in the range, albeit with some revisions, since the previous decade or even before. By the time the 19.4 arrived in the early 1950s, the number of calibre types in production had been reduced, which apparently caused much relief among the management. In short, while Longines upped production, it also streamlined its manufacturing process by offering a reduced selection of movement types.
In common with most mechanical movements from this era, the 19.4 was offered with a subsidiary seconds register, as here, or without a second hand. A third variant, identified as the 19.4S was the same movement, but with the addition of an indirectly driven sweep second hand pivoting from the centre of the dial. In terms of collectibility, there isn't anything to choose between these types, but simply from an aesthetic perspective, the 19.4 with subsidiary seconds has rather more old world charm.
In technical terms the 19.4 is the classic manually wound movement of its day, with 17 jewels and a running rate of 19800 half beats per hour. It had every contemporary refinement including Incabloc shock protection, which was still a relatively recent introduction in the early 1950s. Its diameter was 8 ¾ lignes ( the ligne being the standard unit of movement width used in the Swiss watch industry), making it exactly the same size as the manually wound Hunter movements used on the early Rolex Oysters of the late 1920s.
The quality of finishing and build is exceptional. We can legitimately be controversial here and state that this is a better finished movement than anything offered by Rolex at the same time. It also has sophistication that is lacking from both Omega and Rolex movements of the same age. Unlike its two famous competitors, which simply fitted their jewels into drilled holes in the bridges, Longines adopted the system of screwed chatons, by which every jewel is held in its own threaded brass sleeve, which is then in turn screwed into the plates. This is a lovely refinement that one hardly ever sees and must have added significantly to the cost of production when new. The fact that vintage Longines watches are so inexpensive today is nothing short of ridiculous when we actually look at them closely and see how beautifully built they are.
"Longines" is signed on the bridge, together with "17 Jewels, Swiss". Also here is the calibre number 19.4. All this detail has been painstakingly filled in with 18 karat gold in order to increase its legibility against its rhodium plated background. These points, though minor in themselves, for me aggregate into something that is a cut above the production of almost all the competing Swiss brands.
The serial number 11437403 is clearly stated. Falling between the two extremes of Longines production for that year of 11350000 and 11650000, this clearly identifies this movement as having been manufactured in 1961. Given that this movement would then have been placed into store before being shipped to England and cased as required, the one year disparity between the movement number and case hallmark letter is perfectly acceptable. It can certainly be guaranteed quite categorically that the case and movement started life together when new as the same watch.
Movement condition is perfect and most importantly, this unit contains no changed components. Everything here is original and as it should be, and there is no evidence of any repair work having ever been performed. Having been serviced on a regular basis, the watch works perfectly and runs extremely smoothly. Provided it is treated with care and sent for routine cleaning and lubrication every three or four years, it will last almost forever and have no difficulty at all in giving excellent service for many decades in the future.
We have fitted the watch with a high quality ostrich skin type strap. This is in mint condition and has not been worn. This is not a genuine Longines strap, though it is very similar in appearance and construction to that which would have been supplied with the piece when new.
For those with access to a comprehensive range of horological reference material, it is worth mentioning that this same model is shown in full colour on page 303 of Daria Morozzi's Italian language book "Longines". The pictured item has the same case, dial format, hands, winding crown and calibre 19.4 movement as here. Its date is given as "1960s", but Marozzi is not more specific.
The price of this watch is £725 GB pounds. If it was by any of the other top tier brands, with a movement of comparable quality and in the same heavy solid gold case, the price would be, at least, three times this amount and potentially much more. Viewed simply on a value for money basis, you will never a better ratio of quality bought to pounds spent than with a good, well cared for vintage Longines. It sounds rather like an advertising puff, but the fact is that watches like this represent one of the last genuine bargains to be had in the current frantic market for elderly wristwatches. We don't know how long prices will remain at this patently low level, but common sense must tell us that it can't be forever. Anyone buying this watch will be nothing short of delighted with it and we cannot recommend it wholeheartedly enough to anyone wishing to buy at the top of the quality spectrum without spending an awful lot of money.
Price £725 GB Pounds
Vintage Watch Brands
Vintage Watch Decades
Vintage Ladies Watches
Vintage Watch Bracelets
Swipwreek Straps
Travel Clock/ Pocket Watches
Home
About
Brand Overviews
By Decade
Reference
Contact Details
Telephone from the UK:
07453 734666
or 07428 051005
Telephone from overseas:
+44 7453 734666
or +44 7428 051005