Longines Flagship gold. Calibre 340 1962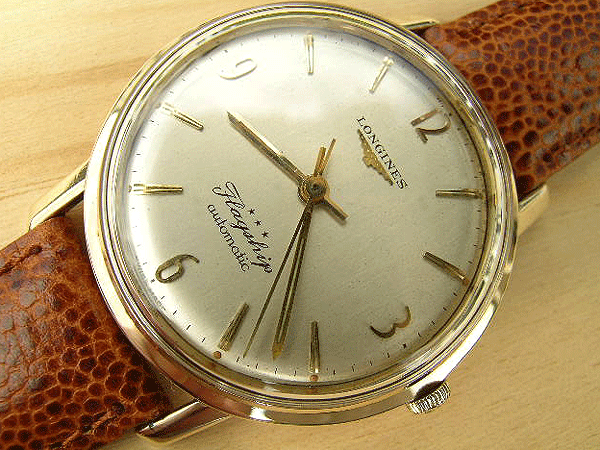 Vintage solid gold watches by the finest Swiss makers, preferably from the heyday of the Swiss watch making era of the 1950s and '60s represent the most sought after pieces for the well heeled collector. Costly when new, these items were only produced in relatively small quantities and because of this, are very valuable today. Over the last two decades, vintage watches, particularly of this grade, have been superb investments and are increasingly so, as unmolested, all original examples from this period become ever more difficult to locate and avid enthusiasts clamour to find examples of the key classic models for their collections.
Longines has made superb watches, known for the quality of their movements and their award winning accuracy levels, from the company's foundation in 1867 through to the present day, but this particular Flagship model has particular historical significance because it contains the last entirely new automatic movement, calibre 340, to be designed and manufactured from the drawing board up, in house, by Longines itself, as opposed to later movements, though undeniably superb in their own right, which were based around pre-purchased ebauches ( usually from the AS company) and merely up-rated and finished to Longines house specifications.
The earlier Longines automatic movements that pre-date this watch were the calibres 19 A ( introduced 1952) and 14.17 ( introduced 1956), and are particularly interesting as, in common with this calibre, their winding rotors are not centrally pivoted, being actually off-set from the centre point. Launched in 1960, this calibre 340 movement was developed over a number of years, with an offset rotor taking up a significant part of the width of the watch case. The 340 was a very large movement, larger than the two previous Longines calibres ( as an aside, this large movement obviously results in a very chunky, drum like watch, with a substantial width of 38mm. ) It is a statement of proven scientific fact that a larger oscillating balance in a movement will, all other things being equal, be more accurate than its smaller sibling and it in view of the record breaking accuracy level achieved by this calibre, is therefore not surprising that the 340 soon had an enormous following among connoisseurs of micro-mechanics in the late 1950s.
For the technically minded, it should be mentioned that the 12 ligne ( the ligne is the unit of width traditionally used within the Swiss watch industry.) 340 calibre had its rotor mounted on ball bearings rather than the jewels used in the earlier Longines automatic movements. These dramatically reduced the effect of friction upon the rotor and enabled the watch to wind itself with even the very slightest movement of the wearer's wrist. The design of this movement is very striking, with a toothed outer ring extending from the rotor, this in turn pivoting in two directions, both capable of winding the watch via an ingenious patented satellite wheel switcher. The balance is a screwless Glucydur ( this is the trade name for a patented beryllium bronze alloy used to create balance wheels on only the very highest grade of vintage watch production. Cheaper, mass market movements used nickel for their balances) type and the movement features the wonderfully engineered Kif-Ultraflex system that is almost ubiquitous on top tier Swiss movements of the 1950s.
This particular watch is in a large and very heavy, original 9 karat solid yellow gold case, fully hallmarked as having been assayed in London in 1962 and signed inside the case back "Longines, Fab Suisse, Swiss Made, Flagship", together with the famous Longines winged emblem and the case reference number 3404. Also present is the sponsor's mark "B & Co", this representing Baume & Company, of 50 Hatton Garden, London, the firm that acted as Longines' official UK agents at this time. This case is in superb, almost mint, condhtion, with only the tiniest of imperfections being present that have occurred with normal careful ownership and very occasional use.
The case back exterior is decorated with the large, very detailed image of a sailing ship on the high seas, continuing the "Flagship" theme. Often, on classic watches, such raised detail can become worn, but in this instance, this decoration is as crisp and clean as any that we have ever seen. In common with its close competitors Rolex and Omega, Longines was never a manufacturer of its own watch cases, instead buying these from a number of independent concerns that specialised in this field. Longines commissioned these very detailed flagship cases from the famous Swiss case making concern Guillod & Co, located at Doubs 83, 2300 La Chaux de Fonds and if we look very closely, Guillod's tiny coded mark is here in the case back interior. Guillod manufactured very complex, often mixed metal, exotic cases for some of the most revered of all the Swiss horological houses. This case is the perfect example of the master goldsmith's art, and is one of the heaviest gauge precious metal cases that we have ever encountered.
The beautiful, fully signed "Longhnes, Flagship Automatic, Swiss Made", creamy silver coloured dial is worthy of comment because of its total originality. The dial in almost as new condition with only the very faintest patina that can only really be seen with the aid of an eyeglass.
The solid gold batons, Arabic numerals and the luminous index hands are entirely original and in fine condition. It is these small points that establish a vintage timepiece as a collector's investment piece, rather than simply a used example and any enthusiast building up a collection must consider the viability carefully of any watch that does not have the correct winding button, hands, batons etc, as these can serious effect the eventual resale value of the piece. All too often in today's frenetic marketplace vintage watches are passed off as being entirely standard when the reality is far from this. However, we can state with some authority, as dealers who have been passionate to the point of almost fanaticism about vintage Longines watches for nearly thirty years, that this piece is unmodified and entirely correct.
Having discussed the calibre 340 movement earlier in some detail, we can add little to that already said, suffice it to say that the unit is this particular watch is fully signed "Longines Automatic" on the rotor, together with "17 jewels, Swiss". The movement is serial number 11351099, clearly indicating a production year of 1960. Notice how, quite routinely, there is a slight discrepancy between the age of movement and case, with the movement typically slightly older than the year indicated by the hallmark date letter inside its housing. In order to achieve economies of scale, firms like Longines would manufacture movements in significant batches, then putting these into store to be used up as required in the future. If we consider that this movement had to be cased, sold to Longines' British agent Baume and then hallmarked upon arrival in the UK, we can easily see why this apparent date gap of two years occurs. We guarantee categorically that this movement and case are original to each other and have been together since new.
The watch has been carefully looked after and regularly serviced throughout its life and, of course, works perfectly. A better example of this significant 340 unit would be very difficult to find, particularly housed in a gold case that was as attractive as the one offered here.
We have fitted the watch with a brand new ostrich skin type strap that is perfectly in keeping with the piece. This is not a genuine Longines strap, but is almost identical in both quality and appearance to the item that would have been supplied with the Flagship when new.
Overall, this is a spectacular example of a solid gold Longines Automatic Flagship from the company's finest hour in the early 1960s. Entirely original and in almost mint condition, it will be very appealing to the serious collector and investor market. In a central London vintage watch shop, this delightful piece would command a very high price, but following our established policy of turning over stock reasonably quickly with a small profit margin, we have priced it at £985 GB pounds. Values are rising so quickly now for vintage watches in this condition, simply because they are becoming almost impossible to source. We still buy items of this grade on a regular basis, but the effort we put in to locate these, both when dealing with the public and the jewellery trade, goes up exponentially with every year that passes. This is a relatively expensive watch simply because of its immaculate condition and sheer quality, but if the market continues to rise at its present rate, then its value today will seem almost painfully low when compared to its worth even five years from now.
Price £985 GB Pounds
Vintage Watch Brands
Vintage Watch Decades
Vintage Ladies Watches
Vintage Watch Bracelets
Swipwreek Straps
Travel Clock/ Pocket Watches
Home
About
Brand Overviews
By Decade
Reference
Contact Details
Telephone from the UK:
07453 734666
or 07428 051005
Telephone from overseas:
+44 7453 734666
or +44 7428 051005