Jaeger LeCoultre P469 movement chrome with buckle 1948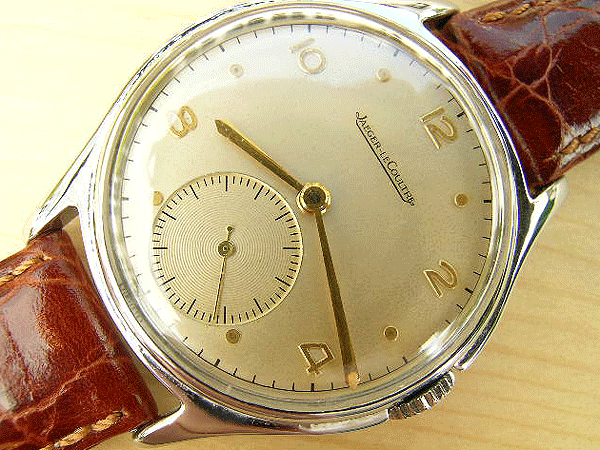 Genuine vintage Jaeger LeCoultre wristwatches are certainly becoming increasingly difficult to source now, and it is with not some small amount of pride that we offer a hand picked selection of this famous Swiss company's finest work from the golden age of mechanical watch making. With every year that goes by, we put more effort into hunting down an ever diminishing pool of watches like the one here. Twenty years ago, tidy Jaeger LeCoultre pieces used to crop up even in small provincial sale rooms now and then, but these days are sadly long gone. Christie's, Sotheby's and Bonhams still manage to put together enough items of this grade to hold their fine wristwatch sales, but the fact of the matter is that the best watches by all the top tier makers, be it Jaeger LeCoultre, Rolex, IWC or Zenith, are largely now in the hands of collectors who have no interest in parting with them at anything remotely like a sensible price.
Jaeger LeCoultre have always been regarded as among the world's finest makers and certainly, today's highly informed watch buyers are aware of the company's significance as one of the only remaining true "manufactures". For those not yet acquainted with the term, manufacture is the word used within the Swiss watch industry to describe a company that produces its own movements entirely under its own roof, with no outsourced components. The vast majority of luxury watch houses purchase "ebauches", basic, unfinished movements, without hands, dial or mainspring, from Switzerland's corporate ebauche supplier, and rework these, carefully finishing them to their own specification and, of course, adding their own signature in the process. Purists argue endlessly as to which firms actually qualified as true manufactures during the vintage period, but the general consensus is that there were eight or, at most ten, Swiss luxury houses, of which Jaeger Le Coultre was unquestionably one, that really did manufacture their own products entirely from scratch.
While strictly speaking, there is no rational reason for criticism of ebauche built movements, there is a certain aura of authenticity surrounding those makers that are self contained and a degree of snobbery associated with ownership of their products. In the case of Jaeger LeCoultre, the sheer quality of its movements, both past and present, is so spectacular that universally, regardless of the firm's status as a true manufacture, they are acknowledged as one of the most sought after of all vintage mechanisms. But then combine this quality with the credibility that comes from in-house production, and we can begin to appreciate why demand for their older pieces has reached fever pitch, with record prices being attained for these watches in conventional sale rooms. Anyone with an interest in a further summary of Jaeger LeCoultre's history as a manufacture would be well advised to visit its excellent official website.
This wonderful stainless steel gentleman's example from 1948 is in almost mint condition, and is particularly significant, having a very eye-catching oversized subsidiary seconds dial, giving it a passing resemblance to the wartime bomb aimers' watches that Jaeger LeCoultre supplied to the Royal Air Force , while at the same time having the benefit of a very attractive civilian market case with evocatively swept lugs. This case has a bright gleam like that on a brand new watch and only the very tiniest of imperfections that anyone would expect on a piece of this age. The case back is signed externally with the correct reference number 642683. Inside the case back is a delightful engine turned pattern and the signature "LeCoultre Co. Swiss".
The original dial is in almost mint condition, with no damage or patina being present whatsoever. The legendary wording "Jaeger LeCoultre" is clearly visible in black above the centre point and is complimented by matching solid gold numerals and original arrowhead hands, also in gold. The use of very distinctive circular dots as batons between the Arabic numerals gives the whole dial a very striking art deco flavour that is so typical of these 1930s and '40s Jaeger LeCoultre pieces. With arguably the exception of Cartier, to which Jaeger LeCoultre was the movement supplier of choice, none of the other Swiss houses embraced art deco in the inter-war period to the extent of Jaeger LeCoultre. While deco fell from fashion in the 1960s and '70s, today, it is very much back in vogue and items like this one are among the most eye catching and desirable on the market. So many classic watches now have dials that are either significantly weathered, or entirely non original, and to find an original vintage Jaeger LeCoultre dial in this unmarked condition, and in easily discoloured French white, is quite remarkable. In the flesh, the piece exudes the quality that has made Jaeger LeCoultre famous and has a weighty, well-engineered feel when handled.
The hand built, in-house, movement must be the most significant part of any watch by Jaeger Le Coultre, and the sought after Calibre P469 /C item here is a joy to behold. The P469 / C was the final development of the exceptionally successful P450 series movements, first introduced in 1948 and incorporating numerous technical advancements ( not least of these being full shock protection and an ingenious antimagnetic capability) that had been developed by Jaeger LeCoultre as a result of its wartime research program. As one would expect to find on a vintage Jaeger LeCoultre movement, every part has been finished to perfection, with each screw being hand polished to a mirror finish and the bridge plates having spectacular bevelled edges. We read an article a couple of months ago about the art of hand bevelling movement parts and armed with information gleaned from this, we would certainly suggest that the finishing on this calibre represents the very pinnacle of that particular art form.
The bridge plates themselves are fully signed "Jaeger Le Coultre, Fab Suisse, Swiss" and decorated in an ornate mirror polished finish. Also present is the movement serial number 899291, this clearly identifying the mechanism as having been produced in 1948, it falling between the two extremes of vintage Jaeger LeCoultre production for that year of 790000 and 850000. In view of the high cost of this watch when new, it is perhaps not too surprising that the piece has been regularly serviced throughout its life, with little regard to expense. The result of this careful maintenance has been that it works perfectly and internally has no corrosion, discolouration or changed parts whatsoever. Everything about the watch is entirely original and correct, and is exactly as it left the Jaeger LeCoultre factory in 1948, making this item a perfect choice for even the most fastidious collector.
We have fitted the piece with a very high quality crocodile type strap that, while not being a Jaeger Le Coultre item, is perfectly in keeping with the theme of the watch and almost identical in appearance to the one supplied with it when new. This strap is in mint condition and has never been worn.
A nice touch is a vintage Jaeger LeCoultre buckle in steel. Finding original period buckles for vintage watches can be something of a nightmare. So many collectors own watches that are missing their correct buckles and this creates a strong demand for anything that does appear for sale. In this excellent condition, this buckle would be worth at least £100 GB pounds if sold alone. Perhaps more important than just monetary value, the presence of this item will save its purchaser a lot of time and trouble trawling the internet for another example.
Overall, this is a spectacular vintage Jaeger LeCoultre wristwatch, in nearly perfect condition, from the very collectible period of the 1940s. Genuine, unmolested examples from this era are highly priced now and those watches with heavily art deco influenced dial formats are rarely seen today. Its age and brand name alone would certainly guarantee this model a high value on the physical auction circuit, even when in much poorer condition than the piece offered here. When the dial format and superb unmolested condition are factored into to the equation, it immediately become obvious that this is a watch that will sell quickly for its asking price.
Based in Yorkshire, in the North of England, we are blessed with low business overheads and can almost always undercut the vintage watch shops in London's Bond Street and Burlington Arcade by a significant amount. We have priced this watch at £1175 GB pounds, which reflects both our geographical advantage and the fact that selling directly from our website, we can avoid the punitive rates of commission charged by the major auction houses. Even from our perspective as dealers, replacing this watch with another similar example for this amount will be quite a challenge and ironically, we will probably have to pay in excess of this figure to obtain another 1940s Jaeger LeCoultre for our stock. The market isn't rising so fast that this effect is noticeable on a monthly basis, but in the last five or six years, we have become very aware of the large increases in value made annually and the issues these bring up when we purchase new stock within the jewellery trade.
Price £1175 GB Pounds
Vintage Watch Brands
Vintage Watch Decades
Vintage Ladies Watches
Vintage Watch Bracelets
Swipwreek Straps
Travel Clock/ Pocket Watches
Home
About
Brand Overviews
By Decade
Reference
Contact Details
Telephone from the UK:
07453 734666
or 07428 051005
Telephone from overseas:
+44 7453 734666
or +44 7428 051005